What is the best Nintendo Console?
It was in 1985 that Nintendo launched the Nintendo Entertainment System on North American shores and forever changed the video gaming industry; decades later, the company is seeing great success with the newest member in their console library, the Nintendo Switch. Now that we're in the midst of another generation of great gaming, Goomba Stomp has decided to update our ranking of every console Nintendo has released over the years. We believe that each console on the list has had a major influence on both the industry and gaming culture, and whether for better (Super NES) or worse (Virtual Boy), the industry as a whole is indebted to Nintendo.
Quick Note: We first published this article back in 2015 when we launched our website, but while we had more (and different) writers participate in the voting process this time around, the order surprisingly hasn't changed much. In fact, the only difference is that we've added the Switch to the list.
Also worth noting: Prior to 1985, Nintendo already had insane success with the Famicom and Game & Watch in Japan. However, we've decided to rank the consoles dating back to the Nintendo Entertainment System, since most of our writers reside in North America and Europe, and didn't grow up playing any of the Japanese exclusives. With that out of the way, here is our list ranking all the Nintendo consoles over the years.
****

Best Nintendo Consoles #13: Virtual Boy
The Virtual Boy proved to be a dismal failure for Nintendo. It was an absolute, bonafide disaster, and supposedly forced the retirement of creator Gunpei Yokoi, the brilliant mind behind the once-successful Game & Watch (not to mention legendary producer of such games as Metroid, Donkey Kong, and Mario Bros.). It didn't take long before Nintendo realized their mistake, and just months after its release, they decided to pull the plug.
The 32-bit system (powered by six AA batteries) was marketed as the first portable video game console capable of displaying "true 3D graphics." Designed as a set of red-coloured VR goggles mounted on a tripod with a controller wired in, the Virtual Boy demanded users hunch over and cramp their back in order to play. It was weird, and perhaps too weird for its own good. In many ways, however, it was also ahead of its time.
The console featured sharp, high-resolution graphics, and was capable of some extraordinary gameplay. Unfortunately, the system was largely overshadowed by its controversial LED (Light Emitting Display) technology, which rendered the visuals in monochromatic red on black. Even worse, the system was not intended for use by children under the age of seven, and displayed warnings on the box and in the manual that cautioned users about long-term side effects, including permanent damage to the eyes. Those who did purchase the console complained about sickness, flashbacks, and painful migraines. Although the system was a huge failure, diehard fans still defend it to this day, praising the quality of games and the well-designed controller featuring asymmetrical button configuration, dual control pads, and comfortable handles. (Ricky D)

Best Nintendo Consoles #12: Game Boy Color
While mostly retaining the same hardware as the original Game Boy, the Game Boy Color's primary competitors were the much more advanced Neo Geo Pocket and the WonderSwan by Bandai (released in Japan only). Though the Game Boy Color crushed the competition in sales, it had a very short lifespan. Nintendo chopped shipments in 2001, effectively making the era of GBC only three years long. While it features a pair of secondary Zelda games as well as a pair of Pokemon titles, there really isn't a true classic to be found in the system's entire repertoire. Games made specifically to take advantage of the system's hardware were few and far between, and while the addition of color was a welcome change, Nintendo and gamers were getting ready to move on.

Best Nintendo Consoles #11: Game Boy
The iconic 8-bit handheld video game device was created by Gunpei Yokoi and Nintendo Research & Development 1 — the same staff who had designed the Game & Watch series nearly a decade earlier. Redesigned versions were released in the form of Game Boy Pocket and Game Boy Light (Japan only), but for the most part, each version contains the same hardware as the original. The Game Boy was the very first internationally successful handheld gaming system, and upon its release in the United States, it sold its entire shipment of one million units within a few weeks. It was a phenomenon, and the start of the popular handheld gaming trend.
On the design side of things, the Game Boy was made simple and devoid of any true styling. The plastic is light gray in color, and has a slight texture, but that's about it. But where the Game Boy does stand out is in build quality. It might just be the toughest gaming console ever made, sturdy enough to survive a bomb, and it's the first video game system to travel to space.
However, the big problem with the original Game Boy is the screen. It features four levels of gray to augment the lack of back-lighting, and while players could adjust the screen's contrast with the slider on the device's left side, the display quality isn't very impressive, remaining extremely grainy and difficult to see in most lighting conditions. And of course, the original Game Boy didn't display any bright, shiny colors; instead, we got a horrid green and grey screen — a decision Nintendo made in order to save on battery life (four AA batteries last for up to thirty hours of gaming on the system).
The library of Game Boy games includes deep entries into the Super Mario, Zelda, Metroid, and Final Fantasy series, and in total there were 716 games released worldwide. These games also include classics like Mario Tennis, Shantae, Kid Dracula, Metal Gear Solid, and Mortal Kombat, to name a few. And lest we forget, the Game Boy is responsible for unleashing two of gaming's greatest phenomenons: Tetris took the world by storm, and Pokemon Red and Blue launched an international craze. The games are classic — and more importantly, they are fun, which is what truly makes any console special. Unfortunately, it isn't the pinnacle of handheld gaming, as some would like to claim. That system comes later in this list.

Best Nintendo Consoles #10: Game Boy Advance
The Game Boy Advance was not as revolutionary as the Game Boy Color, but it proved very profitable, selling a whopping 81.51 million units worldwide. The handheld featured a 32-bit RISC processor and a sharp, colorful, reflective LCD screen. In other words, we're talking about a portable system that performs at roughly the same level as a Super Nintendo. With hardware comparable to the home console, the Game Boy Advance also helped further advanced sprite-based technology. In terms of battery life, GBA did fairly well. You could play 14.5 hours using only two AA batteries. In addition, it was designed for maximum comfort, and was released with a dozen accessories, including a wireless Adapter, a link cable, an e-Reader, a cleaning cartridge, and so much more.
The major downside was the lack of original games. Being able to play your favourite SNES games on the go was a major selling point, but when it came to original content, there wasn't much to be found. Instead, the library of Game Boy Advance games is comprised mostly of remakes and re-releases, many of which were sub-par to the original games. In fact, the GBA is the only major Nintendo console to not have its own original Super Mario title. That's not to say it wasn't worth the $70 — two great 2D Metroid titles and the first Fire Emblem game to hit stateside was reason enough to own one. Along with a fresh, updated entry in the Castlevania series, a few critically acclaimed entries in the Mario Kart and Zelda franchises, and backward compatibility, the Game Boy Advance was a worthy successor to the original Game Boy. (Ricky D)

Best Nintendo Consoles #9: Nintendo DS
The Nintendo DS came at the perfect time, long before mobile games such as Angry Birds and Candy Crush sold millions to just about anyone who carried a cell phone. From 2004 to 2011, the Nintendo DS dominated mobile gaming by introducing distinct new features, including two LCD screens working in tandem (the bottom one featuring a touchscreen), a built-in microphone, and support for wireless connectivity. It was the also the first device of any kind to effectively introduce touch controls, something we now take it for granted. The DS is capable of displaying 260,000 colors, and both the screens are backlit — making them easy to see outside and indoors, something the Game Boy Color couldn't get right. To date, it's the second-best-selling platform on this list; in fact, all Nintendo DS models combined have sold 154.01 million units, making it the second-best-selling video game console of all time period (beaten out by the PlayStation 2, which sold 155 million units).
With the DS, Nintendo began to market to demographics beyond typical young-adult males. The DS featured a strong library, introduced online play, and catered to both the hardcore and casual gamers alike, giving them theProfessor Layton franchise, WarioWare, a new Animal Crossing game, a brand-new 2D Super Mario title, and even a Grand Theft Auto game. Add on three excellent Castlevania titles, Mario and Luigi: Partners in Time, as well as a ton of Pokemon games, and you've got a library that justified the cheap $150 price tag.
So why does it rank so low on our list? The DS era was sort of an experimental phase for Nintendo that would eventually bring us the much-improved 3DS. In truth, many DS games have not aged well, and although the system introduced some excellent new features, we simply prefer other consoles over this. (Ricky D)

Best Nintendo Consoles #8: Wii U
Nintendo's Wii U console has somewhat of a bad reputation, and with reason, since it is perhaps Nintendo's greatest commercial failure.
That said, a console should never be judged by the number of units in sales. The Dreamcast is without a doubt one of the greatest consoles ever produced, and yet sales did not meet Sega's expectations. Despite several price cuts, the Dreamcast sold only 10.6 million units worldwide. Of course, we all know what happened next: Sega discontinued the Dreamcast, and respectively withdrew from the console business. However, Nintendo isn't Sega, and the company was never in any danger of closing shop. In fact, despite the low number of sales, Nintendo at least made back its money on the WiiU — and more importantly, one can argue that the Wii U's gamepad served as inspiration for the Nintendo Switch.
In terms of computing power, the Wii U lags behind the field. It has practically no AAA 3rd party support, and its primary feature — the gamepad — has proven integral to only a handful of games. That said, despite the Switch poaching, the Wii U has a great library of exclusive games, such as Super Mario 3D World and Pikmin 3, that still has us going back to play it every so often. The Wii U is also home to amazing HD remakes like The Legend of Zelda: Wind Waker, The Legend of Zelda: Twilight Princess, and DuckTales, as well as surprise hits such as Hyrule Warriors and Captain Toad, not to mention the critically acclaimed Bayonetta 2.
And let's not forget that Nintendo released an exciting new IP in Splatoon, a third-person shooter which went on to sell one million copies in less than a month, and Super Mario Maker, the company's first robust level editor, with the option to download and play levels created by members of the online Wii U community. Furthermore, the Wii U library includes Yoshi's Woolly World, Star Fox Zero, Xenoblade Chronicles X,and dozens of indie darlings like Shovel Knight, Adventures of Pip, and Guacamelee!. The WiiU is also compatible with most Wii games, and includes an online virtual store where you can download titles from previous Nintendo systems, including the NES, Super NES, N64, Gameboy, Gameboy Advance and more.
As someone who's owned every Nintendo console, I'm not interested in Nintendo having the most powerful system. Once again, it all comes down to games, and the Wii U has all the above and more. (Ricky D)

Best Nintendo Consoles #7: 3DS | New 3DS XL
The surest way to make a system's greatness apparent isn't hardware specs or a sleek, smooth design; it's games, plain and simple. I bought the Wii U and 3DS at the same time, around the time the former released. Yet for all the dazzling HD tech behind the latest home console, it was the little portable that would take up all my gaming attention for a good long while, for one reason and one reason only: games. Nintendo's 3DS may have had a slow start, but after a couple of sizeable hits, suddenly the dam burst.
The 3DS' library wound down its life not only full of a vast multitude of titles, but a wallet-scaring number of absolutely fantastic ones. Super Mario 3D Land, The Legend of Zelda: A Link Between Worlds, Luigi's Mansion: Dark Moon, Fire Emblem: Awakening, Resident Evil: Revelations, Monster Hunter 4 Ultimate, Pokemon X/Y, Bravely Default, Animal Crossing: New Leaf, Kid Icarus: Uprising and oh-my-god so many more. That's not even counting the remakes of Ocarina of Time, Majora's Mask and Star Fox 64, or all the incredibly addicting eShop downloadables, Virtual Console hits, and the obsession-inducing StreetPass diversions.
Sure, it doesn't have the power of Sony's Vita (except in sales comparisons), a second analog stick would've been great (the New 3DS' nub doesn't quite do the trick), and the 3D is more of an interesting technology gimmick than a gameplay enhancer, but neither these nor any other niggling issues have mattered to me in the slightest. Nintendo's 3DS quickly shot up my personal list of favourite consoles because of the sheer number of amazing experiences I've had, and with an amazingly massive back catalog, it looks to stay that way for quite a while. (Patrick Murphy)

Best Nintendo Consoles #6: Wii
Released November 19th, 2006, the Wii was Nintendo's seventh generation console. Competing against the Xbox 360 and Playstation 3, the Wii held the lead in the "console wars," selling more than 101 million units in the first quarter of 2012. With the Wii, Nintendo revolutionized the way we play video games, focusing on innovation and gameplay over fancy graphics and multimedia. And with it came the Wii remote, a handheld controller that made us play games using movement. The Wii also focused on a broad target demographic, with an array of first-party and third-party games for everyone. It offered classic mainstays of Mario, Zelda, and Metroid titles, (most notably Super Mario Galaxy), but also introduced us to grittier and darker games like Madworld, No More Heroes, Silent Hills: Shattered Memory and Manhunt 2.
The Wii was also excellent for being fully backward compatible, with the ability to still play your GameCube games, as well as use the old controller as well. The Wii Virtual Console even had an extensive library of classic titles, where players were able to purchase games from the NES, Sega Genesis, N64, and even the Neo-Geo. The Wii maintained its dominance for several years, but slowly started to fade out as most customers transferred into high-definition televisions, and the Wii graphics started to pale next to the 360 and the PS3. However, the Wii still stands as one the great consoles today despite its lack of technological advancements in the console races. Innovative gameplay and design are what really made this model shine. (Aaron Santos)

Best Nintendo Consoles #5: Nintendo Entertainment System
The Japanese video game giant Nintendo emerged as a global leader in the video game industry when it unveiled the Nintendo Entertainment System in 1985. The NES went on to become the best-selling gaming console of its time, and thirty years later, the NES still plays a major influence on the entire industry. Now, I've heard the argument that the admiration toward the NES is largely due to nostalgia, but one can make that very same argument towards anything we hold dear, including any one of the consoles appearing on this list. However, the Nintendo Entertainment System stands the test of time, proven by the simple fact that gamers still purchase and/or play NES titles to this day. And even though Nintendo stopped production of software for the NES, the aftermarket library keeps growing, with countless new titles made by many diehard game designers who've studied the nuts and bolts of the Ricoh 6502 processor and put their practice to good use. Some even go the extra mile and produce cartridges, boxes, and manuals, and sell their creations online.
This console helped revitalize the US video game industry following the video game crash of 1983; it introduced a plethora of now iconic video game characters, a ton of accessories and it forever changed the relationship of console manufacturers and third-party software developers. The NES was the first true must-have video game console, and if you couldn't afford one, Nintendo also changed the rental market by allowing video stores to rent their systems and games. But put aside how it saved and changed the industry — what makes the console great is the library of games.
The NES boasts a grand total of 826 titles to choose from (713 licensed and 113 unlicensed games), including a number of groundbreaking hits. Super Mario Bros. pioneered side-scrollers, while The Legend of Zelda helped popularize battery-backed save functionality. Metroid was lauded for being one of the first video games to feature a female protagonist, and Mike Tyson's Punch-Out!! is still regarded as one of the greatest sports games ever made. Has there been any other console that released hit after hit at the rate Nintendo did during the NES days? Along with these titles, there is also Castlevania, Mega Man, Metal Gear, Mother, Final Fantasy, Dragon Quest, Contra, Kid Icarus, Ninja Gaiden, Kirby's Adventure, DuckTales, and the many sequels that outdid their predecessors. Take for instance Super Mario Bros. 3, which was leaps and bounds beyond any other game released back in the day, not to mention the five Mega Man sequels, which are still considered the very best in the franchise.
Here's a console that changed the industry as a whole, and continues to inspire and entertain to this day. For all these reasons and more, the NES is, in my opinion, the greatest video game console ever made — Nintendo or otherwise. (Ricky D)

Best Nintendo Consoles #4: N64
The Nintendo 64 is probably Nintendo's most polarizing console released to date. Ask someone about it, and they'll most likely rank it either among the best consoles ever released, or way down at the bottom of the list with the likes of the Virtual Boy and the N-Gage. Some simply couldn't get past its weirdly shaped controller, and many criticized Nintendo's choice of sticking with cartridges when CD-ROM was already the norm, but no one can deny the console's impact on the industry, in terms of both hardware and software.
Nintendo consoles have always been at the forefront of innovation, and the N64 was no exception. With a growing trend towards multiplayer games, the N64 was the first console to launch with four controller ports. The controllers, which plugged into said ports featured the first digital thumb-stick, allowed the player 360-degree control over their in-game avatar — and best of all, the stick could be controlled using just a thumb, unlike those huge analog joysticks from past consoles. Those three-pronged controllers were also the first on a home console to have a rumble feature, thanks to the Rumble Pak which debuted alongside Star Fox 64, and it also pioneered the use of trigger-style buttons with its Z-Trigger. Yes, the Nintendo 64 was behind on the times when it came to the use of CD-ROM technology, but it changed the industry none the less. Four controller ports, thumb-sticks, trigger buttons and the rumble feature all became industry standard moving forward.
Cool hardware innovations are always welcome, but consoles are remembered for their greatest games, and the Nintendo 64 had no shortage of industry-changing titles. GoldenEye 007 took the beloved genre of first-person shooters, which had previously only found true success on the PC platform, and made it viable on consoles. With its atmospheric single-player campaign and its wide array of competitive multiplayer options, GoldenEye paved the way for the Halos and Call of Duty games to come. Super Mario 64 was the first game to feature a camera that could be moved freely and independently of the character, giving the player freedom and control in a 3D space like never before, and changing 3D game development forever. The Legend of Zelda: Ocarina of Time, to this day, is seen by many as the greatest video game of all time. And the list goes on: Conker's Bad Fur Day, Banjo-Kazooie, Super Smash Bros, Star Fox 64, Diddy Kong Racing, Perfect Dark, The Legend of Zelda: Majora's Mask, and on and on. Almost every console released to date has some great games and a handful of true masterpieces to their credit, but the Nintendo 64 has dozens of genre-defining and awe-inspiring classics.
While the N64's collection of games is its greatest strength, the lack of depth in its library is a glaring weak point to many. The mass majority of great N64 titles, including all those mentioned above, were developed by Nintendo or Rareware. There were great games from other developers (WWF No Mercy, Star Wars: Shadows of the Empire, and Resident Evil 2 to name some), but they were few are far between. Due to the limitations of the cartridge format, and the difficulty of developing games for the N64 compared to the PS1, many 3rd party developers opted to simply ignore the console, which resulted in the N64's game library topping out at about 500 games, whereas the PlayStation has over 3000 titles in its arsenal.
It's very easy to draw parallels between the Nintendo 64 and the the Wii U; both systems launched with hardware that was not up to par when compared to their contemporaries, which resulted in them having a severe lack of 3rd-party support, and thus underwhelming game libraries. The difference is that while the Wii U has a handful of amazing first party games, the N64 has dozens. For those who look at sheer numbers, yes, the PlayStation undoubtedly has the larger library, but at the end of the day, it comes down to quality versus quantity, and I'd always take the former over the latter. It may not have been the technological marvel of its time, and it certainly didn't get the 3rd-party love that Nintendo would have hoped for, but the Nintendo 64's elite game library gives it just enough to stand tall amongst the greatest consoles ever made. (Matt De Azevedo)

Best Nintendo Consoles #3: GameCube
Charm can go a long way. Just ask the average-looking person dating someone out of their league, or the not-so-smart guy at work who somehow got the promotion you know you'd be more qualified for. Nintendo's GameCube may have lacked some of the more obvious desirable video game console traits, but it more than made up for it with quirky appeal and some of the most offbeat and memorable risks of Nintendo's long history. Right off the bat, you couldn't help notice that this adorable little box was purple, with a handle on the end that made it seem more like a portable toy than a high-powered gaming machine. There was a choice immediately to be made, and you either walked away, or (like myself), not only rolled with it but cracked a big smile.
The GameCube may be the most "Nintendo" console the company has ever made, and those who stuck around were treated to the kind of fun magic not to be found anywhere else. Experimentation like a cel-shaded Zelda, Marios's FLUDD, and the very idea of a 3D Metroid game not only working but blowing people away, cemented Nintendo's desire to innovate. The mood was contagious, with companies like Capcom pushing the limits of weirdness with titles like Viewtiful Joe and Killer 7, and Resident Evil 4 took the series in an awesome direction that would shape the franchise for years to come. The Gamecube may not have had the packed library of its competitors, but what it did have were destined to become classics. Even the controller has garnered its share of fierce loyalty, with many Smash Bros. players (loads of whom still put Melee at the top of their list) preferring its eccentricities to a more standard device.
The GameCube didn't try to be cool; it was comfortable with what it was, and from the moment the iconic startup screen sounds its familiar tones (unless you found one of several Easter eggs), one can't help but be endeared all over again. (Patrick Murphy)

Best Nintendo Consoles #2: Switch
Nintendo's latest addition to its illustrious history of gaming consoles can already be considered one of its finest. From its portability to its ever-growing collection of wonderful games, the Nintendo Switch offers an experience for everybody, something not many consoles can boast.
The secret to the Nintendo Switch's success lies in the DNA of every past Nintendo console. Every time the Switch vibrates, it's a reminder of the Nintendo 64's rumble pack; every time the motion controls are activated, it's a reminder of the Wii remote; every time the switch is removed from the dock and taken on a journey, it's a reminder of every handheld console Nintendo has produced. Every piece that makes the Nintendo Switch is a nostalgic adventure back into the past.
But while that might sound rigidly static in its approach, it's surprisingly innovative. The Nintendo Switch has a melody for every audience. There's not a time nor place where the Switch can't be played, whether it's on the train to work or laying on the coach after a tiring day. It's appeal to both the hardcore and the casual gamer allows it to sit in several different markets and create enjoyment for entirely different reasons. Its flexibility is perhaps the feature that the Nintendo Switch will inevitably be remembered for. (James Baker)

Best Nintendo Consoles #1: Super Nintendo
For many gamers in my generation, the first console that they learned to love was the NES. Not so for myself. Though I did enjoy that ugly flip-lidded machine for a year or so from kindergarten onward, it was the SNES that gave me my first real taste of what would become a life-long hobby. When my brother and I opened the SNES on Christmas morning all those years ago, it was pretty much an instant addiction. We started with Super Mario World and Teenage Mutant Ninja Turtles IV: Turtles in Time, but it wasn't long before we were moving on to the bevy of exciting titles that were constantly being released on the 16-bit juggernaut. While my brother started to drift away from video games, preferring more casual fare as the years went on, I only sunk deeper. Titles like Super Metroid, The Legend of Zelda: A Link to the Past, Chrono Trigger, and Final Fantasy VI only further cemented my hardcore devotion to gaming in each of its facets and iterations.
A stellar step forward for consoles and arguably the finest machine Nintendo has ever produced, the SNES defined and refined what gaming could be for generations to come, all while launching a dozen franchises that continue even to this day. Unfortunately, a series of missteps from Nintendo over the years — from a failed collaboration with Sony, whose PlayStation would eventually topple Nintendo from the top of the heap, to the gimmicky consoles and handhelds which have defined the company of late — has caused the storied legend of the SNES and its insanely impressive line-up of genre-defining titles to be largely been relegated to the hope of glory days past rather than the expectations one might attach to a promising future. Nevertheless, I've owned a dozen consoles and handhelds since I first encountered this tiny box of joy, yet none have ever filled me with the charming warmth that this nostalgic contraption still holds.
Long live the SNES! (Mike Worby)
PAX South 2020 Hands On: 'Windjammers 2,' 'KUNAI,' and 'Young Souls'
PAX South 2020 attracted tons of exciting publishers to San Antonio, and even with such a crowded lineup, the DotEmu and Arcade Crew booth easily stood out as some of the show's very best exhibitors. Streets of Rage 4 might have been their standout demo, but the French boutique publisher and developers brought a fantastic selection of games to the show, including their signature retro revivals and some promising original indie games of their own.
Windjammers 2
Sequel to the much-beloved arcade classic, Windjammers 2 takes all the hectic frisbee-throwing action of the original and updates it for the modern generation. For those unfamiliar with the art of windjamming, it's effectively pong, but instead of balls, you toss discs back and forth across the court. It pits two players against each other on opposite sides of the court, tasking you with mercilessly hurling your disc back and forth until it gets into your opponent's goal.
You can just throw the disc directly at your opponent, but Windjammers 2 gives you many more options besides that. To really excel at the game, you'll have to make use of the most extravagant moves you can, dashing across the court, leaping into the air, tossing the disc above you before slamming it down into your opponent, to list only a few of the uber-athletic abilities at your disposal. The game can move extremely quickly when both players take advantage of these capabilities, yet things never feel overwhelming. I always felt in control of the action, even when my quickest reflexes were put to the test. It's fast-paced disc throwing insanity, and I couldn't get enough of it.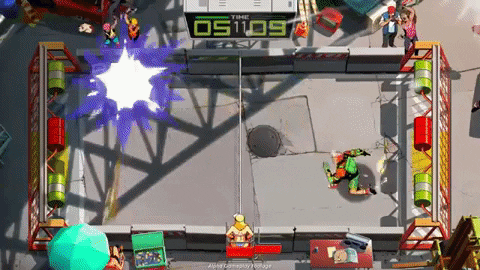 Just like the rest of DotEmu's catalogue, Windjammers 2 combines classic gameplay with gorgeous modern aesthetics. It has the same hand-drawn style that makes other DotEmu titles stand out, like Wonderboy: The Dragon's Trap. The original Windjammers was a time capsule of garish 90s style, and that design is retained for the new release, with characters looking even more colorful and absurd than ever thanks to the revitalized art and animations. Hectic to play and beautiful to behold, Windjammers 2 is already set to be a multiplayer hit.
Young Souls
Streets of Rage 4 was certainly the premier beat 'em up on display at DotEmu's booth, but it wasn't the only one. Alongside this retro revival was an all-new take on the genre: Young Souls, an extremely stylish action game that blends fast-paced fighting with deep RPG customization and a charming, emotional narrative.
Beat 'em ups might not be known for deep storylines, but Young Souls aspires to something more. Along with its satisfying combat mechanics and plentiful flexibility for character builds, it also boasts of having "a profound story with unforgettable characters." While my demo didn't give me much of a look at this deep narrative, it's reasonable to assume that the story will at least be quality, since it's penned by none other than the author of the Walking Dead games, Matthew Ritter.
However, I did get a substantial feel for combat. Young Souls features more than 70 monster-filled dungeons, and I got to venture into two of them in my demo. The action feels weighty and solid when going up against enemies, yet precise at the same time. Like any classic beat 'em up, there's a mixture of light and heavy attacks, along with blocks and powerful special moves, along with items and spells to exploit during combat as well. In between battles, you're able to deck your character out in equipment and items, allowing for an element of roleplaying depth that isn't typically associated with action games like this. In my short time with the game, it was fun to experiment with different character builds, which could determine the speed and abilities of my fighter, promising combat for the final game.
I played the demo both solo and co-op; in single-player, you're able to switch between the two twins at will, while two players can each take control of a sibling. In both playstyles, the gameplay was just as visceral and satisfying as one would expect from a classic-style beat 'em up like this, but the addition of a deep story and RPG mechanics put a unique spin on this entry. That's not to mention that, like every other game at the DotEmu and Arcade Crew booth, it's visually beautiful, featuring stylish 2D characters in 3D environments that are all rendered in gentle, washed-out colors. Young Souls might not have a release date or even any confirmed platforms as of now, but it's absolutely worth keeping an eye on in the meantime.
KUNAI
KUNAI takes the typical metroidvania formula and boosts it to hyperspeed. It has all the hidden secrets and massively interconnected world exploration that you'd expect from the genre, and it gives you the ability to speed through that faster and more dynamically than ever. Its main gimmick is right in the name – by giving you two kunai hookshots, you're able to traverse up and down your environments with speed and freedom, making for a uniquely vertical method to explore.
KUNAI starts out with the end of the world. In a dystopian future where technology has taken over, you control Tabby, a sentient and heroic tablet that's dead set on liberating the planet. This serious plot is filled with plenty of personality, however, from the silly faces that Tabby makes in action to the charming dialogue and quirky character designs. This personality is rendered in appealing detail thanks to the game's simple yet effective pixel art.
It's in the gameplay where KUNAI truly shines. With the eponymous kunai, you're able to latch onto vertical surfaces. Combine this with the additional abilities to dash, bounce off enemies, or wall jump, and it provides for a uniquely dynamic method of exploring the world. Using the kunai feels easy and intuitive, fast enough to gain speed but never too floaty. It's a balanced approach to speed and movement that never gets out of control, resulting in what it is perhaps the best-feeling movement of any metroidvania I've played recently. My demo was brief, and ended very soon after first getting the kunai, but the gameplay felt so smooth and natural that I can't wait to experience more of it. Thankfully, it's not long to wait, since KUNAI hits Switch and PC on February 6.
PAX South Hands-On: 'Streets of Rage 4' Balances Legacy and Innovation
Streets of Rage 4 embodies the original series' elegant, action-packed design and revives it for a new generation.
From the moment I began my demo with Streets of Rage 4 at PAX South, it felt like coming home. It might have been more than two decades since the first three games in the Streets of Rage series perfected the beat 'em up formula on the Sega Genesis, but courtesy of developers Lizardcube, DotEmu, and Guard Crush, this legendary series is back and in good hands. This brand new entry aims to recapture all the style and balance of the originals, while introducing innovations of its own. If my demo is any indication, the game is set to achieve that.
Streets of Rage 4 uses the same elegant level design that set the original trilogy apart back on the Genesis. The gameplay is simple: keep walking to the right, taking out every enemy in front of you with all the jabs, kicks, jumps, and special moves at your disposal. If anything, the controls feel better than ever before, with an added level of precision and fluidity that simply wasn't possible on older hardware.
That's not to mention the new move sets. Beat 'em ups might not be the most complex genre around, but Streets of Rage 4 adds the perfect level of depth to the combat. It has the same simple jabs and kicks found in the original games, but spiced up with the potential for new combos and even a handful of extravagant new special moves. With new and old fighting mechanics, this new entry features plenty of room to experiment with combat but never loses the simple, arcade-like charm of the originals.
Streets of Rage 4 revives the series' rage-filled and action-packed style for the twenty-first century
The demo included series staple characters like Axel and Blaze, yet I opted to play as an all-new character: Cherry Hunter, a guitar-wielding fighter whose move set felt very distinct from classic characters. Her movement is speedy, certainly faster than Axel but slower than Blaze, and her guitar provided for some unique melee moves. Like the new mechanics, her addition to the character roster helps shake up the Streets of Rage formula just enough, while maintaining the core beat 'em up simplicity that made the series special in the first place.
Streets of Rage 4 might innovate in a few areas, but one thing that's clearly remained true to form is the difficulty. It boasts of the same old school difficulty that characterized the original games. The classic and brand new enemies are just as ruthless as ever, mercilessly crowding in around you and can easily overwhelm you if you're not careful. However, just like the originals, the fighting feels so satisfying that it's easy to keep coming back for more action.
Amid all these changes and additions, perhaps the most obvious (and controversial) change is the visual style. While the original series used detailed pixel art, Streets of Rage 4 instead boasts of an extremely detailed handcrafted art style, in which every frame of character animation is painstakingly drawn by hand and environments are colorful and painterly. Thousands of frames of animation go into each character, and the effort certainly shows, making every punch, kick, and other acts of violence a breathtaking sight to behold.
Streets of Rage 4 reimagines this classic series for a new generation, reintroducing the best of the beat 'em up genre for players of all backgrounds and experiences.
Some fans have complained that the game loses the series' spirit without pixel art, but DotEmu marketing director Arnaud De Sousa insisted to me that this simply isn't the case. Pixel art wasn't an artistic choice back then – it was a matter of necessity. If the developers could have designed the game to look exactly as they wanted, regardless of technical limitations, then it likely would have looked just like the luscious hand-drawn visuals of the current Streets of Rage 4.
That's not to mention that, as De Sousa emphasized, the Streets of Rage games are defined by looking different from one another. The third game looks different from the second, which looked different from the first – and now this new entry has twenty years of change to catch up on. Thus, it only makes sense for this new entry to adopt a radically new graphical style after all this time.
Streets of Rage 4 reimagines this classic series for a new generation, reintroducing the best of the beat 'em up genre for players of all backgrounds and experiences. The difference between De Sousa and myself is perfect evidence of that. He grew up playing the games in the 90s, whereas I wasn't even born when the original trilogy became such a phenomenon and only played them years later in subsequent re-releases. Yet here we were, standing in the middle of a crowded convention and gushing about decades-old games. We might have had extremely different experiences with the series, but that didn't stop us from appreciating the joys of stylish beat 'em up action.
"A good game is a good game," De Sousa told me, "no matter how old." That's the attitude that Streets of Rage 4 exemplifies. It revives the series' rage-filled and action-packed design for the twenty-first century. And with a release on all modern platforms, more players than ever will be able to rediscover the simple pleasure of wielding your bare knuckles against thugs of all types. Between the new art style and the solid gameplay, Streets of Rage 4 is looking like an incredibly welcome return for this iconic franchise.
An In-Depth Analysis of FIFA's Career Mode
It's a well-known fact that career mode on FIFA has been a long-neglected element of the best selling sports games series of all time. But for soccer fans who want to pretend to be a football manager, but also want to personally play the game, FIFA is currently the main option.
The problem is: for a 60 dollar game, almost nothing about FIFA career mode works properly.
Two of the most game-breaking bugs in FIFA career mode are so bad that it fundamentally makes the game unplayable for those who want to feel any sort of immersion.
The first is a bug that makes it so that top teams will sign many more players for a position than they could possibly need.
For example, Bayern might end up signing 6 or 7 great center backs, and then only play three or four of them, while what they really need to sign might be a winger or a fullback.
This leads into the second huge issue: even when a team like Bayern HAS 6 or 7 great center-backs, they will STILL often choose to start second or third-string center backs! This often leads to top teams languishing at 12th or 13th in the tables by the end of the season, which makes absolutely no sense whatsoever.
Everything about this image is wrong. Everything. The top three teams in this table shouldn't finish higher than 7th more than once every ten seasons between them, and teams that should finish first and second aren't even in the top eight. 64 points near the end of the season for first place is also a very low number.
There's been plenty of other issues as well. Even on the highest difficulties, AI on both defense and ESPECIALLY offense ranges from poor to horrible, with the AI on offense rarely actually running at the defense (making defending boring and unrewarding), leaving players like Messi or Hazard to not even try to use their incredible dribbling ability and speed and instead pass away the ball as soon as they get it.
Instead, the most common way the AI scores are by performing a janky, unrealistic and clearly scripted pinball, with impossibly precise passes between 4 or 5 players before the ball ends up in the back of the net.
Another major problem with the game (though some might call it simply a feature in presenting a more arcade-like, less realistic take on soccer) is your ability (if you're a big club) to buy multiple huge players and bring them to your club easily in your first season, making the game an absolute cakewalk.
After years of incompetence and the ignoring of career mode's many issues, however, EA finally faced serious backlash with the release of FIFA 20–the most broken iteration in the series yet.
For a while, #fixcareermode was trending on twitter, and reviews blasted FIFA for its litany of issues, like players going on precipitous declines in stats right when they reach the age of 30.
Yet these bugs were treated by some in the media as a first time thing, issues that had only appeared in the latest iteration. They weren't.
As one Reddit user noted to Eurogamer: "In the last few years, every FIFA game released has had bugs that ruin the immersion. Teams not starting their strongest lineups and unrealistic tables have been an issue not just for FIFA 20 but earlier editions. Our cries for patches and change have fallen on deaf ears. The community has been grossly neglected."
The linked article by the Independent above wasn't accurate in other ways, either. It claims that only simulated matches suffered from the bug of teams not playing their best players, and other articles have claimed that this bug only occurs when a big team plays against a small team.
But neither of these claims is accurate.
You could play against a top team like Barcelona, and you could also be a top team like Real Madrid, and Barcelona would still consistently field third or fourth-string players over the likes of Messi against your team.
This wasn't an occasional thing, either. At least three or four top players were benched for players 20 or more points below them every game. Every. Single. Game.
I haven't even mentioned the commentary in FIFA, which is so buggy and so immersion-breaking in its disconnection from reality that it's more immersive to just turn it off entirely.
What is so infuriating is that that many of the bugs seem like fairly minor fixes (commentary issues aside), something that seems like it would take no more than a few hours of rooting around in the code to figure out whatever misplaced number value was causing the issue.
The fact that these major issues have existed for at least no less than SIX years (FIFA 14 was the first game I played) indicates definitively how little EA cares about its products, and how little the designers care about actual football or delivering an enjoyable experience out of Ultimate Team.
Of course, Ultimate Team alone in 2017 accounted for almost a third of all of EA's revenue from sports titles, so it's somewhat understandable why Ea focuses most of its attention on that element of FIFA.
But with the amount of effort put into the new "futsal" mode in FIFA 2020, or the three campaign-like "Journey" modes from FIFA 17 to FIFA 19, one wonders why the developers couldn't have spent just a little more effort to fix a mode that was in many ways fundamentally broken.
FIFA have made certain changes to career mode over this period, so it's not like they've ignored it entirely. But the changes made to career mode in the six years I've played it have all either made the game much worse, slightly worse or had no great effect.
The major changes over this period have included:
A slightly updated youth system, which has suffered from its own serious bugs over the years, such as youth prospects never gaining stats in sprint speed or acceleration so that you end up getting stuck with players with 50 to 70 speed for eternity; a widely disliked training system for players that is utterly broken and unfair, allowing you to train players to abilities well beyond what is even vaguely realistic within a matter of a year or two; a new display screen for your team; the removal of form; the slight modification of morale; adding the ability to talk with your players; and, last but not least, transfer cut scenes which are the most incredibly pointless wastes of time in any sports game, both for the player and for the developers–at least they're skippable. There is the ability to customize your manager–perhaps the most positive change made in this six-year period. But that's still stunningly sad given that you will very rarely actually see your manager at all.
None of these modifications, you may have noticed, go any way towards fixing the fundamental issues with the game, issues which have been pointed out to EA year after year.
It's fair to say that one of the main reasons that FIFA got away with what it did for so long was not thanks to the players, but the media.
Year after year, reviews for FIFA received solid scores (hovering around the low to mid 80's), whereas user reviews were usually much lower. It was only this year that media reviews seriously pointed out issues with the career mode.
The fact that FIFA received so much better reviews from reviewers as compared to players is easily explained away by the fact that the former usually play the game for comparatively shorter times, and therefore tends to miss a lot of the details.
In response to the recent outrage which had finally reached a degree of publicity that EA could no longer ignore, EA finally patched some of FIFA's issues, like the problem of teams not fielding their strongest lineups at least semi-frequently. This was a huge step towards making career mode not fundamentally broken, but whether or not the other most glaring issue of teams like Juventus signing 9 80+rated strikers (yes, that happened in my game once) has been solved remains to be seen. Given that I mostly gave up on the series after FIFA19 continued the same problems of its predecessors, I don't think it'll be me that finds out.