Indie Games Spotlight–New Journeys Ahead
Adorable dogs? Painterly hikes? Flying sharks? We've got a little bit of everything in this week's spotlight.
Indie Games Spotlight is Goomba Stomp's biweekly column where we highlight some of the most exciting new and upcoming independent games. 2022 is off to an insane start with the recent Nintendo Direct and big-name acquisitions dominating the news cycle, but as always, there are more than a few exciting indie titles to keep an eye on amidst all the buzz. Adorable dogs? Painterly hikes? Flying sharks? We've got a little bit of everything in this week's spotlight, so let's dig in!
Get Hooked on Grapple Dog
If there's one thing that's been proven by now, it's that you can never have too many games about dogs. Give that dog a grappling hook, though, and you're bound to have something special on your hands. That can explain why Grapple Dog looks like such a winner: this pixelated 2D platformer lets players zip through the skies as a grappling hook-wielding doggo named Pablo, all while providing the freedom to play however you see fit.
Boasting a cheery colorful art style, Grapple Dog lets players loose in six handcrafted platforming worlds packed with devious tests of skill, secrets to reveal, and over-the-top boss battles. There may be an evil robot overlord attempting to destroy the world, but that's not enough to keep this from being an upbeat quest stuffed with adorable characters—and that's not to mention the ability to pet the dog. What's not to love? No need to wait to launch onto this one, since Grapple Dog is out now on Nintendo Switch and PC!
Hear the Sounds of A Highland Song
Evoking the jagged beauty of the Scottish Highlands, A Highland Song is a narrative-driven platformer from English indie studio inkle–a name that many might recognize as the makers of last year's exceptional Overboard! A Highland Song follows Moira McKinnon, a young woman who sets out on an expedition through Northern Scotland to reach her uncle's lighthouse along the coast. What ensues is an expedition blending sidescrolling platforming with elements of rhythm gameplay to create an audiovisual tribute to Scottish culture.
Varied terrain and hidden paths await on your journey through A Highland Song, accompanied by a folk soundtrack composed by some of the biggest names in Scottish music. Gameplay moves with the soundtrack, so prepare to time your journey to the beat of the rhythm. The game also promises plentiful replayability with alternate routes and secrets to encounter on each trip, incentivizing players to come back for another hike time and again. No release date has been set just yet, but hopefully, it won't be long before we can play A Highland Song for ourselves on Switch and PC.
Square Up in KungFu Kickball
We all know the daily regimen of a kung fu master: constant training, discipline, and lots and lots of kickball. At any rate, that's what KungFu Kickball would have us believe. This multiplayer sports action game combines soccer gameplay with the stylish and acrobatic flair of classic kung fu movies. With support for up to four players, KungFu Kickball is a full-featured party experience that, unlike kung fu itself, is as easy to learn as it is tricky to master.
With six unique characters each with their own gameplay style, KungFu Kickball provides an accessible control scheme bolstered by a simple yet robust three-button control scheme supporting extensive combos. That's not to mention the distinct stages, single-player championship modes, and support for both local and online co-op. While it's been available in early access for years, KungFu Kickball has finally achieved its long-awaited full, official release across all major consoles and PC.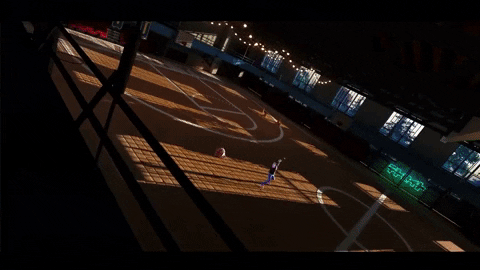 Don't Quit in Aerial_Knight's Never Yield "Da Update"
It's not often we highlight games we've already covered on Indie Games Spotlight, but it's worth making an exception for Aerial_Knight's Never Yield with its massive "Da Update" free expansion. While we loved it in our review for its first release last year, it didn't enjoy the most universal acclaim–which is why it's great to see titular developer Aerial_Knight return to the game with a host of improvements meant to address critical and player feedback.
Some of the changes in "Da Update" include brand-new bonus levels, an endless runner mode, online leaderboards, new music tracks, tweaks to level design, and added story elements all meant to enhance the core game experience and make its already-enticing style and flare feel all that much more substantial. If you haven't already gone for a run in Never Yield, there's no better time than this week since "Da Update" releases on February 15 for Xbox Series X|S, Xbox One, and PC, with all other platforms following soon after.
Find Your Way with Townseek
What better way to travel the world than in an airship carried by a floating shark? Set in a world populated by anthropomorphic cats, sharks, and even humans, Townseek is an imaginative and cozy exploration game where players set out on an adventure to fill in every corner of the world map–all while reassembling the journal of the famed Sir Reginald Sharkingston.
Townseek is unabashedly silly, and the world is built with plenty of heart and charm as you'll explore an open-ended environment packed with fiery volcanoes, idyllic forests, and stunning ocean reefs. Along the way there will be plenty to discover and manage as you fill in your journal, assemble an inventory of helpful items, and encounter a range of enigmatic characters. Townseek looks to dial the chill up to 11 when it releases on PC later this year.