Indie Games Spotlight — Love is War
Start the year right with these impressive looking indies.
Indie Games Spotlight is Goomba Stomp's biweekly column where we highlight some of the most exciting new and upcoming independent games. January was a bit slow in terms of new game releases, but February and beyond is shaping up to be absolutely incredible. Whether you've been fiending for more from the SteamWorld universe or want to get into the Valentines Day spirit with a unique dating sim, this week's selections are buzzing with potential. Let's get started!
SteamWorld Build Your Way to the Top
SteamWorld isn't just one of the longest-running indie franchises, it's also one of the most beloved. After experimenting with the tower defense, metroidvania, real-time strategy, and deckbuilding genres, Thunderful is turning their gaze towards city builders with SteamWorld Build. The premise is simple: there's a mining town similar to the ones found in other SteamWorld titles, but this time you're the architect. Cater to the increasingly difficult needs of your steambot citizens and you may be able to build a thriving society.
Like most city builders, SteamWorld Build seems to lean heavily on resource management and planning. Satisfying citizens with adequate dwellings and entertainment will encourage them to aide in mining for resources below — and perhaps even fend off creatures lurking beneath the city's depths. With five different maps to develop and multiple difficulty levels to try, SteamWorld Build might be the perfect introduction for the genre when it drops on all platforms later this year.

Deliver Us Mars and Beyond
KeokeN Interactive struck gold with Deliver Us The Moon, a haunting sci-fi thriller that used the emptiness of space to its advantage. Deliver Us Mars looks to build on that premise as a direct sequel taking place 10 years later. Humanity is on the verge of extinction, and it's up to a young astronaut to respond to a distress call, recover stolen colony ships, and ensure the survival of the human race.
While No Man's Sky and the upcoming Starfield have more adventure-focused takes on space exploration, Deliver Us Mars stands out in its focus on tension and linear narrative. Players will have to endure the harsh terrain of Mars while solving environmental puzzles and learn why the distress call went out in the first place. The visual fidelity on display is stunning for an independent studio, with both motion capture and ray tracing being employed to bring Deliver Us Mars to life. Expect takeoff on February 2nd on all platforms except Switch.
Live Life on Moonstone Island
Do you miss the old days of Pokémon? Did you ever wish the classic games had alchemy and dating sim elements? Well, you're in luck! Moonstone Island is a heartwarming blend of creature-collecting and life sim that just might be a smash hit if Studio Supersoft pulls it off. Moonstone Island promises a different take on the genre, from focusing on card-based encounters instead of traditional turn-based combat to offering over 100 procedurally-generated islands to explore instead of the handcrafted towns and routes fans are familiar with.
While it remains to be seen if Moonstone Island can retain its charm over such a large map, the prospect of making friends (and even dating) along your creature-collecting journey is an enticing one. Interestingly, there doesn't seem to be a gym badge equivalent here; instead of achieving a set number of goals, the focus seems to be much more on exploration and building a life for yourself via having a customizable home, growing crops, and traveling to the far reaches of the world. Keep an eye out for Moonstone Island when it releases on PC and consoles later this year.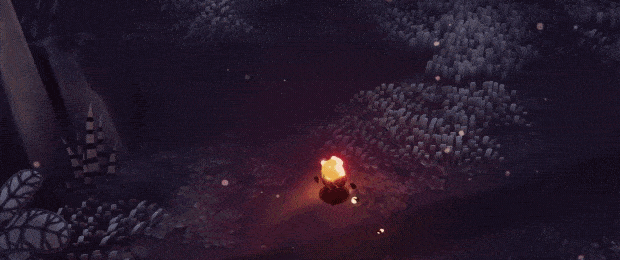 Become the Flame Keeper
Flame Keeper is a cute, visually-striking rogue-lite that follows Ignis, a piece of coal that needs to liberate its world from darkness. Realistically, though, the story is little more than set dressing for the meat of Flame Keeper: its progression and combat mechanics. In a quest to restore the Eternal Flame, players must upgrade their abilities, journey through increasingly hostile biomes, and master combat using Ignis' unique array of flame-based attacks.
As an action rogue-lite, much of Flame Keeper's appeal will boil down to how tight the combat is. Untold Tales promises everything from standard combos and dashes to area-of-effect moves and bombastic finishers, all of which take up stamina. There are even passive abilities that can be unlocked by defeating enemies, which is a great incentive to keep playing and messing around with different builds. Though early access on PC doesn't start until February 24, you can sign up to playtest it now. Flame Keeper is planned to arrive on consoles once it goes 1.0.
Can You Survive for Ten Dates?
We don't usually highlight FMV games in this column, but the quality output of Wales Interactive hasn't gone unnoticed. 2020's Five Dates in particular subverted expectations by offering a genuinely well-written and well-acted romantic comedy about dating online during lockdown. Now two and a half years later, Wales Interactive is back with Ten Dates, an indirect sequel starring two new protagonists looking for love.
Not only does Ten Dates have twice as much content as the first game (implied by the title), but it's split between male and female leads. This ultimately seems like a net positive; it's more content for everyone while also providing a new dating perspective. The same format of branching dialogue options for each date remains, but offline, which may open up new opportunities for chemistry with the prospective love interests. Will this be able to capture the same fervor among streamers that catapulted Five Dates to success? Luckily, there's not long to wait: Ten Dates launches on all platforms this Valentines Day.