Indie Games Spotlight — Playful Mayhem
Say hello to a spotlight of toxic exes, ghosts, and much more.
Indie Games Spotlight is Goomba Stomp's biweekly column where we highlight some of the most exciting new and upcoming independent games. As we head into the American Thanksgiving season, there's certainly a lot to be thankful for in the indie realm: a recent Nintendo Indie World Showcase, what's shaping up to possibly be one of the best shmups releasing later this month, and much more. Let's get cracking on this week's spotlight!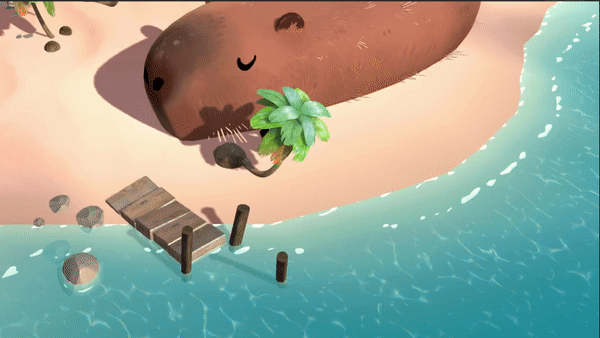 Drift Off to Paradise in Aka
One of the more low-key announcements at the Indie World Showcase was Aka, a cozy little life sim all about restoring a lost paradise back to its full splendor. Players will be tasked with trekking across different islands and climates to help villagers, free trapped animals, and confront ghosts from their past. All of this is set against soothing environments inspired by real-world locations in East Asia, South Asia, South America, and more.
The meat of Aka's gameplay is what you might expect: a mix of farming, construction, and narrative quests that progress the non-linear story. It's unclear whether the flowers and vegetables you grow can be sold, but they will surely be used to complete quests just like the craftable clothes and props. Perhaps the most enticing part of Aka, though (aside from playing a handful of minigames), are the built-in moments of relaxation. Prepare to simmer down in hot springs and take naps on giant capybaras when Aka hits Switch and PC on December 14.
Discover the Beauty of Oni: Road to be the Mightiest Oni
Studio Ghibli's iconic art has been revered for decades because of its ability to transport viewers to fantastical worlds unlike their own. Oni: Road to be the Mightiest Oni is shaping up to provide a similar experience, albeit one that focuses less on story and more on exploration and combat. Be it fighting off evil spirits or performing escort missions, the sheer beauty of the world dreamt up by KENEI DESIGN looks worth exploring in its own right.
The story takes place on Kisejima, a small island in the middle of the ocean. The tiny oni known as Kuuta arrives in hopes of challenging the local demon spirits to do battle, with the ultimate hope of defeating them and gaining their powers. Combat seems to be simple but varied thanks to a variety of spirits and the addition of rolls, the abilities of ghostly companions, and what looks like an rage mode. You'll be able to become the ultimate oni when Oni: Road to be the Mightiest Oni arrives on Switch, PS4, PS5, and PC on March 8.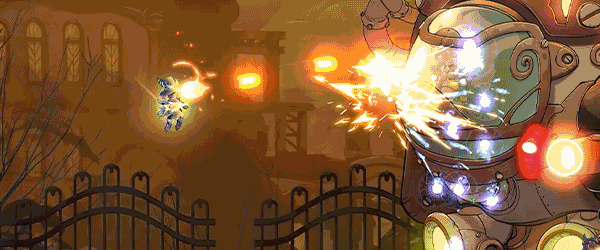 Have No Fear, The Knight Witch is Here!
It's always exciting to see indies innovate classic genres, and The Knight Witch looks to be doing just that with shoot 'em ups. As opposed to the classic bullet hell or shmup formula, The Knight Witch is incorporating spell cards into the mix that heavily augment enemy encounters. Deckbuilding might be a dirty word for some players, but worry not: though Team17 promises over 40 cards to strategically leverage in battle, they seem to be implemented in a way that doesn't take away from the action.
This ability to customize your own playstyle goes even further with the inclusion of "cheats" that unlock perks like invulnerability and double currency drops. Super Mega Team (the team comprised of developers from RiME, Moonlighter, and Plants vs. Zombies) designed The Knight Witch to be story-first as well, so it should be approachable for those new to the shmup genre. The dodging and blasting mayhem hits all platforms on November 29.
Chokeslam Some Fools in Wrestlequest
Were you a massive wrestling fan growing up? Do you still remember the signature moves of all the great wrestling icons? Have you ever dreamed of stepping into the ring with some of those wrestlers yourself? Well, you're in luck; Wrestlequest was made to scratch that exact itch for an entire generation of fans. This wrestling RPG is what Golf Story was to golf; a silly homage rooted in a deep appreciation for the sport.
Players will start at the bottom as an aspiring rookie and make their way up the ranks by besting a variety of wresters directly inspired by icons like "Macho Man" Randy Savage and André the Giant. Developer Mega Cat Studios is promising a ton of customization options as well, including moves, clothing styles, taunts, and even a unique match entrance. Get ready to travel the globe and face off against everything from exotic monsters to action figures brought to life when Wrestlequest drops on all platforms soon.
Can You Defeat the Goonya Monster?
Looking for a party game outside of the typical Mario Party and Jackbox fate? Goonya Monster might be the perfect quirky alternative to scratch that itch. This colorful enigma pits three humans with blasters against one powerful monster in an all-out deathmatch. Two factors separate Goonya Monster from games like Evolve that've tried this formula before: 1) there are secondary win conditions so the humans never run into a wall fighting against the monster, and 2) matches only take three minutes, so if things do become skewed it never lasts long.
Beyond the zany anime aesthetic, the major draw of Goonya Monster is the extent of its customization options. There's a diverse array of guns for the humans (everything from lasers to flamethrowers) and the number of unlockable clothing pieces seems truly above and beyond the industry standard. It won't be long until Goonya Monster starts ending friendships when it hits Switch, PS5, and PC on December 4.