Indie Games Spotlight – Full Steam Ahead
In this week's Indie Games Spotlight, we're looking at some of the best games of the February Steam Festival like Loop Hero and Squadron 51.
Indie Games Spotlight is Goomba Stomp's biweekly column where we highlight some of the most exciting new and upcoming independent games. With the Steam Game Festival in full swing, there are hundreds of great titles to try out, so this week, we're celebrating just a small handful of the standouts from the event. Whether you prefer endlessly replayable adventures, soothing strategy simulators, or old-school shoot'em up action, there's an attraction for any kind of player at this festival. Let's get started!
Waxing Dorfromantik
Sometimes, the best way to escape from the stress of the world is to create your own. Dorfromantik takes this belief to heart, as a soothing grid-based building strategy game that tasks you with simply lining up one grid with the next to create your perfect idyllic kingdoms. With a wonderfully relaxing aesthetic, this debut release from Toukana Interactive looks like the perfect kind of experience to kick back with.
Dorfromantik keeps things simple, but it's not devoid of challenge. As you place each tile, you'll be rewarded points based on how well it fits with the tiles around it. Additionally, you might have specific objectives to meet, like building a lush forest or continuing a train track. It takes genuine cunning to beat your high scores and create the best maps, so Dorfromantik looks to strike a balance with relaxing gameplay and rewarding strategies. Its beautiful picture book-style graphics and ambient soundtrack only serve to make it even more soothing. It's laying out its tiles for a March 25 release on Steam.
Grabbing Your Undying Attention
Games about a zombie apocalypse aren't exactly a novel concept, but Undying looks to add an additional level of emotion to the formula. Developed by Vanimals, Undying puts players in control of a mother and her son fighting for their survival during a zombie outbreak. However, the game adds one wrinkle to the formula: the mother has already been infected with the zombie virus, and it's only a matter of time before she succumbs to its effects.
What follows is a race against time, as players not only seek to fight off zombies in procedurally-generated maps, but they'll also have to teach their son all the necessary skills to succeed after the virus takes effect. With classic top-down gameplay, plenty of exploration, and a striking minimalist 3D art style, Undying promises a unique take on the survival genre with its intimate family focus. Watch for its virus to spread on PS4, Xbox One, Switch, and PC this year.
Loop It All Together in Loop Hero
You can always count on publisher Devolver Digital to come through with games that are unlike anything else on the market, and Loop Hero is no different. This procedurally generated deckbuilding RPG from developer Four Quarters takes place in a world locked in an endless time loop, putting players in the role of a hero tasked with defeating the hordes of evil and breaking the land out of endless repetition. It also allows players to build and expand their own home bases to further garner support,
Boasting endless replayability and a grotesquely detailed pixelated style akin to something like 2019's Blasphemous, Loop Hero looks to be a memorably brutal gothic adventure that has players coming back time and again to improve runs. The blend of building the perfect deck of cards all while building a successful base for support ensures that there's plenty to encourage just one more run. Loop Hero is on track for a launch on PC this March.

Take Flight with Squadron 51
Today, there's something irresistibly charming about the old-school sci-fi films of the 1950s. These movies might have been more than a little campy, but it's hard not to be won-over by the era's limited special effects and silly storytelling. The upcoming shooter Squadron 51 doubles down on the unique appeal of this old-school aesthetic. Putting players in the cockpit of anti-alien aircraft, Squadron 51 calls back to classic alien invasion stories with 11 stages of nonstop shoot 'em up action.
Boasting beautiful 3D graphics and live-action cutscenes that masterfully simulate the handcrafted special effects of 1950s cinema, Squadron 51 also promises a varied gameplay loop with four different ships to control, plenty of special weapons, and even support for local multiplayer at any point in the adventure. It's looking to be an exciting mission when Squadron 51 takes off later this year on PC and consoles.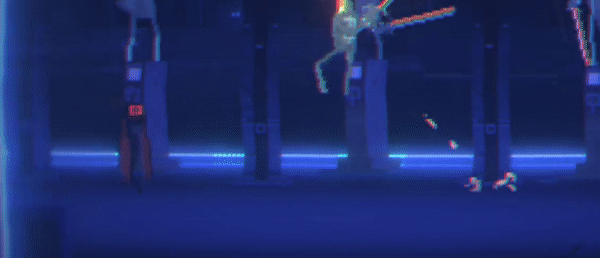 Reimagine the Past in Narita Boy
Narita Boy has been a long time coming. After a successful Kickstarter campaign back in 2016, the game has been in and out of the limelight for years. It has just recently resurfaced, though, and it's looking more exciting than ever before. Describing itself as a "neo retro symphonic quest post fever dream," Narita Boy tells a complex story that blends fantasy and reality, past and present, to create a visceral experience that looks to be unlike much else on the market.
At its core, Narita Boy is an action platformer where players control the hero of a retro action game who must fight his way out of a corrupted binary code. Meta to the core, Narita Boy features unique visual effects like VHS tape lines mixed with fluid pixel animations to simultaneously evoke feelings of the past as well as modern touches. Setting itself to be something that's tough to put into words, Narita Boy should be an exciting game to follow ahead of its release later this year on consoles and PC.