The Best of the Steam Game Festival: Spring 2020 Edition
The Steam Game Festival highlighted demos for some of the best new and upcoming indie games around, but which ones really stood out?
For as middling as 2019's The Game Awards might've been, Geoff Keighley still managed to surprise everyone when he announced the inaugural Game Festival premiering alongside the show. The idea was simple: take the game demos that had long been exclusive to trade shows and make them accessible to the general public for the first time ever. Instead of having to wait for hands-on impressions from outlets, players could get their hands on a curated selection of demos for themselves.
Four months later and the official second installment has come and gone, bringing with it 40+ demos for people to enjoy while in quarantine. Not only did spring's Steam Game Festival have more to play, but the diversity of experiences to try was absolutely fantastic. If you didn't get a chance to explore each title, here are some clear highlights you need to be aware of.
Note: The selections below are only comprised of demos we haven't covered before. Check out the site for impressions on Spiritfarer, Cloudpunk, Garden Story and more!
---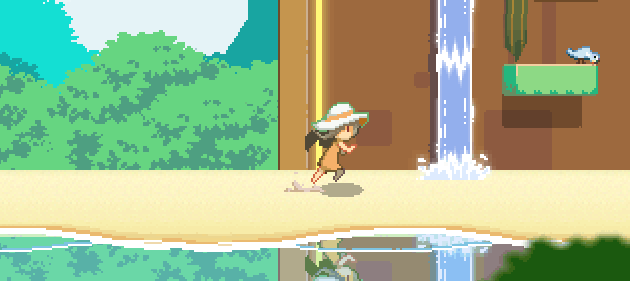 Evan's Remains
Developer: Matìas Schmied
Publisher(s): Whitethorn Digital
Looking for another tropical game to accompany Animal Crossing: New Horizons? Evan's Remains is a bright side-scrolling puzzler where you explore a (supposedly) uninhabited island in search of the titular Evan. Though not the strongest gameplay experience of the bunch, it featured pretty pixel art, pleasant music, relatively interesting puzzle concepts, and a mysterious story that errs on the side of unsettling more often than not. There's also a rare "Skip Puzzle" option from the main menu in case players get stuck and want to continue with the story.
Evan's Remains launches June 11th on PC and consoles.
---
HyperParasite
Developer: Troglobytes Games
Publisher(s): Troglobytes Games, Hound-Picked Games
This is a top-down roguelike with a unique hook: the player acts as a parasite and can take control of most enemies. Thus, players need to divide their time between shooting and dodging as a parasite and taking control of new hosts, each of which has their own basic and special attacks. Successfully balancing all of this takes some getting used to, but it's incredibly frantic fun once it clicks. Tying everything together is cheeky flavor text from an alien shopkeeper and the ability to save your favorite host for your next run.
HyperParasite is in Early Access and is available now on Steam.
---
Going Under
Developer: Aggro Crab
Publisher(s): Team17 Digital
An immediate standout, Going Under is a procedural dungeon crawler with a biting comedic edge. Players take the roll of an unpaid intern at a carbonated drink startup called Fizzle. The only problem? Goblins keep coming up from the basement and stealing supplies. Thus players are tasked with navigating the intricate basement levels and eradicating the pesky goblins within.
The gameplay hook is adaptability; players need to think on their feet and constantly switch out "weapons" that they find lying around the office-like environment. From giant staplers to pencils to a cartoonishly large cauldron called "That Drip," the sheer volume of objects is vast and makes for plenty of gameplay variety. The star of the show, however, is undoubtedly the tongue-in-cheek writing that permeates everything from the item names to the menu screens. This is definitely one to watch out for.
Going Under releases this year on PC.
---
We should talk.
Developer: Insatiable Cycle LLC
Publisher(s): Whitethorn Digital
And now, for something completely different. We should talk. focuses on the conversations that might occur when someone in a relationship goes out for a night on the town. Just like Mad Libs from back in the day, players have conversations by using a dialogue wheel to choose different phrases that then get mashed together to form a sentence. It's a simple concept, but the writing is sharp enough to keep the options entertaining yet realistic.
And that's really the selling point of We should talk.: though the graphics aren't the most attractive and the tunes are only decent, it's the authentic way the writers portray the dynamic of a relationship that had me yearning for more. With nine different endings and a bunch of conversation paths to go down, this is certainly one to keep an eye on.
We should talk. releases on all platforms this summer.
---
Rising Hell
Developer: Tahoe Games
Publisher(s): Toge Productions, Another Indie
There's a reason arcadey game loops are still so popular today. Rising Hell is a vertical rogue-lite that's completely nailed its gamefeel first and foremost. Dynamic camera angles and simple yet visceral combos make every bit of combat feel rewarding (as do the weapon drops and purchasable upgrades). The vertical platforming is also surprisingly solid with a litany of hazards–in addition to the clock–to watch out for. All in all, this should be a great game to play in quick bursts and is ideal for any score-chasers out there.
Rising Hell is in Early Access and is available now on Steam.
---
Welcome to Elk
Developer: Triple Topping
Publisher(s): Triple Topping
Welcome to Elk was the most pleasant of surprises. An adventure game with stellar and relatable writing. The demo thrust players into the shoes of a young carpenter named Frigg who moves to Elk and tries to make sense of her new environment. A narrative adventure through and through, gameplay boils down to walking around, interacting with colored objects, talking to people, and participating in contextual mini-games that emphasize story beats (like participating in a dance competition and having to drink every time you get an input wrong). Its art style and overall tone are both folksy and genuine, and I can't wait to see how the full narrative unravels–especially because so much of it is based on true stories.
Welcome to Elk launches on PC later this year.
---
she dreams elsewhere
Developer: Studio Zervere
Publisher(s): Studio Zevere
Solo dev success stories are few and far between in the games industry, and for good reason–it's incredibly difficult to pull off. That said, Davionne Gooden's she dreams elsewhere feels so cohesive and personal that it couldn't have been developed any other way. It's a Gameboy-styled RPG with a turn-based battle system reminiscent of the Mother series, but it's also the story of a young 20-something battling with anxiety in a way that feels scarily realistic. Though the demo only spanned an hour and a half, the cast already boasts some the most faithful portrayals of black characters I've ever seen in a game, and the soundtrack (particularly during the party scene) is equally as authentic. Don't sleep on this one.
she dreams elsewhere releases on PC (and possibly consoles) later this year.