5 of the Best Game Demos From LudoNarraCon 2021
Learn about some of the most impressive demos showcased at LudoNarraCon 2021 including Lake, Game Directory Story, No Longer Home and more.
Established just two years ago as a way to showcase and celebrate narrative games that could use greater visibility, LudoNarraCon (hosted on Steam) has quickly become the destination for some of the most inventive story-driven experiences in the industry. While the talks and panels are certainly worth checking out in their own right, equally as exciting are the game demos that're made available during the duration of the conference. Since this year's LudoNarraCon is boasting a whopping 34 demos for all to enjoy, we decided to dive in and narrow that list down to five that are definitely worth your attention. If you like what you read, be sure to head over to Steam and add the game to your Wishlist; it truly makes a difference.
Note: The selections below are only comprised of demos we haven't covered before. Check out the site for impressions of Genesis Noir, Button City, Song of Farca and more!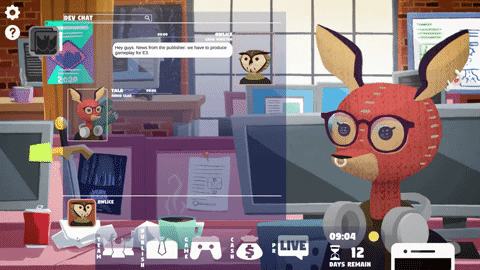 Game Director Story
Developer: Double Bilt Games
Publisher: Double Bilt Games
The hardcore gaming audience may keep track of different announcements, studio news, and metacritic scores, but very few actually know what goes into the day-to-day of making a video game. Based on real accounts from various developers, Game Director Story takes players behind the scenes into what developing a AAA game looks like from the top down. Putting you in the shoes of the titular game director, the demo played out via a chat interface where different leads ping you about game issues that arise, questions around direction and decision-making, and more off-topic personal stuff.
It takes a similar approach to the Reigns series from Nerial that presents gauges that increase and decrease with every decision you make (and that telegraph how different factions will be affected before you decide). It's a tried-and-true formula that works brilliantly in this context, and it's made all the better by the stellar dialogue that quickly establishes characters you can't help but get invested in. In fact, the writing in general is impressive with how realistic and unflinching it is. In the demo alone I shot down my Art Director's proposal to run our social media, argued with our publisher about producing a gameplay trailer two weeks before E3, and struggled with the prospect of crunch at the studio. You can wishlist Game Director Story here.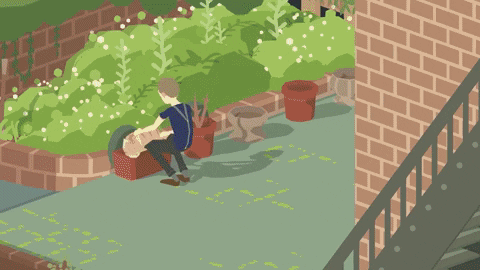 No Longer Home
Developer: Humble Grove
Publisher: Fellow Traveler
For some, finally graduating from college is a massive weight off their shoulders. For others, it signifies a huge anxiety-inducing change and the end of the "school safety net." No Longer Home is a semi-autobiographical point-and-click adventure featuring flatmates Ao and Bo as they struggle to navigate this defining point in their lives. It's a rather somber experience that evokes some of the same wistful feelings that Necrobarista did; players only see these characters at the end of their time together and must use conversations and items around their flat to get a sense of what life used to be like for this duo. You'll get to control the narrative a bit via some dialogue choices, but No Longer Home is largely a static, deeply reflective tale that's deliberate in how its told. With audio design that shapes the mood and impact of every scene, and a diorama-like presentation that reveals new secrets with every swivel of the camera, this is definitely one to keep an eye out for later this year. You can wishlist No Longer Home here.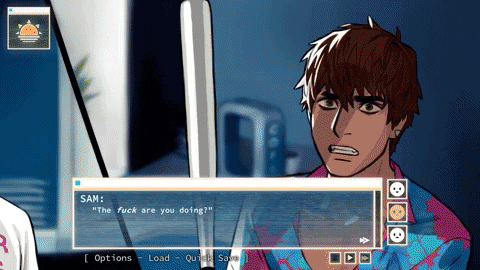 Love Shore
Developer: Perfect Garbage
Publisher: Perfect Garbage
A fertility crisis has swept through the city and left its residents in a panic about being able to have children and sustain city functions. Enter Life S. Incorporated, a biotech company that offers a solution: they're able to genetically engineer humans via a mix of their parent's DNA and artificial bodies. Before the company mysteriously vanishes they're able to create 100 of these "S. Humans," and Love Shore puts you directly in control of two of them. A more gritty take on the dating sim genre, Love Shore pushes its thrilling cyberpunk mystery first and works love interests around it. Though atmosphere can sometimes be difficult to communicate through visual novels, the ominous air the city takes at night is palpable throughout. The demo was short, but it was nonetheless able to quickly establish the two main characters and several potential partners in a way that left me desperately wanting to know more about their past and their ties to the city's seedy underground scene. You can wishlist Love Shore here.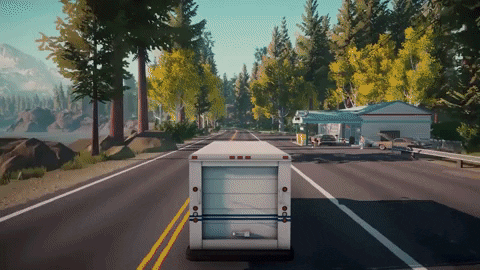 Lake
Developer: Gamious
Publisher: Gamious, Whitethorn Digital
Lake is a story-driven mail delivery game where you play as Meredith, a forty-something who decides to take a two week vacation to her hometown while her parents are away. With the family house to herself and her dad's shoes to fill as the temporary town mail person, you'll get to experience small-town life through Meredith's eyes as she reflects on her childhood, reunites with old friends, and meets new romantic interests. It's a pretty title that not only accentuates the natural scenery of a lake town but also plays out quite realistically as long-time residents still refer to Meredith as "Frank's kid" and friends she grew up with have gotten married and had kids of their own.
Every morning you'll set out from the post office with a number of packages and letters that you'll have to drive around the lake and deliver. For mouse and keyboard controls the driving itself feels shockingly tight, and the single radio station available (more may come later) absolutely nails that small-town country feel. Even more impressive was the full suite of voice acting and how convincing each performance was. Though I only played two of the 14 days over which the game takes place, Lake was already setting up love interests and more prickly characters that I can't wait to learn more about when it releases this summer. You can wishlist Lake here.
The Longest Road on Earth
Developer: Brainwash Gang, TLR Games
Publisher: Raw Fury
The Longest Road on Earth is a minimalist life sim that couldn't be a better fit for something like LudoNarraCon. Its demo is short (only about 18 minutes) but manages to capture a surprising range of emotions. In some ways it's akin to a silent movie; there's no dialogue, it's in black and white, and the only input from players is walking via arrow keys and interacting with things via the space bar. In this case, however, music is absolutely imperative to the experience.
24 original songs have been created for The Longest Road on Earth, and all four-five included in the demo were both catchy and full of emotion in a way that really drove home the essence of every scene. From a construction worker in the inner city making his daily trek to catch the train to a child gleefully playing in the snow and getting up to some innocent mischief, the music added to the poignancy of each scenario despite some playing out more monotonously than others. While the songs didn't always transition into each other in the most cohesive of ways, the fact that it's all original music and it sounds this good is a feat all its own. Be on the lookout for The Longest Road on Earth when it launches May 20th, and wishlist it here.
Honorable Mentions