Indie Games Spotlight – A Win for Writing
In this week's Indie Games Spotlight, we're celebrating the best games of the Steam Game Festival & beyond like Potion Craft and Song Farca.
Indie Games Spotlight is Goomba Stomp's biweekly column where we highlight some of the most exciting new and upcoming independent games. The February's Steam Game Festival may be over, but there were so many strong demos on display that we just had to highlight a few more favorites. Be it point-and-click adventures, romantic comedies, or roguelikes, there's something for everyone in this week's lineup. Let's jump right in!
Learn the Art of Potion Craft
While we're in the midst of a renaissance for magic school games, there haven't been many titles that solely focus on the art of making potions. Potion Craft is an alchemist simulator that puts players in the shoes of a town alchemist running their own shop. Customers will come in daily and request a wide range of remedies (or poisons) for their needs, and it's up to players to source the correct materials, process them, and combine them into a potion worthy of charging a decent price for.
Part of what makes Potion Craft so much fun is its emphasis on manually going through the potion-making process. Ingredients are ground by using a mortar and pestle, fires beneath the kettle are started by pumping a fan, and concoctions are stirred "by hand" using a ladle. There's a ton of potential here, especially when it comes to storytelling; if done right, subplots like making poison for an assassination or love potions for a wealthy lord could keep running the potion shop interesting on its own. The shop will be open for business when Potion Craft releases later this year.
It's Time to Play Despot's Game
Though Warriors-style experiences are often thought of as the ultimate in cathartic gaming, there's another overlooked genre that often delivers the same sense of satisfaction: tower defense. Meticulously setting up your units and seeing them overcome an onslaught of enemies is almost inherently addicting. Despot's Game taps into this same formula but puts a roguelike, fast-paced spin on it that had me coming back to the demo constantly.
At its core, Despot's Game is simple: spawn a fighting squad, give them an array of equipment, and have them stand their own against enemies and bosses as you make your way through a series of randomly-generated rooms. The variety of classes minions can take on keeps things fresh as players are constantly encouraged to experiment with different configurations (is a party of all wizards really the best setup for this boss?) in a very Totally Accurate Battle Simulator way. The better you do in battle, the more you earn to recruit new members and leverage new classes. It's a sandbox of death in all the best ways, and it's coming to Steam later this year.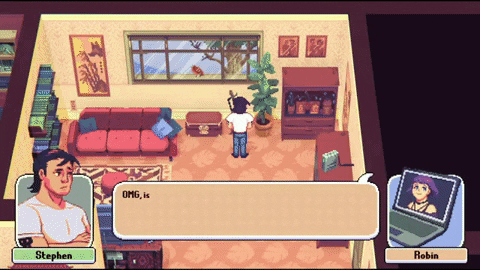 Romantic Distancing is All the Rage
Last year's Half Past Fate was a heartwarming romantic comedy that followed three would-be couples and their relationships over the course of eight years. Now in less than a year, Serenity Forge has returned with a timely side story based on the struggles of dating during a pandemic. The turnaround time on Half Past Fate: Romantic Distancing is astonishing, but it's come at a price: this spin-off only follows one couple, and it clocks in at just under an hour to complete.
Regardless, it's fascinating seeing a take on life during quarantine while it's still happening. Long distance relationships are an entirely different beast compared to the more common love stories told in the first game, and seeing Romantic Distancing wrestle with some of the ins and outs of dating via texts and video calls is sure to resonate with anyone who's been in a relationship hampered by quarantine over the past year (or a long distance relationship in general). Experiencing the story through the eyes of each character keeps things in perspective, and it's still lovely seeing this unique 2.5D pixel art style at work. If you're looking for a charming slice-of-life story that can be easily completed in one sitting, Half Past Fate: Romantic Distancing is available now on Switch and Steam.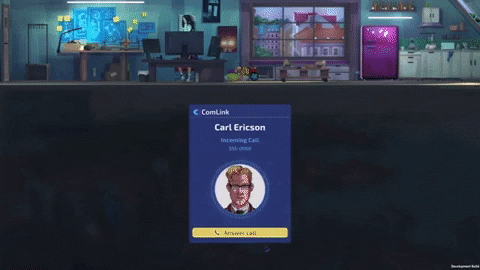 Sing the Song of Farca
There's a certain mystique to hackers that's always been a bit alluring. Are they computer geniuses? Evil masterminds? Nerds with too much time on their hands? Capitalizing on this intrigue, Song Farca puts players in the role of hacker Isabella Song who's working from home to uncover government conspiracies and police cover-ups in the deeply corrupt city of Farca.
The screen is split between a small view of Isabella in her apartment at the top and a larger view of her computer display below. When she's at her computer she can correspond with clients, hack into various terminals, and piece together evidence using an advanced AI system. The hacking is the star of the show, and from the brief glimpse the demo gives it seems to strike a decent balance between accessible and thrilling. Everything from drones to cameras to computer databases are up for grabs, and the murky narrative threads tying everything together kept me invested the whole time. The release date for Song Farca is TBA, but it should be worth examining when it eventually launches on PC.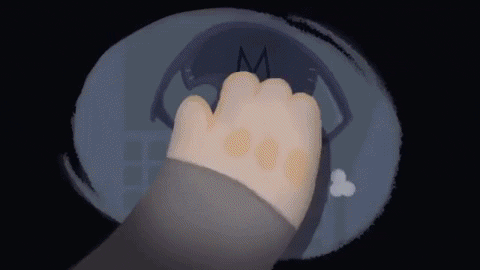 Uncover the Mysteries of Mutropolis
It's no exaggeration to say that the indie scene has continued to keep point-and-click gaming alive and well, and Mutropolis is the latest example of this. It all begins in the year 5000 when a ragtag team of archaeologists leaves Mars to rediscover human history on Earth. The voyage is going swimmingly until the supervising professor suddenly gets kidnapped, leaving the rest of the crew scrambling for answers. Will the troop be able to find him–and discover the lost treasures they came for–before it's too late?
Mutropolis' greatest asset is its writing. Much like the great point-and-click adventure games of old, the team at Pirita Studio has managed to develop witty dialogue and quirky characters that never wear out their welcome. Strong voice acting throughout lends further charm to the cast, and the hand-drawn visuals give Mutropolis a strong identity all its own. Though progression can be a bit confusing (and even frustrating for those keen to blast through the story quickly), old school fans of the genre will feel right at home here. You can pick up Mutropolis now on PC.