Indie Games Spotlight – A Season for Excitement
Are you hungry for quality indies to check out? In this week's Indie Games Spotlight we take a look at Button City, Rainy Season and more!
Indie Games Spotlight is Goomba Stomp's biweekly column where we highlight the most exciting new and upcoming indie games. In this week's Spotlight, we've got everything from wholesome friendship-building adventures to surprisingly graphic roguelikes. Be you a fan of platformers, narrative adventures, or humor in games, we've got something to suit your tastes. Let's have a look!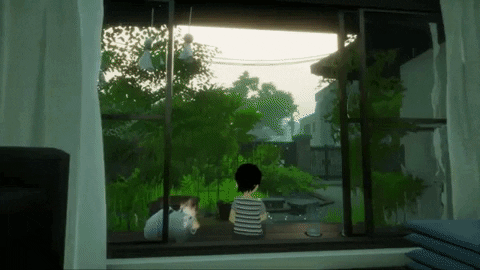 Make the Most of the Rainy Season
With every passing year the sheer scope of experiences video games can provide becomes more and more impressive. Much like how 2019's Kind Words served as a medium for human interaction and empathy, Rainy Season gives players the chance to enjoy a day inside with their family. It's a short and sweet narrative that can be finished in less than an hour, but similarly to Kind Words, what you get out of it will depend on how much you put in.
Alongside listening to the rain and enjoying soothing music, the core draw is the conversations you'll have with your family and the daydreams you'll have when they're off doing their own thing. For those without an immediate family or who have one that isn't very close, this has the potential to be a particularly moving experience. Rainy Season is coming out this summer on Steam, and is available now as part of the Humble Trove.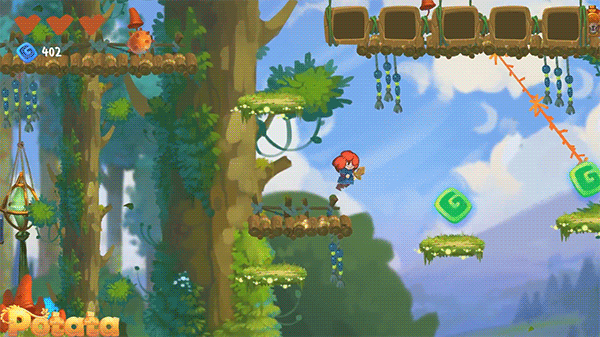 Going Hands-on with Potata: Fairy Flower
As far as platformers go, Nintendo has long held the title of making the best in the industry. That said, for those on a bit of a budget (or those without a Nintendo console), indie platformers can scratch that running and jumping itch all the same. Potata: Fairy Flower fills this void nicely; it's simple and approachable enough for genre newcomers while still providing a decent challenge and a lengthy campaign (roughly 10 hours) for a low price.
You'll play as the titular Potata, a witch-in-training who accidentally picks her forest guardian's favorite flower one day. In her quest to make things right she'll have to explore a magical forest while solving puzzles, fighting enemies, and dealing with bratty rivals. The forest itself is teeming with life and is a perfect fit for natural platforming elements like flowers that retract after being stood on and spiky bulbs that move between platforms. Though jumps feel a bit floaty, they're balanced well enough with the physics of the world that it's never a serious issue.
What are issues, however, are puzzles and dialogue that consistently break up the platforming. Potata has a bad habit of gating progress behind unintuitive dot puzzles that disrupt the flow of levels and can leave younger players at a loss for how to progress. And for as much care went into making the dialogue interesting (including several dialogue options per conversation), there are simply too many grammatical errors to ignore. If you can look past these two weak points, however, the core gameplay is strong enough to make it worth a recommendation for fans of the genre on a budget. Potata: Fairy Flower is out now on all platforms.
Grab Your Coins and Head to Button City
Sometimes you just want to play something that screams "good vibes." Button City is a cloyingly cute narrative adventure about arcade games, friends, and growing up. In an intro that hits close to home, Button City opens with a fox named Fennel moving to a new town and spending all his time inside playing video games. After being sent outside to play by his mother, Fennel discovers a wonderful local arcade and has a blast making friends in it…until its closure is threatened by ruthless business mogul Peppermint Pepperbottom.
It's a cozy premise that should be all too familiar to anyone who's made friends through a video game (or watched a Saturday morning cartoon). Though it's narrative-driven, players will also be able to dive straight into these arcadey minigames with their animal pals and shoot for high scores to unlock new costumes and game modes. We'll be able to hop into this quirky, pastel world when Button City releases "soon" on Steam.
Braving the Colt Canyon
To say roguelikes have been popular in recent years would be a massive understatement. And yet, Colt Canyon shakes things up with a brand-new setting and angle: it's the wild west, and you're a cowboy on a mission to save his partner from a ruthless group of bandits. Armed with a gun and a stash of TNT, you'll have to fight your way through the titular canyon, save your partner, and make it back home all in one piece. Should be easy enough…right?
As has become expected of the genre, Colt Canyon features a slew of characters and weapons to unlock and experiment with. It's also skill-based rather than grind-based, making runs that much less of a headache for adept players who want to push their skills to the limit right off the bat. Runs can be done via local co-op, but single players can also enlist AI-controlled companions to take down baddies and bosses in horrific pixely detail. The gunslinging begins when Colt Canyon releases this summer on all platforms.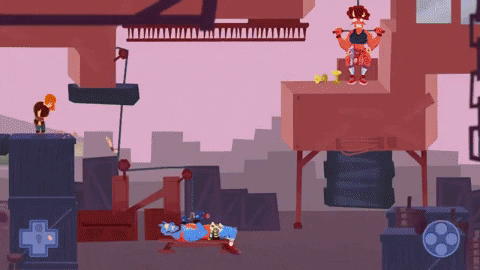 Embrace the Helheim Hassle
It's not easy to make a genuinely funny video game, but the developers at Perfectly Paranormal managed to pull it off cleanly with 2016's Manual Samuel. Now almost four years later, their new project is dripping in the same charm and quirky humor that made Samuel so memorable. Helheim Hassle is another narrative adventure game from the same universe that centers on Bjørn, a dead Viking who desperately wants to leave Valhalla. In pursuit of a permanent residence in Helheim, it quickly becomes clear that Bjørn will have to make smart use of his body (parts) to achieve his goal.
An adventure game about controlling dismembered body parts sounds macabre, but Perfectly Paranormal's signature cartoony aesthetic keeps things from getting too grotesque. Players will have to think outside the box to figure out which body part will be most effective in each situation as they run through 70+ puzzle-platforming challenges. The story also promises to be full of 80+ colorful characters with the same fully voiced dialogue fans have come to know and love. We'll all be able to plan our escapes when Helheim Hassle releases on Switch, Xbox and PC on August 18th, and on PS4 at a later date.