Indie Games Spotlight – Beyond the Sun
Skating, potion-making, digging; we've got it all in this week's Indie Games Spotlight selections.
Indie Games Spotlight is Goomba Stomp's biweekly column where we highlight some of the most exciting new and upcoming independent games. Remember when summer used to be a down season for video games? The number of game releases coming in the next couple months is simply overwhelming, and we're here to make sure you're playing the best of the best. Be it potion-making, digging, roller blading, or moon exploration, we've got a little bit of everything this week. Let's jump right in!
Dig Deep in Ground Divers!
Though Minecraft may be the premier digging game nowadays, the simple joys of more arcadey experiences like Dig Dug still have a certain pull to them. This is why Ground Divers! works so well; it's a strategy-based arcade game that's designed to be accessible and deeply replayable. Instead of drilling underground themselves, players have to remotely control a special mining robot by placing pins for it to follow. The goal? Collecting rare matter from the deepest parts of the world.
Though things can be a bit tutorial-heavy at the start, it doesn't take long before the core gameplay of Ground Divers! clicks. Learning how to take the optimal path to avoid enemies and blocks that drain energy feels rewarding, and managing how much power is channeled into Tsuruhashi (the robot) is a delicate balancing act. Charming characters add a nice bit of personality and frame missions around certain objectives, giving each run clear goals to work towards. If this kind of simplistic arcade adventure is up your alley, you're in luck: Ground Divers! is out now on Switch!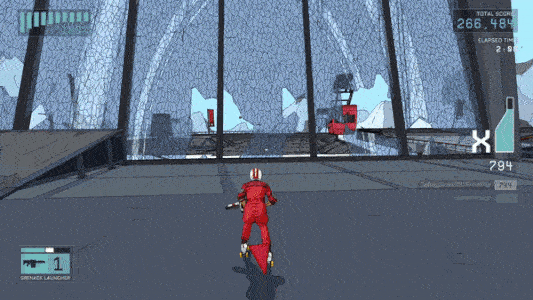 Enter the Rollerdrome
Following the release of the highly-praised OlliOlli World earlier this year, the last thing anyone expected was for Roll7 to release another game only six months later. And yet, for as stylistically different as Rollerdrome is from the vibrant OlliOlli universe, the two don't feel all that different in terms of movement. Rollerdrome is a third-person shooter that takes place entirely on rollerblades, blending Roll7's mastery of intense skate-based movement with gunplay reminiscent of My Friend Pedro.
Learning into being a more high-octane shooter, Rollerdrome requires players to kill for health recovery and pull off tricks for ammunition. The presence of online leaderboards suggests that it'll be stage-based, though Roll7 promises a compelling plot revolving around sinister corporations and the bloody sport of Rollerdrome itself. With combat that looks more fluid than most and an aesthetic that screams Sable, Rollerdrome has a fair shot at being a hit when it launches on PC and PlayStation 4/5 August 16.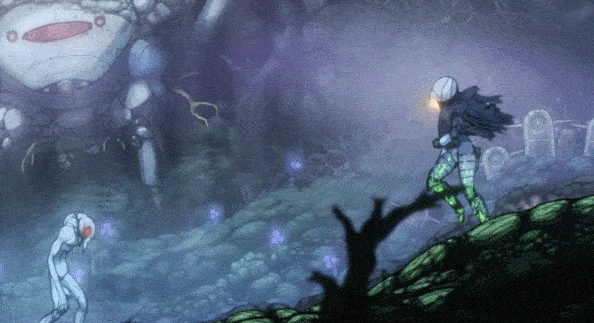 Sing the Dreary Ghost Song
Humble Games has been gradually growing itself into a premier indie publisher, and Ghost Song looks to be the next jewel in its crown. Taking place on a desolate moon in the far reaches of space, Ghost Song is an atmospheric 2D adventure where players will confront cosmic terrors while uncovering ancient mysteries.
The core loop of Ghost Song is part exploration, part combat. Players will explore dimly-lit caverns and long-abandoned labs in pursuit of new weapons and abilities to fight off aliens with. During combat, using the blaster will power up the strength of melee attacks, creating a nice rhythm of needing to switch between the two. With hidden rooms to discover and power-ups to collect, Ghost Song should scratch a very specific metroidvania-like itch when it drops later this year on PC.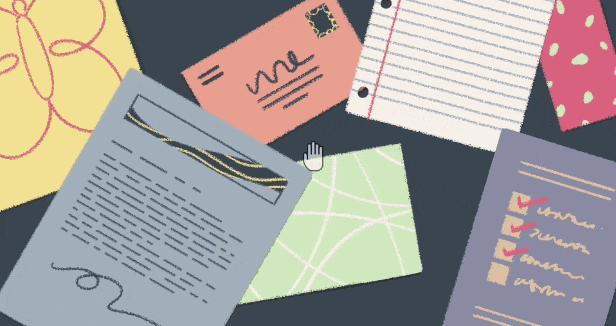 Trying Moving Things A Little to the Left
In the same vein as last year's Unpacking, A Little to the Left is a simple organizational game about sorting and stacking household objects after a mischievous cat has knocked them over. Though there doesn't seem to be a narrative thread throughout all the puzzles this time, the appeal of A Little to the Left is in its variety. Since every puzzle is based on a household object, there's a tremendous amount of material to pull from–so much so that developer Max Inferno is promising daily puzzle variations in addition to the 75+ puzzles built in.
What may either make or break this experience for players, though, is the inclusion of the aforementioned cat. It'll "occasionally" come through and mess up any progress that's been made on a puzzle, which both makes things more unpredictable and is sure to be infuriating for less patient players. Nonetheless, the charming illustrations and unlockable badges may be enough to keep players coming back when A Little to the Left hits Switch and PC later this year (and mobile at a later date).
It's Time for a Lesson in Potionomics
Much like the release of Omori in 2020 and Sable in 2021, it's hard to believe that Potionomics is finally coming out later this year. It's a classic example of a "Twitter game" that's had gifs go semi-viral for years without a release date in sight. The premise of the potion shop simulator has always been compelling, though; as a poor witch who suddenly inherits her uncle's shop, players will have to master brewing, negotiate prices, and outsell their competitors to ensure their uncle's legacy lives on.
Like most simulation games, the main appeal of Potionomics comes from getting fully entrenched within its world. Choosing the perfect ingredients for potions, making friends, managing finances (and stress levels), and customizing your shop with décor that suits your style all looks and sounds like a dream. It remains to be seen if the deckbuilding system used for haggling pans out, but if it does, this could be a must-play for witchcraft and simulation fans alike when it hits PC this fall.