Indie Games Spotlight — A Fresh Start
The adorable Pupperazzi, ambitious shooter Red Tether, and more!
Indie Games Spotlight is Goomba Stomp's biweekly column where we highlight some of the most exciting new and upcoming independent games. We're already well into 2022, and while there are plenty of indies to look forward to throughout the year, there are also lots to be excited about right around the corner. These first few weeks of the year are brimming with promising titles, so whether you're looking forward to adorable adventures or minimalist puzzles, the inaugural weeks of 2022 are sure to serve you well. Let's dig in!

Don't Just Stare…Please, Touch the Artwork
Art galleries can be magical places, but there's no denying they can feel a bit sterile. They might be packed to the brim with beautiful art, but every piece is strictly off-limits–you can look all you want, but if you touch, you'll be on your way out. That's where Please, Touch the Artwork comes in. This inventive puzzle game developed by Studio Waterzooi promises zen brainteasers mixed with a narrative that aims to explore the origins of modern art altogether.
Boasting three full-fledged games (each of which is based on an iconic piece of modernist artwork) with over 150 unique puzzles between them, Please, Touch the Artwork makes a lot out of its minimalist subjects. The puzzles tie into the larger story, addressing themes like isolation, loneliness, and change through the stark yet evocative lens of minimalist art. It polishes off its artistic vibes with a light jazzy soundtrack, making for a worthwhile museum piece ahead of its launch on PC and mobile devices on January 26 (with a Switch release coming later this year)!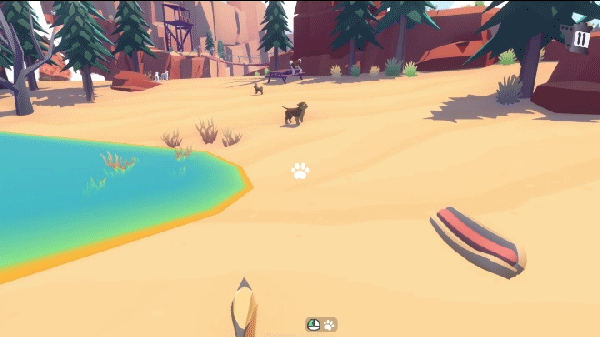 Say Cheese for the Pupperazzi
What's the meaning of life? If you answer, "To pet all the dogs," then we wouldn't blame you–and, coincidentally, it would look like Pupperazzi is the perfect game for you. Set in a world overflowing with derpy puppers begging for attention, it's up to you to wield your camera and set out to photograph every doggo you meet–with just a few pets and snuggles along the way too.
Pupperazzi is immediately adorable, and with a value proposition like "Pokemon Snap but with dogs," who could resist? The game promises to feature just about every breed you can imagine, giving you a healthy selection of mutts to snuggle. Do humans also happen to exist in this world of canine cacophony? Frankly, does that even matter? Take pics of all the furry friends you can find, explore a sprawling sandbow environment, and share photos with your friends in-game and on social media–there's plenty to do when Pupperazzi hits Xbox and PC on January 20.
Warm Up to Inua: A Story in Ice and Time
Blurring the lines between fantasy and reality in a desolate snowscape, Inua: A Story in Ice and Time is a mystical point-and-click adventure game set in the northernmost reaches of Canada. Based on historic Arctic expeditions, Inua also draws from Inuit folklore and mythology in a narrative that centers around the relationship between three explorers and the mythical polar bear, Nanurluk. Inua tells a story that's been decades in the making, aspiring to explore a theme no less than the relationship between humanity and nature.
Players will have to manipulate space and time itself to solve puzzles and complete their expedition. As with any good point-and-click experience, Inua brims with secrets to uncover in every level and beckons players to interact with everything they can to open up new paths of progression and, ultimately, restore harmony with the natural world. Polishing off its ethereal vibes with a beautiful minimalist visual style, Inua: A Story in Ice and Time looks like compelling playing ahead of its release on PC and Switch within the next few months.

Latch Onto Red Tether
What's the best way to take out an enemy spaceship? By harpooning yourself onto it and crashing into it, of course! At least, that's what top-down roguelike action space game Red Tether (fittingly stylized —Red—Tether–>) would say. As its title would suggest, Red Tether uses an "indirect combat system" where you launch a harpoon onto your enemies or latch them together, relying on physics and momentum to send them crashing down.
Red Tether promises plenty of unique enemy types and mechanics to push your skills to their very limits: with seven different ships to control, dozens of customization and progression options, and more than ten unique environments, there's plenty for you to sink your teeth and/or harpoons into with this cosmic quest. Throw its stylish red-centered color palette into the mix, and you'll want to keep your eyes on Red Tether for its release on Steam on January 18.
Get Ready for Summertime Madness
We may be in the middle of the thick of winter, but it's never too late to prepare for the onset of summer–so it's perfect timing for Summertime Madness to make its debut on consoles. This surrealist first-person adventure follows a painter who ends up getting sucked inside one of his own painterly creations, leading to an otherworldly adventure into a canvas filled with devious puzzles and environments that adapt as you move through them.
Featuring a fitting pastel graphical style, Summertime Madness brings an evocative setting paired with a nuanced story about the nature of art itself. The world morphs and adapts with every step, leading to a journey that beckons exploration and discovery around every corner. After its PC release earlier this year, Summertime Madness draws up a new audience for itself on Switch, PlayStation, and Xbox platforms on January 26.