Indie Games Spotlight – Fall Festivities
As we move into the fall season, we're highlighting five standout games including Witcheye, Drake Hollow, and Nasar: Son of Man.
Indie Games Spotlight is Goomba Stomp's biweekly column where we highlight some of the most exciting new and upcoming independent games. Between a packed August and a strong indie presence at Gamescom 2020, there's been a virtual deluge of indie news to keep up with. This week we're spotlighting a mix of recent releases and highlights from this year's digital show. No matter your tastes there's sure to be something here for you.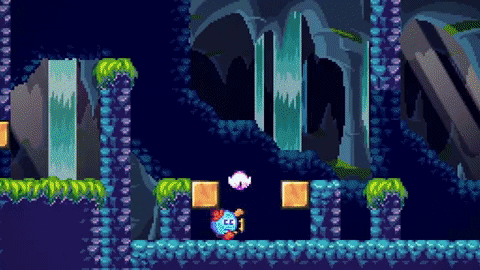 Embrace Your Third Witcheye
Nothing screams fall quite like a good witch game. Courtesy of Moon Kid and Devolver Digital, Witcheye has joined Manifold Garden, Inmost, Takeshi & Hiroshi and others in the recent Apple Arcade migration to Switch. After a knight rather rudely steals her potion ingredients and jewels, it's up to the titular witch to transform into a single eye and quickly follow his trail to retrieve everything he's taken. It's a simple premise, but it works fairly well as motivation for a simple side-scrolling adventure.
As an eye, players move in a straight line and can change directions on the fly via the control stick or touch screen. Stopping is also possible, but it's an input. This means that players are hurtling towards enemies, walls, and hazards at any given time and must carefully adjust directions on the fly to find the hidden gems (and sometimes special collectibles) in every stage. Its mobile design philosophy means that each level is bite-sized and perfect to pick up and play via the Switch's handheld mode.
With over 50 levels to explore, a genuinely great soundtrack, and several unlockable difficulties (along with speedrun and boss rush modes),Witcheye might be one of the best values on the eShop since Kamiko in 2017. It's out now on Switch, Steam, and mobile.

The Fallen Angel Rises Again
Potential. More than any other word, it was "potential" that constantly came to mind as I played through the preview build of Fallen Angel. Throughout the first hour of this side-scrolling action-RPG it was clear just how solid the foundation Matrioshka Games has built is. The art and locations are distinct and varied, the moment-to-moment combat feels tight and rewarding, and there's enough enemy variety to keep encounters from being mindless. However, despite the compelling premise of playing as Lucifer fighting his way back through heaven, Fallen Angel isn't quite there yet.
For as fun as the core slicing and shooting mechanics of combat are, the enemies themselves feel like they were just dropped on the map without any thought or organization. Whereas most games place enemies deliberately to create balance and a sense of progression (i.e. having to defeat a group of four before the next area becomes accessible), here foes are just scattershot without any barriers impeding progress or encouraging interaction. Combat is fun enough to warrant doing regardless, but being able to run past everything and progress through areas in seconds somewhat cheapened the overall experience.
With plenty of unlockable upgrades to equip and areas to visit, combat that both looks and plays great, and even partial voice acting, Fallen Angel has a strong basis upon which to build. As long as the enemy and player progression are tightened up a bit and some serious bugs are ironed out, it should be worth keeping an eye on when it releases on Steam October 22nd.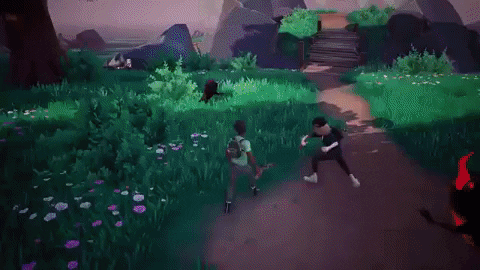 Defend Your Colony in Drake Hollow
Colony simulators are one of the less approachable genres of gaming. The concept is exciting: customize structures, care for a population, and shape how a mini society runs to your liking. However, these ideas can often get bogged down by heavy-handed systems and unfriendly interfaces. Drake Hollow has its fair share of systems, but its console-first design (it's out now on Xbox One with a PC version on the way) means that the user interface and interactions have been significantly streamlined compared to something like, say, Surviving Mars.
After losing your job and your significant other, your customizable character is solemnly sulking in the woods before being approached by a mystical talking crow. This crow leads you to The Hollow, an alternate dimension where the vegetable-like Drakes are perishing due to a lack of food, water, and entertainment. Leaving your downtrodden life behind, it's up to you to build up the Drake community once again and rid the land of the ever-encroaching evil Feral.
There's a lot to dive into, but Drake Hollow does a good job of dishing it out gradually (maybe a bit too gradually, in fact). Players will be able to build everything from dolls and grass mats to beds, yoga balls, and solar panels. The Drakes themselves are nothing short of adorable, and building up your base to protect them quickly feels like second nature. While exploration can be a bit tedious at first and combat suffers from the lack of a lock-on toggle, the core loop of scavenging for resources and building up my base had me continuously engaged throughout. Drake Hollow is out now on Xbox and Game Pass and will be coming to PC soon.
Run and Take Zelter!
Though the zombie infestation of games, film, and TV has long passed, there's something refreshing about seeing a zombie apocalypse play out in cute pixel art for a change. Save for this more welcoming aesthetic, Zelter seems structured quite similarly to something like State of Decay 2; players will have to rescue survivors, gather resources, and build up their bases while frantically trying to survive and avoid ravenous zombie hordes.
By shedding the horror elements of its presentation, Zelter opens the same addicting survival mechanics up to a significantly wider audience. The team at G1 Playground promises extensive crafting and management systems, including the ability to direct other survivors to a stand guard, craft essential supplies, and scavenge for resources on their own. Like many in the survival/base-building genre, Zelter will first launch in Steam Early Access on October 22nd and continue to be built based on player feedback. If all goes well, this could be one of the most inviting—and addicting—zombie games by the time it hits 1.0 further down the line.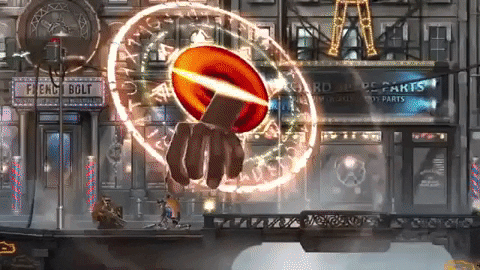 Team Up with God in Nasar: Son of Man
Waging war against an evil robot army isn't necessarily a new concept, but Enlightened Robot Entertainment's take on the premise feels undeniably fresh. Naser: Son of Man was just revealed at Gamescom and, though there's no telling how far out it is from release, managed to have one of the best showings of any indie at the virtual show.
Naser: Son of Man takes place in an alternate history where Britain has managed to take over the world with a robot army. Seeing the chaos, God decides to resurrect Naser and teams up with him to take down the Queen's robotic forces. It's an absolutely crazy premise, but the moment-to-moment action looks rock-solid. This is a 2D cover-based shooter first and foremost, and Naser's agility (along with some surprisingly visceral melee attacks) make for action that looks fast, frenetic, and satisfying.
Aside from leveraging a slew of different weapons to dispatch foes with, Nasar can also call upon God himself (who's fantastically voice-acted in the trailer) to dish out some hurt and deliver amusing one-liners. Though it may be some time before we get to explore this wacky, automated world, it's certainly one to keep an eye out for when it eventually releases on all platforms (minus Switch) down the line.