Indie Game Spotlight – From Wacky to Wonderful
In this Indie Game Spotlight, we're highlighting some of the best indies releasing in January and beyond throughout 2020.
The New Year is fully upon us now, and 2020 is already set to be a great year for indie games with the release of many anticipated independent titles. January is no exception to this, with the month already bringing plenty of exciting indie announcements and releases that range from wacky simulators to surrealist wonders. In this Indie Game Spotlight, we're highlighting some of the best indies January has to offer as well as a couple other promising titles releasing later this year.
Trying to Fit In With Speaking Simulator
For years now, wacky simulation games have let players assume the roles of everything from surgeons to goats to bees. Yet not many have tackled the deceptively complex art of speaking – until now. Speaking Simulator puts players in control of an android tasked with infiltrating human society, and to do so they will need to learn how to talk just like the natives.
Thus, players will have to manipulate every aspect of this robot's mouth, delicately maneuvering each individual part of the face in order to speak as naturally as possible. However, with a control scheme reminiscent of the infamously unwieldy QWOP, acting natural won't come very easily. Apparently developed with real linguistic theory in mind, Speaking Simulator looks like it can be anything from hilarious to unsettling. It should keep tongues wagging when it releases on Switch and PC on January 30.
Orangeblood – Roleplaying in Retro Style
When it comes to Japanese roleplaying games, high fantasy medieval settings may often come to mind. However, Orangeblood adopts a different approach, taking place in a "stylish alternate version of 90s history" and set to an original hip-hop soundtrack. Set in a bleak man-made island, it tells the story of a convict tasked with a mysterious mission to earn her freedom from a dystopian world.
Orangeblood features a traditional turn-based battle system that focuses on tactically reloading your guns and utilizing stylish equipment. Needless to say, there's also lots of procedurally generated loot to pick up in each battle. And, of course, no retro-inspired RPG would be complete without a lush pixelated presentation featuring distinctive animations and memorable character designs. This quirky adventure releases for PC on January 14 with a release on consoles to follow later this year.
ITTA: A Meaningfully Bullet-filled Hell
Bullet hell games are frantic experiences that have bullets flying towards you from every corner of the screen. On paper, these aren't exactly conducive to creating an emotional atmosphere. However, that's exactly what ITTA aims to achieve. This upcoming bullet hell offers a more meditative take on the genre, following a young girl as she journeys through a desolate world inhabited by ethereal, monstrous creatures.
ITTA is primarily a boss-rush, and it immediately makes a strong impression with its luscious pixel art and fluid animations. Perhaps most remarkably, it was designed entirely by a single developer who drew on his own struggles with mental health to create the game. From its presentation to its impact, ITTA is an intriguing and surreal take on the hectic bullet hell genre that will be worth watching out for when it releases this year on Switch and PC.
A Long Way Down Deals a Solid Deck
From Darkest Dungeon to Slay the Spire to SteamWorld Quest, some of the more remarkable RPGs of recent years have been based on cards. This is the exact pattern that A Long Way Down aspires to follow. Every action in this new RPG is determined by the deck you assemble, which influences how you move, attack, and interact with the world.
A Long Way Down looks to be the full roleplaying package as well. It boasts a drearily mysterious aesthetic set in a shadowy dungeon filled with secrets. As players explore this environment, they will have to uncover dark backstories, make morality-based choices, and decide between an assortment of upgrades. All this should come together to make it a complete and replayable experience when the first four hours of the game hit Steam Early Access on January 16 (with a full release to follow later this year).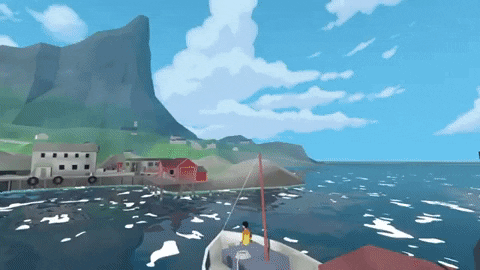 Embrace the Magic with Embracelet
Embracelet is another promising indie created by a single developer. This puzzle adventure game centers on a young boy as he comes of age, telling a story of loss, family, and a magic bracelet. Set in rural Northern Norway, the boy attempts to understand the disappearance of his grandfather and the powers that his bracelet contains.
As the boy attempts to unravel the mysteries around him, massive companies begin to encroach into his remote region and lead to a conflict between new and old, or tradition and "progress." Yet the boy's bracelet contains the ability to manipulate the world around him, meaning that he himself will also be able to influence his surroundings through environmental puzzle solving. Featuring beautiful stylized 3D graphics and a soothing soundtrack, Embracelet looks to be an artistic and relaxing package that's releasing for Switch and PC later this year.