Indie Games Spotlight – Timely Concerns
In this Indie Games Spotlight, we go hands-on with the upcoming puzzler Timelie, and highlight other promising indies like Haven and Fae Tactics.
Indie Games Spotlight is Goomba Stomp's biweekly column where we highlight some of the most exciting new and upcoming indie titles. This time around, we have hands-on impressions of an exciting upcoming puzzler, in addition to featuring a diverse bunch of games that ranges from slapstick party games to serious and impactful stories. If you're looking for new indies to get excited for, there's sure to be something for you in this spotlight!
Staying Punctual with Timelie
Ever feel like there's just not enough time in the day? Thankfully, Timelie is here to help you manipulate time to your liking. This isometric puzzler gives you the power to reverse time, and after going hands-on with an early build of the game, it's looking extremely promising.
Timelie is filled with stealth-based puzzles that require you to make the most of every action. By using a sliding bar at the bottom of the screen, you can push time forward and backward, allowing you to maneuver through obstacles and sneak past enemies with ease. There's no shame in trial and error; instead, you can just rewind time until you create the perfect plan of attack, letting you sneak past an enemy just when it turns its head or cross a chasm just before its bridge collapses.
Before long, the gameplay gains an extra level of depth with the addition of a second playable character in the form of a mysterious little cat. Puzzles get more and more elaborate as you control two characters at once, almost turning Timelie into a strategy game as you have to meticulously plan your movement across multiple moving parts. It only gets better as more enemies and environmental hazards get added to the mix.
Timelie constantly challenged me to rethink every action I took, and I was soon engrossed in unraveling every mystery it offered. Wrapping its gripping puzzles in surreal 3D visuals and beautiful audio design, Timelie looks like it really should be worth your time when it releases on PC this spring.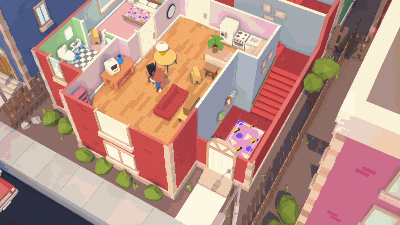 Moving Out
In these indoor days, perhaps all you want to do is just leave the house. That's what Moving Out is all about: it puts you in the role of a certified Furniture Arrangement and Relocation Technician (otherwise known as FART) and tasks you with moving furniture from one room to the next, all while fighting hilariously out-of-control physics.
Of course, moving out isn't a one-man job, so you can work through the chaos with a total of up to four players in local couch co-op. Characters are zany and, in some cases, not even human (wouldn't you trust a sentient toaster to be your mover? I know I would). The levels are just as bizarre, ranging from haunted houses to sedated neighborhoods. Moving Out will move into your platform of choice on April 28 – and better yet, there's a free demo available now on PC and all consoles!
Finding a Safe Space in Haven
In 2016, developers the Game Bakers made a name for themselves with the infamously cruel Furi, a boss rush game that pit players against a back-to-back gauntlet of extremely difficult bosses. Now the French indie studio is back with a new game that tackles a different kind of hardship: the struggles of star-crossed lovers. Haven is their new action RPG about falling in love, breaking the rules, and escaping to an entirely different planet to be together – as lovers tend to do.
Haven features the same colorful and cel-shaded visual style as Furi, this time including vast and open-ended environments to explore. This world is filled with alien monsters to face in tactical real-time combat, and thankfully, you won't be fighting alone; you control two characters at once, and there's even support for drop-in local co-op. With its impressive scope and intimate storytelling, Haven is worth watching out for when it releases later this year across all platforms.
In Other Words and In Other Waters
In Other Waters is a different kind of sci-fi adventure. Gone are the hostile aliens and deadly hazards that are so often found in the genre. Instead, in their place is a foreign planet covered in a vast ocean that hides boundless secrets. Players control an AI assistant who helps a scientist search for her long-lost colleague in the depths of this galactic ocean of muted greens and blues.
You'll have to manage your resources wisely and make intelligent decisions on this expedition. There are ocean depths to chart, upgrades to discover, and entire new life forms to encounter and catalog. You can set the agenda for each day, choosing whether you want to study new creatures you've discovered, venture into new depths, or read through journal logs to learn more about this foreign planet.
It is only through thriving in these activities that you'll uncover "the horrible truth" about this planet. In Other Waters looks to be an impactful and poignant expedition, and best of all, it's available for departure now on Switch, PC, and Mac.
Making a Winning Strategy with Fae Tactics
As popular as tactics games have become, it's hard not to acknowledge that they can be intimidating to get into. They're often filled with complex stats to consider, menus to wade through, and maps to memorize, all of which must be understood just to make a single move. Fae Tactics aims to be different. While hearkening back to genre classics, this new indie strives to refresh its genre and make it accessible for newcomers.
Aesthetically and conceptually, Fae Tactics takes plenty of inspiration from tactical mainstays; it's easy to see the influence of Final Fantasy Tactics from Fae's blocky isometric maps and luscious pixel art. At the same time, the developers strive to streamline its gameplay. They've removed all menus from combat, so that every action can be made seamlessly and intuitively. In addition, the game adopts a nonlinear structure so that players can tackle missions in any order they want. Fae Tactics looks to present a strategy worth executing when it releases on Switch and PC this spring.