Indie Games Spotlight – Never Missing a Beat
This week's spotlight features the stylish Unbeatable, the cute shooter Whisker Squadron, and the wholesome management sim To the Rescue!
Indie Games Spotlight is Goomba Stomp's biweekly column where we highlight some of the most exciting new and upcoming indie games. As the weather starts to warm up and we feel summer starting to approach this month, we're shining a spotlight on some of the hottest indies on the market right now – as well as a few titles that might have slipped under your radar. Whether you're looking for rhythmic romps, addictive arcade experiences, or touching platformers, we're covering a little bit of everything like we do every week!
Take to the Streets in Skate City
After years away from the spotlight following the hiatus of the original Tony Hawk games, the humble skateboarding genre has seen a slight resurgence in recent years. Not only do we have the brilliant remakes of the first two Tony Hawk titles as well as the all-new Skate 4 on the horizon, but we have plenty of smaller titles in the near future too – and Skate City is certainly among the most promising.
As a former Apple Arcade exclusive developed by Snowman, the team behind the hit Alto games, Skate City is looking like a wonderfully simple and well-executed title ahead of its console debut. It has all the trick combos, globe-trotting locations, and elusive high scores that any good game in this genre requires, all wrapped in a stylish presentation to the tune of solid lo-fi hip-hop beats. It's already garnered a loyal fanbase on Apple Arcade, so it should be worth grinding a few more rails in its console release on Switch, Xbox, and PlayStation systems on May 6.
Star Fox Meets Cats with Whisker Squadron
Do the classic Star Fox games not have enough cats for your liking? Then, my feline friend, Whisker Squadron seems to be exactly what you've been waiting for. Whisker Squadron is a stylish on-rails shooter designed in the same vein as the original entries in Nintendo's space shooter series, and it's currently making waves on Kickstarter. The main twist? Not only does it star a cast of kitten pilots, but every mission is procedurally generated, so no two flights are ever the same.
With a low-poly aesthetic akin to the original Star Fox and a dynamic range of ever-changing missions, Whisker Squadron looks to be an infectious blend of old and new when it comes to sci-fi space shooters. Its worlds, enemies, and bosses might change with every session, but it promises that every encounter will be no less epic. It's already bursting with potential, due in no small part to the fact that it's developed by the team behind 2013's excellent Race the Sun. It will be exciting to see where this project goes as it progresses toward an eventual release on PC and consoles next year.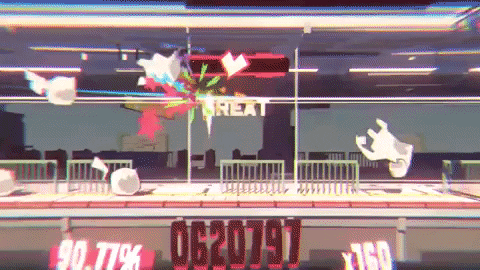 Roll with the Rhythm in Unbeatable
Unbeatable from D-Cell Games seems to live up to its name, as it truly hasn't missed a beat yet. Impeccably stylish and attention-grabbing, this hybrid rhythm game and exploratory platformer has been making waves in recent weeks as it's blown up in popularity on Kickstarter. Just take one look at its trailer and it's easy to see why: it looks like a playable Studio Trigger anime with fast and fluid animation set to some infectious beats.
Set in a world where music is illegal, players control a rebellious girl who sets out on a quest to stand up against the anti-music establishment. With simple two-button rhythmic gameplay akin to Muse Dash, the game also promises variety with an open-ended 2.5D world that's filled with locales to explore and side quests to pursue. It will be exciting to see how this project continues to grow ahead of its release next year.
Do the Math in A Tale of Synapse – The Chaos Theories
Its title might feel impenetrable to the non-STEM majors among us, but A Tale of Synapse – The Chaos Theories nonetheless looks like a remarkably smart and memorable puzzle-platformer. The debut release from French developer Souris-Lab strives to blend creative art and solid logic with its unique hand-drawn aesthetic and its dense science-based puzzles.
A Tale of Synapse puts players in control of two heroes (seemingly a robot and some sort of fairy) who set out on an adventure through a vast magical world governed by the rules of math. Boasting dozens of levels to explore, countless innovative puzzles based on principles of math, geometry, and physics, and even support for local co-op, A Tale of Synapse should be a solid choice for anyone who wants games that really make you think. Currently, its equations are set to release this June on PC and Nintendo Switch.
Go To the Rescue! with a Loving Home
Sometimes the very best games are the ones that aim to contribute to a greater purpose. That's exactly why Little Rock Games' To the Rescue! looks so promising. This management simulator lets players take the reins of a community dog shelter to help lonely pups find their forever homes. With a warm art direction as well as a narrative focus about celebrating the unique quirks of every furry friend, To the Rescue! seems to be the ideal game for everyone's inner pet lover.
Not only is the concept heartwarming in its own right, but it promises to make a genuine impact as 20% of the proceeds from every purchase will go toward shelters and animal rescue groups throughout the US. That's on top of its solid gameplay loop about managing your time and resources to help every dog get the care they deserve, so it's shaping up to be a worthy package ahead of its launch on Switch and PC later this year.