Indie Games Spotlight — Full Bloom
In this week's spotlight, we've gathered a selection of comforting indies to ease the transition from one season to the next.
Indie Games Spotlight is Goomba Stomp's biweekly column where we highlight some of the most exciting new and upcoming independent games. As summer comes to a close and as many return to school, there are plenty of exciting indies that smooth the transition from one season to the next. Between beautiful painterly experiences and quirky adventures, we've curated yet another varied collection of quirky indies in this week's issue. Let's not delay any further!
Blossom Into Something Beautiful with Hoa
Some games just take your breath away, and solely going by personal experience, Hoa is absolutely one of them. Developed by the Vietnam-based Skrollcat Studio, Hoa boasts a stunning hand-painted 2.5D aesthetic that, as cliché as it might sound, looks like a playable Ghibli movie. It follows a young girl exploring a pristine natural world that blossoms into life around her, telling a story of renewal and returning to one's origins.
Perhaps it's only natural that such a beautiful game would prioritize delivering a meditative flow of exploration and soothing puzzle-solving. Its world is packed with fantastical creatures like forest insects and animals, many with their own stories to tell. Wrapped up in a live-recorded orchestral score that complements the game's lush visuals, Hoa strives to deliver a wonderfully cozy time—perhaps it's no wonder it's made its way into multiple recent Wholesome Direct presentations. There's not long to wait before Hoa goes into full bloom on Nintendo Switch, PS4/5, and Xbox Series X/S on August 24.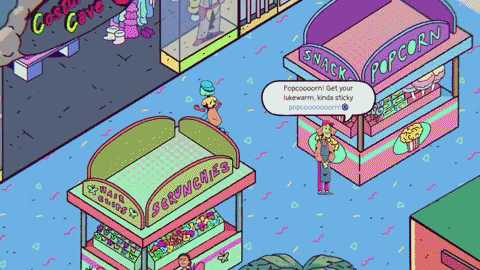 Pick Pockets and Save the Day in The Big Con
The Big Con is all about capturing all those quintessential hallmarks of the 90s: plaid fashion, VHS tapes, and petty crime like pickpocketing and scamming. In this nonviolent crime game developed by Mighty Yell, players control a snarky teen named Ali who takes matters into her own hands when loan sharks put the future of her mom's video store in jeopardy. Before long, she finds herself on a cross-country road trip where she'll pick pockets, wear disguises, and take matters into her own hands to make ends meet.
The Big Con sends players on a comedic romp around the country that leaves it all up to you to decide how to get by. You can sneak through crowds to inconspicuously snatch strangers' wallets, sweet talk your way into riches, or simply break and enter while no one's looking—just don't forget to cover it all up before your mom finds out. With a visual style similat to a 90s cartoon, The Big Con looks to be a lighthearted nostalgia trip even for those of us who didn't have the chance to live through that colorful decade. The Big Con kicks off its groovy trip on Xbox Series X/S, Xbox One, and PC on August 31.
Free Your Bark in ProtoCorgi
It's universally accepted that corgis are among the most perfect lifeforms on Earth, but does that fact hold true in space? That's a question that ProtoCorgi endeavors to answer. Billing itself as a "bark 'em up," ProtoCorgi is a classic retro arcade adventure where you'll soar through the cosmos as a superpowered corgi named Bullet, using dozens of different weapons to obliterate thousands of enemies and defeat a mysterious alien force. If that description alone doesn't sell you on this game, then I don't know what to tell you.
Not only does this have to be one of the most adorable shoot 'em ups ever made, but ProtoCorgi also promises to provide a robust and addictive action experience. The game is packed with traditional bullet hell action with numerous levels where the screen is filled with enemies and projectiles, requiring deft reflexes for our furry freedom fighter to survive. Add that to robust customization with dozens of different weapon combos to choose from and even a full-fledged level editor, and ProtoCorgi is sure to be a treat with plenty for players to chew on. It's not long before this walk in the park commences, as it's releasing August 25 on PC and Nintendo Switch.
Start Blazing in Flynn: Son of Crimson
There's nothing quite like a good 2D platformer, and Studio Thunderhorse's Flynn: Son of Crimson has all the hallmarks of a great one. Its compact pixelated graphics are immediately endearing, but it has to be its blend of robust exploration and deep action combat that makes it so enticing. Telling a conventional story of an evil force encroaching on a peaceful kingdom, Flynn: Son of Crimson adds wrinkles to that narrative formula with themes of redemption and discovery.
You won't be going it alone as you venture through the world of The Scourge, as you can summon your mystical companion Dex, a very good girl who can appear to lend you a hand (or a paw) in knocking down obstacles that block your path. Combat gets even deeper with a range of weapons you can equip, each providing radically different play styles – from heavy axes to nimble blades to tearing claws, you'll have quite an arsenal at your disposal. The action begins soon, as Flynn: Son of Crimson releases September 15 on Nintendo Switch, PS4, Xbox One, and PC.
Take a Leap of Faith in Frogsong
Last month's spotlight featured the delightful Frogun, but that's not the only amphibian indie on the horizon. Frogsong is a cartoony quest where players take control of an intrepid tree frog named Chorus who ends up getting into an adventure far bigger than themselves. Proudly describing itself as "a heartfelt adventure game where it's okay to be small," Frogsong looks to deliver wholesome action and relentless charm.
Frogsong has all the core ingredients for a memorable journey, featuring five distinct regions to explore, quirky animal friends to meet, and simple yet solid action combat. All this is wrapped in an endearing hand-drawn style that brings each character and each part of the environment to life. With a story about hope, family, and finding fulfilment, Frogsong looks set to warm hearts ahead of its launch on PC and Nintendo Switch next year.