Indie Games Spotlight – Flipping the Switch
In this Indie Games Spotlight, we highlight promising games like Fraymakers, Akatori, and Sword of the Necromancer as 2020 draws to a close.
Indie Games Spotlight is Goomba Stomp's biweekly column where we highlight some of the most exciting new and upcoming indies. At long last, 2020 is coming to a close: yet as we begin to reflect on the games that defined this year, there's still plenty to play now and in the future. Whether you're looking for exciting upcoming metroidvanias or thrilling action games with plenty of replayability, we're covering a lot of indies for just about any taste in this spotlight!
Flip Out With Akatori
Sometimes you don't have to see much of a game to sense its incredible potential. Akatori, from one-man developer TeamNora Games, is one such title. This upcoming metroidvania immediately demands attention with its gorgeously pixelated aesthetic built with rich detail, fluid animations, and lush reflections. It doesn't look like it's all style over substance, though: just one look at its debut teaser trailer reveals a truly promising gameplay loop buoyed by unique mechanics.
Initially titled DeathStick before receiving its name change, Akatori is set in a world out of balance and puts you in the role of a hero striving to prevent the return of a primal divine entity. It shakes up the typical metroidvania gameplay loop by giving you the ability to flip the world 180 degrees and enter an alternate dimension of your current area, letting you reach new areas and discover additional items. This mechanic adds a unique dimension to the action gameplay, which already looked exciting enough thanks to its action- numerous combos to discover and abilities to obtain. There's still some time to wait until Akatori releases, as it's currently planned for launch in 2022 on Switch and PC.

Make Peace in El Hijo
Think about the Wild West, and images of gunslinging cowboys and murderous outlaws likely come to mind. In El Hijo, you'll play out the exact opposite of these characters: it's a nonviolent strategy game where you control a boy who just wants to be reunited with his mother without getting killed by any enemies.
Putting you in the shoes of a boy with a rampant imagination, El Hijo tasks you with finding creative solutions to your tactical problems. You have an arsenal of toys at your disposal, which can be used in many versatile ways to interact with your environment, distract your enemies, and help you reach your objectives without any bloodshed. Allowing for plenty of experimentation and boasting of a positive, wholesome storyline, El Hijo looks like a perfect fit for anyone who needs a dose of pacifism in their strategy games. It's available now on PC and Stadia, with a release on consoles coming sometime in the near future.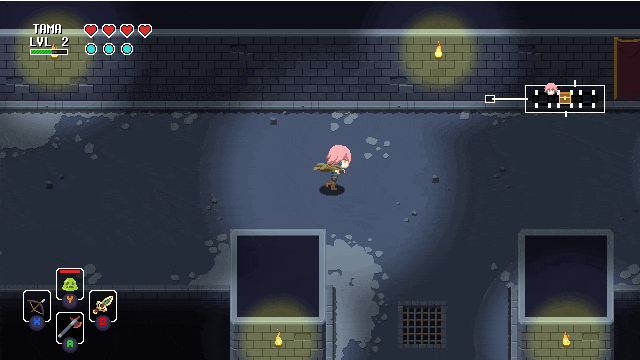 Have Just One More Run in Sword of the Necromancer
If you've ever lost someone special in your life, you likely want to do anything to bring them back. Sword of the Necromancer gives you the opportunity to do just that – and not only will you journey to revive your loved ones, but you'll also be able to resurrect fallen enemies and win them to your cause along the way. As an upcoming action-RPG that gives you the ability to have enemies fight alongside you, Sword of the Necromancer gives you massive dungeons to crawl and foes to defeat as you seek to revive a long-lost lover.
With a mix of rogue-like and action-adventure elements, this title from Japanese developer Grimorio of Games looks to offer hours of adventure and replayability. With plenty of stats to adjust, weapons to find, abilities to upgrade, and even support for local couch co-op, Sword of the Necromancer looks to be a robust experience for prospective adventurers. You can start crawling when the full games releases on PC and switch on January 21, 2021, or you can try out its demo today on Steam!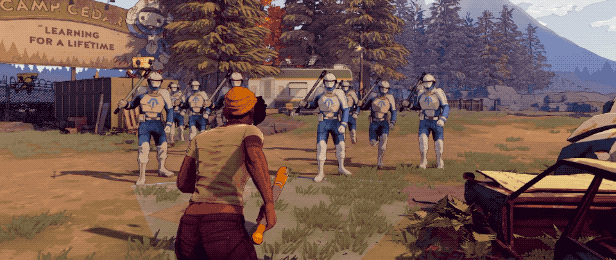 Get Graphic in Dustborn
Playable comics aren't exactly a novel concept, but Dustborn has a good shot at standing out from the hand-drawn crowd. This 3D adventure game is heavily inspired by classic comics as it tells a story of hope and friendship in a divided American country. You control a band of misfits traveling across the country to make a delivery – but of course, things end up going in different directions than a simple one-and-done job.
Dustborn will have you exploring a dystopian future United States that's been overrun by religious fanatics and political pundits. However, while there are strong elements of exploration and combat, it seems that the real meat of the game will be its narrative content. You're not going on your journey alone, so you'll be given plenty of opportunities to have conversations with your friends and fellow travelers. Developed by the team behind narrative adventures like Draugen, Dustborn looks like it shouldn't gather dust when it releases on PS5, Xbox Series X/S, and PC next year.
Smash Your Indie Expectations With Fraymakers
Fraymakers might just be the indie Smash Bros. you've been waiting for. There have been more than a few attempts to create an indie crossover fighting game, but none have the potential and pedigree of Fraymakers. This 2D platformer fighting game is loaded with possibilities for greatness: not only is its roster packed with indie icons like Commander Video and Octodad, but it's also developed by the creators of the internet's most popular Smash Bros. fan game, Super Smash Flash 2.
Fraymakers promises to offer a full-fledged fighting game complete with numerous fighters and stages, even including non-playable assist characters in true Smash Bros. fashion. Not only that, but Fraymakers will also give players the opportunity to create fighting games of their own, as it comes with a full-fledged toolset that lets you make stages, backgrounds, and even new fighters altogether. A robust offering for fans of indie games, fighting games, and customizable games, Fraymakers is worth watching out for. It's currently live on Kickstarter, where it's already smashed its initial fundraising goals for a Switch and PC release in 2022.