10 Years Later: Metal Gear Solid: Peace Walker Was Hideo Kojima's Handheld Highlight
10 years ago on April 28th, 2010, Metal Gear Solid: Peace Walker released worldwide marking the first true original handheld entry in the tactical espionage action franchise to be helmed by series creator Hideo Kojima…
"If the times demand it, we'll be revolutionaries, criminals, terrorists. And yes, we may all be headed straight to hell."

Big Boss, Metal Gear Solid: Peace Walker
10 years ago, on April 28th, 2010, Metal Gear Solid: Peace Walker released worldwide marking the first true original handheld entry in the tactical espionage action franchise to be helmed by series creator Hideo Kojima. While there had been several attempts in the past to make portable Metal Gear titles, none are comparable to the triumphant yet once underappreciated prequel that laid the groundwork for the final generation of stories to be featured in Konami's iconic story-driven stealth series from one of the industry's biggest breakout visionaries. Despite being the first unnumbered mainline entry, Peace Walker was truly the earliest significant step towards the inevitable yet unimaginable end of both Kojima's Metal Gear Saga and a historic era of his company Kojima Productions. Peace Walker embodied one of the Metal Gear franchise's most intriguing points in its history- a turning point sparked by an untimely release of an ambitious title on a dwindling portable platform whose development heavily impacted the future.
A New Role In A New Format
In 2006 after the success of Metal Gear Solid: Portable Ops for Sony's PlayStation Portable [PSP], Hideo Kojima had several ideas in mind that he wanted to see implemented into another handheld title in the series. Being involved as only a producer for the previous semi-canon entry, Kojima was determined towards the end of Metal Gear Solid 4: Guns of the Patriots development to start a new prequel entry from scratch based on his personal vision for what a modern handheld entry in the franchise should look like. However, by the time early 2007 rolled around and Solid Snake's final tale was nearing its last year of production, Kojima no longer intended to stick with the idea of the project he conceived through its complete development period. As much as he wanted the title to exist, he also wished to pursue several other projects he had in mind.
While Kojima had various game ideas he drafted ready for pre-production approval from his higher-ups, his ambitions were only just sprouting as he aimed to create a brand new game engine for future games he planned on both personally creating and collaborating on. The Fox Engine was a next-generation digital creative space that could serve as a replacement for what the team had previously utilized and would be a manipulatable resource for all of Konami Digital Entertainment's subsidiaries working in game development. Kojima saw Peace Walker as a possible guinea pig for some of the engine's core internal aspects such as a cloud-based interface that many developers branded as impossible and laughable at the time.
Kojima's initial plan was to help kickstart the next handheld Metal Gear Solid's development with what was left of the team behind Portable Ops. He wanted to get them on track to complete the product he envisioned and then leave the role of game director after the employees were deemed ready to continue work without his constant supervision. That plan however quickly phased out as Kojima's team began experimenting with some of the ideas he wanted to pursue with the Fox Engine. As the development of Peace Walker moved along smoothly, Kojima realized that it was going to be the largest game he had ever developed in not only the Metal Gear franchise but in his entire career. Even though it may have been a handheld game, the team grew so big to the point where it was almost as large as the crew that worked on Guns of The Patriots for the PlayStation 3. Peace Walker had to endure the tough task of righting the wrongs of Portable Ops while also being the birthplace of experiments critical to creating the Fox Engine. Kojima was tasked with juggling it all at once, but most importantly he had to create a Metal Gear game that would live up to Konami's expectations.
Teamwork Within Fieldwork
From Kojima's perspective, the idea of a new portable Metal Gear title would have to have drastic effects on the execution of its gameplay and visuals if the team were to outdo what Portable Ops had previously accomplished. This new entry would have to find a new direction that would allow the series to better adapt to the handheld market that mostly catered to audiences outside Metal Gear's standard age rating. Kojima enforced on both the development team and Konami that Peace Walker would have to become the only Metal Gear Solid title to be rated "T for Teen" by the ESRB rather than "M for Mature" in order to coincide with Sony's demographic of their PSP line of devices. Metal Gear was going to have to ditch the complex storytelling in order to provide a straightforward narrative that could be understood by a larger audience. The writers needed to develop something that anyone could understand even if they had never touched a game in the series.
Telling a story with new characters divided by chapters and dialogue that could be paused for traveling conveniences was the key to providing a console title that could work on a player-adaptable handheld schedule. The narrative took a major departure from the recurring cast of characters featured throughout Big Boss's missions in Metal Gear Solid 3: Snake Eater and Portable Ops. While several characters would be able to return like Eva and Zero, fans of the series would have to thoroughly search the game to find these references and appearances in unlockable cassette tape recordings. The story heavily connected with the rest of the Metal Gear canon, but unlike the majority of the other mainline entries, it could be played as its own standalone story with no background context needed. Despite getting an age rating cut, that did not stop Hideo Kojima and Shuyo Murata from writing a mature story focusing on nuclear deterrence, child soldiers, political warfare, and several other political subjects that loomed during the 1970s. Peace Walker still embodied the heart and soul of Metal Gear as it swindled around the restrictions presented against itself.
Metal Gear Solid 4 saw the departure of the standard gameplay the previous entries became accustomed to in favor of a more traditional third-person shooter format. When developing Peace Walker, the development team at Kojima Productions was persuaded to tackle something more akin to Guns of The Patriots in order to mimic that modern console experience their boss strived for. Gunplay and stealth were not the only gameplay aspects the team found themselves focusing on though. Incorporating micromanagement systems, unique playstyles, and more interactive activities to do that would be well suited for a handheld time-sink became just as important as reoptimizing the core gameplay needed to be a Metal Gear game. The most important feature, however, that the producers wanted to highlight was player connectivity both locally and online.
"In the army, special forces never do their missions alone. They work together in teams."

Hideo Kojima, GamesCom 2009 Konami Showcase
Since Peace Walker was being designed around an on the go experience, Kojima advocated for the inclusion of multiplayer within the game's campaign- a feature he deemed as impossible for any other entry he had developed in the franchise. Japanese travel culture heavily impacted the way in which the campaign's multiplayer functionality would be designed, but so did the standard operations conducted by special forces soldiers. Since the title was not meant to be played for long periods of time in front of a television, the team experimented with various ways for multiple players to be able to quickly interact and work with each other whether they were stationed at a park or on a quick train ride to work. Quick message systems using preconfigured inputs in silent locations and overall faster ways to progress through standard missions became essential for hopping in and out of a cooperative setting. The cooperative style of the game reflected the need for teamwork and communication soldiers are used to relying on. In the end, the team's work paid off as local and online multiplayer sessions were some of the fastest and most fluid scenes to join on the hardware.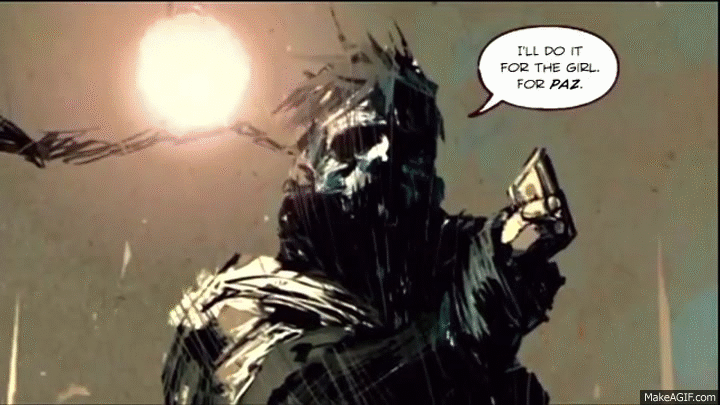 Besides its gameplay and story aspects designed around portability, if there is one other aspect about Peace Walker that helped it strikingly standout from the rest of the series it unarguably had to be the high-quality comic book stylized cutscenes. While the previous PSP game in the series Portable Ops had similar cutscenes, Peace Walker cranked up the aesthetics and visual interactivity to outshine its prequel entry. Ashley Wood did a fine job with his first outing for the franchise, but with the help of Yoji Shinkawa, the two did a beautiful job reconfiguring the art style of the previous handheld entry that often came off as muddy and meshed. Portable Ops still looked appealing, but Peace Walker's visual direction and color coordination were miles ahead of its predecessor. Backgrounds and characters were far more detailed and minimal usage of color made scenes far easier to interpret. On a side note- how was this entry never adapted into a printed comic book? It seriously is still mindboggling that one of the two Metal Gear games designed to have the aesthetics of individual chaptered books has never been adopted into the medium.
"Hunters Unite!"
As do all of Kojima's games from post-2005, Peace Walker contains product placement from popular edible treats and energy drinks to devices that are no longer even purchasable in the format shown in-game such as the Sony Walkman TPS-L2. Metal Gear games have been well known for hiding secrets and references to other video game titles- mostly developed by Kojima himself, but Peace Walker was first and last game in the series to feature full-blown tie-in promotional content with a franchise owned by a company outside Konami. An odd yet coherent tie-in with Capcom's Monster Hunter Portable 3rd proved to be one of the most successful advertisements the Metal Gear Franchise has had.
Kojima met Monster Hunter Producer Ryozo Tsujimoto at the Tokyo Game Show in 2008 to discuss what they had been working on after their presentations. After explaining to Tsujimoto about the development of a new portable Metal Gear game was starting up, the two spoke about creating a possible unique tie-up between both the game series they produce. Tsujimoto wanted Snake to be featured in the latest Monster Hunter, while Kojima wanted to see creatures such as the Rathalos breed make an appearance in Metal Gear Solid. Not long after their meeting, Konami and Capcom began collaborating on multiple tie-in promotions that would extend well through the 2010s with the Monster Hunter franchise. In the post-game of Peace Walker, players could fight a series of different beasts from the Monster Hunter games by finding the intelligent felyne Trenya. By speaking to the talking cat, Trenya would offer Big Boss an adventure to Isla Del Monstruo- a monster-infested island where he could take on creatures in exchange for the promise of amazing rewards.
Peace Came With A Price
Despite being one of the most talked-about Metal Gear Solid games today, Peace Walker was actually rather unpopular when it debuted. Kojima and Konami found themselves in a difficult situation where despite the game receiving critical acclaim across the board from both reviewers and the public eye, Peace Walker had a difficult time garnering sales traction outside of Japan. The title was one of the highest-rated games of its release year with even some journalists such as former IGN host and Kinda Funny creator Greg Miller citing it as being his "favorite game of all time." The game was not able to reach the highest sellers list for that particular year although the game did sell well over a million units leading to a "PlayStation Hits" edition rerelease. It also went on to become the third highest-rated PlayStation Portable title of all-time on Metacritic.
It is unknown today whether Peace Walker was actually even a financial success outside Japan for Konami as the company stated on multiple occasions that they were overall dissatisfied with the game's performance internationally. In 2010, the PlayStation Portable was well on its way to becoming one of the highest-selling systems available in its home territory, but the same could not be said for the rest of the world. Japan's constant state of travel saw the rise of pick up and play handheld titles boom, while overseas the consoles popularity had been dwindling as the UMD movies that initially debuted as the selling point of the system slowly phased out in favor of other superior hardware solutions. Peace Walker was a guaranteed hit for Japan but was already becoming more of a gamble overseas as it drew closer to its release date. Later on, in 2013, the follow-up entry Metal Gear Solid V: Ground Zeroes oddly received an altered box art outside of Japan. The character Kazuhira Miller was removed from the international cover-art of the game due to Peace Walker's low international sales according to Hideo Kojima.
After several HD rereleases, Peace Walker slowly became one of the most popular entries in the franchise to date. Fans certainly have not reviled against the title since its debut, but a jump to home consoles was the necessary solution for its legacy as it was clear where the core Metal Gear fandom resided. Its strong critical appraisal could not stop the untimely release plagued by poor sales that only fueled Konami's urge to slip away to mobile gaming. Peace Walker was the definitive highlight of Hideo Kojima's career in the handheld market despite the conditions the release endured. While he had worked on titles such as Boktai and Lunar Knights in the past, nothing was simply comparable to the likes of Peace Walker's spectacle that outshined the entire handheld gaming market. Today, its the Metal Gear Solid title that laid the groundwork for the final chapters in the franchise's storytelling legacy with its follow-up duology Ground Zeroes and The Phantom Pain. For its time though, like the Costa Rican rebels and Military San Frontieres featured in its sophisticated plot, Peace Walker was a revolutionary step in the possibilities and expectations of its industry- a stepping stone for Hideo Kojima.