Indie Games Spotlight — Spooky Season
In this week's spotlight, we're highlighting the colorful spookycute puzzler Subway Midnight, console ports of Airborne Kingdom and more!
Indie Games Spotlight is Goomba Stomp's biweekly column where we highlight some of the most exciting new and upcoming independent games. As the fall blockbusters start raining down from all directions, it's important to keep an eye out for any indies that might get lost in the shuffle. From well-received sims finally making their console debut to creepy puzzlers arriving just in time for Halloween, there's sure to be something that catches your eye. With that, let's get into it!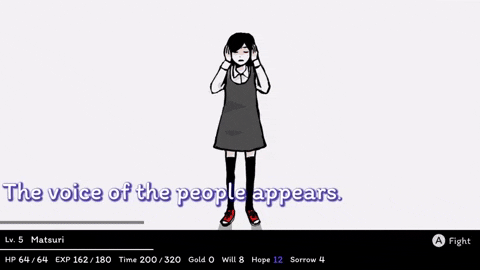 Walk Down Memory Lane in Yumeiri
In a fall that's absolutely packed with big-budget AAA releases, there's something inherently alluring about playing a one-dimensional RPG like Yumeiri. This story-focused roguelike debuted as a Japan-only release in 2015, and though it received critical acclaim at its launch six years ago, it's only now that Western players will get to experience it via this full-on remake for the Nintendo Switch.
Yumeiri tells a simple yet poignant story that deals with topics ranging from forgotten childhood memories to drug abuse, and it all seems to take place in a "waking dream" world. Players will have to battle their way through these dreams to uncover their lost memories and try to aid an unnamed figure that comes to them for help. Though the game's interface and flow are rather simple, its notoriously high difficulty should give players a decent challenge with plenty of replay value.
Boasting revamped visuals, rethought scenarios, and entirely rewritten episodes, this version of Yumeiri may just be the definitive version–and it's available now on Switch.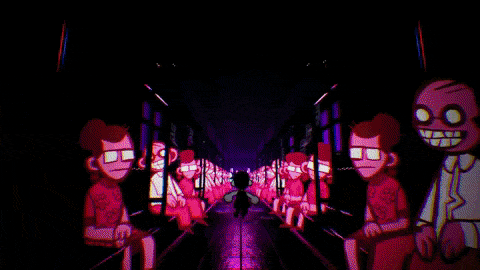 Take a Ride on the Subway Midnight
We can't have an Indie Games Spotlight so close to Halloween without featuring some spooky indies! Coming off the great success of Going Under last year, Aggro Crab is yet another indie studio that's trying its hand at publishing. Subway Midnight is the team's first published title, and it's a promising one. Described as a "spookycute game," it blends psychological horror with puzzle elements and a striking mishmash of art styles.
As implied by the title, players will make their way through a haunted subway train while trying to escape from a mysterious stalker. Along the way you'll have to befriend ghosts and solve a variety of bizarre puzzles to make it out alive…or dead. With around 100 train cars to explore that vary wildly in visual style and three different endings to experience, Subway Midnight should keep those looking for a different kind of horror experience busy. Thankfully, no wait is necessary; it just launched on PC right in time for Halloween!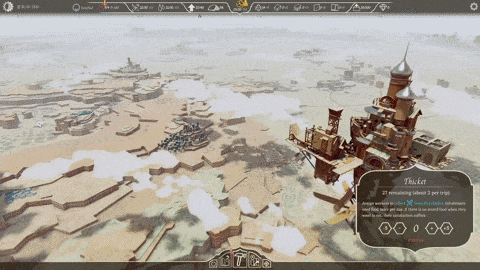 Expand Your Airborne Kingdom
There's something magical about a city-building sim where the city itself is set against the clouds. While typically a niche genre, Airborne Kingdom managed to garner widespread attention when it revealed its vision of procedurally-generated maps, population expansion, and resource management in the sky–enough attention that its developer, The Wandering Band, was able to land a year-long exclusivity deal with the Epic Games Store. Now with the end of that deal fast approaching, console players will finally get a chance to experience what it's like to design and build their own flying domains.
Airborne Kingdom features all the city-building and resource-gathering fans of the genre have come to expect, but with a twist. The overarching goal isn't to conquer other nations, but to unite them through a single alliance. This non-violent approach to city-building places much more focus on researching new technology, bartering with cities around the world, and catering to the needs of your citizens. It's a promising concept, and thankfully players won't have to wait to start building their dream city in the sky; Airborne Kingdom releases on all consoles November 9th.

Roll the Dice on Astrea: Six-Sided Oracles
Another year, another deck-building roguelike with a unique twist. Astrea: Six-Sided Oracles centers around the journey of one of six oracles to save the star system using ancient six-sided relics. Players will have to chart a path through the ruins of a lost civilization and purify waves of corrupted enemies to prevent the universe from being ravaged yet again. The way they'll do this will be, surprisingly enough, via decks of dice.
Astrea stands out from the recent wave of deck-builders in a couple different ways. For one, it makes dice the stars of the show instead of cards. Players will have access to hundreds of different dice that lend themselves to different playstyles and strategies, with each playable Oracle possessing their own unique dice sets. Astrea also gives players the option of corrupting themselves to tip the scales of battle against challenging bosses, and even implements an upgradable companion system somewhat akin to Monster Train. Keep an eye on the game's official Twitter for updates on when this cosmic roguelike eventually hits PC.
Fold Back the Layers of Scrap Story
There are pros and cons to announcing the development of a game early. On one hand, more transparency is always welcome (and arguably needed) in the games industry. On the other hand, it makes the wait for highly-anticipated titles like Omori, Witchbrook, and Scrap Story that much more excruciating. First revealed four years ago, Scrap Story bills itself as a spiritual successor of sorts to the classic Paper Mario titles. Its paper aesthetic is spot-on and eye-catching, and while an early prototype was released a couple years ago, news has been relatively silent following the delay of The Paper Prelude (a prequel set to arrive before the full release) in early 2020.
While details about Scrap Story are scarce, we do have some basics to go off of. It'll be an exploration-based RPG with turn-based battles (again, similarly to classic Paper Mario). Players will be able to equip different badges and charms to augment their abilities, and they'll also be able to equip different weapons and possibly even outfits found around the environment. Though a new Halloween-themed demo was just canceled last minute, it's still worth keeping your eyes on the official Scrap Story Twitter account for any development updates.