Indie Games Spotlight – Horror Meets Nostalgia
We round up some of the best indie announcements and releases in this spotlight, including the cathartic Carrion and the ambitious The Gunk
Indie Games Spotlight is Goomba Stomp's biweekly column where we spotlight some of the most exciting new and upcoming indies. The busy summer of gaming announcements continues, with Geoff Keighley's Summer of Gaming series as well as the Xbox Games Showcase showing off plenty of exciting titles–including a few next-gen reveals. If you missed some indies from those presentations, then you're in luck, as that's exactly what we're covering in this spotlight! Whether you're looking for old-fashioned RPGs or intense action experiences, there's sure to be something for you in this spotlight.
Clean Up Your Act in The Gunk
Thunderful is one of the best indie publishers out there, home of the classic Steamworld series as well as original IPs like the delightful Lonely Mountain Downhill. Now the original Steamworld team has revealed its new project, being nothing less than a next-gen 3D action game entitled The Gunk. This action title will offer impressive graphics and an immersive world to explore, making it possibly the most ambitious release yet from a developer already known for pushing their games into new horizons.
The Gunk is set on an alien planet, where two lone explorers aim to create a new civilization before discovering that it's being overrun with a mysterious, toxic Gunk. Thus, it's up to them to fight off the parasite, clean up the planet, and at the same time, ensure that they don't violate their trust in each other. The Gunk promises exploration, puzzle-solving, and an emotional narrative on top of it all, so it looks like it should be worth watching for its release next spring on Xbox Series X, Xbox One, and Windows.
Don't Keep Calm in Carrion
Carrion has a simple twist: it's a horror game where you are the monster. This simple switch makes all the difference—it's not about getting subjected to scares or struggling for survival or hiding from an ever-present threat. Instead, it's all about wreaking as much havoc as possible, and the results are nothing short of glorious (or rather, gory-ous).
Carrion puts you in control of an amorphous blob-like creature. Your origins are unknown, and the only thing you do know is that you must kill. You'll progress throughout dismal environments obliterating everything in your path with your expandable tentacles and multifarious mouths. It feels incredible to lunge through the world, whipping your tentacles about and brutalizing any humans in your path. It's a violent, visceral, but ultimately cathartic good time, so if you're in the mood for a horror game unlike anything else you've played, Carrion is available now across Switch, Xbox One, and PC.
Echo the Good Old Days in Echo Generation
While turn-based RPGs might be heavily associated with high fantasy settings, that isn't always the case. There's a long line of RPGs set in more unorthodox environments, and Echo Generation looks to be one of them. Proudly following in the legacy of Earthbound with its gameplay style and aesthetic, Echo Generation features turn-based combat, a retro 80s-esque setting, and a gorgeous voxel visual style akin to something like The Touryst.
Echo Generation opens in a sleepy town that is soon threatened by otherworldly creatures after a mysterious object falls from the sky. As school's out for the summer, a few intrepid kids take it upon themselves to investigate the situation, fighting monsters and unraveling the mystery bit by bit. The gameplay looks to be classic turn-based fare mixed with a healthy dosage of exploration, and it truly comes to life with its gorgeous graphics that take full advantage of next-gen hardware with 4K resolution and 60fps performance. Get ready to dive into this nostalgic adventure next spring on Xbox Series X, Xbox One, and PC.

See This One Through Unto the End
There are plenty of 2D action games out there, but very few of them can meet the same level of sheer skill-based gameplay required in 3D action titles. That's something that Unto the End seeks to change, being a cinematic platformer with a combat system that's meticulously designed for 2D. Boasting a storybook aesthetic and a mature narrative, everything counts in Unto the End. Every combat sequence is specially designed, and every NPC has a story of their own.
Unto the End follows a warrior's long and painful journey home. On his quest, he'll have to overcome threatening environments and vicious opponents. Every battle is a puzzle, designed to challenge your strategy, skill, and quick thinking. Designed by a husband and wife team, every element of Unto the End feels intentionally crafted to evoke a lonesome and harrowing journey. You'll be able to finish this journey later this year when it launches across all consoles and PC. If you want to try it out for yourself, there's a free demo available on PC now for a limited time!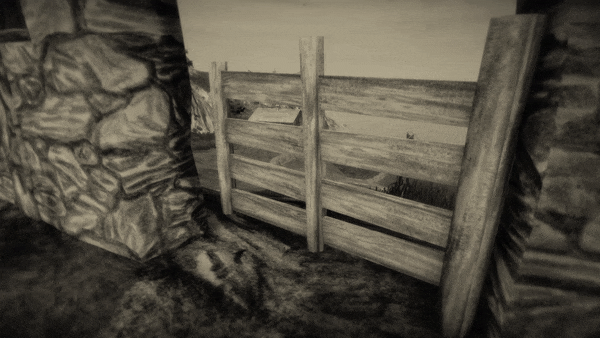 Nothing Mundane About Mundaun
Less is often more, and that can certainly be the case with horror games. You don't need gruesome, realistic gore or excruciatingly detailed monsters to unsettle your players—sometimes a minimalistic black-and-white visual style mixed with suspenseful silence can do just as much to terrify players. That seems to be the philosophy behind Mundaun, a new first-person horror game from Hidden Fields and HWM Interactive.
Mundaun picks up after a young man learns of his grandfather's mysterious death, upon which he journeys to the titular Mundaun region of the alps to investigate what happened. What follows is a supernatural enigma where it is shortly revealed that more elusive beings are at play in this situation. You'll have to solve puzzles, evade dangerous creatures, and explore open-ended levels to get to the bottom of what happened to the grandfather. Don't get too frightened—the game features a "fear resistance factor" in which you move slower the more scared you get. There's sure to be more than a few frights in store when Mundaun launches next spring on consoles and PC.