Indie Games Spotlight – Breathing Life Into Indies
In this spotlight, we have hands-on impressions of Paradise Killer and highlight other promising indies like Lonely Mountains: Downhill.
Indie Games Spotlight is Goomba Stomp's biweekly column where we highlight the most exciting new and upcoming indie games. In this issue, we have gameplay impressions of a bizarre yet captivating murder mystery, some more laid-back experiences, and even a few games inspired by great works of literature. As always, there's sure to be something for everyone's taste in this lineup!
Discovering the Paradise Killer
While all games can take their players on journeys into new and uncharted worlds, some take this idea far further and create their own elaborate universes that feel entirely different from our own. Paradise Killer, an upcoming open world murder mystery, is a perfect example. After playing its demo for the digital LudoNarraCon event, it's already hooked me into learning more about its bizarre and stylish mythos.
You control Lady Love Dies, an "investigation freak" who is called out of exile to solve the mysterious deaths of council members who were on the verge of creating a perfect island–and who left a failed paradise in their wake. You'll explore this imperfect open world from a first-person perspective, talking to its colorful semi-divine inhabitants to deduce the truth of this situation and, ultimately, breathe life back into Paradise.
The whole game feels otherworldly. Characters talk in circles, riddling their conversation with esoteric allusions to the game's elaborate lore and making it a puzzle to assemble evidence for your case. These dense conversations can feel overwhelming at first, but well before the hour-long demo was through, I was engrossed with unraveling the intricacies of the game's storyline by talking to suspects and solving light environmental puzzles. Paradise Killer left me perplexed but unable to resist the urge to find out more, to delve deeper into its convoluted paradise. You can experience the full game for yourself when it hits Mac and PC this summer.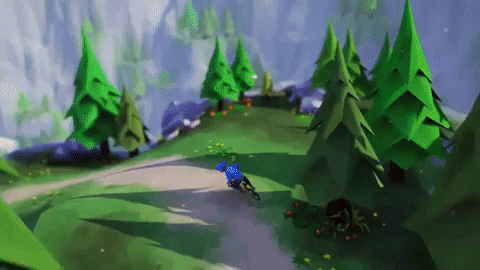 A Smooth Ride with Lonely Mountains: Downhill
Do you ever long for the freedom of cruising down a mountain trail? That's the feeling that Lonely Mountains: Downhill aims to capture. This minimalist biking sim is all about letting you choose the way you go downhill, whether that means racing down the slope at a breakneck pace or taking your time and enjoying the scenery. The game won significant critical acclaim when it released on other platforms last year, and now players can take this freeing experience on the go with its upcoming release on Switch.
With sixteen different trails to race down on four different mountains, you're even given the choice to stick to the path or wander off of it to discover hidden secrets and rest spots. There's also an assortment of challenge modes and leaderboards to climb to encourage you to keep coming back. And on Switch, the action promises to be more freeing and flexible than ever before. There's not long to wait for this ride's portable debut, since Lonely Mountains: Downhill hits Nintendo's hybrid system on May 7.
Adapting a Classic with Metamorphosis
"After a night of unsettling dreams, Gregor Samsa awoke to find himself transformed into a hideous creature…"
If you're of a literary bent, then this opening line should be familiar to you. It's the opening of Franz Kafka's famous novella The Metamorphosis, and now it's also the inspiration for Metamorphosis, a first-person adventure game that offers a more fanciful, action-packed take on Kafka's story. This adaptation puts players in control of a salesman-turned-insect as he navigates the miniature world of bugs, filled with environmental puzzles to solve, physical obstacles to overcome, and mysteries to decipher.
Just like the source material, players will also have to get used to navigating the world with eight spindly, insectoid legs. This unique mobility style promises to offer unique ways of moving around while simultaneously posing new gameplay challenges and opportunities. Metamorphosis could be a treat for the classically-minded when it releases this summer on PC and consoles.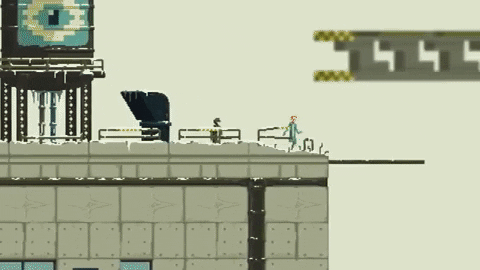 Tune in to Ministry of Broadcast
Keeping up with the literary theme, Ministry of Broadcast is a cinematic platformer that takes a dystopian world inspired by Orwell's 1984 and reframes it in the context of a live TV show. Players control a man who has been separated from his family, and the only way to get back to them is by competing on and winning a gruesome televised competition.
Ministry of Broadcast promises plenty of platforming and puzzling challenge. It places heavy emphasis on its environment; rather than cluttering the screen with UI info and stats, every update you'll need can be found in your surroundings. At the same time, this broadcast also delivers an impactful narrative about personal devotion and struggling in the face of a world in turmoil. To see all this for yourself, Ministry of Broadcast is airing now on Switch.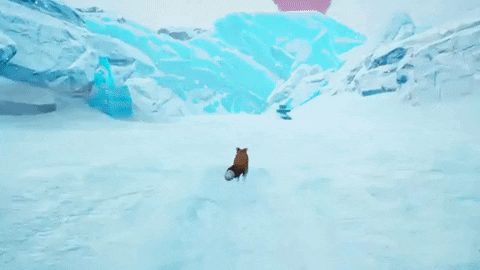 Staying Cool in Spirit of the North
Spirit of the North is another one of those games that's light on guidance but big on atmosphere. With minimal UI and objective markers to obscure its expansive environments, it's all about the joy of exploring a wintery world as a solitary fox. At the same time, it teases a grander story inspired by Nordic mythology, tasking you with uncovering a lost civilization and understanding the truth behind the spirit of the Northern Lights.
Our own Matthew Ponthier loved his time with the game at PAX East, praising the way its atmosphere helped create a sense of wonder and intrigue. Considering that, it should be worth checking out when it releases on Switch and PC on May 7. For those who are more impatient, however, it's already available now on PS4.