Art Books for Video Games: Persona Franchise
Art books for video games can create a greater appreciation for the game itself. Some of the best examples come from the Persona franchise.
While video games are increasingly appreciated as an artistic genre, art books for video games still fly under the radar. Video game art books show a game's design process from start to finish. At their best, they can help fans better appreciate their favorite titles. Some of the best examples of recent video game art books come from the massive Persona franchise.
From main-line entries to spin-offs, most recent Persona games have art books. Whether its made for a main JRPG entry or spin-off, the books feature promotional art, early character sketches, concept and final images for settings, and commentary from each game's artists.
This article will look at three recent main-line games, Persona 3, 4 and 5, (original releases) as well as two spin-offs: Persona 4 Arena and Persona Q: Shadow of the Labyrinth. This will be a good starting point for understanding Persona art books and video game art books in general.
Art Books for Main-line Persona Games
The Persona franchise has, over recent years, nailed down the art book to a science. Each book has publicity illustrations, character design pages, and a "world of Persona" type section. Every book works within this framework to showcase its art style and design process.
Persona 3: Official Design Works
The Persona 3 Official Design Works book spans 144+ pages. After being treated to several polished promotional images, including the game's box art, the book dives into its character designs.
For its character art, the Persona 3 art book focuses on line-art sketches. The key point here is to see how characters did (or did not) change design from conception to final product. For instance, while the sketches for Mitsuru Kirijo are similar to the final design, Yukari Takeba's pages show noticeable changes, particularly with hairstyles and facial features.
The book splits its in-game art between dungeon-crawling sprites and the more "anime" style dialogue portraits. This shows a range of equipable character weapons more thoroughly than other games.
In the "World" section, the pages have enigmatic, early-concept art, some expanded upon and used, and some put to the side. There's also art for key settings, including Gekkoukan High School and Pawlonia Mall.
The book is compact, and makes the most of its character pages, without feeling cluttered. This collection is packed with content, and provides a stunning behind-the-scenes look at the original Persona 3.
Persona 4: Visual Data
The original "visual data" book for Persona 4 (2008) is substantially shorter than other games (barely 100+ pages). However, the art book makes the most of its pages.
The book comes with a killer introduction that connects to the game's story. On the first page, mascot character Teddie gives a poetic spoiler alert, warning players, "…we recommend holding off on savoring this art book until after you're done. Truths are meant to be hard-earned, not viewed safely from afar!" This message ties in with the game's emphasis on working gradually towards uncovering the truth.
After Teddie's warning, the book dives into promotional images, and then its character art. For the main cast, the pages show in-game portraits as well as early sketches and creator commentary. Some characters look completely different than their earlier art. For instance, Rise initially looked closer to P4's Ai Ebihara. Also, Chie's creator commentary explains that she initially looked closer to past Persona characters, specifically Persona 2's Lisa Silverman and Persona 3's Chihiro Fushimi (page 17).
The art and commentary continues with supporting characters. While these come with fewer designs, the sketches are still fascinating. (Nanako originally looked quite similar to a certain late-game Persona 5 character–no spoilers!)
The rest of the book has sketches for personas and shadows, and ends with key images. These pages show concepts for settings, in-game moments and character uniforms. There are also unused illustrations, showing what could have been a different Persona 4 altogether.
The Art of Persona 5
The Art of Persona 5 art book is massive in scope–compared to the last two video games, this feels more like a textbook. However, the book remains sleek and stylish throughout its 440+ pages, just like the game itself.
Each character section emphasizes the sharp divide between daily student life and the phantom thieves' dungeon crawling adventures at night.
While the Persona 3 and Persona 4 art books focused on line sketches for the characters, the Persona 5 art book also includes pen-and-ink brush images, and more full-color images.
The book goes the extra mile with its creator commentaries. Breaking this down fully would make its own article, but a great place to start is the commentary for the main character (aka "Joker").
The creator commentaries for Joker show how his design changed as the team worked through larger questions for Persona 5's story. The commentary mentions the question of how "the protagonist and party members should look like as thieves" (creator commentary, page 44). The commentary also describes game director Katsura Hashino asking the questions, "aren't these designs too realistic?" and "wouldn't a Phantom Thief show off when they fired a gun?" (creator commentary, page 44). This commentary shines a light on the design process for creating this 60+ hour JRPG.
Other highlights include Morgana's and Futaba's pages, shown below.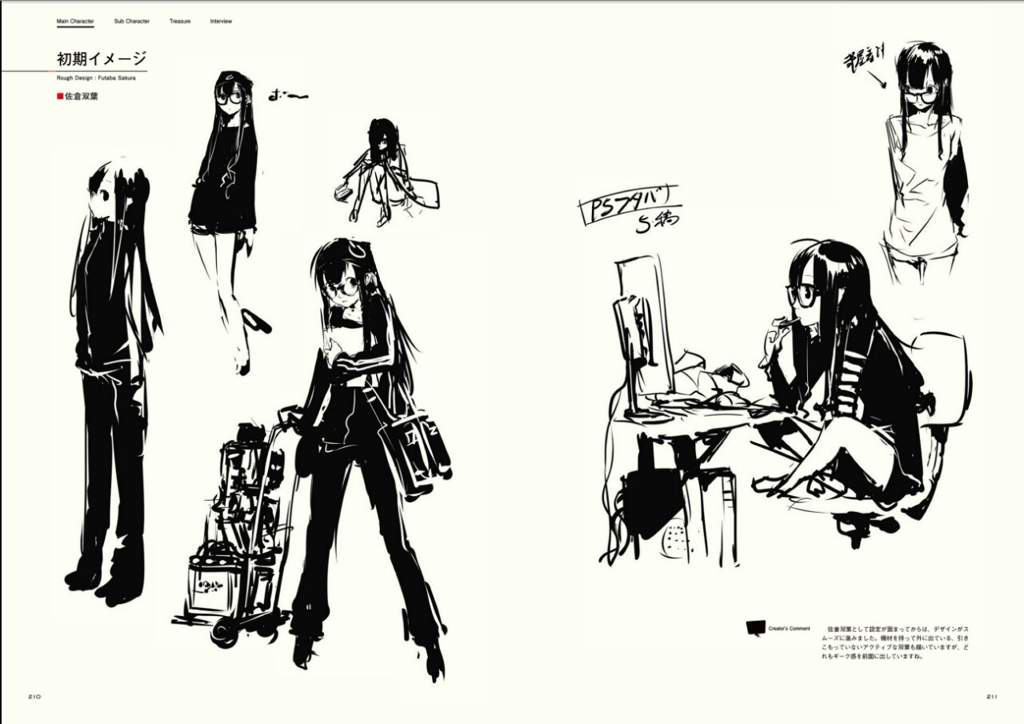 The book also shows art for side characters (particularly Sae, an integral character to the game). There's also art for in-game NPC menu screens, antagonists with detailed boss-battle designs, and profile pages for the rest of the supporting cast.
Finally, there's the "world of" section. Once again, many of these images hint at would could have been a very different game. The exciting part here is that unused images may be used for future games. Given the time lapse between the original Persona 4 and Persona 5 (about 8 years), this content may serve as the only means of speculation as fans wait (and hope for) a possible Persona 6 down the line.
Until then, fans can look forward to a growing list of Persona spin-offs and a new crop of art books.
Here's a look at two Persona spin-offs with phenomenal art books.
Two Very Different Persona Spin-Off Art Books
The Persona franchise has many spin-off games. This includes rhythm games, arcade-style fighting games, and more. (Soon, Persona 5 Scramble will join the list, a hack-and-slash game for the Nintendo Switch, scheduled for release in Japan on February 20, 2020).
Two recent Persona spin-offs with great art books are Persona 4 Arena and Persona Q: Shadow of the Labyrinth. These are both crossover games, combining cast members of Persona 3 and Persona 4 for a brand-new experience.
Persona 4 Arena
Persona 4 Arena, released in North America on August 7th, 2012, is an arcade-style fighting game bringing together the cast of Persona 4, and several Persona 3 characters, with a small batch of original characters.
The book starts off with key illustrations, which look like splashy spotlights of characters in the heat of battle.
The biggest difference, however, comes with the character pages. The pages display the line art used for showing movement and action, in a way the main-line art books don't. This is because of the game's combat system, and its re-use of many original character designs. These pages show how much work goes into creating a fighting game.
While this art book highlights the game's combat and high-drama narrative, the final art book shows a more upbeat, cooperative crossover game.
Persona Q: Shadow of the Labyrinth
Persona Q: Shadow of the Labyrinth was released for the Nintendo 3DS in North America on November 25th, 2014. This is a first-person dungeon-crawler, featuring the full Persona 3 and Persona 4 casts, along with two brand new characters.
The most obvious difference with this spin-off is its art style. All characters are in chibi form, highly stylized, minimized, and "cute." This keeps with the up-beat, sugar-sweet positivity of the game, where both casts become friends and work together to resolve the game's conflict.
The game's main selling point comes from the characters meeting each other and working together. Unsurprisingly, the illustration pages show how the game's designers experimented in bringing different characters together.
As always, the book has individual character pages. This time, the art focuses on how original characters are translated into chibi form. The only exceptions to this are the two new characters Zen and Rei.
The book also has art for the game's opening animation and cut-scenes. These show how the art team created scenes showing the dramatic reveal of the casts meeting each other. They also include the slice-of-life events the casts experience together.
The Beauty of Art Books for Video Games
Art books made for video games can show fans the hard work that goes into designing their favorite titles. Some of the best art books in recent years come from the Persona video game franchise. These books compliment their title, showing the hard work and creativity that goes into developing each video game.