Indie Games Spotlight–Ready to Rumble
Need some indies to tide you over until the end of the year? Here are a few to keep an eye on.
Indie Games Spotlight is Goomba Stomp's biweekly column where we highlight some of the most exciting new and upcoming independent games. The recent Game Awards may be dominating much of the gaming conversation, but that doesn't mean there aren't incredible indies worth celebrating too. In the mood to throw up hands as a medieval knight or embark on a vast roleplaying adventure? As always, we're sure to have you covered. Let's get going!
Set Forth in Fight Knight
How should knights wage war? Should they wield shining blades and spears, or should they simply use their fists? Fight Knight opts for the second option. This first-person brawler puts players in the role of a knight errant on a quest to conquer "The Tower," a mysterious monolith brimming with devious foes and convoluted puzzles–plus a few friendly companions along the way.
Fight Knight blends first-person dungeon crawling gameplay with fast-paced action mechanics through each of its more than five unique zones. Each section of the tower boasts completely unique handcrafted level design, ensuring a constant stream of new challenges meant to test your abilities to their furthest limits. Throw in a striking 3D pixel art style, a robust combat system packed with a variety of attacks, and a cast of quirky characters to meet, and Fight Knight offers versatile package. Don't delay in taking on the Tower as Fight Knight is available now on Steam!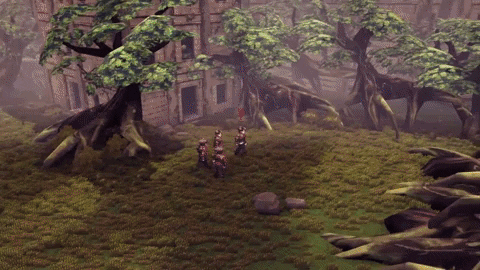 Go Full Circle
The PS1 era has long been regarded as a golden age for the JRPG genre, but it seems like it's only recently that developers have come to recreate that generation's unique blend of 3D and 2D graphics. A prime example is 2nd Player Games' Full Circle, a visually stunning JRPG that looks to recapture the magic of old-school classics like Legend of Dragoon and Breath of Fire 3. It's more than just looks, though: the game boasts a tactical turn-based combat system with an emphasis on stacking lengthy combos, ensuring that adventurers will have plenty of tools and strategies to exploit in every battle.
Full Circle drops players into a landscape dominated by devastation, letting them take control of a team of intrepid heroes tasked with charting their way through a postapocalyptic world. Over the course of an ambitious story, players will encounter diverse characters and locations beautifully rendered in a gorgeous style reminiscent of 2018's Octopath Traveler. With a versatile combat system taking place entirely within the world itself, Full Circle promises tactical depth and total immersion. No release date has been confirmed just yet, but this adventure is certainly worth circling back to.
Take a Voyage to the Islets
Describing itself as a "surprisingly wholesome metroidvania," Islets is an endearing hand-drawn adventure all about bringing people together. Set in a world of airborne islands that have drifted far apart, Islets puts you in the role of a hero named Iko who sets out on a journey to reunite these communities and take down the monsters standing in their way. This quest is about more than fighting, however–most importantly, it's about forging connections with the people you meet.
As with any metroidvania, Islets revolves around an ever-expanding map stuffed with secrets and easter eggs behind every nook and cranny. Many secrets will only present themselves once you can reconnect the various islands, resulting in a constantly growing world that adapts to your actions. These environments come to life with a quirky array of memorable inhabitants sporting charming dialogue and endearing cartoonish visuals. With epic bosses to face, characters to meet, and islands to reunite, Islets promises an unforgettable journey ahead of its PC release in 2022.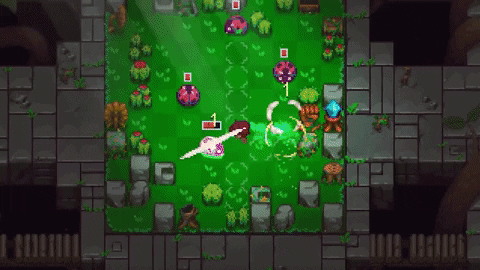 Take a Stroll Down the Gardener's Path
Think of the calm serenity that comes with caring for a garden: the gentle breeze blowing around you, the constant hum of nearby insects and wildlife, and the satisfaction of making sure that each plant can be healthy and thrive. Now, throw all that away and replace it with fast-paced puzzling action–that's Gardener's Path, an inventive puzzle game developed by Brazil-based Viridino Studios.
Gardener's Path is a top-down turn-based puzzle game about a gardener fighting at all costs to protect a garden from an onslaught of enormous bugs. Gameplay revolves around carefully plotting each move while zipping across the screen, slicing down every monster or obstacle in your path. This gameplay loop demands a delicate mix of quick thinking and methodical strategies, inevitably leading to some especially thorny brainteasers throughout its 60+ unique puzzles. With a release date set for later this month on PC, Nintendo Switch, PS4, and Xbox One, it won't take long before it's time to start tending to a garden of your own.

Prepare for the Kaiju Wars
This year may have come with a few big problems, but kaiju content certainly isn't one of them. Not only did we get the magnificent Godzilla vs. Kong earlier this year, but we also got one of our first tastes of Kaiju Wars, a tactical strategy title that lets players leverage the full force of the military to stop a gargantuan creature before it can demolish an entire city. Not only that, but developer Foolish Mortals Games certainly knows what fans want, since the game also offers extra modes that let you play as the monster itself.
Kaiju Wars gives players a vast arsenal of tools to leverage like military jets, bases, and experimental weapons like lasers and ice beams–not even the riskiest methods are off the table when the future of humanity is at stake. With five separate kaiju who each come with their own mutations that dramatically alter their abilities and movesets, a campaign that takes place in destruction-filled scenarios across the globe, and versatile multiplayer functionality, Kaiju Wars bursts with high-stakes action. Be ready for war to break out in February 2022 when Kaiju Wars hits PC–but in the meantime, don't forget to try out its free demo on Steam!