Indie Games Spotlight–Picking Up the Beat
Infinite Guitars, Haiku the Robot, and more!
Indie Games Spotlight is Goomba Stomp's biweekly column where we highlight some of the most exciting new and upcoming independent games. After a one-week hiatus (thanks, flu season), this week's edition offers a reminder that spring is just as packed with indies as any other time of the year. Musical mashups, ambitious platformers, and everything in between—the indie spotlight is back and as varied as ever!

The Show Goes On with Infinite Guitars
It's been said that music is life itself–Infinite Guitars takes that saying literally. This genre-bending adventure takes place in a world ravaged by an army of dangerous mechs who can only be stopped by one thing: your very own electric guitar. Taking up a guitar as a weapon, players set forth to shred their way to victory in this quest that blends role-playing mechanics, turn-based battles, rhythm game elements, and sci-fi world exploration.
All you need are some sick tunes to overcome the myriad of hostile mechs and other enemies you'll face as you get strung (strum?) along this musical mission. Extraordinarily stylish in everything from its overworld to its very pause menu, Infinite Guitars' anime-inspired aesthetic ensures that players will put on a good show in every moment of gameplay–and that's not to mention its funky rock soundtrack. Infinite Guitars will hopefully strike a chord with players in its release on PC later this year.
Compose Yourself with Haiku the Robot
Who says robots can't be poetic? In Haiku the Robot, an adorable mechanical hero embarks on a journey through an expansive interconnected world to encounter a whole host of friends, foes, and mysteries about how the dying post-industrial world became the way it is. All the trappings of a solid metroidvania are here and accounted for: open-ended exploration, unlockable abilities, and more collectibles than you can shake a mechanized limb at.
With each discovery of new items or powers, Haiku the Robot's jam-packed world becomes a little bit bigger. This Gameboy-inspired pixelated experience doubles down on the flexibility that can make a good metroidvania feel so special, promising to make the adventure feel like your very own through its precise controls and flexible arsenal of items. Haiku the Robot switches on soon, with a PC release incoming on April 28th with additional platforms to follow later.
Titan Zero to Hero
Many roads can lead to indie game development—including, apparently, making video game mythology explanations. YouTuber Mossbag (who's built up quite a following as an expert in Hollow Knight lore) is pivoting to game development with Titan Zero, a twin-stick roguelike platformer. With only a short teaser trailer so far, details are scant at this point—but this new project already looks exciting.
With a vast hazardous landscape that can be explored by foot or by mech on an action-packed quest, Titan Zero will bring players into conflict with a corrupt police force, a band of mercenaries, and a whole host of deadly foes. More details should be coming sooner rather than later—Titan Zero has an upcoming Kickstarter campaign launching in the near future, so make sure to stay tuned for more updates.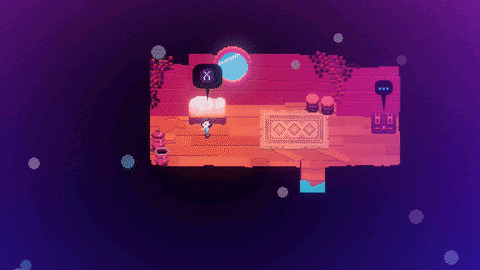 Jam Out to Lila's Sky Ark
Set in a psychedelic dreamscape where dinosaurs sing and the world grooves to the beat of the music, all is not as it seems in Lila's Sky Ark. This atmospheric top-down adventure game follows the eponymous Lila on a "strange yet beautiful journey" to get to the bottom of the mysterious forces threatening to suppress all the magic and music in the world. With a cryptic narrative that asks the player to fit the puzzle pieces together, Lila's Sky Ark fills its environment with secrets to uncover and musical enemies to face in combat.
Lila's Sky Ark features a soft neon-tinted color scheme with vibrant pixelated graphics, giving the game an immersive aesthetic along with its intricate worldbuilding. Promising a poignant and emotional narrative containing a cast of memorable and eccentric characters, this adventure should be a memorable one. The journey begins soon as it launches on Switch and PC on April 21.
Deflect to Victory in Nine Sols
As the creators of cult classics like Detention and Devotion, Taiwanese developer Red Candle Games has made a name for itself as one of the most recognizable names in the indie horror space. With their next project, though, Red Candle Games is tackling a new genre altogether: the action platformer. Nine Sols is a self-described "Asian fantasy" that blends visual motifs of Taoism and cyberpunk into a unique mix, all set against a deflection-based combat system and a lore-filled world.
Listing games like Sekiro, Katana Zero, and Hollow Knight among its inspirations, Nine Sols puts players on a quest of vengeance to defeat the nine sols, the rulers of a mysterious world once ruled by a distant alien species. The gameplay puts a strong emphasis on combat alongside conventional 2D exploration, focusing on close-range combat with precision-based deflection and charged attacks. Throw in the game's beautiful hand-drawn aesthetic with fluid painterly animations, Nine Sols is shaping up to be a promising new direction from Red Candle Games. There's still some time to go until its release next year, but you can help the game get there by contributing to its crowdfunding campaign–and in the meantime, try out its free PC demo!