Indie Games Spotlight – From Punk to Paradise
This spotlight includes a handful of especially ambitious titles that offer massive worlds to explore and revive beloved genres.
Indie Games Spotlight is Goomba Stomp's biweekly column where we highlight some of the most promising new and upcoming independent games. This week, we're featuring a handful of especially ambitious titles that offer massive worlds to explore, revive beloved genres, and provide simple takes on chaotic gameplay. There's sure to be something to please every player in this diverse lineup of indies.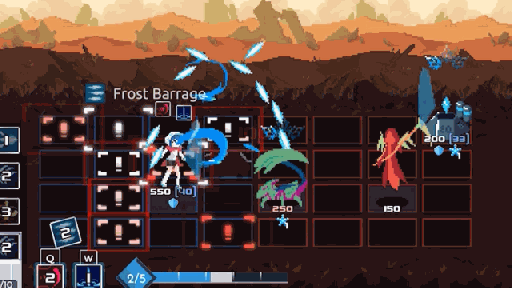 Approaching Heaven with One Step from Eden
Almost two decades ago, the Mega Man Battle Network games created a unique style of grid-based RPG combat. But with nearly fifteen years since Capcom released the last Battle Network title, the market has been distinctly lacking in deck-building, grid-based action games. Enter developer Thomas Moon Kang who's taking matters into his own hands with One Step from Eden.
Like its Capcom inspirations, One Step from Eden is a grid-based action game that combines real-time action, a roguelike gameplay structure, and deck-building strategy. It's extremely fast-paced, tasking players with reacting quickly to plenty of projectiles flying across the screen. Its roguelike elements allow players to make choices that affect its ending, encouraging multiple playthroughs to see all it has to offer. One Step from Eden will surely be worth watching out for when it releases on March 26 for Switch and PC.
Make the Delivery with Cloudpunk
You can't get enough cyberpunk content these days, and now Cloudpunk takes that popular theme to the heavens. Cloudpunk is an expansive exploration game set in a distant technological future, putting you in control of a driver for a "semi-legal" delivery company as you explore the futuristic city of Nivalis and attempt to unravel a massive corporate conspiracy.
With the game boasting of a vertical open world, you'll be able to freely discover the secrets of this sprawling metropolis both on foot and in your own hover car. As you do so, you'll encounter a wide cast of unusual characters that include rogue AI, androids, humans, and more. Each decision you make in these encounters will have a lasting impact on how the story plays out. Cloudpunk brings its mystery, freedom, and intrigue to PC on April 23, with a console release to follow later this year.
Discover the Secrets of History in Hidden Through Time
If you grew up during the golden age of late 90s and early 2000s PC games, then the hidden object genre should be well familiar to you. It feels like it's been ages since a quality hidden object hit the market – and that's a niche that Hidden Through Time is attempting to fill.
Hidden Through Time is a classic-styled hidden object game that tasks players with discovering secrets meticulously hidden in levels set across four distinct periods of history. There's also the ability to create puzzles of your own with a map creator. Every setting seems to pop to life thanks to its charming hand-drawn cartoony graphics. This little gem won't stay hidden much longer, since it's releasing on March 12 for all consoles and PC.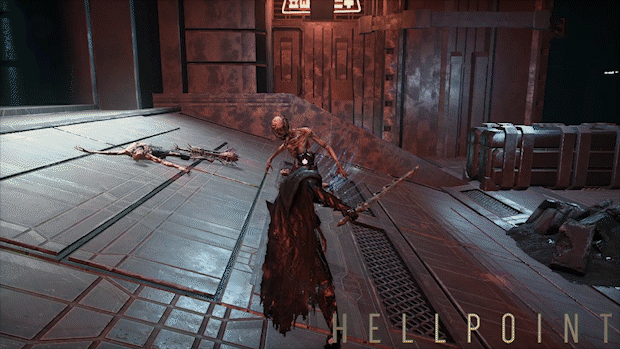 Uncover a Brutal Mystery in Hellpoint
Hellpoint is immediately different from your typical independent game. Instead of being a modest, stylized little metroidvania or roguelike, it's a 3D open world action game, featuring intense action RPG combat, deep customization, and gritty visuals.
Hellpoint is set in an abandoned space station overrun with demons after an occult catastrophe occurs, and players are put in control of a being created specifically to discover what went wrong. It features robust customization options and requires strategy to fight off hordes of vicious monsters in a quest to set things right. You won't have to embark on this purge alone, either, as you can even experience all the action with a second player. Hellpoint looks quite ambitious, and it will be very interesting to see how it turns out when it releases on all consoles and PC on April 16.
Aeolis Tournament Offers Simple Co-op Chaos
Local couch co-op can be hectic to say the least. With multiple players sharing the same screen, it's easy for chaos to ensue. Amidst all this crazy action, Aeolis Tournament has come along to make things simpler by focusing entirely on a single, one-button mechanic.
Aeolis Tournament gives each player an air cannon that can be used in different ways depending on the game mode. With a press of a button, they can suck items in, blast opponents off the stage, push projectiles around, and even more. Things might get out of hand with support for up to eight players at once, but with only one button to keep track of, it keeps the focus on quick thinking and outmaneuvering the competition. Aeolis Tournament should be a party worth having when it releases on PC, Mac, and Switch this spring, with PS4 and Xbox versions to come later in the year.