Is the Xenoblade Chronicles 2 Expansion Pass Worth Buying Now?
Xenoblade Chronicles 2 launched at the tail-end of last year and managed to fill the gaping RPG-sized hole in the Switch's library quite nicely. The base game not only offers a main campaign that's at least 70 hours long on its own, but also a seemingly endless amount of side content including a ridiculous number of quests, over 30 rare blades to unlock (each with their own unique quests), and multiple towns to develop. And yet, there's an option for the hardest of hardcore fans who want even more: the Xenoblade Chronicles 2 expansion pass.
The pass is structured similarly to the Legend of Zelda: Breath of the Wild's expansion pass, but XC2's offering is a bit more robust to fit its somewhat hefty $30 asking price. XC2 features five DLC packs compared to BotW's three, and like BotW's pass, the DLC isn't available to be purchased piecemeal. Let's explore what each of the packs released so far have added to the game and just how useful the content is to the average player.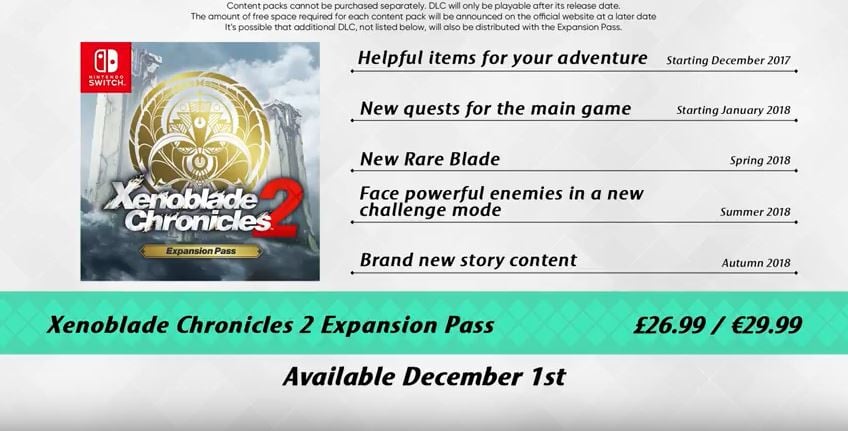 The first pack, "Support Items for Your Journey," dropped right on launch day and includes 50,000G, 3 cream orange paratha, 10 silver cylinders and 5 common core crystals. This pack is obviously aimed at new players, as suddenly accruing 50,000G and 5 common core crystals is massively more impactful than getting them halfway through the game when most have likely already wracked up a couple hundred thousand G and more common crystals than they know what to do with. The one timeless part of this drop are the 10 silver cylinders since one can generally only accrue these pricey items by buying them in a shop.https://f8621e1b2d589eae6d427c5e0bf534fb.safeframe.googlesyndication.com/safeframe/1-0-38/html/container.html
The second "Support Items for Your Journey" pack came out on December 21st and, compared to the first, is much more viable. This pack boasts the Driver's Essentials Set (10 rare core crystals, one legendary core crystal, and three overdrive protocols), Upgrade Parts for Poppi (30,000 ether crystals), and five of Pyra and Nia's favorite items each. The extreme rarity of overdrive protocols (which allows players to move blades from one driver to another) are easily the highlight of this pack. The legendary and rare core crystals are nice bonuses, but both can be farmed using one of several late-game strategies. The Upgrade Parts for Poppi pack is a major time saver for those who aren't the biggest fans of Tiger! Tiger!, though, and having Pyra and Nia's favorite items is sure to help players early on.
Pack 2A is where the real meat of the DLC finally comes into play. Just released on January 18th, this pack offered the first set of new DLC side quests. Each of the five quests unlock at different chapters of the game (a fact that unfortunately kept me from playing the final DLC quest available at chapter 10) and vary greatly in quality. If you're expecting extra-long, story-driven quests placed squarely among some of the game's best, you'll likely be disappointed. What the DLC quests do succeed at, however, is getting players to revisit and explore more obscure areas from the main campaign. Not only was this a welcome return to areas that I hadn't seen in dozens of hours, but it also surprised me by just how many secrets and special locations can be found with a stronger party and wider variety of Field Skills. I found myself fully invested in the best of the quests (see: Industrial Sort of Tour) and eagerly seeking out every secret possible. The M.I.A. Nopon quest is also particularly valuable in that once it's completed, players will gain the ability to craft premium cylinders (the elusive variety that's above even golden cylinders) whenever they want.
While traveling between titans for the quests, however, I quickly realized the fatal issue with offering additional side quests as DLC: there are already an insane amount of quests constantly populating the game world. From killing a certain number of monsters to settling serious squabbles between families, every area I ventured to had at least two random side quests on the map, sometimes more. So while the DLC quests are entertaining and will easily provide several extra hours of gameplay, the bulk of players likely won't ever finish all the quests in the main game, let alone bonus ones.
Aside from the accompanying pack 2B which added more core crystals, another overdrive protocol, Tora and Poppi's favorite things and an Auto-Balancer, that's about it for the XC2 expansion pass DLC thus far. DLC pack 3 promises a new rare blade in Spring, but that could be troublesome if it has to be won via the current frustratingly random lootbox-esque system. Summer will usher in a "new challenge battle mode," which might be akin to the Trial of the Swords DLC in Breath of the Wild (or, fingers crossed, a co-op arena mode). The main attraction here, though, just like with the BotW Season Pass, will be the brand-new story content that's coming in the fall of this year. While the "story" in The Champions' Ballad ended up failing to live up to the hopes of many gamers, a story addition in a hardcore JRPG like XC2 is much more promising.
So is the Xenoblade Chronicles 2 expansion pass worth investing in right now? Well, it largely depends on where you are in the game. If you're thinking of buying the game and expansion pass bundle and really want an early edge, I say go for it. The money, core crystals, ether for Poppi and favorite items for the rest of the crew will be very helpful early on. Likewise, if you've just started the game and can already see yourself sinking hundreds of hours into side quests, combat and developing the world of Alrest, you really can't go wrong with what's offered here.
However, if you're like me and are already 100+ hours in with three pages full of side quests, multiple towns to develop and plenty of rare blades to collect (not to mention story progression), the expansion pass probably won't be worth it to you until the new battle mode or story is unveiled later this year. The bulk of the pass' early content is sensibly aimed at new players and hardcore fans. If you're somewhere in the middle, chances are this is another case of waiting for the good stuff.