Top 5 Announcements From Indie World Showcase December 2020
There was a lot to love at the December Indie World Showcase, but some games stood out from the rest. Here are our top 5 best reveals.
Nintendo has once again dropped an Indie World Showcase to wrap up the year, and what a show it was. While it was only about 15 minutes long from start to finish, it managed to pack its brief runtime with a solid selection of blockbuster announcements, sudden shadow drops, and pleasant surprises alike. There was something for everyone to love, but there were a few reveals that clearly stood out from the rest. Without further ado, here are the top five best announcements from December's Indie World Showcase.
---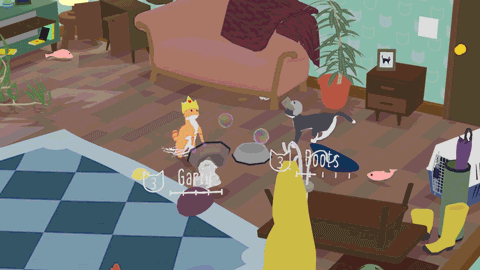 5. Fisti-fluffs Promises Cuddly Cat Chaos
Sometimes a game's name alone promises greatness. Fisti-fluffs is one such title, and it only gets better once you see it in action. Fisti-fluffs is an adorable 3D party brawler that finally reveals what cats do when humans aren't around: they duke it out in physics-based battles, obviously. Featuring silly ragdoll physics as well as a soft pastel visual style, Fisti-fluffs supports both local and online co-op so you and your friends can beat the catnip out of each other wherever you are. Much like how Skatebird stole the show at the last December showcase, Fisti-fluffs looks like a perfect title for anyone craving some athletic animal action. It's hitting Switch early next year as a timed console exclusive.
---
4. Happy Game Should Put a Smile On Your Face
It wasn't all sunshine and roses during this Indie World, however. Despite what its name might suggest, Happy Game looks like anything but. Developed by Amanita Designs, the creators of the ethereal hand-drawn masterpiece Creaks, Happy Game is a nightmarish psychedelic horror game that puts you in control of a young boy trapped in a terrible nightmare. You'll encounter unnerving smiley faces, haunting music, and unsettling environmental puzzles bolstered by a tense atmosphere filled with unrest. Its hand-drawn graphics boast all the grotesque personality and detail that's made Amanita Designs such a beloved developer, so it will be fascinating to see where Happy Game takes us when it launches on Switch next Spring.
---
3. Cyber Shadow Slices Up a Release Date
Cyber Shadow has constantly demanded attention ever since it was first revealed, and now it won't be long until players finally get their hands on it. Published by Shovel Knight developer Yacht Club Games, Cyber Shadow looks to deliver rock solid retro-infused action platforming that blends old-school Ninja Gaiden with modern design sensibilities and a healthy dose of sci-fi personality. This Indie World also revealed that Nintendo fans will get some extra love from Cyber Shadow, as the Switch version of the game even supports Shovel Knight amiibo. There's only a little time left to wait for this adventure, as Cyber Shadow will see its long-awaited release on January 26.
---
2. Spelunky Makes a Splash
The Switch has long been established as the ultimate platform for indie games, even playing host to once-Xbox-exclusives like Cuphead and the Ori games. Now, Nintendo's hybrid wonder will soon welcome an iconic PlayStation indie series as well with the announcement that both Spelunky games are coming to Switch. The original Spelunky is among the most foundational indie games ever made, spearheading the explosion of indie game popularity in the late 2000s and helping define the roguelike genre. Then, the recently released Spelunky 2 refined the innovations of the original game and created one of the most fine-tuned roguelike adventures in recent memory. Once exclusive to PlayStation platforms and PC, Spelunky and its sequel are headed to Switch in Summer 2021, allowing a whole new audience to discover this legendary franchise for the first time.
---
1. Among Us Makes the Switch
As massive as the Spelunky announcements were, perhaps nothing could possibly match the monumental reveal that Among Us, one of the defining games of 2020, is finally receiving its first console launch on Switch. This year of isolation has largely been defined by games that can be shared with others, and with Nintendo's flagship platform being the premier multiplayer console, it seems long overdue for Among Us to make the Switch. Of course, it wouldn't be an Indie World without any major shadow drops, so Nintendo players won't have to wait to try out Among Us because it released immediately after the show.