The Obstacles 'Nintendo Labo' Faces in Capturing the Parent-Child Audience
One thing that can be said about Nintendo as a company is that they always do the unexpected. Whether this is to their benefit, like the success of the Switch, or to their detriment, like the failure of the Wii U, is another matter. And yet, despite this fact, despite the Nintendo fanbase being top in its class for crazy speculation and conspiracy theories, the toy-maker turned game developer has managed to arguably deliver its biggest curve-ball yet with Nintendo Labo.
The imaginative DIY project has you creating all manner of contraptions and mechanisms utilizing cardboard cutouts, such as a fully functioning thirteen key piano or a little RC car controlled by the Switch tablet. You won't find a bit of plastic or the like for reinforcements here. This is a 98% cardboard product with a bit of string here and an infrared sticker there. You can get more details on this zany idea from Nintendo's own press release.
Prior to this announcement, Nintendo was pitching a new product "specially crafted for kids and those who are kids at heart". After seeing Nintendo Labo in action, it's easy to tell what they meant. It captures the same childlike sense of imagination and creativity that staples like LEGOs and Lincoln Logs bring to the table, but delivers it in an entirely novel way.
The fact that the material is cardboard, though, is a sticking point for many, one that is only compounded by the kits' price tags of $70-$80 USD. This preconception will prove an obstacle for Nintendo to overcome, but the complications extend further than the cardboard mental barrier.
Nintendo Labo is clearly being marketed towards parents and their kids as an experience that can be enjoyed together, and for the new product to take off it will need to gain the approval of both sides of that equation. Each side presents its own unique challenges that Nintendo Labo will need to clear in order to meet success.
The Parent Phase
A big advantage Nintendo Labo has going for it is that there isn't anything else quite like it on the market. The closest comparison that can be made in terms of material would perhaps be Google Cardboard, but even that isn't something you would find on the shelf of your everyday toy or video game store. To the uninformed parent, the Nintendo Labo box would certainly be eye-catching, but that may not be enough to distract from tried and true creative classics like LEGOs. For this reason, exposure will be paramount to convince this audience.
Nintendo is already taking steps towards creating this exposure with their Nintendo Labo Studio events in New York City and San Francisco. However, with only two locations on opposite ends of the country and limited space, it's unlikely to get into the hands of many. Not to mention the events are only being telegraphed through gaming outlets, which means the parents who do attend an event most likely already follow gaming news in some shape or form. This doesn't help bring in the uninitiated user base Nintendo Labo needs, or the "people who barely touch game consoles" that Nintendo president Tatsumi Kimishima mentioned in a recent interview.
Fortunately, Nintendo seems to already be aware of this. Of the three news outlets that have reported hands-on impressions with the Nintendo Labo, only one of them, Nintendo Life, is dedicated to video game coverage. The other two, The Guardian and The Telegraph, are both highly respected general news outlets that pull in swaths of readers of all kinds every day.
Nintendo Labo needs more of this sort of general coverage in order to reach the broad audience it's aiming to capture. There doesn't need to a multi-million dollar Super Bowl commercial like its parent console had, but more articles in more local papers such as LA Times and the like will go far in conveying Nintendo Labo's purpose, especially given how outlandish its concept is.
Marketing and coverage need to clearly communicate that Nintendo Labo is more than sheets of cardboard you can pick up at any old FedEx store. One of the many reasons for the Wii U's historical failure is that this line of communication wasn't there and the casual consumer saw no difference between it and the original Wii. Nintendo Labo is a teaching tool as much as it is a creative tool with (hopefully) fun games and activities attached to boot; the better Nintendo conveys this message the better chance they have of convincing a parent of putting their $70 towards a Nintendo Labo kit rather than the LEGO set sitting right next to it.
The Child Phase
So Mr. Smith has decided to buy a Nintendo Labo for Little Johnny. Great, we're past the first step! What next? While the parents will most likely be the determining factor of whether this DIY project lifts off the ground, it's the kids who will ultimately determine how long it stays in the air. There are a number of aspects that will factor into this, the primary of which is the cardboard dilemma.
The number one concern by many currently is the durability of these cardboard creations, and that's a totally reasonable worry to have. After shelling out $70-$80 on a kit, a parent wouldn't want their kid to destroy it the moment they get their hands on it. Cardboard can be made to be pretty sturdy, but not sturdy enough to withstand the full might of a ten-year-old amped up on Kool-Aid and Skittles.
However, that may be giving children too little credit, as odd as that may sound. What seems to be getting overlooked is the sense of ownership that comes with building something yourself, something even kids can feel.
The aforementioned news outlets reported that the simplest Toy-Con to put together, the RC car, took them 10-15 minutes to complete. On the other end of the spectrum is the mini-piano, which has been reported by Nintendo to take approximately two whole hours to construct. That is no small amount of time and, judging by the complexity we saw in the Nintendo Labo video, no small amount of effort, either.
If a child dedicates that much of their attention to their personal DIY arts-and-crafts project, chances are they will have a greater understanding of its functions and limitations. More importantly, it will instill a sense a pride from creating a, what seems to be, quite intricate and elegant piece of hardware with their own hands, rather than simply being given one. A child won't be so quick to get rough with something they are proud to have created, especially if they've gained a deeper structural understanding of the building process itself.
Granted, some kids are rowdier than others, and broken Toy-Cons are guaranteed to happen. Even so, the number of those cases may not run as rampant as many are predicting and for the ones that do happen, Nintendo has already announced they will provide replacement parts for cheap (although just how cheap has yet to be specified). These aren't toddlers we're dealing with here; young children are perfectly capable of learning and appreciating something given that something interests them, and Nintendo Labo is nothing if not attention-grabbing.
On Your Marks At The Starting Line
While price and material are the primary concerns that have come to light since Nintendo Labo's reveal, there are a number of other factors to take into account as well, such as will kids "get it"? Will they understand these sheets of cardboard will actually become a fully interactable toy? Will a child willingly forgo playing Splatoon 2 or Mario Kart 8 Deluxe to dedicate the sizeable amount of time necessary for constructing a Toy-Con? Will the final products even be worth it to the kid who put that effort into creating them?
These are questions we most likely won't have answers for until more hands-on impressions start coming out, particularly those of the parent-child combos that attend the upcoming Studio events. If Nintendo Labo can win over both parent and child, though, then this crazy new idea has the potential to take off like a wildfire. The social networking of parent circles and virality of playground talk at schools are not to be underestimated. Combining the two together is like a warm and cold front colliding into each other. A storm will ensue, the severity of which is yet to be seen.
The Lasting Impact of Indie Acquisitions by AAA Publishers
AAA publishers are acquiring indie game studios at record rates. 76 studios have lost their freedom since 2016, and history tells us that is not good news.
AAA publishers face fiercer competition today from indie developers than ever before. With indie games selling in the millions, an abundance of tools that make development easier, and fan gatherings around the world, the indie scene is now a huge part of gaming. Perhaps that's why publishers have been on a spending spree as of late, acquiring 76 indie studios from around the world since 2016.
After years of neglect, AAA publishers seem to finally be aware of the impact indies have had on gaming. As their awareness grows their desire for control does as well. By making these moves, publishers get that control while indie developers get financial security they previously only dreamed of. But is this a strategy that'll pay off in the long run?
The large-scale acquisition of smaller studios by the AAA industry does have some benefits. But in the long run, this mass shedding of independence could have catastrophic effects on gaming. You only need to look at the past to see why.
AAA Acquisitions and You
The rate at which large publishers are buying smaller, independent studios is nothing to bat an eye at. Since 2016, AAA publishers have purchased at least 76 independent game studios all over the world. What's more, the rate at which publishers are buying studios has increased. Seven acquisitions were made in 2016, a number which skyrocketed to 31 in 2018 and 29 the following year. 2020 is only three weeks old, yet there have already been two major takeovers. We could be here all day listing all these acquisitions, so instead, here's a Google Doc highlighting all that we could find.
Microsoft and THQ Nordic are two of the biggest spenders making all the noise. Microsoft really threw their money around in 2018 after combating a reputation of not having enough games or variety for their console. They purchased Obsidian, inXile, Ninja Theory, Compulsion Games, Undead Labs, and Playground Games that year, and then Double Fine in 2019. THQ Nordic, seeking to rebuild after going bankrupt in 2013, has acquired 14 studios since 2016. Other recent acquisitions of note include Facebook purchasing Beat Saber creator Beat Games, Sony tying the knot with longtime collaborator Insomniac Games, and Google wrangling Journey to the Savage Planet maker Typhoon Studios.
But these are just the tip of the iceberg, with more deals expected in the coming months and years. In early 2019, THQ Nordic announced they raised $225 million to buy more studios. Rumors continue swirling that Sony is looking to counter Microsoft's spending spree with further purchases of their own. With Google's Stadia struggling at launch and Facebook looking to improve the Oculus' line-up, they're likely just getting started, too.
Why Do AAA Publishers buy Indies?
Buying pre-existing studios is cheaper than building a new one from scratch. You don't have to hire 100 people and then find a place for them to work. Plus, you get a roster full of experienced developers right out of the gate along with whatever intellectual property they own. When EA bought Respawn Entertainment in 2017, they got Titanfall along with it. Paradox nabbing Harebrained Schemes gained them cult-classics BattleTech and Shadowrun.
AAA publishers are getting smart and buying indie studios they think could produce big hits before they become big. If Minecraft hit Early Access today, Microsoft probably wouldn't need $2.5 billion to purchase creator Mojang. So, THQ Nordic buys Experiment 101 before they release Biomutant and Sega acquires Two Point Studios just after they release Two Point Hospital.
That's also why so many of these companies are creating indie searchlight programs. PlayStation is launching an indie initiative with former Double Fine producer Greg Rice. There's the Square Enix Collective, Take-Two's Private Division, and EA Originals. These programs get publishers in on the ground floor of young indie creators before they become famous (i.e. too expensive).
Streaming the Future, Today
The role that game streaming plays in all this cannot be overstated. Microsoft are pushing the idea of a gaming ecosystem spread across multiple devices while Sony is potentially bringing their games to the PC. Both have their own streaming services. Look at any movie or TV streaming platform and you'll see they all share the same mantra: quantity over quality.
With streaming, the customer has unlimited access to every game in that service's library. They can play a game for an hour, get bored, and play something else all for $9.99 a month. Publishers know that, and they're priming themselves to be able to put as much content out there as possible.
The Cost of Doing Business
On the surface, these acquisitions make sense for everyone. Publishers get a studio without the hassle of creating a new one from scratch, and developers get the financial security they previously could only dream of. However, while the little guys and gals get a steady paycheck, they lose something vital in the transaction: independence.
Without the creative freedom to produce whatever art they want however they wish to do so, AAA publishers zap developers of what made them special. Publishers are notoriously risk-averse, and it's easy to imagine a scenario where Microsoft asks Obsidian to make an online survival game or THQ Nordic demands a remake of an old Spongebob game from Purple Lamp Studios. Projects like these are likely in production because the publishers view them as low risk, high reward.
The biggest restriction to any of these studios is that they'll become console or streaming service exclusive. Microsoft is only allowing games like The Outer Worlds, Psychonauts 2, and Wasteland 3 on the PlayStation 4 due to prior commitments made by those studios before their sale. Once those games are done, nobody without an Xbox console or gaming PC will be able to play one of their games again. The same goes for Typhoon Studios and Beat Games, both now proud anchors of the doomed Stadia and Oculus, respectively.
"They Have Completely Ruined That Company"
The word "Rare" is enough to send any gamer of a certain age into a frenzy. Once a second-party developer for Nintendo (who owned 25% and later 49% of the company), Rare was once a legendary studio. They created Donkey Kong Country, Banjo-Kazooie, Perfect Dark, GoldenEye 007, and so many more classic games. Nintendo granted them rare creative freedom, a blessing for any studio, and one that they took full advantage of.
That all changed in 2002. As the cost of development increased, Rare found Nintendo unwilling to increase its funding and uninterested in purchasing the remaining 51% of the company. With nowhere else to turn, Rare executives sold out to Microsoft for $375 million. It seemed like Microsoft saved Rare at the time, but little did anyone know they were worse off than ever.
After the purchase, Rare made a string of disappointing games such as Grabbed by the Ghoulies, Kameo: Elements of Power, and Perfect Dark Zero. After these failures, they reached a new low with Kinect Sports and Banjo-Kazooie: Nuts & Bolts.
"The Culture Changed"
Former Rare Engineer Phil Tossell attributed the decline to a culture clash between the two companies. "However, as time passed," he said in an interview with Destructoid, "and there were staff changes at Microsoft Game Studios, together with [Rare Founders] Tim and Chris [Stamper] leaving, the culture changed and it began to feel more Microsoft and less Rare."
"I think Rare have completely fucked themselves. And it isn't their fault; it's Microsoft's fault," former Rare composer Grant Kirkhope said in an archived interview with ScrewAttack. "They have completely ruined that company, and it makes me cry every day of my life."
The hard feelings went both ways, as former Xbox executive Peter Moore told The Guardian in 2008: "Perfect Dark Zero was a launch title and didn't do as well as Perfect Dark… but we were trying all kinds of classic Rare stuff and unfortunately I think the industry had past Rare by […] But their skill sets were from a different time and a different place and were not applicable in today's market."
Whomever you blame, there's no denying the sale changed Rare forever–and for the worse. Today, their most recent games are Rare Replay, a complication of their old games, and Sea of Thieves, an online multiplayer "live service" game light on content but heavy on the microtransactions.
AAA Crunch Berry
Arguably the worst thing these indie studios inherit is the AAA publishers' track record with workers' rights. The games industry has a long, ugly history of treating its developers poorly. Long workdays and weeks, excessive crunch, workplace harassment, lack of health benefits, high turnover, and low job security are all prevalent issues.
There are plenty of terrible examples to point to. Disney shutting down LucasArts after buying the Star Wars license because they wanted nothing to do with video games. Ken Levine gutting his staff at Irrational for the sake of "a flatter structure and a more direct relationship with gamers," whatever that means. Riot Games employees walking out in 2018 to protest rampant sexual harassment. Rockstar allegedly forcing employees to work 100 hour weeks with no pay. EA laying off 350 people in 2019 despite earning $5.4 billion in revenue that year. Any example works, take your pick.
Executives can (and do) whatever they like, seemingly on a whim. Some of these issues are present on every level of development, of course, but nowhere are they more prevalent than at the top of the food chain.
How Things Change
Keeping people employed and keeping beloved studios alive are great things. However, consider at the long-term effects of such employment conditions; are the aforementioned pitfalls really worth it?
The games these once independent studios make in the future will be different from what they've made in the past, and will carry with them different expectations. Lauded as a masterpiece and winning several awards, Hellblade: Senua's Sacrifice was a small-scale game that outperformed expectations. Now as a AAA project under Microsoft, Hellblade II has a bigger budget and cutting-edge graphics and animation. The sequel can't be a reasonably well-selling, mid-range game anymore–it has to be a big-budget spectacle. More importantly, it has to sell Xboxes.
Then there's the case of Firewatch creator Campo Santo. A year after Valve acquired them in 2018, the developer announced that their next game, In the Valley of the Gods, was put on hold. They're currently working on Half Life: Alyx and Dota Underlords instead. Just like that, a great-looking game from a narrative-driven company was killed–and for the sake of what? A VR game resuscitating a long-dead franchise to sell $500 Valve headsets and a free-to-play online auto-battler that will soon feature, you guessed it, microtransactions.
The Loss of the Indie Spirit
History shows that when an independent studio sells out to a AAA publisher, it's rare that something good happens. With indie studios having more power, success, and reach than ever, it makes little sense for many of them to sign on the dotted line. Those millions of dollars from hotshot companies can be tempting for anyone, but when you look at how these things typically go, how can you not be anything but disheartened?
Art Books for Video Games: Persona Franchise
Art books for video games can create a greater appreciation for the game itself. Some of the best examples come from the Persona franchise.
While video games are increasingly appreciated as an artistic genre, art books for video games still fly under the radar. Video game art books show a game's design process from start to finish. At their best, they can help fans better appreciate their favorite titles. Some of the best examples of recent video game art books come from the massive Persona franchise.
From main-line entries to spin-offs, most recent Persona games have art books. Whether its made for a main JRPG entry or spin-off, the books feature promotional art, early character sketches, concept and final images for settings, and commentary from each game's artists.
This article will look at three recent main-line games, Persona 3, 4 and 5, (original releases) as well as two spin-offs: Persona 4 Arena and Persona Q: Shadow of the Labyrinth. This will be a good starting point for understanding Persona art books and video game art books in general.
Art Books for Main-line Persona Games
The Persona franchise has, over recent years, nailed down the art book to a science. Each book has publicity illustrations, character design pages, and a "world of Persona" type section. Every book works within this framework to showcase its art style and design process.
Persona 3: Official Design Works
The Persona 3 Official Design Works book spans 144+ pages. After being treated to several polished promotional images, including the game's box art, the book dives into its character designs.
For its character art, the Persona 3 art book focuses on line-art sketches. The key point here is to see how characters did (or did not) change design from conception to final product. For instance, while the sketches for Mitsuru Kirijo are similar to the final design, Yukari Takeba's pages show noticeable changes, particularly with hairstyles and facial features.
The book splits its in-game art between dungeon-crawling sprites and the more "anime" style dialogue portraits. This shows a range of equipable character weapons more thoroughly than other games.
In the "World" section, the pages have enigmatic, early-concept art, some expanded upon and used, and some put to the side. There's also art for key settings, including Gekkoukan High School and Pawlonia Mall.
The book is compact, and makes the most of its character pages, without feeling cluttered. This collection is packed with content, and provides a stunning behind-the-scenes look at the original Persona 3.
Persona 4: Visual Data
The original "visual data" book for Persona 4 (2008) is substantially shorter than other games (barely 100+ pages). However, the art book makes the most of its pages.
The book comes with a killer introduction that connects to the game's story. On the first page, mascot character Teddie gives a poetic spoiler alert, warning players, "…we recommend holding off on savoring this art book until after you're done. Truths are meant to be hard-earned, not viewed safely from afar!" This message ties in with the game's emphasis on working gradually towards uncovering the truth.
After Teddie's warning, the book dives into promotional images, and then its character art. For the main cast, the pages show in-game portraits as well as early sketches and creator commentary. Some characters look completely different than their earlier art. For instance, Rise initially looked closer to P4's Ai Ebihara. Also, Chie's creator commentary explains that she initially looked closer to past Persona characters, specifically Persona 2's Lisa Silverman and Persona 3's Chihiro Fushimi (page 17).
The art and commentary continues with supporting characters. While these come with fewer designs, the sketches are still fascinating. (Nanako originally looked quite similar to a certain late-game Persona 5 character–no spoilers!)
The rest of the book has sketches for personas and shadows, and ends with key images. These pages show concepts for settings, in-game moments and character uniforms. There are also unused illustrations, showing what could have been a different Persona 4 altogether.
The Art of Persona 5
The Art of Persona 5 art book is massive in scope–compared to the last two video games, this feels more like a textbook. However, the book remains sleek and stylish throughout its 440+ pages, just like the game itself.
Each character section emphasizes the sharp divide between daily student life and the phantom thieves' dungeon crawling adventures at night.
While the Persona 3 and Persona 4 art books focused on line sketches for the characters, the Persona 5 art book also includes pen-and-ink brush images, and more full-color images.
The book goes the extra mile with its creator commentaries. Breaking this down fully would make its own article, but a great place to start is the commentary for the main character (aka "Joker").
The creator commentaries for Joker show how his design changed as the team worked through larger questions for Persona 5's story. The commentary mentions the question of how "the protagonist and party members should look like as thieves" (creator commentary, page 44). The commentary also describes game director Katsura Hashino asking the questions, "aren't these designs too realistic?" and "wouldn't a Phantom Thief show off when they fired a gun?" (creator commentary, page 44). This commentary shines a light on the design process for creating this 60+ hour JRPG.
Other highlights include Morgana's and Futaba's pages, shown below.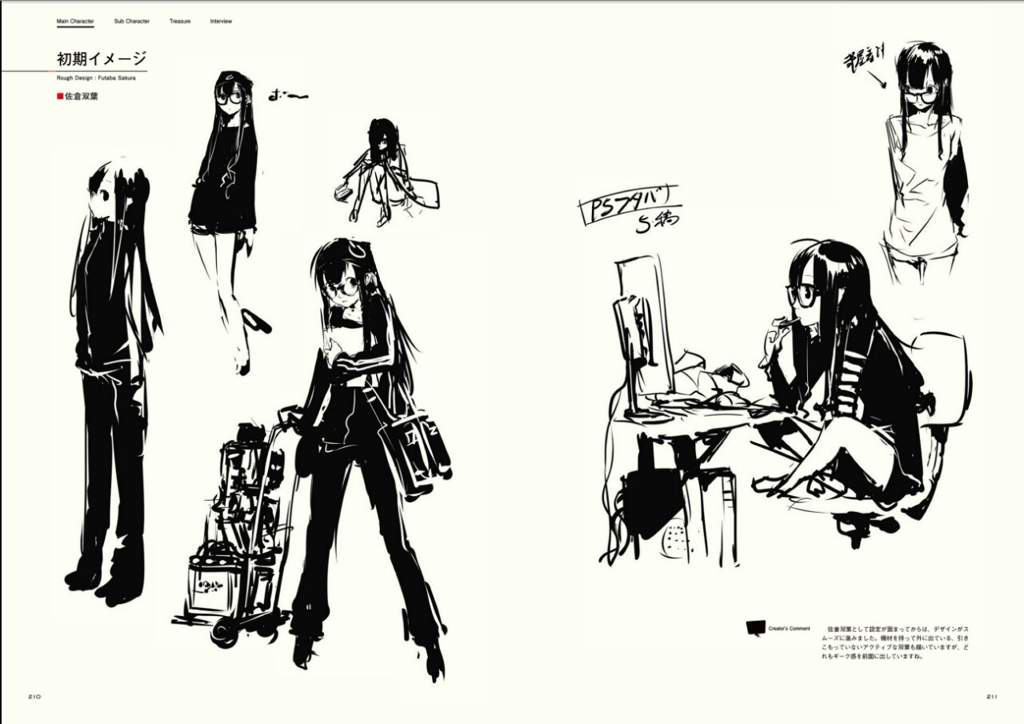 The book also shows art for side characters (particularly Sae, an integral character to the game). There's also art for in-game NPC menu screens, antagonists with detailed boss-battle designs, and profile pages for the rest of the supporting cast.
Finally, there's the "world of" section. Once again, many of these images hint at would could have been a very different game. The exciting part here is that unused images may be used for future games. Given the time lapse between the original Persona 4 and Persona 5 (about 8 years), this content may serve as the only means of speculation as fans wait (and hope for) a possible Persona 6 down the line.
Until then, fans can look forward to a growing list of Persona spin-offs and a new crop of art books.
Here's a look at two Persona spin-offs with phenomenal art books.
Two Very Different Persona Spin-Off Art Books
The Persona franchise has many spin-off games. This includes rhythm games, arcade-style fighting games, and more. (Soon, Persona 5 Scramble will join the list, a hack-and-slash game for the Nintendo Switch, scheduled for release in Japan on February 20, 2020).
Two recent Persona spin-offs with great art books are Persona 4 Arena and Persona Q: Shadow of the Labyrinth. These are both crossover games, combining cast members of Persona 3 and Persona 4 for a brand-new experience.
Persona 4 Arena
Persona 4 Arena, released in North America on August 7th, 2012, is an arcade-style fighting game bringing together the cast of Persona 4, and several Persona 3 characters, with a small batch of original characters.
The book starts off with key illustrations, which look like splashy spotlights of characters in the heat of battle.
The biggest difference, however, comes with the character pages. The pages display the line art used for showing movement and action, in a way the main-line art books don't. This is because of the game's combat system, and its re-use of many original character designs. These pages show how much work goes into creating a fighting game.
While this art book highlights the game's combat and high-drama narrative, the final art book shows a more upbeat, cooperative crossover game.
Persona Q: Shadow of the Labyrinth
Persona Q: Shadow of the Labyrinth was released for the Nintendo 3DS in North America on November 25th, 2014. This is a first-person dungeon-crawler, featuring the full Persona 3 and Persona 4 casts, along with two brand new characters.
The most obvious difference with this spin-off is its art style. All characters are in chibi form, highly stylized, minimized, and "cute." This keeps with the up-beat, sugar-sweet positivity of the game, where both casts become friends and work together to resolve the game's conflict.
The game's main selling point comes from the characters meeting each other and working together. Unsurprisingly, the illustration pages show how the game's designers experimented in bringing different characters together.
As always, the book has individual character pages. This time, the art focuses on how original characters are translated into chibi form. The only exceptions to this are the two new characters Zen and Rei.
The book also has art for the game's opening animation and cut-scenes. These show how the art team created scenes showing the dramatic reveal of the casts meeting each other. They also include the slice-of-life events the casts experience together.
The Beauty of Art Books for Video Games
Art books made for video games can show fans the hard work that goes into designing their favorite titles. Some of the best art books in recent years come from the Persona video game franchise. These books compliment their title, showing the hard work and creativity that goes into developing each video game.
'Pokémon Sword and Shield Expansion Pass' Announcement Deep Dive
A deep dive into the announcement of the Pokémon Sword and Shield Expansion Passes.
What? Pokémon Sword and Shield are evolving! The eighth generation of Pokémon brought many changes to the tried-and-true formula of the beloved franchise, but perhaps none so drastic as the Sword and Shield Expansion Pass. Presumably replacing the third or sequel installment title of previous generations (ie. Platinum or Ultra Sun), the Expansion Pass will be a continuation of players' adventures in Sword and Shield using existing save data and not a brand new adventure.
There's certainly a lot to be gleaned from the announcement trailer and accompanying Pokémon Direct, but, given more than a cursory glance, the Direct provided a surprising depth of information for those willing to dive for it. Here's a deep dive into the announcement of the Pokémon Sword and Shield Expansion Passes.
New and Semi-Familiar Faces
The footage, broken up between the two sets of new content (The Isle of Armor due out in June, and The Crown Tundra coming in the fall) begins with some very quick cuts followed by a map of Galar before the camera pans east and settling into setting concept art. If Galar were an upside down map of the UK, The Isle of Armor could be comfortably situated on the Isle of Man, a theory the title of the expansion supports.
This is immediately followed by the reveal of the expansions' seeming representative Galarian Slowpoke and a brief tease of a concealed Galarian Slowbro, notably with no Shellder on its tail and whose face is briefly visible just before the zoom into Slowpoke, eliminating the possibility of something on its head like Slowking. Perhaps something will have latched onto its left arm?
Similarly, the second half of the trailer unveils the existence of a Galarian Slowking that's also being obscured. While nothing was shown of Slowbro and Slowking beyond a few purple appendages and a cape in the case of Slowking, a lot can be inferred about the enigmatic evolutions. For starters, the existence of a poison move in Slowpoke's movepool, Acid, might suggest the mono-psychic type will become psychic/poison when it evolves, as does the purple coloration.
The preferred typings of the Isle of Armor's new rivals, poison in the case of Sword's Klara and Shield's psychically-inclined Avery, further purport this assumption as both rivals could then use the new forms. What looks like a bent spike on the right of Galarian Slowking's face already has some speculating Slowking's new form came about by being bitten by a Mareanie in place of a Shellder, not unlike how Team Rocket's James is frequently bitten by his Mareanie in the Sun and Moon anime series. That's all assuming Slowbro and Slowking retain the same typing as one another like their water/psychic Kanto and Johto counterparts and Slowking's cape isn't in reference to, say, Lance, the dragon user from Kanto's Elite Four.
Speaking of Klara and Avery, they too might be hiding information in their designs. Klara's bow, for instance, matches Dustox's wing pattern perfectly but is colored white and black with pink circles as opposed to two shades of green and with reddish circles. This could indicate the Pokémon's inclusion in the expansion, likely used by Klara as a bug/poison type, or could even indicate a new regional variant of the third gen Pokémon.
There's less to note about Avery save that he's sporting the psychic gym uniform available to players in the game, the insignia of which is two spoons twisted together. This same icon is also on his top hat. Again, this design was already in Sword and Shield prior to the expansion, but it could implicate the presence of Alakazam, the psychic Pokémon that infamously wields two spoons.
CMYK
Some new Gigantamax Pokémon are shown off (yes, Intelleon has a sniper finger) before the first set's title and logo are given, The Isle of Armor. There's a lot to note about this alone. To begin, the design is very similar to Sword and Shield's with the central figure looking straight forward as opposed to left like Sword or right like Shield. It also concludes the armaments of a knight: sword, shield, and armor, putting Pokémon Gun to rest (though, again, sniper finger). The logo's color is notably yellow, simultaneously representing all primary colors between both games and the expansion. This isn't unlike the original non-Japanese titles and appropriately concludes the CMYK color model Zacian and Zamazenta started (Cyan, Magenta, Yellow, Key). What's particularly intriguing about this is that the central legendary, Urshifu, may not singularly complete the model.
From markings to fur patterns, Urshifu…bears…striking resemblance to Zacian and Zamazenta. Evolving from Kubfu into one of two forms depending on the player's choices in the expansion, each of Urshifu's Gigantamax forms seem to echo the coloration of the lupine legendaries. However, just before Kubfu and Urshifu are properly revealed, a black screen with white text describes Urshifu as "the legendary Pokémon that holds the key to the story," with key highlighted in yellow. Following this, Kubfu is introduced with a black background and white text, how key (black) from the CMYK model is always represented. This seems to signify that Urshifu is key in the color model and the Pokémon's coloration echoes this. Does this mean there's another lupine or perhaps ursine legendary associated with rusted armor and the color yellow? Is there a Zazellow out there?
Continuing this color scheme, the mentor who trains the player in this set is coincidentally named Mustard and his apprentice's uniforms are appropriately yellow to match with the logo and this potential missing legendary and complimentary armor. That is, unless it's all just Urshifu–both yellow and key–in which case he really Urshi-fooled me.
Regi-Ruins
Following The Isle of Armor's title reveal, the screen goes dark before the camera zooms through wind and snow and finally fixes on a map of Galar once more. The camera pans south, situating the next set of content, The Crown Tundra, in Scotland, this time taking heavy inspiration from the Scottish Highlands. Seemingly central to the set is a cathedral-like structure atop a mountain with an immense white tree or unrevealed Gigantamax Cursola behind it (I choose to believe the latter regardless of the fact that I just made it up). A mysterious new character and the player characters are shown wearing mountain expedition gear, alluding to the theme of exploration for the Expansion Pass' second part.
The footage then reveals several ruins themed after Hoenn's "titan" trio Regice, Regirock, and Registeel, who are presumably catchable here and are the first of many legendary Pokémon shown to be returning. This isn't too remarkable by itself save that the titans are integral to the appearance of Regigigas, a Sinnoh native Pokémon notably absent here. Sinnoh remake confirmed! Well, not really, but fans can hope.
Connections to Kalos
A fourth ruin is, in fact, shown, though not representative of Regigigas. Instead, there are two all-new Regis who appear to be an electric (Regilectric?) and a dragon-type (Regivern? Regiwyrm? Regidrake? Arceus forbid, Regidragon?). This is exciting in and of itself–especially considering the sensational designs–but there is a lot potentially hidden here. The dragon Regi's design, for example, seems like a call back to the enigmatic dragon of Hammerlocke's past, and I wouldn't be surprised to see a Gigantamax version of the Pokémon shaped like a more traditional dragon, perhaps with wings matching Hammerlocke's unique central structure.
Even more curious, the Pokémon's coloration is not only identical to that of Yveltal, Pokémon Y's cover legendary, but the formation of its eyes–again, identical in color to Yveltal's–are in the formation of a "Y." Conversely, the seemingly electric-type Regi's coloration might not be exact, but it's vaguely reminiscent of Xerneas, the cover Pokémon from X, albeit with a more electric hue of yellow and a distinct "X" formation of the eyes. With X and Y taking inspiration from France, it's understandable that Sword and Shield–based on the UK–would have ties back to the Kalos region and the sixth generation of Pokémon.
In fact, that's far from the only call back to Kalos in the announcement trailer. Talonflame, a fan favorite and iconic Pokémon from Kalos, is prominently featured on a monitor at the very beginning of the trailer and again featured in some of the concept art, potentially simply informing the Pokémon's return (though that hardly seems coincidental). Further, the mysterious individual wearing mountain climbing gear from The Crown Tundra expansion bares resemblance to Grant, the rock type gym leader from X and Y known as a proficient rock and mountain climber.
What all of this amounts to has yet to be seen, though many fans have clamored for the opportunity to return to Kalos, the only generation of Pokémon to not receive a third or sequel installment. Perhaps Game Freak is teasing such an opportunity via Sword and Shield, perhaps in an additional Expansion Pass, or it could simply be establishing the regions and melding them together.
Stuff of Legend
The footage quickly flows from one legendary trio to another, this time with the reveal of Galarian forms of the original trio, the legendary birds Articuno, Zapdos, and Moltres. Since Gigantamax transformations don't alter a Pokémon's typing, it's fairly safe to assume these are Galarian forms and not Gigantamax transformations. As to those new typings, the appearance of each Pokémon and the animation during their reveal gives a pretty good indicator of what to expect.
The screen visibly darkens as it focuses in on Moltres, whose new fiery black and red design further suggests a dark/fire typing. Articuno's new soft purple and black coloration with blaring blue eyes and an accompanying glare animation brings psychic/ice typing to mind. Finally, Zapdos' ostrich-esque appearance with strong legs and shocking accents, paired with its clashing animations, is presumably fighting/electric. This would not only allow each bird to retain its signature elemental type, but also create a proper effectiveness triangle for the birds courtesy of the dark, fighting, and psychic typings.
At the center of The Crown Tundra and featured in the logo's artwork is Calyrex, the psychic/grass type "King Pokémon." Interestingly enough, the revealed form of Calyrex doesn't perfectly match the logo, likely meaning the new legendary has a Gigantamax form or some other alternative form in the expansion. And, no, that isn't the Triforce prominently featured in Calyrex's design (Pokémon is merely published by Nintendo and not actually developed or produced by them, after all).
The symbol is actually Mitsuuroko, translated as "three scales" and the family crest of the Hojo clan. Nintendo repurposed it in The Legend of Zelda way back in the day. Calyrex isn't the king of Hyrule or even a promotion for Breath of the Wild 2. I'm not sure what the implications of this are (perhaps a tie-in to the three birds?) but it's still worth noting.
The People Behind the Pass
Speaking of Game Freak, the developer behind the Pokémon franchise has overlapped the production of its games since the days of the Japanese Pokémon Blue, Gold, and Silver. This is still the case. Sword and Shield's director, Shigeru Ohmori, is not working as the director of the Expansion Pass; that title has been passed to Hiroyuki Tani. Instead, Ohmori and the main team are likely hard at work on the next main series title and/or remake. What that is remains to be seen, though one would think a Diamond and Pearl remake is in order for 2021 as that marks the titles' fifteenth anniversary. Sword and Shield producer Junichi Masuda has previously professed to enjoy surprising players, though, so there's truly no saying.
What's emphatically clear is that there is a lot to look forward to with the Pokémon Sword and Shield Expansion Passes. With so much going on in the brief trailer and the Pokémon Direct, I don't doubt that there are countless secrets I missed and many others waiting to be unveiled when the first half of the Expansion Pass, The Isle of Armor, launches later this June. Be sure to let me know if you catch something I didn't, and I'll see you in the far reaches of Galar as our adventure continues!