"What If 90s Squaresoft Made a Castlevania Game?" – 'Gestalt: Steam & Cinder' Developer Interview
We spoke to the developer of 'Gestalt: Steam & Cinder' about creating a steampunk world influenced by books, anime, and JRPGs.
Gestalt: Steam & Cinder Interview
Gestalt: Steam & Cinder is an upcoming action platformer that drips with steampunk style in every respect. Its lush pixel art presents a world ripe for exploration, filled with Victorian architecture, bursting pipes, and leather-clad heroes. Set in the steam-powered metropolis of Canaan, it follows a mercenary named Aletheia as she quests to unravel the deep conspiracies and secrets that hide within the city. To learn more about this promising indie title, we caught up with its developer to discuss how the game creates an intricate world packed with action and mystery.
As the debut release from Metamorphosis Games, Gestalt: Steam & Cinder aims to be more than just another metroidvania. Instead, the developers looked to create a unique experience by drawing upon a wide variety of sources and inspirations.
"We drew plenty of inspiration from classic titles in making Gestalt, though maybe not the ones you'd expect!" says Tom Maher, CEO of Metamorphosis Games. "Symphony of the Night was one key influence, but we were also heavily inspired by Chrono Trigger, Vagrant Story, Suikoden I and II, Panzer Dragoon Saga, and Xenogears, among others."
These classic RPGs might be unexpected inspirations for an exploratory action platformer like Gestalt. However, Maher says these sources helped them achieve their ambitions for the game. "One of our main goals with Gestalt is to fuse the platforming of 16- and 32-bit games with the detailed world-building of contemporary JRPGs. We tried to imagine: what if late-90s Squaresoft made a Castlevania game? Beyond games, we also looked at several different sources for inspiration from books (the Mistborn trilogy, Lies of Locke Lamora) to anime (Vampire Hunter D, Trigun) when crafting the steampunk world of Gestalt."
"We wanted to build a world that seemed both novel and unfamiliar, but still grounded in the same issues we face in our own lives."
Gestalt unites these influences in its vibrant art direction. Its character portraits are drawn in sumptuous pixelated detail, and its backgrounds burst to life with tiny little visual touches. Maher highlights that each piece of the presentation is meant to have its own place in Gestalt's world, introducing visual ideas and inspirations that might not have been present in games before it.
"We're incredibly proud of the art in Gestalt," Maher says, "[and] the art team has done an amazing job! As mentioned above, we looked to influences outside of gaming when building the look of Gestalt, from books, to anime, to movies—we wanted to bring in elements we thought were less common in the genre."
"Before we start any art, we consider how each element might fit into the world, and what role it might play in the narrative. In terms of production, we usually start with rough references, sketch out a feel and color scheme for each area, and then move on to actual pixel art itself. For animations, we start with simple wireframes to pin down the feel of an enemy, and only move on to the pixel process once we've determined its particular moveset."
Gestalt complements its visual worldbuilding with a strong narrative focus. NPCs from all walks of life fill its sometimes-gritty environments: detached aristocrats, struggling bartenders, low-level criminals, and everyone in between. There's an effective sense of worldbuilding while conversing with different characters, and Maher says that Gestalt's lore helps it approach a variety of topics.
"Though there isn't necessarily one overarching message we're seeking to express, the game is absolutely concerned with several real-world themes, and class struggle and resource consumption are among them. We wanted to build a world that seemed both novel and unfamiliar, but still grounded in the same issues we face in our own lives."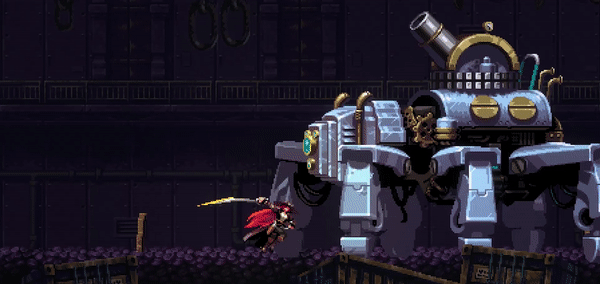 "Many of our narrative keystones are inspired by JRPG classics like Chrono Trigger, Suikoden, and Xenogears."
This worldbuilding goes a step further through the way players can interact with the characters around them. Players can often make decisions during conversations that affect the outcome of the discussion or change the relationship with the character—and Maher says that this is where the JRPG influence comes back into play.
"We want players to really feel like they're stepping into Aletheia's shoes," Maher explains, "so there are frequent opportunities to pick how Aletheia responds to certain characters. That said, many of our narrative keystones are inspired by JRPG classics like Chrono Trigger, Suikoden, and Xenogears. Like those JRPG classics, while most of the main plot is fairly determined, certain characters will remember how you treated them, and their actions can change accordingly! You can also complete side quests that reveal more about the world and its inhabitants, some of which may have differing outcomes depending on how you choose to solve the problems they pose."
While Maher proudly highlights the creativity and interactivity on display in Gestalt, he also mentions how these factors have provided an opportunity for growth. "Gestalt is our first game, and an extremely ambitious one at that, and development has been a tremendous learning experience. Our team is also international…so juggling the various aspects of development can be a challenge. And, of course, the COVID-19 pandemic has had a major impact on the world and shifted around how we've worked on certain things, especially in terms of conventions and developer meetups."
Despite the challenges faced along the way, Metamorphosis Games has created a uniquely vibrant steampunk world in Gestalt: Steam & Cinder. At the end of the day, seeing other people dive into its intricate environments remains one of the team's greatest pleasures. "Nothing can quite compare to watching people play and enjoy the game," Maher says. "Either in-person at conventions we attended earlier in development or through footage recorded by players during the Steam festival, it's always a thrill to see people engaging with the world we've built."
Gestalt: Steam & Cinder is coming to Switch, PS4, Xbox One, and PC later this year. You can keep up with its development on Twitter (@GestaltGame), Discord, or by adding it to your Steam Wishlist.