Five Nintendo Properties We Want To See Get The Open World Treatment
The Legend of Zelda: Breath of the Wild has launched the franchise into the open world, receiving positive acclaim worldwide. With the success of Zelda, we've chosen four Nintendo properties we felt could use the open world treatment.
Pokémon
Game Freak has recently posted several job adverts, indicating there could be a possible new Nintendo Switch game under development; Pokémon the rumor churning around the media. After The Legend of Zelda: Breath of the Wild's release, and how much it changed the Zelda franchise, the possibility of a new Pokémon on the Switch opens many possibilities.
In just the same way as Breath of the Wild became an open world format, revolutionizing the Zelda franchise, Pokémon on the Switch could transform the Pokémon franchise with much more freedom to the player. Whilst Pokémon represents one of the greatest strategy games of all time, it's also used the same recipe for its two-decade history. The player is confined within the same cage of play, each town joined by a route that usually goes in two directions, back and forth.
Pokémon Sun and Moon brought a lot of new ideas to the franchise, but the difference between trials and gyms is quite minuscule. The opportunity to forge your own Pokémon journey has never really begun, ushering us off on the same conquest of the Elite Four. On our way, we encounter a typical group of thugs whose reign of terror becomes short-lived thanks to our supposed bond with our Pokémon.
Much of the current gameplay of Pokémon was due to the hardware capabilities of the Game Boy. The Nintendo Switch isn't the Game Boy, it's much more powerful, capable of supporting Breath of the Wild to a high performance. An open world that allows Pokémon trainers to walk on every blade of grass they see on the horizon would owe more to the spirit of the game. Adventure and self-discovery; diversity the malasada of life.
At this point, Pokémon has been influenced by the anime just as much as the games. There are many ideas within the anime for the usage of Pokémon. Many of the concepts from the anime can be used to create missions within an open world Pokémon. This concept is occasionally touched upon in the games, such as fetching medicine for the sick Ampharos in Pokémon Gold and Silver. This also creates a divergence away from the linear approach to Pokémon battling, opening up more possibilities for the Pokémon performances that never really shined as bright as they could have.
An open world would make Pokémon much more unpredictable. Encountering a new town should be exciting, but currently, it's a formality to gain a new badge or Z-Crystal. Imagine standing on the summit of the Indigo Plateau and seeing the small village of Pallet Town in the distance. Rather than traverse on a linear pathway, you can find new Pokémon in the strangest of places on your way there. A Pokémon Go without the rural abandonment. A Goldeen in the sea, a Mankey in the tree. The Pokémon revolution we've been waiting for. (James Baker)
Fire Emblem
There's no denying that the Fire Emblem series is rife with opportunities for exploration and discovery. The long-running tactical RPG franchise excels at taking players on grand adventures across wild and exciting worlds. While leading troops into battles set on diverse, gridded landscapes has been an enjoyable endeavor, it's become rather repetitive. Furthermore, each Fire Emblem title follows a similar progression pattern of linear levels and short dialogue events, giving the player little chance to explore the world around them. It's high time Fire Emblem made the jump from a sprite-based tactical RPG to a full blown RPG, and the design that Breath of the Wild provided is the perfect template.
The constant through line of Fire Emblem is that the player is the commander of an elite troop of heroes, doing battle against the armies of some unspeakable evil, or something comparable. In this way, the series tried and true formula of progressing through each battle in sequential order, without much deviation, fits well. However, handled correctly it could be easily replaced. If the series were to become
open world, it could make each battle an immense event that the player would have to prepare for. They could do this by participating in smaller battles across the map that would allow them to gather their forces. In this way, the player wouldn't have to be herded from one battle to the next, but rather choose the route they took to arrive at the next monumental set piece in whatever ongoing war the game revolved around.
Transforming the Fire Emblem series into an open world behemoth would not only work wonders on the series' gameplay formula, but also its storytelling. As fans of the franchise know all too well, the storytelling in Fire Emblem is amazing, but also disjointed. Voice acted cutscenes with beautiful animation are interspersed amongst walls of text alongside drawn representations of the characters that show little to no emotion. If the series were to adopt an open world and 3D design similar to that of Breath of the Wild, then characters could be seen in a more fully realized fashion, and display a wider range of emotions and actions than they ever could in a simple sprite form. Furthermore, by transitioning to a 3D format, some of the ancillary characters would get the chance to shine in a way more akin to that of the party members in Mass Effect or Dragon Age. Rather than being just bodies on a field or simple conversation partners, these side characters could add meaningful weight to the overall story, and feel like a bigger part of the team as the journeyed with the player across a fully realized expansive environment.
The complex nature of Fire Emblem's story and the grandeur of its battle system make it the perfect game for a redesign in the open world style of Breath of the Wild. Giving the player a chance to engage in the masterful tactical combat of Fire Emblem on a larger scale, and fully explore that multitude of environments and locals that these games offer would elevate the franchise to new heights.
Super Mario RPG
While the Mario RPG series has certainly changed since its Super Nintendo inception, its basic formula really hasn't. Many linear RPGs have successfully transitioned to an open-world style, and this could be the next one to do it. The newer titles have all the right pieces to create a massive open world that would retain the exciting combat system that the series in known for.
Interesting game worlds are often filled with a variety of unique locations, both aesthetically and functionally. The Super Mario mythos is famous for its "Worlds," aka unique areas that house different types of environments and enemies. These could all be combined to form a massive area that can be freely explored by the Bros. This could include the typical ice world, Peach's castle, the desert, and more. Past Mario games have also been filled with dozens of unique enemies, so there would be no issue with filling the world with monsters.
The trickiest part in transitioning the series from linear to open world would be the battle system. Enemy encounters could be handled similarly to games like Xenoblade Chronicles; enemies seen in the wild could be immediately fought rather than cueing a screen transition. The camera could zoom out in order to keep the viewing angle consistent, as this particular battle system call for a lot of timing in both offensive and defensive moments.
The new open world system could also benefit from the movement options of the 3D Mario games like Super Mario 64 and Super Mario Galaxy. Exploring the world would be a blast with Mario's jumping abilities and acrobatics. Throw Luigi into the mix to incorporate the series' "Bros. Moves," which would seriously add to player's movement repertoire.
So much of the world could be borrowed from past entries in the series, making this transition a no-brainer. It could be tricky to nail the battle system down, as the turned based gameplay has been a series staple that fans look forward to, but it's definitely not impossible. This could be the first opportunity for Nintendo fans to truly explore the Mushroom Kingdom. (Zack Rezac)
Star Fox
Forget open world – how about open galaxy? It would be easy to go with a Metroid pick here, but the themes of isolation and labyrinthine dread don't really fit total freedom very well. So, while there may be plenty of groans from those who cling to the idea that any new Star Fox game MUST adhere to the traditional Arwing-based combat that made the original Star Fox and its amazing N64 sequel so beloved, anyone that played the vastly underrated (and strangely abused) Star Fox Adventures should have no problem wrapping their heads around the idea of Fox McCloud stepping out of the cockpit and fully exploring a planet's surface. With a universe brimming with potential for fantastical space adventure populated by alien enemies and an epic cast of anthropomorphic weirdos like Pigma Dengar and Grippy Toad, though, why stop at just one?
Breath of the Wild has a variety of regions that make up its enormous map, with terrain that varies from deep forests to arid deserts, but it still feels like one Hyrule, still feels connected. An open-world Star Fox that utilized its space well could see the canine commander running around civilized Corneria, then hopping into his Arwing and seamlessly blasting off to the stars on a voyage of discovery, boldly going where no fox has gone before. Imagine a Lylat System like the sea in Wind Waker; each speck on the horizon, be it an asteroid, moon, or entire planet would inspire excitement and the prospects for adventure, a beacon in the infinite abyss that may hold either treasure or traps, or possibly both.
With any luck, players would also be witness to strange new lands with fantastic environments, the flora and fauna only limited by the imaginations of those creating them. From towering Xenoblade X-sized beasts roaming lush countrysides outside shining cities to monsters lurking beneath the barren surface of a dead star, and maybe even a visit to the world of Pikmin (please!), the sights and sounds alone would be a treat, letting the franchise's universe finally stand front and center in the way that other sci-fi properties have.
And what a universe! Of all Nintendo's properties, Star Fox could be the most ripe for world-building. The series' stories have always come across like popcorn soap opera, loaded with colorful characters and distinct personalities to go along with light melodrama, the sort that was found in the golden age of radio serials. The backstory of James McCloud, the rival Star Wolf team, the insane machinations of a mad-monkey-scientist-turned-giant-ape-face, puts a foundation for the main story is firmly in place, but there's no end to the amount of intrigue and side quests that Fox could run into, whether suffering Falco's repeated challenges at home base or wandering through a small trading outpost filled with old friends and nemeses of a father thought long gone. So many possibilities for talking puppet heads…
Sure, shooting things with a spaceship is still lots of fun, and that can certainly be an element of any open-world Star Fox game, but freeing Fox from the pilot seat could be one of the best options Nintendo has for rejuvenating a stale franchise. (Patrick Murphy)
Kid Icarus
Breath of the Wild has expanded what it means to be a Zelda game, taking the series in a direction that has re-introduced the joy of surprise to what had become somewhat predictable (even if excellently so), but the shift to open world could also help some of the franchises Nintendo doesn't seem to know quite what to do with, allowing them to experiment, letting them really stretch their wings and fly. While Pit and Co. haven't been shown a lot of love over the years, Kid Icarus is a valuable claim still worth mining. The NES and Gameboy games may not serve as much inspiration, relying on traditional side-scrolling setups of the day, but the absolutely amazing 3DS experience that is Kid Icarus: Uprising introduced players to a gorgeous mythical world pulsing with hilariously convoluted intrigue, a wealth of treasure to seek, and epic battles over locations ranging from glittering cities to cavernous underworlds, and even the moon. All that's needed is for more powerful hardware to loose the shackles a bit, removing the rails and knocking down the corridor walls.
If the setting alone – a colorful comic book/bizarro-style version of ancient Greece complete with towering gods and colossal monsters – doesn't hook you, then maybe the possibilities for a world populated with witty characters, each with their own motivations and backstory, will. Despite Pit fighting solo, gamers would never feel lonely with the always chatty (and often amusingly deprecating) Palutena constantly in his ear, helping the hero uncover the secrets of whatever mystery is at the heart of whatever attack on the unsuspecting populace is being perpetrated, and temporary team-ups with a host of ambiguous allies like Dark Pit and Magnus, would only make the conversation livelier.
A who's who from stories as old as time allows a Kid Icarus game to cram its world full of characters, but the refusal to adhere to any sort of reverence can provide for a unique personality often lacking in more serious titles. From Hercules to Jason and his Argonauts, to gods and goddesses apart from devilish Hades and sarcastic Viridi, a whole ancient tradition is at the writers' disposal, providing the chance to intersect video game fun with a rich mythology. Green valleys and dark abysses, fiery forges and wind-swept mountains, towns filled with shops, upgradable equipment, statues to the divine, citizens in need – any of this sound familiar? But instead of melancholy and meditative, these landscapes and acropolises would appeal to a more bubble-gum kind of entertainment need. Open worlds aren't often about sensory overload, but a new Kid Icarus game could change that, bringing the snap-crackle-pop atmosphere to a grand stage, with petty disputes among the pantheon resulting in an action-packed, joke-filled quest for the fate of all mankind. (Patrick Murphy)
PAX South 2020 Hands-On: 'Ghostrunner,' 'Everspace 2,' and 'Wrath: Aeon of Ruin'
We've already covered a wide variety of the games on display at PAX South this year, from retro revivals to unorthodox romances to everything in between – and we're not done yet! In this next roundup article, we cover three more ambitious, action-packed games: Ghostrunner, Everspace 2, and Wrath: Aeon of Ruin.
Ghostrunner
Ghostrunner was one of the most in-demand games at PAX, and after playing it, it's easy to see why. This first-person action slasher, developed by One More Level and produced by 3D Realms, lets players dash through the air, run across walls, and slash through enemies at blistering speed all while exploring a dystopian cyberpunk world. It's gorgeous, lightning fast, and feels amazing to play.
Ghostrunner begins in a broken future, where the remnants of humanity have hidden away in a single condensed tower. Naturally enough, you're put in the role of the one rebel who dares to rise up against the forces oppressing humanity. As you begin your uprising, you'll also encounter a grand mystery – why is humanity the way it is now? Just what happened to the rest of the world? And what's that voice you hear in your head?
My demo didn't offer much illumination to these mysteries, but the 3D Realms team assured me that the story plays a significant role in the main campaign. What my demo did offer, however, was a look into the fast-paced, brutal gameplay that defines the game. Combat is so dynamic in Ghostrunner. Your arsenal of moves is massive and varied – of course you can run, jump, and slash with your katana, but you can also run along walls, dash over chasms, slow down time to dodge bullets, and more.
When all the moving pieces flow together, Ghostrunner achieves a visceral, almost hypnotic flow of battle. There are a few obstacles to this feeling. The controls took a bit of getting used to on my end, but that would be because, console peasant that I am, I'm not used to playing 3D games on a keyboard instead of a controller. Also, this may be an action game, but at many times it feels more like a puzzle game. With bloodthirsty enemies scattered around each environment, you'll often need to take a step back and methodically evaluate which abilities to use in each situation. This can take some trial and error – it might have taken me more than a few tries to clear out the final wave of enemies. But when the solution works out, it's a beautifully exhilarating feeling, and that's what sets Ghostrunner apart.
Wrath: Aeon of Ruin
PAX featured plenty of retro-styled games, but not many quite like Wrath: Aeon of Ruin. This retro-style FPS is a throwback to the simpler, faster days of shooters, built entirely in the same engine as the original Quake. It was even based off the work of Quake community modders. If you've played any classic FPS like the original DOOM or Wolfenstein, then you should have a good idea of how Wrath plays: it's brutal, lightning fast, and action packed.
My demo got straight to the point. After teleporting me to a distant hellscape, I was faced with a horde of demons, ranging from simple skeletons to more aggressive ogre-like enemies and flying laser monsters. Thankfully, I was also given an assortment of weapons to take these creatures down with, including a simple handgun, a powerful blade arm, and my personal favorite, a shotgun. Each one of these felt good to control, and like any good old-fashioned shooter, they gave me a great feeling of power.
Like any good, brutal FPS in the vein of Quake, Wrath features an insane amount of mobility. Movement is extremely fast and fluid, allowing you to zip across and above stages with reckless abandon. This extra speed will be necessary, especially considering that enemies can slaughter on with reckless, overwhelming abandon.
Of course, being built in the original Quake engine, Wrath is a delightfully retro treat to behold. It features all the signature hard polygonal edges of PC shooters from that bygone era, but with the added smoothness and fluidity of modern hardware. The game feels great to play and is a unique treat to behold. Wrath is currently available on Steam Early Access, and there's plenty of new content that can be expected throughout the year, including new levels, enemies, and even a full online multiplayer mode. Stuffed with violent retro action, Wrath: Aeon of Ruin is absolutely worth watching out for.
Everspace 2
Space is the final frontier, offering limitless exploration This's the exact feeling that Everspace 2 captures. This sandbox open world space shooter dumps you in outer space and leaves you to figure out the rest, allowing you to fight, scavenge, and explore as you will, all with an incredible amount of freedom.
It's a remarkably beautiful game too, boasting of extremely detailed 3D graphics that wouldn't look out of place in a full 3D AAA experience. It's extremely ambitious, offering a wealth of customization options through parts that can be scavenged from fallen space craft or space debris. There's alien life to discover and a wealth of locations to explore, with the full game apparently featuring more than 80 unique environments.
These environments will always be interesting to explore thanks to a mix between handcrafted worlds and randomization. The original Everspace was a pure roguelike, and as developer Rockfish Games told me, this constantly changing design has often been fundamental to previous great space shooters. Although Rockfish opted for an intentionally designed open world for the sequel, they want to maintain some of those same roguelike elements. That's why whenever you venture through the many galaxies of Everspace 2, the galaxies and planets will be the same, but the items you find or enemies you encounter within them may change each time.
It took me some time to get used to Everspace. It immediately offers a great amount of freedom, with the demo simply dumping me in space and only requiring that I take down some enemy units and pick up some loot. Yet once I got the hang of the controls and the environment, it became extremely fluid and natural to zip through space, upgrade different components, and experience all the free-flowing action that it has to offer. Space is the ultimate freedom, and Everspace 2 is set to represent that.
PAX South 2020 Hands-On: 'Windjammers 2,' 'KUNAI,' and 'Young Souls'
PAX South 2020 attracted tons of exciting publishers to San Antonio, and even with such a crowded lineup, the DotEmu and Arcade Crew booth easily stood out as some of the show's very best exhibitors. Streets of Rage 4 might have been their standout demo, but the French boutique publisher and developers brought a fantastic selection of games to the show, including their signature retro revivals and some promising original indie games of their own.
Windjammers 2
Sequel to the much-beloved arcade classic, Windjammers 2 takes all the hectic frisbee-throwing action of the original and updates it for the modern generation. For those unfamiliar with the art of windjamming, it's effectively pong, but instead of balls, you toss discs back and forth across the court. It pits two players against each other on opposite sides of the court, tasking you with mercilessly hurling your disc back and forth until it gets into your opponent's goal.
You can just throw the disc directly at your opponent, but Windjammers 2 gives you many more options besides that. To really excel at the game, you'll have to make use of the most extravagant moves you can, dashing across the court, leaping into the air, tossing the disc above you before slamming it down into your opponent, to list only a few of the uber-athletic abilities at your disposal. The game can move extremely quickly when both players take advantage of these capabilities, yet things never feel overwhelming. I always felt in control of the action, even when my quickest reflexes were put to the test. It's fast-paced disc throwing insanity, and I couldn't get enough of it.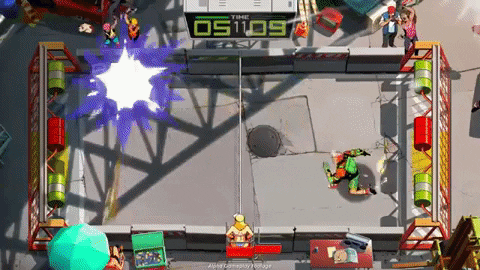 Just like the rest of DotEmu's catalogue, Windjammers 2 combines classic gameplay with gorgeous modern aesthetics. It has the same hand-drawn style that makes other DotEmu titles stand out, like Wonderboy: The Dragon's Trap. The original Windjammers was a time capsule of garish 90s style, and that design is retained for the new release, with characters looking even more colorful and absurd than ever thanks to the revitalized art and animations. Hectic to play and beautiful to behold, Windjammers 2 is already set to be a multiplayer hit.
Young Souls
Streets of Rage 4 was certainly the premier beat 'em up on display at DotEmu's booth, but it wasn't the only one. Alongside this retro revival was an all-new take on the genre: Young Souls, an extremely stylish action game that blends fast-paced fighting with deep RPG customization and a charming, emotional narrative.
Beat 'em ups might not be known for deep storylines, but Young Souls aspires to something more. Along with its satisfying combat mechanics and plentiful flexibility for character builds, it also boasts of having "a profound story with unforgettable characters." While my demo didn't give me much of a look at this deep narrative, it's reasonable to assume that the story will at least be quality, since it's penned by none other than the author of the Walking Dead games, Matthew Ritter.
However, I did get a substantial feel for combat. Young Souls features more than 70 monster-filled dungeons, and I got to venture into two of them in my demo. The action feels weighty and solid when going up against enemies, yet precise at the same time. Like any classic beat 'em up, there's a mixture of light and heavy attacks, along with blocks and powerful special moves, along with items and spells to exploit during combat as well. In between battles, you're able to deck your character out in equipment and items, allowing for an element of roleplaying depth that isn't typically associated with action games like this. In my short time with the game, it was fun to experiment with different character builds, which could determine the speed and abilities of my fighter, promising combat for the final game.
I played the demo both solo and co-op; in single-player, you're able to switch between the two twins at will, while two players can each take control of a sibling. In both playstyles, the gameplay was just as visceral and satisfying as one would expect from a classic-style beat 'em up like this, but the addition of a deep story and RPG mechanics put a unique spin on this entry. That's not to mention that, like every other game at the DotEmu and Arcade Crew booth, it's visually beautiful, featuring stylish 2D characters in 3D environments that are all rendered in gentle, washed-out colors. Young Souls might not have a release date or even any confirmed platforms as of now, but it's absolutely worth keeping an eye on in the meantime.
KUNAI
KUNAI takes the typical metroidvania formula and boosts it to hyperspeed. It has all the hidden secrets and massively interconnected world exploration that you'd expect from the genre, and it gives you the ability to speed through that faster and more dynamically than ever. Its main gimmick is right in the name – by giving you two kunai hookshots, you're able to traverse up and down your environments with speed and freedom, making for a uniquely vertical method to explore.
KUNAI starts out with the end of the world. In a dystopian future where technology has taken over, you control Tabby, a sentient and heroic tablet that's dead set on liberating the planet. This serious plot is filled with plenty of personality, however, from the silly faces that Tabby makes in action to the charming dialogue and quirky character designs. This personality is rendered in appealing detail thanks to the game's simple yet effective pixel art.
It's in the gameplay where KUNAI truly shines. With the eponymous kunai, you're able to latch onto vertical surfaces. Combine this with the additional abilities to dash, bounce off enemies, or wall jump, and it provides for a uniquely dynamic method of exploring the world. Using the kunai feels easy and intuitive, fast enough to gain speed but never too floaty. It's a balanced approach to speed and movement that never gets out of control, resulting in what it is perhaps the best-feeling movement of any metroidvania I've played recently. My demo was brief, and ended very soon after first getting the kunai, but the gameplay felt so smooth and natural that I can't wait to experience more of it. Thankfully, it's not long to wait, since KUNAI hits Switch and PC on February 6.
PAX South Hands-On: 'Streets of Rage 4' Balances Legacy and Innovation
Streets of Rage 4 embodies the original series' elegant, action-packed design and revives it for a new generation.
From the moment I began my demo with Streets of Rage 4 at PAX South, it felt like coming home. It might have been more than two decades since the first three games in the Streets of Rage series perfected the beat 'em up formula on the Sega Genesis, but courtesy of developers Lizardcube, DotEmu, and Guard Crush, this legendary series is back and in good hands. This brand new entry aims to recapture all the style and balance of the originals, while introducing innovations of its own. If my demo is any indication, the game is set to achieve that.
Streets of Rage 4 uses the same elegant level design that set the original trilogy apart back on the Genesis. The gameplay is simple: keep walking to the right, taking out every enemy in front of you with all the jabs, kicks, jumps, and special moves at your disposal. If anything, the controls feel better than ever before, with an added level of precision and fluidity that simply wasn't possible on older hardware.
That's not to mention the new move sets. Beat 'em ups might not be the most complex genre around, but Streets of Rage 4 adds the perfect level of depth to the combat. It has the same simple jabs and kicks found in the original games, but spiced up with the potential for new combos and even a handful of extravagant new special moves. With new and old fighting mechanics, this new entry features plenty of room to experiment with combat but never loses the simple, arcade-like charm of the originals.
Streets of Rage 4 revives the series' rage-filled and action-packed style for the twenty-first century
The demo included series staple characters like Axel and Blaze, yet I opted to play as an all-new character: Cherry Hunter, a guitar-wielding fighter whose move set felt very distinct from classic characters. Her movement is speedy, certainly faster than Axel but slower than Blaze, and her guitar provided for some unique melee moves. Like the new mechanics, her addition to the character roster helps shake up the Streets of Rage formula just enough, while maintaining the core beat 'em up simplicity that made the series special in the first place.
Streets of Rage 4 might innovate in a few areas, but one thing that's clearly remained true to form is the difficulty. It boasts of the same old school difficulty that characterized the original games. The classic and brand new enemies are just as ruthless as ever, mercilessly crowding in around you and can easily overwhelm you if you're not careful. However, just like the originals, the fighting feels so satisfying that it's easy to keep coming back for more action.
Amid all these changes and additions, perhaps the most obvious (and controversial) change is the visual style. While the original series used detailed pixel art, Streets of Rage 4 instead boasts of an extremely detailed handcrafted art style, in which every frame of character animation is painstakingly drawn by hand and environments are colorful and painterly. Thousands of frames of animation go into each character, and the effort certainly shows, making every punch, kick, and other acts of violence a breathtaking sight to behold.
Streets of Rage 4 reimagines this classic series for a new generation, reintroducing the best of the beat 'em up genre for players of all backgrounds and experiences.
Some fans have complained that the game loses the series' spirit without pixel art, but DotEmu marketing director Arnaud De Sousa insisted to me that this simply isn't the case. Pixel art wasn't an artistic choice back then – it was a matter of necessity. If the developers could have designed the game to look exactly as they wanted, regardless of technical limitations, then it likely would have looked just like the luscious hand-drawn visuals of the current Streets of Rage 4.
That's not to mention that, as De Sousa emphasized, the Streets of Rage games are defined by looking different from one another. The third game looks different from the second, which looked different from the first – and now this new entry has twenty years of change to catch up on. Thus, it only makes sense for this new entry to adopt a radically new graphical style after all this time.
Streets of Rage 4 reimagines this classic series for a new generation, reintroducing the best of the beat 'em up genre for players of all backgrounds and experiences. The difference between De Sousa and myself is perfect evidence of that. He grew up playing the games in the 90s, whereas I wasn't even born when the original trilogy became such a phenomenon and only played them years later in subsequent re-releases. Yet here we were, standing in the middle of a crowded convention and gushing about decades-old games. We might have had extremely different experiences with the series, but that didn't stop us from appreciating the joys of stylish beat 'em up action.
"A good game is a good game," De Sousa told me, "no matter how old." That's the attitude that Streets of Rage 4 exemplifies. It revives the series' rage-filled and action-packed design for the twenty-first century. And with a release on all modern platforms, more players than ever will be able to rediscover the simple pleasure of wielding your bare knuckles against thugs of all types. Between the new art style and the solid gameplay, Streets of Rage 4 is looking like an incredibly welcome return for this iconic franchise.