Nintendo is famous for creating some of the most memorable video game characters of all time. Naturally, the company itself is largely responsible for a major portion of the most iconic characters in the industry, dreaming up potential classic mascots at a rate on par with Disney. 2017 brought several noteworthy new personalities into the mix most notably from the Legend of Zelda and Fire Emblem franchise, and so we decided to write about some of our favorites. Time will tell if any of these achieve the noteworthy success of a Mario, Link, or even Kirby, but they sure did leave a lasting first impression.
****
Revali
I may be the only writer here at Goomba Stomp who prefers Revali over the other three Champions in Breath of the Wild but it's comforting to know that the game's sound director Hajime Wakai stated that Revali is his also his favorite character. The Rito Champion and one of Link's allies may be prideful and arrogant, but he's also brave, fearless and determined to protect his Rito tribe and stop Ganon. Revali is also voiced by Sean Chiplock who arguably delivers the best voice acting in the entire game, and while he may at times be a touch too flamboyant, it's clear that he means well and that his cocky attitude is meant to hide his insecurity. But what I love most about Revali is his look and his choice of weapon. Of the hundreds of characters that appear in Breath of the Wild, Revali may just be the coolest looking of the bunch and if I had to choose between the entire cast, I would want to see Revali added to the Super Smash Bros. roster in the near future. (Ricky D)
Rex
I'm not as crazy in love with Xenoblade Chronicles 2 as some of my colleagues are but what I don't understand is why everyone I know who loves this game hates Rex? How can you seriously play your way through a JRPG that is not only heavily focused on a narrative but requires well over 100 hours of your time to play – and not like the main protagonist? For all intents and purposes, Xenoblade Chronicles 2 is Pyra's story, but
Rex acts as the stand-in for us, the audience, and therefore it's appropriate that he's curious, inquisitive, confused and lost. Like us, he's discovering new places, people, creatures, and mysteries for the very first time and so it feels appropriate that Rex knows just as little as we do when starting this adventure. Yes, he's often confused and a tad slow but he's also a child who lost his parents at the age of two and washed up on the shores of Fonsett Village where he was raised by Azurda, a small Titan, whom he calls Gramps. He spent most of his adolescence travelling through the sea of clouds overrunning the world of Alrest and earned his living by performing retrieve and rescue missions as a Salvager. And yet, like all great champions, Rex is devoted to protecting everyone and everything he loves. He's hopeful, open-minded, brave and determined to find Elysium, even if everyone else tries to convince him it doesn't exist. The character Rex has also been criticized for having a strange accent but I feel this criticism has been taken too far. Sure, I might not be able to pinpoint exactly what British accent the voice actor is attempting to mimic but the last time I checked, Xenoblade Chronicles 2 doesn't' take place on the planet Earth, so why does it matter? As for the voice acting itself, the acting in Xenoblade Chronicles 2 is a leap forward when compared to what we've seen in other popular JRPG franchises. (Ricky D)
Ronan
Fire Emblem Warriors is one of my favourite games of 2017. In my review I wrote, 'it's an orgy of frenetic combat, a blood-letting on a titanic scale, a ballet of butchery that moves in perfect harmony with its thunderous gameplay'. There's something incredibly appealing about the large-scale battles and swords and sandals gameplay of the Koei Tecmo series that suits the Fire Emblem series. Take for starters the roster. Whether you're a tried-and-true Musou veteran or a diehard Fire Emblem fan, Fire Emblem Warriors is sure to please based on its large cast of recognizable and beloved characters alone. A majority of the players come straight from Fire Emblem Fates and Fire Emblem Awakening and the game features well over twenty characters to choose from. The usual suspects such as Corrin, Marth, Camilla, Robin, Frederick, Cordelia, Takumi, Tiki, Sakura and more are all present and accounted for along with two newcomers Rowan and Lianna, rightful heirs to the Kingdom of Aytolis. Of the two, Rowan, the younger twin brother of princess Lianna was my go-to character to play with. There's something to admire about the hotheaded, stubborn, and naïve prince who prefers to fight in the battlefield as a knight rather than be a king. He's a true warrior, despite his young age, and easily one of the best new characters added to Nintendo's universe this year. (Ricky D)
Prince Sidon
Sidon is the prince of the Zora, the son of King Dorephan and the brother of Champion Mipha. Players first encounter Sidon at the Inogo Bridge while on his way to Zora's Domain. Sidon is kind, personable, and a role model to the rest of the kingdom. After the loss of Mipha, Sidon essentially had to step into his elder sister's shoes and be the hero the Zora people needed. After 100 years of bitter hatred for Link from some of the Zora, specifically Muzu, Sidon remembers the feelings Mipha had for Link long ago and completely trusts him to help take down Vah Ruda and save the Zora.
But aside from being a strong leader and personable character, Prince Sidon made waves in Breath of the Wild with the fact that he's a total heartthrob. Maybe it's his smile, or his classic pose, or maybe his rippling fish abs. The Sidon meme started small at first, with BOTW fans noting that they liked Sidon, finding him motivational and enlightening, then noting that Sidon was indeed an attractive fish, to shipping Sidon and Link, and then finally hitting full meme status, including real-life fan clubs.
But regardless of whether or not you find Prince Sidon attractive, he's a strong and impactful character to the Zora Kingdom after the loss of Mipha, and more importantly, to Breath of the Wild as a whole. (Katrina Lind)
The Entire Arms Roster
Arms does a great job in shaking up the fighting genre, putting the camera right behind the player's avatar and equipping each character with superhuman limbs that extend across the battlefield. Even though this unusual brand of boxing won't appeal to most gamers, you have to admire Nintendo for taking chances and creating an entertaining new IP. But what makes Arms truly stand out is its superb roster, each character with their own backstory, unique personality, strength and weakness. Every great fighter has great characters, and Arms has fourteen in total to choose from. In fact, the cast is so great that it's hard to decide just who we should choose, but given that each of the characters can equip the same arms, we figured why the hell not include the entire roster. (Ricky D)
Mipha
Link has a habit of falling for a Zora, and a love story between a hero Hylian and a Zoran princess is one that expresses itself throughout much of the lore in Breath of the Wild. Mipha, for her part, was a childhood friend of Link's and the feelings soon blossomed. Mipha is a shy character, but beneath the quiet love for Link, there was a complex champion who took her responsibilities seriously. "The Champion's Ballad" did a fantastic job of revealing the true story of Mipha written in her diary. Among the feelings of love were feelings of regret and jealousy, and particularly one of doubt as to whether she could truly pursue the Hero of the Wild. The beauty of the story of Mipha remains the tragedy of its end. When Waterblight Ganon defeated her and imprisoned her soul in Vah Ruta, the Zora armor that she had made for Link as a typical Zoran proposal of marriage was never to be. With Link now the personal guard of Princess Zelda, the Zora armor was made out of hope and jealousy that maybe it was never to be. But like with so many stories in Breath of the Wild, this Romeo and Juliet tragedy becomes a what if? (James Baker)
Pearl and Marina
Pearl and Marina are the new Inkopolis idols hosting "Off the Hook" replacing Callie and Marie in Splatoon 2. Unlike Callie and Marie, Pearl and Marina actually seem like a team who work together, instead of bickering cousins. The two are like the ebb and flow of the ocean in a harbor. The two are really a perfect pair musically, personality-wise, and aesthetically. Pearl being hot-headed and sharp, and Marina, the calm though sometimes forgetful stronghold of the duo.
Pearl and Marina's origins are explained within the sunken sea scrolls found within the single-player campaign, where both cephalopods were actually at the final boss battle in Splatoon, where both thought the battle between Agent 3 and DJ Octavius was an underground concert and thus inspired their musical careers. (Katrina Lind)
Kass
Kass is perhaps the focal point of "The Champion's Ballad". Whilst not strictly important to the progress of the game, his own story is harmonious to the events that unfold, placing him as the conductor of this symphony. Kass is passionate about the stories and poems of old, to such an extent that he left his wife Amali and five daughters in Rito village to go on an adventure to discover the ballads from ancient times. His teacher was the court poet for the Hyrulean royal family and also a member of the Sheikah tribe, without much else mentioned of his teacher, we can only assume he was lost in the destruction of Hyrule castle, leaving Kass with a promise to fulfill, a promise that isn't entirely explained. The complexity leaves Kass longing to return to his family, and his duty to his teacher leaves him showing up across the whole of Hyrule. Kass is always somewhere important, so when you hear the bisonoric sound of an accordion, you know Kass is around with an important quest. (James Baker)
Urbosa
Urbosa was the Gerudo Chieftain of her people, governing Gerudo Town with wisdom, strength, and compassion. Urbosa is an incredibly strong champion and remembered well by the Gerudo people, some saying that Urbosa's movements resembled a beautiful dance when using the Scimitar of the Seven. More so than any of the other champions, Urbosa had a very pronounced and personal hatred of Ganon, as the demon king was firstborn into the kingdom in the form of a male Gerudo to begin his campaign of violence and destruction to Hyrule. So the defeat of Ganon is a personal journey to Urbosa.
What makes Urbosa such a fantastic Champion is her relationship with Zelda. Since the passing of Zelda's mother when she was little, Urbosa took on the role of caring and helping guide her little bird. Even though Zelda feels that she has failed her destiny, Urbosa was still there to care and support her, along with protecting her own people with the fire and fury we know her for. (Katrina Lind)
Sharena
Fire Emblem Heroes went from being what a lot of people considered would be a flash in the pan to Google Play Japan's best game of 2017. Heroes is a celebration of the Fire Emblem franchise and features well-known characters from almost every game in the series. Heroes is not just a simple crossover though and have its own story and main characters that are exclusive to it. Sharena is the princess of Askr, and brother to other lead characters, Alfonse. She's a cheery and supportive character and has the backs of everyone else throughout the story. Sharena has one of the best max-level conversations with the player, and it gives a lot of insight into her caring demeanor.
There's more to Heroes than just its writing, playing the game is obviously an important thing too. The Free-to-obtain units in Heroes are obviously a little underwhelming compared to their gacha-related allies, but Sharena is surprisingly strong. She's easily the best out of the starting Askr trio, and can easily fit whatever role you need her to if built properly. Very few characters can fill as many niches as Sharena. The peppy princess of Askr is easily the best unit character out of Fire Emblem Heroes. (Taylor Smith)
Monk Maz Koshia
Anyone who's finished Breath of the Wild's second DLC pack will understand why Monk Maz Koshia makes this list. The Champions' Ballad presents you with a new series of challenges on the Great Plateau and in the end, Link must battle the Sheikah Monk who boasts a wide array of tactics, including techniques from every boss prior fight — along with some new ones. Like a Yiga Footsoldier, Monk Maz Koshia can magically teleport and strike Link from above with his Sword, but he also uses a Bow and an assortment of Fire Arrows, Ice Arrows, and Shock Arrows to strike his enemies. Koshia can also split himself into nine copies, each of which can damage Link, and if that's not enough, he also uses charged laser attacks and a series of eight metallic, spiky balls to attack. All in all, Maz Koshia is one of the best boss battles featured in any Zelda game and a strong finish to the DLC pack that elevates the year's best game to further heights. (Ricky D)
Cappy
What makes Super Mario Odyssey special is that it isn't so much a sandbox game as it is a toy box. Odyssey encourages players to explore every nook and cranny, and it helps that Mario now has Cappy to use as a standard throw attack. That possession power, embodied by Mario's new sidekick is what makes Odyssey stand out from every other entry in the series. It's a brilliant idea that allows for dozens of additional playable characters, all with different powers, abilities, and ways of getting around. Professionally, Mario has always worn many hats but thanks to Cappy, in this game, he's anything and everything he wants to be. The Super Mario series has always been known for introducing us to some of the most beloved characters in the Nintendo universe, and Cappy is right up there with the best of them.
Editor's Note: Although Super Mario Odyssey is the first game in which Cappy is physically present, his first appearance in a game is in Super Mario Run. To promote Super Mario Odyssey's appearance at E3 2017, a statue of Cappy in the form of the Mario Cap was made available as one of the objects in Kingdom Builder.
PAX South 2020 Hands-On: 'Ghostrunner,' 'Everspace 2,' and 'Wrath: Aeon of Ruin'
We've already covered a wide variety of the games on display at PAX South this year, from retro revivals to unorthodox romances to everything in between – and we're not done yet! In this next roundup article, we cover three more ambitious, action-packed games: Ghostrunner, Everspace 2, and Wrath: Aeon of Ruin.
Ghostrunner
Ghostrunner was one of the most in-demand games at PAX, and after playing it, it's easy to see why. This first-person action slasher, developed by One More Level and produced by 3D Realms, lets players dash through the air, run across walls, and slash through enemies at blistering speed all while exploring a dystopian cyberpunk world. It's gorgeous, lightning fast, and feels amazing to play.
Ghostrunner begins in a broken future, where the remnants of humanity have hidden away in a single condensed tower. Naturally enough, you're put in the role of the one rebel who dares to rise up against the forces oppressing humanity. As you begin your uprising, you'll also encounter a grand mystery – why is humanity the way it is now? Just what happened to the rest of the world? And what's that voice you hear in your head?
My demo didn't offer much illumination to these mysteries, but the 3D Realms team assured me that the story plays a significant role in the main campaign. What my demo did offer, however, was a look into the fast-paced, brutal gameplay that defines the game. Combat is so dynamic in Ghostrunner. Your arsenal of moves is massive and varied – of course you can run, jump, and slash with your katana, but you can also run along walls, dash over chasms, slow down time to dodge bullets, and more.
When all the moving pieces flow together, Ghostrunner achieves a visceral, almost hypnotic flow of battle. There are a few obstacles to this feeling. The controls took a bit of getting used to on my end, but that would be because, console peasant that I am, I'm not used to playing 3D games on a keyboard instead of a controller. Also, this may be an action game, but at many times it feels more like a puzzle game. With bloodthirsty enemies scattered around each environment, you'll often need to take a step back and methodically evaluate which abilities to use in each situation. This can take some trial and error – it might have taken me more than a few tries to clear out the final wave of enemies. But when the solution works out, it's a beautifully exhilarating feeling, and that's what sets Ghostrunner apart.
Wrath: Aeon of Ruin
PAX featured plenty of retro-styled games, but not many quite like Wrath: Aeon of Ruin. This retro-style FPS is a throwback to the simpler, faster days of shooters, built entirely in the same engine as the original Quake. It was even based off the work of Quake community modders. If you've played any classic FPS like the original DOOM or Wolfenstein, then you should have a good idea of how Wrath plays: it's brutal, lightning fast, and action packed.
My demo got straight to the point. After teleporting me to a distant hellscape, I was faced with a horde of demons, ranging from simple skeletons to more aggressive ogre-like enemies and flying laser monsters. Thankfully, I was also given an assortment of weapons to take these creatures down with, including a simple handgun, a powerful blade arm, and my personal favorite, a shotgun. Each one of these felt good to control, and like any good old-fashioned shooter, they gave me a great feeling of power.
Like any good, brutal FPS in the vein of Quake, Wrath features an insane amount of mobility. Movement is extremely fast and fluid, allowing you to zip across and above stages with reckless abandon. This extra speed will be necessary, especially considering that enemies can slaughter on with reckless, overwhelming abandon.
Of course, being built in the original Quake engine, Wrath is a delightfully retro treat to behold. It features all the signature hard polygonal edges of PC shooters from that bygone era, but with the added smoothness and fluidity of modern hardware. The game feels great to play and is a unique treat to behold. Wrath is currently available on Steam Early Access, and there's plenty of new content that can be expected throughout the year, including new levels, enemies, and even a full online multiplayer mode. Stuffed with violent retro action, Wrath: Aeon of Ruin is absolutely worth watching out for.
Everspace 2
Space is the final frontier, offering limitless exploration This's the exact feeling that Everspace 2 captures. This sandbox open world space shooter dumps you in outer space and leaves you to figure out the rest, allowing you to fight, scavenge, and explore as you will, all with an incredible amount of freedom.
It's a remarkably beautiful game too, boasting of extremely detailed 3D graphics that wouldn't look out of place in a full 3D AAA experience. It's extremely ambitious, offering a wealth of customization options through parts that can be scavenged from fallen space craft or space debris. There's alien life to discover and a wealth of locations to explore, with the full game apparently featuring more than 80 unique environments.
These environments will always be interesting to explore thanks to a mix between handcrafted worlds and randomization. The original Everspace was a pure roguelike, and as developer Rockfish Games told me, this constantly changing design has often been fundamental to previous great space shooters. Although Rockfish opted for an intentionally designed open world for the sequel, they want to maintain some of those same roguelike elements. That's why whenever you venture through the many galaxies of Everspace 2, the galaxies and planets will be the same, but the items you find or enemies you encounter within them may change each time.
It took me some time to get used to Everspace. It immediately offers a great amount of freedom, with the demo simply dumping me in space and only requiring that I take down some enemy units and pick up some loot. Yet once I got the hang of the controls and the environment, it became extremely fluid and natural to zip through space, upgrade different components, and experience all the free-flowing action that it has to offer. Space is the ultimate freedom, and Everspace 2 is set to represent that.
PAX South 2020 Hands-On: 'Windjammers 2,' 'KUNAI,' and 'Young Souls'
PAX South 2020 attracted tons of exciting publishers to San Antonio, and even with such a crowded lineup, the DotEmu and Arcade Crew booth easily stood out as some of the show's very best exhibitors. Streets of Rage 4 might have been their standout demo, but the French boutique publisher and developers brought a fantastic selection of games to the show, including their signature retro revivals and some promising original indie games of their own.
Windjammers 2
Sequel to the much-beloved arcade classic, Windjammers 2 takes all the hectic frisbee-throwing action of the original and updates it for the modern generation. For those unfamiliar with the art of windjamming, it's effectively pong, but instead of balls, you toss discs back and forth across the court. It pits two players against each other on opposite sides of the court, tasking you with mercilessly hurling your disc back and forth until it gets into your opponent's goal.
You can just throw the disc directly at your opponent, but Windjammers 2 gives you many more options besides that. To really excel at the game, you'll have to make use of the most extravagant moves you can, dashing across the court, leaping into the air, tossing the disc above you before slamming it down into your opponent, to list only a few of the uber-athletic abilities at your disposal. The game can move extremely quickly when both players take advantage of these capabilities, yet things never feel overwhelming. I always felt in control of the action, even when my quickest reflexes were put to the test. It's fast-paced disc throwing insanity, and I couldn't get enough of it.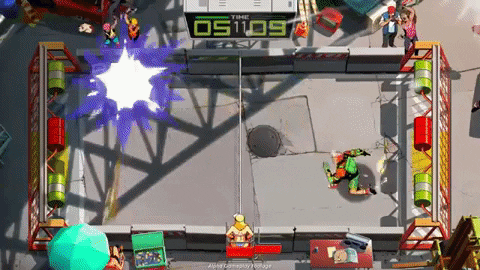 Just like the rest of DotEmu's catalogue, Windjammers 2 combines classic gameplay with gorgeous modern aesthetics. It has the same hand-drawn style that makes other DotEmu titles stand out, like Wonderboy: The Dragon's Trap. The original Windjammers was a time capsule of garish 90s style, and that design is retained for the new release, with characters looking even more colorful and absurd than ever thanks to the revitalized art and animations. Hectic to play and beautiful to behold, Windjammers 2 is already set to be a multiplayer hit.
Young Souls
Streets of Rage 4 was certainly the premier beat 'em up on display at DotEmu's booth, but it wasn't the only one. Alongside this retro revival was an all-new take on the genre: Young Souls, an extremely stylish action game that blends fast-paced fighting with deep RPG customization and a charming, emotional narrative.
Beat 'em ups might not be known for deep storylines, but Young Souls aspires to something more. Along with its satisfying combat mechanics and plentiful flexibility for character builds, it also boasts of having "a profound story with unforgettable characters." While my demo didn't give me much of a look at this deep narrative, it's reasonable to assume that the story will at least be quality, since it's penned by none other than the author of the Walking Dead games, Matthew Ritter.
However, I did get a substantial feel for combat. Young Souls features more than 70 monster-filled dungeons, and I got to venture into two of them in my demo. The action feels weighty and solid when going up against enemies, yet precise at the same time. Like any classic beat 'em up, there's a mixture of light and heavy attacks, along with blocks and powerful special moves, along with items and spells to exploit during combat as well. In between battles, you're able to deck your character out in equipment and items, allowing for an element of roleplaying depth that isn't typically associated with action games like this. In my short time with the game, it was fun to experiment with different character builds, which could determine the speed and abilities of my fighter, promising combat for the final game.
I played the demo both solo and co-op; in single-player, you're able to switch between the two twins at will, while two players can each take control of a sibling. In both playstyles, the gameplay was just as visceral and satisfying as one would expect from a classic-style beat 'em up like this, but the addition of a deep story and RPG mechanics put a unique spin on this entry. That's not to mention that, like every other game at the DotEmu and Arcade Crew booth, it's visually beautiful, featuring stylish 2D characters in 3D environments that are all rendered in gentle, washed-out colors. Young Souls might not have a release date or even any confirmed platforms as of now, but it's absolutely worth keeping an eye on in the meantime.
KUNAI
KUNAI takes the typical metroidvania formula and boosts it to hyperspeed. It has all the hidden secrets and massively interconnected world exploration that you'd expect from the genre, and it gives you the ability to speed through that faster and more dynamically than ever. Its main gimmick is right in the name – by giving you two kunai hookshots, you're able to traverse up and down your environments with speed and freedom, making for a uniquely vertical method to explore.
KUNAI starts out with the end of the world. In a dystopian future where technology has taken over, you control Tabby, a sentient and heroic tablet that's dead set on liberating the planet. This serious plot is filled with plenty of personality, however, from the silly faces that Tabby makes in action to the charming dialogue and quirky character designs. This personality is rendered in appealing detail thanks to the game's simple yet effective pixel art.
It's in the gameplay where KUNAI truly shines. With the eponymous kunai, you're able to latch onto vertical surfaces. Combine this with the additional abilities to dash, bounce off enemies, or wall jump, and it provides for a uniquely dynamic method of exploring the world. Using the kunai feels easy and intuitive, fast enough to gain speed but never too floaty. It's a balanced approach to speed and movement that never gets out of control, resulting in what it is perhaps the best-feeling movement of any metroidvania I've played recently. My demo was brief, and ended very soon after first getting the kunai, but the gameplay felt so smooth and natural that I can't wait to experience more of it. Thankfully, it's not long to wait, since KUNAI hits Switch and PC on February 6.
PAX South Hands-On: 'Streets of Rage 4' Balances Legacy and Innovation
Streets of Rage 4 embodies the original series' elegant, action-packed design and revives it for a new generation.
From the moment I began my demo with Streets of Rage 4 at PAX South, it felt like coming home. It might have been more than two decades since the first three games in the Streets of Rage series perfected the beat 'em up formula on the Sega Genesis, but courtesy of developers Lizardcube, DotEmu, and Guard Crush, this legendary series is back and in good hands. This brand new entry aims to recapture all the style and balance of the originals, while introducing innovations of its own. If my demo is any indication, the game is set to achieve that.
Streets of Rage 4 uses the same elegant level design that set the original trilogy apart back on the Genesis. The gameplay is simple: keep walking to the right, taking out every enemy in front of you with all the jabs, kicks, jumps, and special moves at your disposal. If anything, the controls feel better than ever before, with an added level of precision and fluidity that simply wasn't possible on older hardware.
That's not to mention the new move sets. Beat 'em ups might not be the most complex genre around, but Streets of Rage 4 adds the perfect level of depth to the combat. It has the same simple jabs and kicks found in the original games, but spiced up with the potential for new combos and even a handful of extravagant new special moves. With new and old fighting mechanics, this new entry features plenty of room to experiment with combat but never loses the simple, arcade-like charm of the originals.
Streets of Rage 4 revives the series' rage-filled and action-packed style for the twenty-first century
The demo included series staple characters like Axel and Blaze, yet I opted to play as an all-new character: Cherry Hunter, a guitar-wielding fighter whose move set felt very distinct from classic characters. Her movement is speedy, certainly faster than Axel but slower than Blaze, and her guitar provided for some unique melee moves. Like the new mechanics, her addition to the character roster helps shake up the Streets of Rage formula just enough, while maintaining the core beat 'em up simplicity that made the series special in the first place.
Streets of Rage 4 might innovate in a few areas, but one thing that's clearly remained true to form is the difficulty. It boasts of the same old school difficulty that characterized the original games. The classic and brand new enemies are just as ruthless as ever, mercilessly crowding in around you and can easily overwhelm you if you're not careful. However, just like the originals, the fighting feels so satisfying that it's easy to keep coming back for more action.
Amid all these changes and additions, perhaps the most obvious (and controversial) change is the visual style. While the original series used detailed pixel art, Streets of Rage 4 instead boasts of an extremely detailed handcrafted art style, in which every frame of character animation is painstakingly drawn by hand and environments are colorful and painterly. Thousands of frames of animation go into each character, and the effort certainly shows, making every punch, kick, and other acts of violence a breathtaking sight to behold.
Streets of Rage 4 reimagines this classic series for a new generation, reintroducing the best of the beat 'em up genre for players of all backgrounds and experiences.
Some fans have complained that the game loses the series' spirit without pixel art, but DotEmu marketing director Arnaud De Sousa insisted to me that this simply isn't the case. Pixel art wasn't an artistic choice back then – it was a matter of necessity. If the developers could have designed the game to look exactly as they wanted, regardless of technical limitations, then it likely would have looked just like the luscious hand-drawn visuals of the current Streets of Rage 4.
That's not to mention that, as De Sousa emphasized, the Streets of Rage games are defined by looking different from one another. The third game looks different from the second, which looked different from the first – and now this new entry has twenty years of change to catch up on. Thus, it only makes sense for this new entry to adopt a radically new graphical style after all this time.
Streets of Rage 4 reimagines this classic series for a new generation, reintroducing the best of the beat 'em up genre for players of all backgrounds and experiences. The difference between De Sousa and myself is perfect evidence of that. He grew up playing the games in the 90s, whereas I wasn't even born when the original trilogy became such a phenomenon and only played them years later in subsequent re-releases. Yet here we were, standing in the middle of a crowded convention and gushing about decades-old games. We might have had extremely different experiences with the series, but that didn't stop us from appreciating the joys of stylish beat 'em up action.
"A good game is a good game," De Sousa told me, "no matter how old." That's the attitude that Streets of Rage 4 exemplifies. It revives the series' rage-filled and action-packed design for the twenty-first century. And with a release on all modern platforms, more players than ever will be able to rediscover the simple pleasure of wielding your bare knuckles against thugs of all types. Between the new art style and the solid gameplay, Streets of Rage 4 is looking like an incredibly welcome return for this iconic franchise.