PAX South 2020 Hands-On: 'Windjammers 2,' 'KUNAI,' and 'Young Souls'
PAX South 2020 attracted tons of exciting publishers to San Antonio, and even with such a crowded lineup, the DotEmu and Arcade Crew booth easily stood out as some of the show's very best exhibitors. Streets of Rage 4 might have been their standout demo, but the French boutique publisher and developers brought a fantastic selection of games to the show, including their signature retro revivals and some promising original indie games of their own.
Windjammers 2
Sequel to the much-beloved arcade classic, Windjammers 2 takes all the hectic frisbee-throwing action of the original and updates it for the modern generation. For those unfamiliar with the art of windjamming, it's effectively pong, but instead of balls, you toss discs back and forth across the court. It pits two players against each other on opposite sides of the court, tasking you with mercilessly hurling your disc back and forth until it gets into your opponent's goal.
You can just throw the disc directly at your opponent, but Windjammers 2 gives you many more options besides that. To really excel at the game, you'll have to make use of the most extravagant moves you can, dashing across the court, leaping into the air, tossing the disc above you before slamming it down into your opponent, to list only a few of the uber-athletic abilities at your disposal. The game can move extremely quickly when both players take advantage of these capabilities, yet things never feel overwhelming. I always felt in control of the action, even when my quickest reflexes were put to the test. It's fast-paced disc throwing insanity, and I couldn't get enough of it.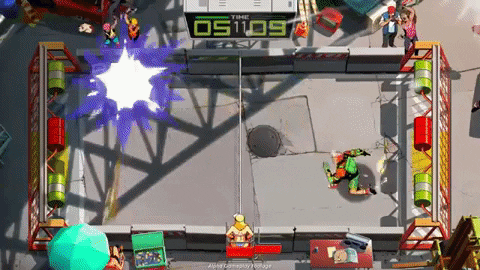 Just like the rest of DotEmu's catalogue, Windjammers 2 combines classic gameplay with gorgeous modern aesthetics. It has the same hand-drawn style that makes other DotEmu titles stand out, like Wonderboy: The Dragon's Trap. The original Windjammers was a time capsule of garish 90s style, and that design is retained for the new release, with characters looking even more colorful and absurd than ever thanks to the revitalized art and animations. Hectic to play and beautiful to behold, Windjammers 2 is already set to be a multiplayer hit.
Young Souls
Streets of Rage 4 was certainly the premier beat 'em up on display at DotEmu's booth, but it wasn't the only one. Alongside this retro revival was an all-new take on the genre: Young Souls, an extremely stylish action game that blends fast-paced fighting with deep RPG customization and a charming, emotional narrative.
Beat 'em ups might not be known for deep storylines, but Young Souls aspires to something more. Along with its satisfying combat mechanics and plentiful flexibility for character builds, it also boasts of having "a profound story with unforgettable characters." While my demo didn't give me much of a look at this deep narrative, it's reasonable to assume that the story will at least be quality, since it's penned by none other than the author of the Walking Dead games, Matthew Ritter.
However, I did get a substantial feel for combat. Young Souls features more than 70 monster-filled dungeons, and I got to venture into two of them in my demo. The action feels weighty and solid when going up against enemies, yet precise at the same time. Like any classic beat 'em up, there's a mixture of light and heavy attacks, along with blocks and powerful special moves, along with items and spells to exploit during combat as well. In between battles, you're able to deck your character out in equipment and items, allowing for an element of roleplaying depth that isn't typically associated with action games like this. In my short time with the game, it was fun to experiment with different character builds, which could determine the speed and abilities of my fighter, promising combat for the final game.
I played the demo both solo and co-op; in single-player, you're able to switch between the two twins at will, while two players can each take control of a sibling. In both playstyles, the gameplay was just as visceral and satisfying as one would expect from a classic-style beat 'em up like this, but the addition of a deep story and RPG mechanics put a unique spin on this entry. That's not to mention that, like every other game at the DotEmu and Arcade Crew booth, it's visually beautiful, featuring stylish 2D characters in 3D environments that are all rendered in gentle, washed-out colors. Young Souls might not have a release date or even any confirmed platforms as of now, but it's absolutely worth keeping an eye on in the meantime.
KUNAI
KUNAI takes the typical metroidvania formula and boosts it to hyperspeed. It has all the hidden secrets and massively interconnected world exploration that you'd expect from the genre, and it gives you the ability to speed through that faster and more dynamically than ever. Its main gimmick is right in the name – by giving you two kunai hookshots, you're able to traverse up and down your environments with speed and freedom, making for a uniquely vertical method to explore.
KUNAI starts out with the end of the world. In a dystopian future where technology has taken over, you control Tabby, a sentient and heroic tablet that's dead set on liberating the planet. This serious plot is filled with plenty of personality, however, from the silly faces that Tabby makes in action to the charming dialogue and quirky character designs. This personality is rendered in appealing detail thanks to the game's simple yet effective pixel art.
It's in the gameplay where KUNAI truly shines. With the eponymous kunai, you're able to latch onto vertical surfaces. Combine this with the additional abilities to dash, bounce off enemies, or wall jump, and it provides for a uniquely dynamic method of exploring the world. Using the kunai feels easy and intuitive, fast enough to gain speed but never too floaty. It's a balanced approach to speed and movement that never gets out of control, resulting in what it is perhaps the best-feeling movement of any metroidvania I've played recently. My demo was brief, and ended very soon after first getting the kunai, but the gameplay felt so smooth and natural that I can't wait to experience more of it. Thankfully, it's not long to wait, since KUNAI hits Switch and PC on February 6.