Indie Games Spotlight – Boundless Creativity
In this week's spotlight, we're highlighting promising stealth games like Abermore, narrative puzzle games like How to Say Goodbye, and more.
Indie Games Spotlight is Goomba Stomp's biweekly column where we highlight some of the most exciting new and upcoming independent games. Though the absolutely stacked February and March gaming season is coming to a close, that doesn't mean that there still aren't incredible indies to look forward to in the coming weeks. This time around we have everything from stealth games to surrealist narrative adventures. Let's get to it!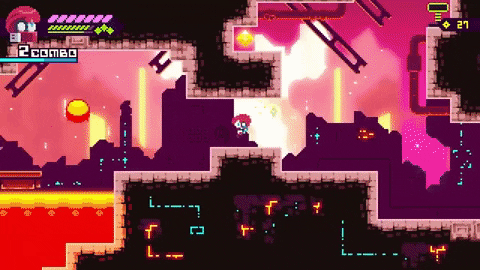 Forge Your Own Path in Transiruby
Despite launching at the very start of the Switch's lifecycle, Skipmore's Kamiko remains one of the best values on the eShop in terms of polish, accessibility, and gameplay. Now the developer is finally bringing its long-awaited follow-up to the storefront with Transiruby, a charming pixel metroidvania that promises to blend Kamiko's sense for tight action with adventure and puzzle elements.
After randomly deciding to visit a strange continent that appeared from another dimension, players will have to use all the tools in Siruby's arsenal to traverse the world and discover its secrets. The fact that Siruby is a cyborg gives Skipmore the freedom to make her more mobile, allowing her to transform into things like a plane and motorcycle. At the heart of Transiruby, though, is the same beautiful art, catchy music, and simple-yet-satisfying combat that fans have come to expect. You can jump into this ambitious adventure now on Steam or wait until it hits Switch on April 28th.
Steal Away to Abermore
Outside of the stellar Hitman series, there really aren't many games specifically catered to stealth, and even fewer dedicated to letting players pull off heists. Abermore seeks to fill this hole in the market as a self-proclaimed "first-person stealth RPG" where players will have to undertake daily robberies leading up a major job. Each robbery has its own unique storyline attached to it, but how you choose to approach the objectives is entirely up to you.
This is ultimately what makes Abermore so exciting. Much like how missions in Hitman can be approached in a variety of ways, the protagonist's supernatural powers and the various items scattered around each level mean that there's no dearth of options for how to tackle a robbery. Add this to an equipment upgrade system that encourages going after every last valuable to acquire better gear and you have a game that appeals to stealth enthusiasts and completionists alike. You'll be able to kick off your crime spree when Abermore releases March 29th exclusively on PC.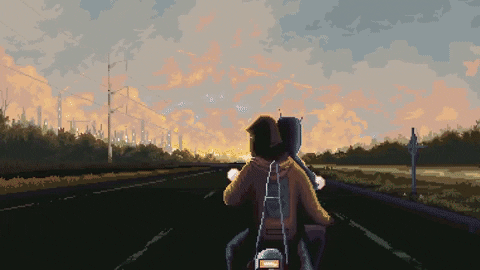 Explore the Wasteland of NORCO
There's something about more traditional game genres being revisited that warms the heart. NORCO is a Southern Gothic point-and-click adventure centered around the dank swampy lands of South Louisiana. Aside from the unusual setting, NORCO's draw is in its mysterious premise: your bother Blake has gone missing, and to find him you must tail a fugitive security android as it makes it ways through a sci-fi take on New Orleans.
There's an ominous, intoxicating air to NORCO that oozes through its painterly art style and post-industrial electronic soundscape. The potential for layered storytelling is certainly here as developer Geography of Robots specifically cites Southern literature and pulp fiction as the inspirations behind the narrative. With a multigenerational mystery at its core and the promise of varied locales to visit and puzzles to solve along the way, NORCO should scratch that point-and-click itch quite well. Best of all, it's available now on PC and PC Game Pass!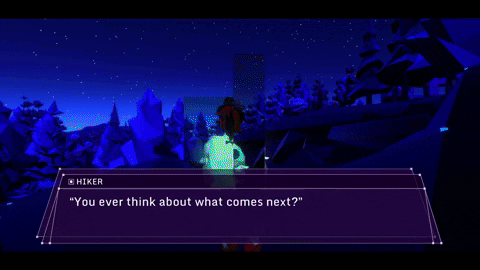 Pause and Contemplate Glitchhikers: The Spaces Between
Sometimes even the best of ideas need a bit more time in the oven to reach their full potential. The original Glitchhikers was a conceptual game released back in 2014 about the thoughts people have while driving late at night. Though the original garnered praise from critics, it was only 15 minutes long and didn't fully encapsulate the ambitions of the team at Silverstring Media. Glitchhikers: The Spaces Between is a polished and more fully expanded version that now includes different scenarios like train rides, moonlit walks, and waiting at a deserted terminal in an airport.
Based on the uncanny stream of consciousness that often occurs during long periods of travel, Glitchhikers is all about looking inward and ruminating on our lives via a freeform narrative experience. There's no fail state, no golden path, and no traditional pressures that goal-oriented games often incorporate; instead, there are fellow travelers that propose different paths of thought while players wait to reach their destination. Prepare to go on a contemplative journey when Glitchhikers: The Spaces Between releases on Switch and PC March 31st.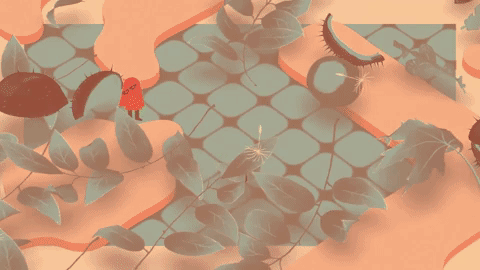 Have You Ever Wondered How to Say Goodbye?
Though they usually don't get much love in Game of the Year conversations, narrative puzzle games are innovating in a way few other genres are. How to Say Goodbye is the latest in a slew of high profile indies that're focusing on the experience of death and grief, and its approach is both novel and heartfelt.
After dying and turning into a ghost, players suddenly appear in a world akin to Purgatory that's inhabited by other ghosts. After noticing that others are trapped here, it's up to you to help them find their friends and guide them all through to the afterlife. To do this, you'll have to slide surrealist environments around to clear a pathway to the exit while avoiding malevolent spirits. The beautiful art serves as a backdrop to themes of learning how to mourn and processing mortality as the ghosts come to terms with their passing. There's no date on How to Say Goodbye just yet, but keep an eye out for when it drops on PC and mobile later this year.