Banjo-Pilot Was One of Rare's Difficult Steps Into a Nintendoless Future
Banjo-Pilot was fundamentally doomed the hour Rareware and Nintendo's long-lasting partnership had been severed…
15 Years Later: Looking back at 'Banjo-Pilot'
On January 12, 2005, Banjo-Pilot became the fourth and final title to release within Rare's Banjo-Kazooie series in North America on Nintendo's line of home consoles and handheld devices. After suffering five years of a disjointed development that lost its direction near the finish line due to licensing issues, Microsoft opted for Rare to push out what became the only title holding Banjo's name to receive a mixed reception from both critics and audiences- in the territories it even managed to release in, that is.
Despite being one of the hottest topics for journalists covering the closed doors demo stations for the Game Boy Advance just four years prior at the Electronic Entertainment Expo [E3] and Nintendo Space World 2001, Banjo-Pilot was fundamentally doomed the hour Rareware and Nintendo's long-lasting partnership had been severed when the second party developer became part of their competitor's first-party lineup of content creators through unfortunate circumstances.
A History That Will Make You Say "Guh Huh?"
During the fifth generation of consoles, the Nintendo 64 held a steady grip over the market with first-party icons such as Donkey Kong and Pikachu leading the charge alongside Mario, but one notable exception- or rather two- who often appeared in Nintendo's promotional advertisements and console box-arts was none other than Rareware's bear and bird duo Banjo and Kazooie. While Rareware planned to create a handheld Banjo-Kazooie game titled Grunty's Curse for the Game Boy Color, a racing entry featuring the animal dyad was never originally in the cards.
The only Banjo-Kazooie products in development after the release of Banjo-Tooie was a tech demo for next-generation codename Dolphin (Nintendo GameCube) and of course the planned Game Boy Color game Grunty's Curse. Banjo-Pilot began development in the year 2000 except there were never any Banjo-Kazooie series characters present in the game's entirety- it was only up until the last five months of development where Banjo was forced to take the spotlight from Nintendo's Kong family of characters due to pitiful circumstances.
Diddy Kong Pilot was intended to be a handheld successor to Rareware's popular 1997 kart racer Diddy Kong Racing for the Nintendo 64. Rather than making another game featuring the Diddy Kong characters and karts, Rareware wanted their next title to stand out against other racing games that were already available and in development for Nintendo's current hardware at the time. An unorthodox device that Rareware was interested in developing games with became the main inspiration for the concept of a Diddy Kong Racing sequel, but it also served as a key factor for the game's impending doom due to a necessity of polish that could not be accomplished in Nintendo's suggested release time frame.
At the dawn of the new century, Rareware staff were mesmerized by the accelerometer technology that various second and third-party companies working with Nintendo had been experimenting with for handheld titles on the Game Boy line of systems. Most notably, HAL Laboratory at the time used the new cartridge device to add controllable gameplay elements to their action-puzzle game Kirby Tilt 'n' Tumble for the Game Boy Color that could only be accomplished through the add-on. HAL Laboratory's favorable success inspired other companies such as Rareware to use the accelerometer device in unique "Nintendo" ways.
Rareware pushed for the inclusion of the accelerometer for their Diddy Kong Racing sequel after seeing other developers enhancing the fun factor of their titles with the device. The developer was able to convince Nintendo's higher-ups at the time that tilting the system from left to right could potentially be used as a unique way of precisely controlling vehicle steering without having to use the standard directional pad.
Taking Off at The Wrong Time
One year later at Space World 2001, despite impressive positive critical reception from journalists who received exclusive closed-doors demo sessions of the game, Nintendo became concerned with the development of Diddy Kong Pilot due to the functionality of several gameplay aspects including the tilt feature not living up to their product quality standards. The game was in need of a coat of polish from programmers at Nintendo who truly understood the hardware being utilized, but scheduling conflicts had Rareware and Nintendo at odds. Many of the programmers who worked on Diddy Kong Pilot believed that the title should have been either heavily delayed or flat out canceled because of how far off the game was looking from its scheduled March 2002 release window.
During Diddy Kong Pilot's development, Rareware was going through a transitional period of ownership as the company's creators were preparing to have a complete buyout. Several projects including Diddy Kong Pilot were up in the air with unforeseeable futures, leaving staff to work on and off on the game although it was nearing completion. Once the entire company went up for sale, almost all of the workers thought that they were guaranteed to become future Nintendo employees, but in a shocking twist, their most trusted ally would not budge when Microsoft Corporation had outbid them for the remaining 51% of Rareware's stock.
In September of 2002, Microsoft declared ownership of Rareware and finalized the purchase for all of the company's internal assets including their characters who had become Nintendo icons. Rareware was forced to cancel nearly all of their Nintendo projects in development for the time being as they were to immediately start creating new titles for Microsoft's Xbox. However, Microsoft decided that the Xbox brand would not be entering the handheld market any time soon. The newly rebranded Rare was given the opportunity to continue development on their handheld titles, but licensing issues with Nintendo would become a major issue for both the developer and Microsoft's higher-ups.
Flying From Somewhere to Nowhere
Microsoft wanted Rare to continue developing ports of their Donkey Kong Country series for the Game Boy with Nintendo and finish their larger projects that were nearing completion such as Star Fox Adventures, but they also wanted the company to start avoiding their competitor. As a result of this, Microsoft tasked Rare with replacing the Kong family featured in Diddy Kong Pilot along with any other future releases made in-house that would have featured Nintendo's characters. The Banjo-Kazooie series was chosen to completely replace all traces of any content featured in Diddy Kong Pilot that was directly owned by Nintendo.
As Rare and Nintendo severed ties on the project, the developer was forced to abandon several gameplay aspects found in Diddy Kong Pilot including the main tilt gimmick that the gameplay was centered around due to a lack of knowledgable resources who could tend to the issues at hand and time constraints from Microsoft. With only five months given to retool and finalize the release, the developers had to make several cuts to ensure that Banjo-Pilot could even be ready to go gold for store shelves. Game modes, various items, and even a proper Banjo-Kazooie themed soundtrack had to be left on the cutting room floor so Rare could overhaul the gameplay to accommodate a standard Game Boy Advance control scheme.
By the time the game had been revitalized, the only remnant that remained of Diddy Kong Pilot had been various backgrounds used for individual levels and the game's original soundtrack composed by Robin Beanland and Jamie Hughes. A recomposed rendition of the original Banjo-Kazooie theme for the title screen and main menu was the only piece of music found in the game that was not from Diddy Kong Pilot's latest build. Overall, Banjo-Pilot lost out on several promised features that its precursor would have delivered on.
A Legacy With No Takeoff
When it came to reception from both critics and audiences, it was mostly agreed that Mario Kart: Super Circuit and Konami Krazy Racers were far better alternatives available in the genre. Besides its soundtrack and some detailed sprites, critics did not have much else to praise for the title. Many reviewers compared the game to Super Mario Kart and other early fourth-generation kart racers claiming that Banjo-Pilot was a downgrade in several regards to what the Game Boy Advance was truly capable of. Several review outlets such as Eurogamer even criticized Microsoft and Rare for releasing the game after cutting the tilt controls that made it notably innovative for the time.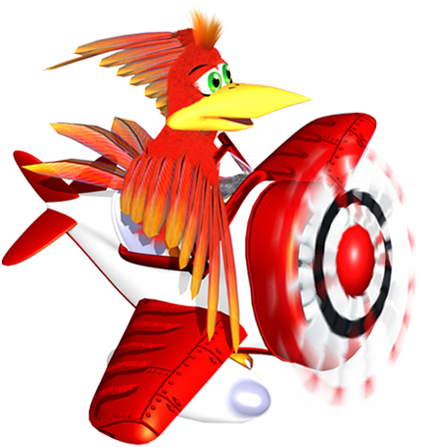 While the advertising may have claimed that "bears no longer need a bird to fly" it is evident that perhaps a certain other species of mammals such as a chimp who wears a branded red hat should have either taken the helm of this sick flight or make certain that it never saw takeoff. Banjo-Pilot was wrongfully stripped of its originality through a string of unfortunate corporate circumstances that could not have been prevented. Despite its loveable thematic appearance, it will forever be the one entry in the Banjo-Kazooie franchise that the majority of fans forget to acknowledge- if they even know it exists.
In 2011, a nearly complete version of Rareware's Diddy Kong Pilot leaked online. For gameplay, you can click the link right here to see what the full game was like for journalists who play-tested a beta version of the title at 2001 game show conventions.