It's Time for More Female Characters in Gaming
Gaming as a culture has become more accepted over the years as those of us who grew up with video games age and pass it on to the next generation. The gaming industry alone has grown and changed so much, expanding in ways few could have predicted. As a part of this, video games have ceased to be a thing primarily for kids and have become a culture. As this culture expands and becomes viewed more as an art form (or even a sport in some cases), it must inevitably be open to a more diverse audience and criticism. Traditionally, it was believed that video games were dominated by males and that females had little interest in the field. While there is definitely some difference in interest from genre to genre, it is unfair to classify video games or any genre as the sole property of a given gender. Recent events especially have put gamers under a critical spotlight and raised issues of sexism and under representation in video games. Whether female interest in video games was minimal or not at any given time is irrelevant; current studies prove that female gamers make up nearly half of all gamers. So why are video games skewed so much in the favor of males?
Many gamers play video games in order to imagine themselves as the main character. In simple terms, if I play a Mario game, at some level I imagine myself as Mario. Since video games are believed to be male-dominated, most main characters are also male. The concern is that if the main character was female then male gamers would not be able to imagine themselves in those shoes. One early exception to this was of course Tomb Raider and Lara Croft, but as the series went on and graphics improved, Lara became more and more sexualized to draw in more male gamers. More recent entries to the Tomb Raider series have tried to combat this, but they have created other issues in the process.
It has been shown as well that while males prefer violent and action games, females tend to lean towards simulation, story-driven and musical games. The problem is that some people take this as a literal defining rule instead of simple preferences. Of course there are going to be females who vastly prefer shooters to more 'feminine' games, and at the same time I have always enjoyed rhythm games and find plot development to be one of the most critical parts of any gaming experience. The point is that everyone has their own preferences that can't be defined by chromosomes. Games specifically made with females as the target audience tend to be lackluster at best, focusing on things like Barbie, which is kind of depressing.
Not only do most games tend to put hyper-masculine men as the main character, but they also usually depict women as needy, subservient or sex objects. The damsel in distress trope is easily the oldest (stretching well beyond video games), going back to Nintendo with Princess Peach and Zelda. To be fair, both have slowly become more independent; Zelda for instance has her Sheik counterpart, and Peach has been portrayed as more independent in certain games like Paper Mario and Super Mario Bros 2.
There are also the hyper-sexualized female characters who tend to be either eye candy or for sexual conquest. Bayonetta, for instance, has come under fire; while a strong independent female character, it is impossible to deny the super sexual tones. RPGs and fighting games also regularly garner criticism for making many of their female characters extremely busty and wearing the tiniest outfits, or even other issues, like the recent comments made on the ridiculous boob physics in Street Fighter 5.
There are some positive female characters in games, but not many, and even less in the main character spot. Samus Aran from the Metroid series is a prime example. Most gamers didn't even know she was a female until the big reveal at the end of the 1986 Metroid. Other notable characters are Jade of Beyond Good and Evil, Chell from Portal and Aveline from AC Liberation, or even Ellie from the critically acclaimed The Last of Us, who not only represented the female, but LGBT group as well.
While it is possible to have highly-acclaimed games with positive female characters, why does it happen so little? Cost and demand tend to be the main reasons, especially in AAA games. In the last few years however, there has been a growing trend in games at least giving gamers the option of which sex they want. Saints Row, Fallout and Fable for instance all offer a choice. Even AC Syndicate added a female lead after getting into trouble for misrepresenting the role of female characters in Unity.
It is clear that gaming as a culture is moving towards a more inclusive mind set, but due to some that has become an arduous task. Why are female gamers three times more likely to be berated in multiplayer for simple comments? Why some male gamers feel females in video games are an intrusion is somewhat baffling, as if just playing with a female puts their place in the male hierarchy at risk. Of course, this isn't only directed at females, as homophobic and anti-Semitic remarks also plague popular multiplayer games. As gaming becomes more widely accepted though, it will also become more diverse, and with that comes even more changes in games and those who play them. Of course not all games can or should change–Grand Theft Auto, for instance, will always be the way it is–but there is room to be open to new gamers and different kinds of games, like the recent Gone Home and Life is Strange, regardless of sex or creed.
Art Books for Video Games: Persona Franchise
Art books for video games can create a greater appreciation for the game itself. Some of the best examples come from the Persona franchise.
While video games are increasingly appreciated as an artistic genre, art books for video games still fly under the radar. Video game art books show a game's design process from start to finish. At their best, they can help fans better appreciate their favorite titles. Some of the best examples of recent video game art books come from the massive Persona franchise.
From main-line entries to spin-offs, most recent Persona games have art books. Whether its made for a main JRPG entry or spin-off, the books feature promotional art, early character sketches, concept and final images for settings, and commentary from each game's artists.
This article will look at three recent main-line games, Persona 3, 4 and 5, (original releases) as well as two spin-offs: Persona 4 Arena and Persona Q: Shadow of the Labyrinth. This will be a good starting point for understanding Persona art books and video game art books in general.
Art Books for Main-line Persona Games
The Persona franchise has, over recent years, nailed down the art book to a science. Each book has publicity illustrations, character design pages, and a "world of Persona" type section. Every book works within this framework to showcase its art style and design process.
Persona 3: Official Design Works
The Persona 3 Official Design Works book spans 144+ pages. After being treated to several polished promotional images, including the game's box art, the book dives into its character designs.
For its character art, the Persona 3 art book focuses on line-art sketches. The key point here is to see how characters did (or did not) change design from conception to final product. For instance, while the sketches for Mitsuru Kirijo are similar to the final design, Yukari Takeba's pages show noticeable changes, particularly with hairstyles and facial features.
The book splits its in-game art between dungeon-crawling sprites and the more "anime" style dialogue portraits. This shows a range of equipable character weapons more thoroughly than other games.
In the "World" section, the pages have enigmatic, early-concept art, some expanded upon and used, and some put to the side. There's also art for key settings, including Gekkoukan High School and Pawlonia Mall.
The book is compact, and makes the most of its character pages, without feeling cluttered. This collection is packed with content, and provides a stunning behind-the-scenes look at the original Persona 3.
Persona 4: Visual Data
The original "visual data" book for Persona 4 (2008) is substantially shorter than other games (barely 100+ pages). However, the art book makes the most of its pages.
The book comes with a killer introduction that connects to the game's story. On the first page, mascot character Teddie gives a poetic spoiler alert, warning players, "…we recommend holding off on savoring this art book until after you're done. Truths are meant to be hard-earned, not viewed safely from afar!" This message ties in with the game's emphasis on working gradually towards uncovering the truth.
After Teddie's warning, the book dives into promotional images, and then its character art. For the main cast, the pages show in-game portraits as well as early sketches and creator commentary. Some characters look completely different than their earlier art. For instance, Rise initially looked closer to P4's Ai Ebihara. Also, Chie's creator commentary explains that she initially looked closer to past Persona characters, specifically Persona 2's Lisa Silverman and Persona 3's Chihiro Fushimi (page 17).
The art and commentary continues with supporting characters. While these come with fewer designs, the sketches are still fascinating. (Nanako originally looked quite similar to a certain late-game Persona 5 character–no spoilers!)
The rest of the book has sketches for personas and shadows, and ends with key images. These pages show concepts for settings, in-game moments and character uniforms. There are also unused illustrations, showing what could have been a different Persona 4 altogether.
The Art of Persona 5
The Art of Persona 5 art book is massive in scope–compared to the last two video games, this feels more like a textbook. However, the book remains sleek and stylish throughout its 440+ pages, just like the game itself.
Each character section emphasizes the sharp divide between daily student life and the phantom thieves' dungeon crawling adventures at night.
While the Persona 3 and Persona 4 art books focused on line sketches for the characters, the Persona 5 art book also includes pen-and-ink brush images, and more full-color images.
The book goes the extra mile with its creator commentaries. Breaking this down fully would make its own article, but a great place to start is the commentary for the main character (aka "Joker").
The creator commentaries for Joker show how his design changed as the team worked through larger questions for Persona 5's story. The commentary mentions the question of how "the protagonist and party members should look like as thieves" (creator commentary, page 44). The commentary also describes game director Katsura Hashino asking the questions, "aren't these designs too realistic?" and "wouldn't a Phantom Thief show off when they fired a gun?" (creator commentary, page 44). This commentary shines a light on the design process for creating this 60+ hour JRPG.
Other highlights include Morgana's and Futaba's pages, shown below.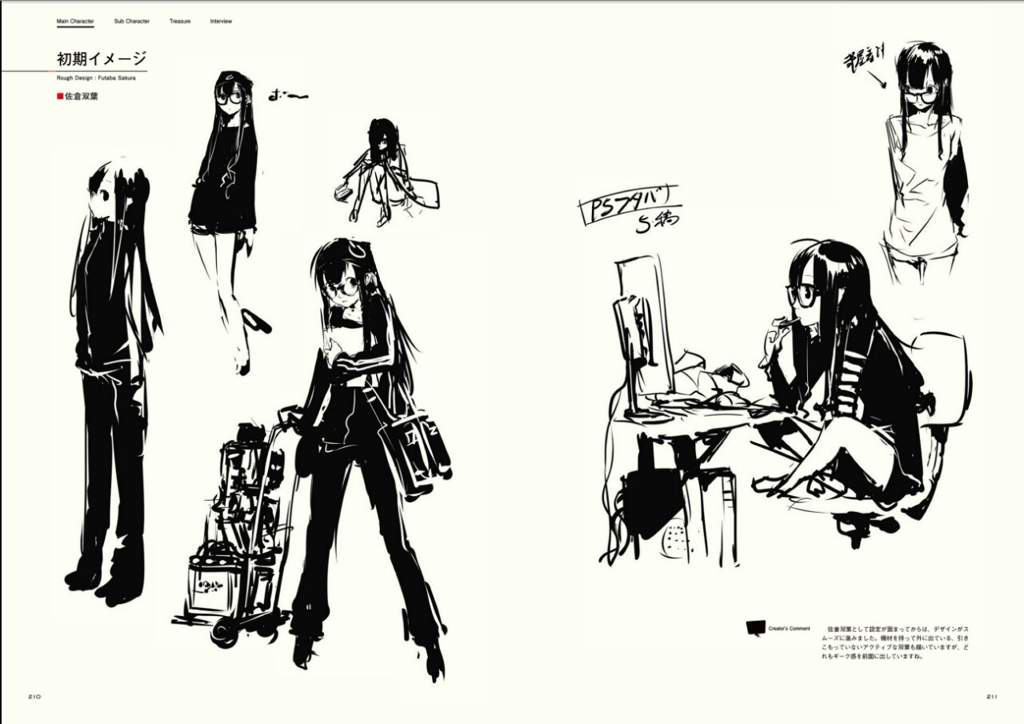 The book also shows art for side characters (particularly Sae, an integral character to the game). There's also art for in-game NPC menu screens, antagonists with detailed boss-battle designs, and profile pages for the rest of the supporting cast.
Finally, there's the "world of" section. Once again, many of these images hint at would could have been a very different game. The exciting part here is that unused images may be used for future games. Given the time lapse between the original Persona 4 and Persona 5 (about 8 years), this content may serve as the only means of speculation as fans wait (and hope for) a possible Persona 6 down the line.
Until then, fans can look forward to a growing list of Persona spin-offs and a new crop of art books.
Here's a look at two Persona spin-offs with phenomenal art books.
Two Very Different Persona Spin-Off Art Books
The Persona franchise has many spin-off games. This includes rhythm games, arcade-style fighting games, and more. (Soon, Persona 5 Scramble will join the list, a hack-and-slash game for the Nintendo Switch, scheduled for release in Japan on February 20, 2020).
Two recent Persona spin-offs with great art books are Persona 4 Arena and Persona Q: Shadow of the Labyrinth. These are both crossover games, combining cast members of Persona 3 and Persona 4 for a brand-new experience.
Persona 4 Arena
Persona 4 Arena, released in North America on August 7th, 2012, is an arcade-style fighting game bringing together the cast of Persona 4, and several Persona 3 characters, with a small batch of original characters.
The book starts off with key illustrations, which look like splashy spotlights of characters in the heat of battle.
The biggest difference, however, comes with the character pages. The pages display the line art used for showing movement and action, in a way the main-line art books don't. This is because of the game's combat system, and its re-use of many original character designs. These pages show how much work goes into creating a fighting game.
While this art book highlights the game's combat and high-drama narrative, the final art book shows a more upbeat, cooperative crossover game.
Persona Q: Shadow of the Labyrinth
Persona Q: Shadow of the Labyrinth was released for the Nintendo 3DS in North America on November 25th, 2014. This is a first-person dungeon-crawler, featuring the full Persona 3 and Persona 4 casts, along with two brand new characters.
The most obvious difference with this spin-off is its art style. All characters are in chibi form, highly stylized, minimized, and "cute." This keeps with the up-beat, sugar-sweet positivity of the game, where both casts become friends and work together to resolve the game's conflict.
The game's main selling point comes from the characters meeting each other and working together. Unsurprisingly, the illustration pages show how the game's designers experimented in bringing different characters together.
As always, the book has individual character pages. This time, the art focuses on how original characters are translated into chibi form. The only exceptions to this are the two new characters Zen and Rei.
The book also has art for the game's opening animation and cut-scenes. These show how the art team created scenes showing the dramatic reveal of the casts meeting each other. They also include the slice-of-life events the casts experience together.
The Beauty of Art Books for Video Games
Art books made for video games can show fans the hard work that goes into designing their favorite titles. Some of the best art books in recent years come from the Persona video game franchise. These books compliment their title, showing the hard work and creativity that goes into developing each video game.
'Pokémon Sword and Shield Expansion Pass' Announcement Deep Dive
A deep dive into the announcement of the Pokémon Sword and Shield Expansion Passes.
What? Pokémon Sword and Shield are evolving! The eighth generation of Pokémon brought many changes to the tried-and-true formula of the beloved franchise, but perhaps none so drastic as the Sword and Shield Expansion Pass. Presumably replacing the third or sequel installment title of previous generations (ie. Platinum or Ultra Sun), the Expansion Pass will be a continuation of players' adventures in Sword and Shield using existing save data and not a brand new adventure.
There's certainly a lot to be gleaned from the announcement trailer and accompanying Pokémon Direct, but, given more than a cursory glance, the Direct provided a surprising depth of information for those willing to dive for it. Here's a deep dive into the announcement of the Pokémon Sword and Shield Expansion Passes.
New and Semi-Familiar Faces
The footage, broken up between the two sets of new content (The Isle of Armor due out in June, and The Crown Tundra coming in the fall) begins with some very quick cuts followed by a map of Galar before the camera pans east and settling into setting concept art. If Galar were an upside down map of the UK, The Isle of Armor could be comfortably situated on the Isle of Man, a theory the title of the expansion supports.
This is immediately followed by the reveal of the expansions' seeming representative Galarian Slowpoke and a brief tease of a concealed Galarian Slowbro, notably with no Shellder on its tail and whose face is briefly visible just before the zoom into Slowpoke, eliminating the possibility of something on its head like Slowking. Perhaps something will have latched onto its left arm?
Similarly, the second half of the trailer unveils the existence of a Galarian Slowking that's also being obscured. While nothing was shown of Slowbro and Slowking beyond a few purple appendages and a cape in the case of Slowking, a lot can be inferred about the enigmatic evolutions. For starters, the existence of a poison move in Slowpoke's movepool, Acid, might suggest the mono-psychic type will become psychic/poison when it evolves, as does the purple coloration.
The preferred typings of the Isle of Armor's new rivals, poison in the case of Sword's Klara and Shield's psychically-inclined Avery, further purport this assumption as both rivals could then use the new forms. What looks like a bent spike on the right of Galarian Slowking's face already has some speculating Slowking's new form came about by being bitten by a Mareanie in place of a Shellder, not unlike how Team Rocket's James is frequently bitten by his Mareanie in the Sun and Moon anime series. That's all assuming Slowbro and Slowking retain the same typing as one another like their water/psychic Kanto and Johto counterparts and Slowking's cape isn't in reference to, say, Lance, the dragon user from Kanto's Elite Four.
Speaking of Klara and Avery, they too might be hiding information in their designs. Klara's bow, for instance, matches Dustox's wing pattern perfectly but is colored white and black with pink circles as opposed to two shades of green and with reddish circles. This could indicate the Pokémon's inclusion in the expansion, likely used by Klara as a bug/poison type, or could even indicate a new regional variant of the third gen Pokémon.
There's less to note about Avery save that he's sporting the psychic gym uniform available to players in the game, the insignia of which is two spoons twisted together. This same icon is also on his top hat. Again, this design was already in Sword and Shield prior to the expansion, but it could implicate the presence of Alakazam, the psychic Pokémon that infamously wields two spoons.
CMYK
Some new Gigantamax Pokémon are shown off (yes, Intelleon has a sniper finger) before the first set's title and logo are given, The Isle of Armor. There's a lot to note about this alone. To begin, the design is very similar to Sword and Shield's with the central figure looking straight forward as opposed to left like Sword or right like Shield. It also concludes the armaments of a knight: sword, shield, and armor, putting Pokémon Gun to rest (though, again, sniper finger). The logo's color is notably yellow, simultaneously representing all primary colors between both games and the expansion. This isn't unlike the original non-Japanese titles and appropriately concludes the CMYK color model Zacian and Zamazenta started (Cyan, Magenta, Yellow, Key). What's particularly intriguing about this is that the central legendary, Urshifu, may not singularly complete the model.
From markings to fur patterns, Urshifu…bears…striking resemblance to Zacian and Zamazenta. Evolving from Kubfu into one of two forms depending on the player's choices in the expansion, each of Urshifu's Gigantamax forms seem to echo the coloration of the lupine legendaries. However, just before Kubfu and Urshifu are properly revealed, a black screen with white text describes Urshifu as "the legendary Pokémon that holds the key to the story," with key highlighted in yellow. Following this, Kubfu is introduced with a black background and white text, how key (black) from the CMYK model is always represented. This seems to signify that Urshifu is key in the color model and the Pokémon's coloration echoes this. Does this mean there's another lupine or perhaps ursine legendary associated with rusted armor and the color yellow? Is there a Zazellow out there?
Continuing this color scheme, the mentor who trains the player in this set is coincidentally named Mustard and his apprentice's uniforms are appropriately yellow to match with the logo and this potential missing legendary and complimentary armor. That is, unless it's all just Urshifu–both yellow and key–in which case he really Urshi-fooled me.
Regi-Ruins
Following The Isle of Armor's title reveal, the screen goes dark before the camera zooms through wind and snow and finally fixes on a map of Galar once more. The camera pans south, situating the next set of content, The Crown Tundra, in Scotland, this time taking heavy inspiration from the Scottish Highlands. Seemingly central to the set is a cathedral-like structure atop a mountain with an immense white tree or unrevealed Gigantamax Cursola behind it (I choose to believe the latter regardless of the fact that I just made it up). A mysterious new character and the player characters are shown wearing mountain expedition gear, alluding to the theme of exploration for the Expansion Pass' second part.
The footage then reveals several ruins themed after Hoenn's "titan" trio Regice, Regirock, and Registeel, who are presumably catchable here and are the first of many legendary Pokémon shown to be returning. This isn't too remarkable by itself save that the titans are integral to the appearance of Regigigas, a Sinnoh native Pokémon notably absent here. Sinnoh remake confirmed! Well, not really, but fans can hope.
Connections to Kalos
A fourth ruin is, in fact, shown, though not representative of Regigigas. Instead, there are two all-new Regis who appear to be an electric (Regilectric?) and a dragon-type (Regivern? Regiwyrm? Regidrake? Arceus forbid, Regidragon?). This is exciting in and of itself–especially considering the sensational designs–but there is a lot potentially hidden here. The dragon Regi's design, for example, seems like a call back to the enigmatic dragon of Hammerlocke's past, and I wouldn't be surprised to see a Gigantamax version of the Pokémon shaped like a more traditional dragon, perhaps with wings matching Hammerlocke's unique central structure.
Even more curious, the Pokémon's coloration is not only identical to that of Yveltal, Pokémon Y's cover legendary, but the formation of its eyes–again, identical in color to Yveltal's–are in the formation of a "Y." Conversely, the seemingly electric-type Regi's coloration might not be exact, but it's vaguely reminiscent of Xerneas, the cover Pokémon from X, albeit with a more electric hue of yellow and a distinct "X" formation of the eyes. With X and Y taking inspiration from France, it's understandable that Sword and Shield–based on the UK–would have ties back to the Kalos region and the sixth generation of Pokémon.
In fact, that's far from the only call back to Kalos in the announcement trailer. Talonflame, a fan favorite and iconic Pokémon from Kalos, is prominently featured on a monitor at the very beginning of the trailer and again featured in some of the concept art, potentially simply informing the Pokémon's return (though that hardly seems coincidental). Further, the mysterious individual wearing mountain climbing gear from The Crown Tundra expansion bares resemblance to Grant, the rock type gym leader from X and Y known as a proficient rock and mountain climber.
What all of this amounts to has yet to be seen, though many fans have clamored for the opportunity to return to Kalos, the only generation of Pokémon to not receive a third or sequel installment. Perhaps Game Freak is teasing such an opportunity via Sword and Shield, perhaps in an additional Expansion Pass, or it could simply be establishing the regions and melding them together.
Stuff of Legend
The footage quickly flows from one legendary trio to another, this time with the reveal of Galarian forms of the original trio, the legendary birds Articuno, Zapdos, and Moltres. Since Gigantamax transformations don't alter a Pokémon's typing, it's fairly safe to assume these are Galarian forms and not Gigantamax transformations. As to those new typings, the appearance of each Pokémon and the animation during their reveal gives a pretty good indicator of what to expect.
The screen visibly darkens as it focuses in on Moltres, whose new fiery black and red design further suggests a dark/fire typing. Articuno's new soft purple and black coloration with blaring blue eyes and an accompanying glare animation brings psychic/ice typing to mind. Finally, Zapdos' ostrich-esque appearance with strong legs and shocking accents, paired with its clashing animations, is presumably fighting/electric. This would not only allow each bird to retain its signature elemental type, but also create a proper effectiveness triangle for the birds courtesy of the dark, fighting, and psychic typings.
At the center of The Crown Tundra and featured in the logo's artwork is Calyrex, the psychic/grass type "King Pokémon." Interestingly enough, the revealed form of Calyrex doesn't perfectly match the logo, likely meaning the new legendary has a Gigantamax form or some other alternative form in the expansion. And, no, that isn't the Triforce prominently featured in Calyrex's design (Pokémon is merely published by Nintendo and not actually developed or produced by them, after all).
The symbol is actually Mitsuuroko, translated as "three scales" and the family crest of the Hojo clan. Nintendo repurposed it in The Legend of Zelda way back in the day. Calyrex isn't the king of Hyrule or even a promotion for Breath of the Wild 2. I'm not sure what the implications of this are (perhaps a tie-in to the three birds?) but it's still worth noting.
The People Behind the Pass
Speaking of Game Freak, the developer behind the Pokémon franchise has overlapped the production of its games since the days of the Japanese Pokémon Blue, Gold, and Silver. This is still the case. Sword and Shield's director, Shigeru Ohmori, is not working as the director of the Expansion Pass; that title has been passed to Hiroyuki Tani. Instead, Ohmori and the main team are likely hard at work on the next main series title and/or remake. What that is remains to be seen, though one would think a Diamond and Pearl remake is in order for 2021 as that marks the titles' fifteenth anniversary. Sword and Shield producer Junichi Masuda has previously professed to enjoy surprising players, though, so there's truly no saying.
What's emphatically clear is that there is a lot to look forward to with the Pokémon Sword and Shield Expansion Passes. With so much going on in the brief trailer and the Pokémon Direct, I don't doubt that there are countless secrets I missed and many others waiting to be unveiled when the first half of the Expansion Pass, The Isle of Armor, launches later this June. Be sure to let me know if you catch something I didn't, and I'll see you in the far reaches of Galar as our adventure continues!
Kingdom Hearts: Chain of Memories – The Best (and Only) Card-Based Action RPG on the GBA
Kingdom Hearts: Chain of Memories is memorable more for what it did differently from the original than for anything else.
Card-based RPGs aren't for everyone, especially not for those expecting an action RPG. Such was the case for many fans of Kingdom Hearts when Chain of Memories was released for the Game Boy Advance in 2003. Announced and developed alongside Kingdom Hearts II, Chain of Memories was designed to fill a one-year gap that series director Tetsuya Nomura had envisioned between the first installment and its numbered sequel. That alone was enough to sour fans of the original who didn't own a GBA, but the sudden shift in both core combat and game design philosophy resulted in a title that, while aesthetically similar to Kingdom Hearts, was its own beast entirely. One could say "for better or worse," but the fact of the matter is that Chain of Memories is undeniably all the better for it.
Kingdom Hearts' 3D combat was never going to translate to a 2D plane, at least not without some heavy compromises. Rather than attempting to replicate the original game's gameplay outright, cards would serve as a justification to shake up what series protagonist Sora could pull off during gameplay. Early concept art for Chain of Memories even seems to indicate cards were to be used in a turn-based capacity, a rather traditional approach to the card-based RPG. While such a tried & true approach certainly would have worked, and likely well, a turn-based Chain of Memories would likely feel too out of place in the context of Kingdom Hearts. The series has always had Final Fantasy flarings, but the first game established a very clear mechanical identity independent of Square's flagship franchise.
Kingdom Hearts is fast. It's a game about moving in combat, flowing from target to target. Some enemies are spongier than others, but Sora's mobility and skill set allow him to chain in and out of combos, dodge, and access a rather generous roster of magic. Better yet, the game's "Command Menu" allows players to access all of Sora's unlocked abilities at any given time through the use of the D-pad. It's a rather ingenious approach to the action RPG genre, and while the original Kingdom Hearts doesn't exactly excel when it comes to combat, its unique approach to action ensures that it's an engaging playthrough even today. It goes without saying, but Chain of Memories lost quite a bit of what defined the first game's combat. At the same time, this results in an opportunity for Chain of Memories to define its own identity.
"To find is to lose, and to lose is to find."
To Chain of Memories' credit, there is a clear link between itself and its predecessor as far as the very basics of combat go. Battles no longer take place on the overworld, but running into enemies trigger fields that Sora can move about freely. While attacking requires cards, Sora's swings can be chained together into combos not too dissimilar to what he could pull off in KH. On top of that, while the Command Menu is gone, a player's deck essentially fills the same role, albeit with more customization and far less freedom. Beyond all this, however, Chain of Memories wastes no time in asserting its unique gameplay identity.
Cards dictate everything in Chain of Memories, from what Sora can accomplish in battle, to where he can go in each world. On the subject of worlds, World Cards are the first of the three major card types that players will interact with. While the first world will always be Traverse Town, Chain of Memories allows players to pick their next five worlds in any order via the World Cards. After exhausting those five worlds, Sora is then given four more World Cards which can again be tackled in any order. Traverse Town, Twilight Town, Destiny Islands, and Castle Oblivion will always fall on the 1st, 11th, 12th, and 13th floors respectively, but the rest of the game has no intended order, making for some nice replay value.
Map Cards play a similar function within the worlds themselves. Worlds are no longer traditionally designed and are instead wholly randomized. At the end of each battle, enemies will typically draw a Map Card, a card that allows players to choose the next room they enter into. While the layouts of stages are random, the actual structure of each World is at the mercy of the player. Map Cards themselves are divided into three types: Enemy, Status, and Bounty – represented by the colors red, green, and blue respectively. Enemy Cards summon rooms ripe with battle, Status Cards either buff Sora or nerf enemies, and Bounty Cards allow players to summon chests, shops, or save points.
While players will have plenty of freedom with how they approach each world, the majority of the gameplay is dominated by combat – and Battle Cards are significantly more hands-on than either World or Map Cards. Although Sora can fit a maximum of 52 cards in his Deck, players need to deal with CP (Card Points). Each Battle Card has its own CP value, and the total CP in Sora's Deck cannot exceed his maximum CP at the time. CP can be increased via leveling up, but leaving it at that would only be scratching the surface of CoM's leveling system.
Battle Cards aside for right now, players can choose one of three options whenever Sora levels up: raise HP, raise CP, or gain a new Sleight (more on those much later.) It seems straightforward, but having to choose only one stat per level ends up having serious consequences for the early game. Players who go all-in on health will soon find themselves lacking the CP to make competent decks. Conversely, players who dump everything into CP will have next to no health, demanding near mechanical mastery just to stay alive. The key to having a good experience with Chain of Memories lies in understanding that while CP is Sora's best friend, he's going to want at least one full health bar before the final boss.
Leveling up can be very frustrating in this regard, especially for players who skew towards HP and find themselves lacking the CP necessary to comfortably keep up with late-game bosses and their aggressive decks. Even with low CP, however, it's entirely possible to beat the game by playing strategically. Players are offered so much variety with how they customize their deck, that there's always some solution to the hardest bosses. Before getting into the nuances of deck building, however, it's important to understand how Battle Cards actually work in battle.
Battle Cards are divided into six distinct types: red Attack Cards, blue Magic & Summon Cards, green Item & Friend Cards, and black Enemy Cards. Enemy Cards will be the most expensive fixtures in a player's deck, along with the least prominent. Every single enemy has its own droppable Enemy Card, but whereas bosses will always drop their cards, enemies are more likely to drop Map Cards. Anyone who actively fights enemies will have at least half a dozen non-boss Enemy Cards by the end of the game, but no two players will have had the same drops. Perhaps this can be frustrating for completionists, but it's an element of randomization that keeps the game perpetually fresh.
There's an inherent entitlement that comes with playing video games where we want to be able to consume all the content without factors like luck or randomness preventing us. That's a fair and reasonable want, but it's important to recognize that RNG does have its place. Random drops in Chain of Memories mean players can't just coast on other people's deck ideas. You need to work with what you've got. That leads to a far more compelling playthrough, one where your fingerprints are left all over the game. Naturally, all this to say: don't be too bummed out when CoM inevitably does you dirty with Battle Card drops.
There are only three consistent ways of getting Battle Cards in the game: by summoning a Moogle shop & purchasing them, by summoning a room with a treasure chest, or by interacting with the overworld. It goes without saying, but there's no way to guarantee what Sora gets from any of the shops, a chest, or the overworld. It's all random. If nothing else, Moogle shops will always give Sora five free red Battle Cards whenever they're summoned, ensuring that– if nothing else– a diligent player will have a healthy amount of Attack Cards to work with.
Magic, Summon, and Item Cards are more scarce in comparison with the Moogle shop the only reliable place to buy them. Moogle Points aren't easy to come by either – only found via interacting with the overworld – so it's not unusual for players to find themselves hurting in that regard. Magic Cards are the only consistent means of healing in battle, which speaks for itself. Even if players do have a surplus of Magic and Item Cards, there's no way to control value. Ranked from 0 to 9, each card has its own value which affects CP cost and Breaks. The lower value a card is, the less it costs, but low valued cards can also be broken by higher value cards in-battle.
To finally dive into combat, Breaks make or break any given battle. Both players and enemies can activate their cards at any given time during combat. Naturally, this is going to result in a lot of clashing. Should two cards of the same value be played at the same time, they'll cancel each other out. Otherwise, the higher value card gets priority. Unless, of course, the card being played is a 0, in which case it can break any card. At the same time, a 0 can be broken by any card. By double-tapping right or left, Sora can dodge some attacks, but if an enemy's card is locked in, it'll usually hit the player head-on.
Should players use a card in battle, said card will remain exhausted until Sora either plays an Item Card to refill his deck or manually reloads by holding A and standing in place. Each reload makes the subsequent one longer until reloading caps out at taking three times as long as default. Not just that, reloading shuffles the deck in real-time meaning that larger decks will take even longer to reload – something important to take into consideration with deck building, especially since Item Cards can reload instantly. Combat isn't as simple as just fishing for Card Breaks and reloading, however.
Any card that's broken by a 0 is removed from either the player or the enemy's deck for the rest of the battle. It becomes important not to just blindly throw out Attack Cards. There's an impulse to play aggressively because that's the style of gameplay the original prioritized, but Chain of Memories requires a strategic and thoughtful approach to combat. Players can still fight aggressively, but they need to arrange their deck properly to do so while also keeping an eye on what cards enemies are tossing out.
As a result, it's easy to dismiss Chain of Memories' as a numbers game where RNG determines how well a player can progress. It's not hard to see why someone might feel that way, but there is never a scenario where just "having the right cards" will just get one through the game. It's entirely possible to brute force some bosses, but CoM constantly throws roadblocks at players to remind them to actually engage with the core mechanics. If bosses like Hades, Captain Hook, and Vexen are frustrating, it's not because you don't have the right cards, it's because you're not using your cards in the right way. Chain of Memories is just as much an action game as it is a card game.
"What, you still want to fight?"
Beyond card breaks, values, and CP, there is an incredible amount of depth within the combat. Sora can actually still chain in and out of traditional combos in Chain of Memories, but it requires an understanding of the nuances at play. Just frontloading a deck with high-value cards gets a player absolutely nowhere. Each Attack Card Sora plays is actually just one part of a longer combo chain and the key to doing consistent damage is realizing when to pursue a chain and when to go for a Break. This isn't an easy task, however, as Attack Cards have unique stats that affect how useful they ultimately are in battle.
By checking the Journal, players can cross-reference when it's best to use a certain card in a combo. Attack Cards are broken down into seven key stats: Strike, Thrust, Combo Finish, Swing Speed, Element, Break Recovery, and Required CP. Of these seven stats, the first three are the most immediately important to make note of while also the most difficult to make sense of.
If Sora is in short range of an enemy, or not locked on to anyone at all, he'll Strike at the start of a combo chain before following into a Thrust. If Sora is locked onto an enemy but further away, he'll start his combos with a Thrust before going into a Strike. All combos end in a Combo Finish only after Sora Strikes and Thrusts. This is important to take into consideration since certain cards are better suited for Striking, Thrusting, or ending combos. Swing Speed also speaks for itself and a faster swing means there's less time for an opponent to trigger a Break in their favor.
Although Chain of Memories has 17 different Attack Cards that Sora can choose from, for the sake of simplicity we'll only focus on the following three: Kingdom Key, the weakest but most reliable Attack Card in the game; Olympia, one of the most inconsistent Attack Cards for better or worse; and Divine Rose, a powerful late-game Attack Card with otherwise glaring weaknesses.
Kingdom Key has a D+ in Strike, Thrust, and Combo Finish, meaning that it can fall anywhere in a combo chain and do consistently reliable damage. Olympia, however, has a C+ in Strike, a D+ in Thrust, and a B in Combo Finish, whereas Divine Rose has an A in Strike, a D+ in Thrust, and a C in Combo Finish. Logic would dictate to strike with Divine Rose before thrusting with Kingdom Key and finishing with Olympia, but there are other important factors to consider. Notably, Break Recovery. As Divine Rose is tied for the worst Break Recovery in the game (a C), leading with it only to suffer a Break leaves Sora vulnerable for an uncomfortable amount of time. A smart strategy around this would be to start a combo by triggering a Break with a 0 value Divine Rose from close range.
Of course, this is easier said than done. Certain enemies attack faster than others, and fighting some bosses close range is just asking for trouble. At the same time, it's just necessary to face danger head-on. Chain of Memories is a game that wants aggression. It wants to test one's reflexes just as much as it wants to test one's mind. Coupling these two ideas together mid-battle makes for some of the most memorable boss fights in the franchise– where it's just as important to think fast as it is to react fast. In many respects, it's like solving a puzzle that's trying to kill you. There are three bosses in particular that shine a spotlight on how well designed CoM's core combat is, and, interestingly enough, they're all fought back to back to back on the 12th floor.
The first fight in this Holy Trinity is against Darkside. His boss battle is slower-paced and more strategic than the usual boss. Players can't go in expecting to wail on him, even with a high valued deck. For the most part, attacking him requires pulling off an aerial combo, and more often than not he'll pull away before Sora can inflict a Combo Finish. In turn, this is a boss fight where players should bide their time and try to react to Darkside's attacks instead of instigating themselves. More importantly, this is also an endurance match– a test of how long players can keep their cards active.
Darkside takes a long time to kill, and anyone trying to throw too many Sleights at him will soon find themselves lacking the cards to continue. On that note, now's probably a good time to finally discuss Sleights. Sleights are going to be a player's best friend and their worst enemy. By pressing L & R together, players can stock cards away in the upper right-hand corner. A maximum of three cards can be stocked at any given time. Certain combinations of cards end up triggering Sleights. The first Sleight Sora can learn at level 2, Sliding Dash, can be triggered by stocking away three of the same Attack Cards valued at a total of 10 – 15. When triggered, Sliding Dash lunges Sora across the field, doing some decent damage in the process.
Not only do Sleights hit harder than chaining combos, but they're also just more fun to play around with. Blitz, which is learned at level 15 and triggered with three differing Attack Cards valuing 10 – 15, lets players just go hog wild on enemies, bashing them with the A button until the Sleight is either broken or the players miss a button press. Sonic Blade, Blitz's successor now valuing 20 – 23), lets Sora zoom across the screen with A presses, doing great damage whenever he connects with an enemy. Ars Arcanum is a dangerous Sleight to play, valuing at a measly 6, but players can potentially hit enemies thirteen times if they can pull off the full Sleight. It's incredibly fun experimenting with different Sleights in different boss fights. Whether they're just to cover distance or gain a brief advantage.
Logically, the name of the game should be Sleights then, right? It can be, but keep in mind that the first card in any Sleight is removed from Sora's deck once played. Too many Sleights played back to back and suddenly there aren't enough cards to play Sleights, let alone Break or chain combos. It's certainly doable (and even safer) to front-load certain bosses with Sleight after Sleight, but a boss like Darkside can be hard to deal with if you exhaust everything right away. He's easy enough to break and counter, but he takes punishment. Thoughtlessly throwing Sleights at a boss can leave Sora defenseless. Worse if players decide to lead with cards like Cure in their stocks.
Darkside is a boss about patience. It tests whether or not a player is actually paying attention to the cards the game throws at them. You can always tell what a boss will play next. Their stock is always on screen, as is their next card. It's here more than ever where Chain of Memories tasks players with understanding the game they're playing. This is a nice lesson because the next boss is the single hardest in the game.
The fourth fight against Riku comes immediately Darkside, and his boss battle is a playthrough killer unlike any other. Riku is viciously fast, hits unreasonably hard, and uses the most dangerous Sleights in the game against Sora. He might very well be the best boss in the game. This is a fight that's going to be over quick whether you like or not. Riku is basically Darkside's antithesis as far as boss design goes. Both require you to fight strategically, but where the former has plenty of breathing room, the latter offers no respite. Riku also has five cards valued at 0 in his deck, meaning that he can realistically remove some of your most important cards at any given moment. Playing conservatively isn't going to fly, and players are going to need their Sleights to keep Riku in check.
At the same time, it's important not to go too gung ho. Riku's a fast fight, but sooner or later you're going to have to reload, and if you use too many Sleights too early, Sora won't be able to chain basic combos during those brief windows where Riku can take uninterrupted damage. A smart player will have Sleights ready while prepared to Break Riku with any 0s they have lying around. A smarter player will have their deck set up so they can Break, chain into a combo, Break again, and then Sleight. Riku's not an unpredictable boss even if he can be an overwhelmingly hard one.
It's good that Chain of Memories indulges in this level of difficulty. It has such a unique battle system that it would be a shame to not have at least one brutally hard fight that demands some semblance of mastery. Players can dodge some of Riku's most dangerous attacks, and it's not unusual to go back & forth Breaking one another for a bit. It's important to close the gap between Sora and Riku, and chaining combos at the right time can keep Riku relatively in place. Beyond that, Sleights and 0s are a necessity, and any Sleights that take too long to fire up are at risk of being broken by Riku's 0s.
Magic Sleights can go a long way in making the fight against Riku feel less hopeless. Beyond just healing with Curaga (Cure + Cure + Cure), Fire Raid (Fire + two Attack Cards) has Sora toss a flaming Keyblade from afar for solid damage and Omnislash (three Cloud cards) summons Final Fantasy VII's Cloud to tear into everyone on screen. Even with the hardest bosses, Chain of Memories offers some kind of workaround. Building a magic deck won't make Riku easy, but it might make him easier. Maybe a physical deck wasn't your forte all along and magic is. There's no way to know without engaging with the cards.
After defeating Riku for the final time, players face off in a rematch against Larxene. She's not as difficult as Riku, but she can be quite punishing. Where her first fight was frantic but otherwise short, her rematch is chaotic and reflex heavy. It wouldn't be unreasonable to think of Larxene as a faster, more hands-on version of the Darkside boss fight. It's important to react to her strategically, but react a hair too late and she'll launch into a devastating combo of her own. Larxene also has nine 0s in her deck, which she loves to Break Sora with. Let her, and Larxene can even kill Sora with a single Sleight. She's manageable, but she leaves very little room for error.
Larxene's make it very dangerous to even attempt using a Sleight, so a good chunk of the fight will be spent weaving in and out of regular combos, with the hopes of Breaking Larxene in the process. Since Larxene is fast, however, players run the risk of just spamming their Attack Cards, recklessly whiffing their best attacks. Navigating the deck in real-time with L and R becomes an important skill in fights like these, where players need to jump between different valued cards in their deck so they're not wasting anything. It can lead to a lot happening at once on the GBA's relatively small body, but, for what it's worth, the Game Boy Advance SP is practically tailor-built for Chain of Memories' control scheme and makes for very comfortable playing.
These three fights also shine a light on an important aspect of the combat: deck variety. No one deck is going to get you through the entire game. In fact, it's encouraged that players rebuild their decks every few floors, perhaps every other. Chain of Memories is a game that punishes complacency. No two bosses are alike, even the few that repeat over the course of the game. Anyone who tries running the same deck the whole game will very quickly find themselves beaten into the ground. It's honestly kind of surprising how much depth lies under the surface with a game that many right off as a spin-off that's not really worth playing. Chain of Memories is one of the most engaging games on the Game Boy Advance– and one of the most high quality from as presentation is concerned. So why isn't its reputation better?
Well, because it's still a sequel to Kingdom Hearts. And an important one.
"Forgotten, but not lost."
Chain of Memories is such an essential entry in the series' canon that skipping it outright simply isn't reasonable. Naturally, this makes it quite a frustrating entry for fans who don't want to play with cards. Chain of Memories is an incredibly well-designed game in its own right, but it's still the direct narrative sequel to a pretty straightforward action RPG. Not helping matters is the fact that that Chain of Memories is the only means of understanding certain details in Kingdom Hearts II that otherwise get left to the wayside.
Chain of Memories inherently loses much of what made the original game compelling. It's not in 3D, there's no real sense of exploration, all the Disney Worlds are repeats from the first game, and the story is far more limited in scope, taking place in a single setting. But to lose is to find as far as Castle Oblivion is concerned, and everything Chain of Memories loses from its predecessor simply led to the developers finding new ways to make the Kingdom Hearts experience engaging. A 3D space isn't necessary when the card system keeps combat fast & hands-on. Randomized level layouts keep Worlds unfamiliar, keeping with the theme of memory loss, and the reuse of Worlds from the first game reminds us of what's being lost in the process. Above all else, this approach just lends itself to a stronger story.
This is not a sequel that shies away from embracing how much it resembles its predecessor on a surface level. The level design wears its reused Worlds with pride, with a considerable amount of effort put into ensuring the first game's aesthetic translates near flawlessly over to a much weaker, 2D oriented handheld. Chain of Memories wants players to expect the original Kingdom Hearts, but not out of spite or as a trick. Rather, it's as a means to explore the complicated theme of memory in a very digestible and immediately understandable way. Revisiting the first game's Worlds immediately telegraph to the audience that they're diving into Sora's memories. At the same time, anyone who's played the first game will recognize that each World's story is completely different.
Instead of Worlds following traditional three-act plots, Sora and company mainly just find themselves stumbling from beat to beat with no real regard for character or plot development. This doesn't mean nothing happens inside the Worlds, though. Familiar characters and plot points are twisted to highlight not only how Sora's memory is failing him, but how even in losing his memory he can still reconnect with the emotions behind what he's lost. Worlds taking a narrative backseat also suit the sensibilities of playing on a Game Boy Advance better. This ensures that players can pick up and play Chain of Memories at any time without much in the way of distraction.
Not that the story is distracting. For many, it'll be the highlight of the game and it's not hard to see why. Chain of Memories' script is both thematically rich and genuinely mature. Sora is an angrier protagonist than he was before. Losing his memories leads him down a path of insecurity, one that results in him lashing out and clutching onto fake truths just to cling onto his "reality." It's an arc that forces Sora to lose the bonds that define him, and he only realizes what's happened when it's too late. Sora even abandons Donald and Goofy on the 12th floor, paralleling how they abandoned him in Hollow Bastion in the first game. Chain of Memories plays with these similarities, but twists them, often resulting in more interesting storytelling.
"Kingdom Hearts: Chain of Memories is a game intentionally at odds with its own predecessor."
The story's greatest strength ultimately ends up being its role in the series' chronology. As a bridge between Kingdom Hearts I and II, Chain of Memories can afford to end with the heroes at an absolute low. Sora, Donald, and Goofy have forgotten just about everything important to them. While Sora's managed to take out a few villains along the way, he's fundamentally lost a massive chunk of his identity. All he "remembers" is a false attachment to Naminé, the witch who manipulated his memories over the course of the game. Naminé herself is a profoundly sad character, and her role in the story only adds to the somberness that comes with the ending.
Even knowing that Naminé's manipulated Sora's memories and forced herself into his heart against his will, he still chooses to protect her. Sora has every reason to hate her by the end of the game, but he chooses to embrace what he feels, even if they aren't genuine. It's enough to give you the impression that Sora will embrace amnesia so he can maintain his connection to Naminé, but to lose is to find, and that goes both ways.
After giving up everything for Naminé, Sora has to give up Naminé for everything. It's not that big a loss for Sora himself, but all Naminé has ever had is a brief, disingenuous tie to Sora. Their friendship was never real, and whatever bond they developed after the fact is thrown away as the credits roll. Naminé is left alone and friendless as Sora forgets the entirety of Chain of Memories– a poignant ending to what is otherwise a card game.

Kingdom Hearts: Chain of Memories is a game intentionally at odds with its own predecessor. It hopes audiences will be open-minded enough to embrace this fact, but it commits to its core principles the point of potential (and inevitable) alienation. CoM is Kingdom Hearts making a bold statement few franchises can lay claim to: things change. Sure, Kingdom Hearts II serves as a direct mechanical sequel to the first game, but Chain of Memories set an important precedent that would keep Kingdom Hearts experimenting with handheld titles for years to come. A story-driven card-based action RPG that's a direct sequel to one of the PS2's most critically acclaimed games, Chain of Memories shouldn't work. Yet it's somehow one of the most thought-provoking and mechanically gripping games on the Game Boy Advance. Kingdom Hearts: Chain of Memories is one of a kind.