40 Most Anticipated Games 2019 (Part 1)
Now that 2018 is behind us, we can start focusing on the new year. Thankfully, 2019 is shaping up to be another good year for video games, and while we don't expect this year to be as good as 2018 or 2017, both of which gave us some of the most critically acclaimed games of all time (God of War, Breath of the Wild, Horizon Zero Dawn, Persona 5, Spider-Man and Super Smash Bros. Ultimate, to name a few), we expect there to be enough great games to keep us more than busy over the next twelve months.
It should be noted that while we're super excited about games like The Last of Us 2, Ghost of Tsushima, Cyberpunk 2077, Halo Infinite, and the Final Fantasy VII remake, only games (with the exception of one) that have been confirmed for a 2019 release are eligible to make the cut. In case you are wondering, we included one special mention because many of us here at Goomba Stomp are certain it will get a release in 2019, despite Nintendo not yet giving us any indication to believe so (can you guess which game?).
In any case, the results are a mix of triple-A blockbusters, unique indies, sequels, remakes, remasters, and new IPs that have piqued our curiosity. In other words, there's something on this list for every type of gamer.
Here is our list of the most anticipated games of 2019 as decided by the GS crew, in alphabetical order.
****

Animal Crossing
It's been six years since we've seen a proper release of Animal Crossing, and the world is ready to once again owe a raccoon a pile of bells.
Traditionally, the games see you as a cute villager who lives among cute animals and does cute things. These cute things include (but are not limited to): running about, fishing, shaking trees, fishing, catching bugs, fishing, talking to other animals, designing clothes, and celebrating a variety of adorable holidays. And fishing. A real-time clock clicks through the easy-going days and seasons, and for the right audience (this writer included), the laid-back sim is pure magic.
With each iteration of Animal Crossing, small improvements have been made. The latest will be the fifth in the main series, and thus far Nintendo has done little but reveal the fact that it is coming to us in 2019. But the hope of the legions of shovel-wielding devotees is that this iteration of their legendary IP might undergo a more dramatic evolution than we've seen in the past.
Regardless of whether or not we see a full overhaul of the undisputed cutest life sim, or just another slate of small changes, millions will no doubt be ready and waiting to pay their debts to Tom Nook again. (Marty Allen)
Anthem
Microsoft debuted the first gameplay footage of Anthem at E3 2017, showing off BioWare's brand new title from Drew Karpyshyn, a BioWare veteran who has worked as a designer and writer on multiple projects, including Mass Effect and Mass Effect 2. The game looks set to be a large-scale shooter in the vein of Destiny (albeit from a third-person perspective), and takes place in a futuristic, hostile alien world where humanity resides in a city guarded by a giant wall to help protect themselves from outside threats. Players take the role of a Freelancer, a heroic group that acts as humanity's guardians and scouts beyond the wall. These warriors don suits of armour, known as Javelins. In other words, it seems like a cross between Attack on Titan, Destiny and Star Wars rolled into one.
A non-RPG is certainly a departure from BioWare's usual development territory, but given Karpyshyn's track record, I'm assuming the game will still have a decent narrative. It'll be interesting to see what the developer can bring to this genre given their background in storytelling, but one thing is for sure: Anthem is an important game both for EA and BioWare, and an opportunity to restore their faltering reputation after a disappointing couple of years. (Ricky D)

Babylon's Fall
There isn't a whole lot of information about Babylon's Fall, the latest collaborative project from PlatinumGames — the studio responsible for stylish, hair-trigger action games such as Bayonetta and Metal Gear Rising: Revengeance — and Square Enix. The trailer, which debuted during Square Enix's E3 Showcase in 2018, depicts dark fantasy world featuring a war with ancient gods, technological advancements reliant on a mysterious energy source known as the Oversoul, and prophetic visions of mankind's doom at the hands of all-encompassing darkness.
The latter half of the trailer depicts a Nomad — an elite warrior and likely the game's protagonist — using an energy whip to grab a towering, armored enemy's sword to slice them in half, all without moving a muscle.
I must admit that the trailer, which is mostly just concept art followed by a short animation, left me rather cold on first viewing until the reveal of developer PlatinumGames at the last second. Almost everything Platinum touches turns to gold, and the last collaboration with Square Enix, Nier: Automata, might be their best game yet. Here's hoping that Platinum have made yet another action masterpiece. Babylon's Fall could also be a foray into a different style of game, as studio head Atsushi Inaba has described it as "a new challenge for PlatinumGames." Here's hoping it'll blow our socks off. (George Cheese)

Battletoads
In 1991, Rare developers Tim and Chris Stamper created Battletoads, a game that became infamous for its difficulty while being praised for its gameplay, personality, and sense of humour. It was a landmark beat-em-up, and one of the most graphically advanced video games ever released for the NES. The premise featured two space mutant anthropomorphic toads (known as Rash and Zitz) who embark on a mission to defeat the evil Dark Queen in hopes of rescuing their kidnapped friends, Pimple and Princess Angelica. The game won six awards from the 1991 Nintendo Power Awards, and led to Rare developing various sequels — although none as unforgiving as the original.
After years of waiting, last year Microsoft announced a new entry in the series, and while we haven't seen much (if anything) of the upcoming reboot of Battletoads, there is plenty of reason to be excited for the release. We do know the game will include three-player couch co-op, 4K hand-drawn 2.5D graphics, and more importantly, it is developed by Rare, who created the original Battletoads in 1991. For fans like myself who grew up playing the NES original, the new Battletoads is high on my list of most anticipated games of 2019. (Ricky D)
Bayonetta 3
Everyone's favorite Umbra Witch is once again returning to a Nintendo platform! After the spectacular Bayonetta 2 didn't sell as well as expected, fans were wondering whether or not there would ever be another game. Luckily, a teaser for the Switch exclusive Bayonetta 3 was shown at the 2017 Game Awards, along with ports of the first two games. That being said, we don't actually know anything about the game itself.
The first two titles run incredibly on the Switch, so it's safe to assume that not much will be changing with the third. The level of over-the-top insanity was seemingly doubled between the first and second titles, and I'm not sure if our visual and auditory sensors are prepared for what PlatinumGames is cooking up for the third iteration. I'm not sure they'll be able to top the intro of Bayonetta 2, as that is easily one of the most insane startup sequences of all time, but there's a lot more speculation to be had as well, especially in regards to some of the game's other modes. It's possible that they could expand upon the online modes found in Bayonetta 2, as those were a fun diversion from the main campaign.
The real question on everyone's mind has nothing to do with the story or gameplay, however. Fans really only need to know one thing: what will Bayonetta's hairstyle be like in the third game? Long? Short? Ponytails? Bald? Who the hell knows, but it has to be different, right? (Zack Rezac)

Bloodstained: Ritual of the Night
The ups and downs during the nearly four years since its Kickstarter campaign began may have been enough to dampen some players' enthusiasm for finally getting their hands on Koji Igarashi's spiritual successor to the many Castlevania games he helped produce, but lovers of that series and the genre, in general, should still be plenty excited when the game finally releases this year. Sure, the 2017 E3 demo was a long time ago, but even back then it looked great, sounded great, and — most importantly — played great. Hopefully, things have only gotten better.
Sporting a plot with eerie overtones of the body curse found in Simon's Quest, the story sees a woman named Miriam who ventures to a creepy castle in order to track down the person that can save her life. What she finds are skeleton monsters, disembodied heads, and a vengeful witch that rains blood from the sky. These grisly freaks can be slain via the variety of weapons and magical abilities picked up along the way, all of which have strengths and weaknesses that encourage strategy and experimentation. A leveling system makes for continued progression, and the labyrinthine corridors of the crumbling castle are sure to hide many dark secrets. None of this is wholly original, but when executed well in concert, these elements can be supremely satisfying.
The Metroidvania genre is one of my favorites, and based upon his past successes — from Symphony of the Night through the excellent DS games — I can't help but believe that Igarashi will pull this one out. The promised spin-off ended up well, and hopefully, the same attention and care will translate to the larger experience. I know I can't wait to find out. Bloodstained: Ritual of the Night has certainly had its share of development issues, but that gorgeously gothic setting is begging to be explored, and the responsive controls suggest we'll have a blast doing it. (Patrick Murphy)

Code Vein
Originally expected to drop last September, Code Vein is an anime-style action roleplaying game from Hiroshi Yoshimura — the director of many of the God Eater games — that is often described as an anime version of Dark Souls. The emphasis on parries and dodges, not to mention the juggernaut bosses, means that the comparisons to Dark Souls are inevitable, but Code Vein does distinguish itself with its premise, which underpins a dark story of vampiric entities collectively referred to as The Revenant, who have formed an underground post-apocalyptic society. Code Vein will also emphasize a "Buddy" system that allows you to take a companion into new areas and develop them alongside your main hero.
There's still much we don't know about Code Vein, but so far everything we've seen suggests it could Bandai Namco's next great hardcore RPG. If the game does interest you, I highly recommend reading our hands-on preview from MCM London Comic Con. (Ricky D)

Concrete Genie
One of the more pleasant surprises of 2017 at Paris Games Week was the reveal of Concrete Genie, a puzzler/action-platformer that gently explores themes of bullying and childhood through gorgeous, hand-drawn art that stands out in contrast to its depressing urban environment. According to PixelOpus (a Sony-owned studio that works out of San Mateo, California), Concrete Genie follows a bullied teenager named Ash, who escapes his troubles by painting spectacular living landscapes and mischievous creatures throughout his abandoned hometown of Denska. As he masters this magical paint, he discovers it can purify Denska's polluted walls.
Using the DualShock 4's motion sensor, players can create stunning landscapes and strange creatures on the walls of the city, which then turn into living artwork that helps Ash overcome the heartaches of adolescence as he paints his hometown back to life. (Ricky D)

Control
Remedy Entertainment, best known for Alan Wake and Quantum Break, remains one of the most exciting developers in gaming, if only for how they've spent the past few years experimenting with different ways to tell stories in video games. Now, they are back with another high-tech, supernatural, third-person action adventure set in a reality-bending version of New York. A woman named Jesse Faden (Courtney Hope), who is blessed with supernatural powers, becomes entangled in a struggle between mysterious invaders (known as the Hiss) and a secret government agency called the Federal Bureau of Control. After the Bureau's headquarters (called the Oldest House) is invaded, Jesse is thrust into the role of Director of the FBC via a strange, ritualistic process, and must find her way through the ever-shifting halls of the Oldest House in order to defeat the enemy and uncover the answers she seeks.
It's a complicated premise no doubt, but from what we've seen of Control, we expect it will be full of Remedy's trademark personality. The developer has talked about having another game in development for years, but details have been scant. Apart from the synopsis revealed alongside the trailer, all we really know is that this time around, the game is focused on environmental storytelling, and the missions that players embark on will be more than just linear fetch quests. (Ricky D)

Crackdown 3
Even since Dave Jones presented game footage of Crackdown 3 during Microsoft's 2015 Gamescom media briefing, Crackdown 3 has appeared on our list of most anticipated games. And now, after multiple delays and development hiccups, Crackdown 3 will launch early in 2019 for Xbox One and PC.
The open-world crime-fighting game retains the core gameplay of Crackdown and Crackdown 2, featuring a number of different organizations controlling the city of New Providence that players will need to take down by killing their bosses and Kingpins, destroying their facilities, and destabilizing their infrastructures. Right from the start, players are free to explore the entire city and go wherever they want, whenever they want, including in terms of how you choose to proceed through the game's story mode.
Alongside the new date announcement, Microsoft also revealed a new five-on-five multiplayer deathmatch mode in a dedicated arena which should further help make Crackdown 3 one of the best multiplayer games of 2019. But while the game's multiplayer definitely sounds ambitious, the tentpole feature of Crackdown 3 is its destruction, and from what we've seen and read, Crackdown 3 promises a scale and detail to its demolition like nothing we've seen a game before. (Ricky D)

Crash Team Racing Nitro-Fueled
First came Crash Bandicoot N. Sane Trilogy, and now we have another retro-inspired remake on our hands that stars the original mascot for Playstation. Dubbed Crash Team Racing Nitro-Fueled, this is essentially a remake of the original Crash Team Racing, only completely rebuilt from the ground up to take full advantage of modern hardware.
It's been nearly twenty years since Crash Team Racing first released for the original PlayStation in 1999, but Crash Team Racing Nitro-Fueled looks to give the Mario Kart series a run for its money. According to the press release, fans will be getting access to all the re-imagined assets from the beloved original game, including every original racer, kart, track, and arena, as well as options like Time Trial, Arcade, Versus, Battle Mode, and the much-adored Adventure mode — with some minor adjustments, one being the inclusion of online multiplayer. Expect more characters, more levels, and more chaos. (Ricky D)

Cuphead: The Delicious Last Course
Technically, we are breaking the rule by including The Delicious Last Course, since it isn't a new game but rather DLC, but that's ok — the Delicious Last Course may just be the very last we'll see of Cuphead and his friends for a very long time. At the centerpiece of this new adventure is the premiere of a new isle, new boss enemies, new weapons, and Ms. Chalice — a new playable character with a brand new twist on the classic Cuphead move set.
To say that we're thrilled to see Studio MDHR release more Cuphead content is a bit of an understatement. Not only is the original Cuphead an artistic feat, but it's also one of the best (if not the best) exclusives available for the Xbox One, and one of our favorite games of 2017. (Ricky D)

Days Gone
Days Gone is another post-apocalyptic game coming out this year which looks like it could have a lot of potential. An action adventure game developed by SIE Bend Studio, it focuses on a horror element that has dominated video games over the years: zombies.
Set in Oregon, the player takes on the role of Deacon St. John, a biker trying to survive after the apocalypse. The game will have to be impressive to stand out from the crowd, but I've felt cautiously optimistic from what has been shown. The zombies here are called Freakers, and one of the noteworthy elements about them is the sheer amount that can be on screen as they chase the player. In the released gameplay videos, it would seem that hundreds of Freakers can follow you at the same time. They can also run, so death is likely if a large group spots you, which could make for a more frightening experience as you play. The shrieking and screaming that the Freakers emit as they chase you is also pretty good nightmare fuel.
Gameplay seems to be your usual survival game fare. Deacon will need to scrounge resources in order to craft weapons, upgrades, and other useful items. He'll also have to set up encampments throughout the large open world, as well as maintain his home base, which he will be able to communicate with during his travels. One of the key features will be maintaining Deacon's motorcycle, which will be his only mode of transportation. Players will need to ensure that Deacon has enough fuel, and that his bike is well kept, or they may find themselves in the midst of a Freaker attack with no means of escape. Although a lot of this is stuff we have seen before, if utilized properly, it could be a fun experience.
Whilst not entirely original in its ideas, Days Gone has an interesting premise and shows promise. (Toni Haynes)

Devil May Cry 5
It's such a shame that Capcom has already set out their cynical stall to try and add microtransactions to Devil May Cry V, because having played it at Gamescom last year, I can say without reservation that no fan of the series will be disappointed with how the game plays. It's fast, it's fluid, and Dante's hair is the right colour — it's all there.
After the angsty, emo DmC, Capcom has taken the reigns back from Ninja Theory, and camped the whole thing right up again, doing its best to be as ludicrous as possible to pull the fans back in. A transformable robotic arm for Nero, devil arms for Dante that are also a motorbike, and ESRB ratings that advise of people being impaled by demon tentacles and partially nude women whose "breasts and buttocks [are] minimally covered by blood, light, or clothing" — yeah, Devil May Cry is back, folks.
There are three playable characters to enjoy this time around, with the introduction of the mysterious V. Wielding a cane and a book — and apparently playing very differently to Nero and Dante — he should offer a significantly fresh element to the gameplay, which is otherwise the tried-and-true hack 'n' slash 'n' shoot 'n' juggle fare, albeit with a more photo-realistic graphical style, as well as some lovely 60fps to make it look all slick and sexy.
Capcom had a pretty strong 2018 with Monster Hunter World and Mega Man 11 revitalizing their respective series,' and 2019 seems primed to do the same for Resident Evil and DMC. We don't even have to wait that long for either title, and by the time spring hits, Capcom could well have two Game of the Year contenders on their hands. (Alex Aldridge)

Doom Eternal
Doom 2016 has unquestionably one of the best FPS campaigns of the last decade. Hell, I'd argue that it has one of the best campaigns in any shooter ever made. A brutal ballet of blood-soaked badassery, the game was so exhilarating that I genuinely needed a rest after every level completion. What was most pleasing about the reboot was that it expertly exemplified just how much the current team at id Software just get Doom.
Based on everything we've seen of the game so far — most notably the gameplay trailer revealed at Quake Con — these dudes seem to know exactly what to put in a sequel. The Doomslayer is taking his bad attitude back to Earth, and he's bringing an overhauled arsenal with a healthy dose of athleticism along for the ride.
Sporting a Predator-like shoulder cannon and a serrated bayonet on his arm, you can be sure that the explosions and glory kills will be even more explodey and glorious in Doom Eternal. Not only that, but every weapon has been improved to boast an even cooler secondary function than in the original. The Super Shotgun, as the best example, comes replete with a meat hook that can be used to rappel straight into an enemy's mush for extra shotgun justice, like some kind of reverse Scorpion. Don't get over here; I'll come over there.
The vastly enhanced mobility of the Doomslayer — who can dash, swing, and climb around the arenas with breath-taking style — will punctuate the long-awaited return of the smoothest, most brutal 60fps in gaming. As if slaying demons doesn't look fun enough, players can now invade another person's game as Hellspawn, and can even bring a mate along if they want to be a couple of ganky gits. Unfortunately, Eternal doesn't have a release date yet, but will it be worth the wait? Hell yeah. (Alex Aldridge)

Dreams
The long-awaited next game from Media Molecule, titled Dreams, allows players to customize and control characters that are used to solve puzzles by manipulating items and objects across the game's segmented levels. It's somewhat hard to explain, but for the unfamiliar, Media Molecule is best known for LittleBigPlanet, and Dreams is likewise a game about creating. It's a wildly ambitious project full of imagination, featuring a narrator in a coffin and a bear armed with a hammer. What else could you want? (Ricky D)

Eitr
The past few years have given a rise to the popularity of dungeon-crawling Roguelikes and Soulslikes, all attempting to capture a sort of atmosphere of death, despair and insurmountable odds, set to tough-as-nails gameplay. Eneme Entertainment's Eitr is one such game (with a seemingly long-ish development history, now confirmed to be set for a 2018 release by Devolver Digital), yet Eitr set itself apart with its focus on nuanced (yet streamlined) combat, and a Norse-inspired fantasy setting that invoke the best of both of its major inspiration: the infernal hellscape of Diablo and the diseased dark medieval fantasy of Demon's Souls/Dark Souls.
Visually, what is striking about Eitr is the satisfyingly evil-looking crypts full of both RPG and tabletop gaming tropes and plagues, and the Nordic, cold eeriness to it all is not something we have seen properly explored in this genre — or in gaming in general.
The genre Eitr will find itself in upon release is full of comparisons and not-so-subtle attempts at re-creating elements of existing games. Here's hoping that Eitr can elevate itself beyond just that. (Maxwell N)

Far Cry New Dawn
Spoiler Warning for Far Cry 5
The ending of Far Cry 5 polarized a fair portion of gamers for its depressing and bleak tone, but I loved it. The game ends with the main antagonist's premonition of the apocalypse becoming a reality, as a nuclear war breaks out and engulfs Hope County in flames. It was a shock the first time I played it; the bad guy was right and I was left intrigued, so I was pleasantly surprised by the announcement of Far Cry New Dawn.
A direct sequel, Far Cry New Dawn takes place seventeen years after Far Cry 5. It is set in Hope County still, though it's looking slightly more post-apocalyptic than it did in the last game. Gameplay videos and trailers show what we have come to expect from the Far Cry series: guns, cars, animal companions, and just a generally fun time. They also show that the world has become more vibrant and colourful despite its seeming end. Games with a post-apocalyptic setting tend to have bland and dull colour schemes to emphasize the dreary nature, so it is a nice change to see blooming flowers and overflowing greenery.
Far Cry New Dawn is interesting in its concept as a post-apocalyptic game. The market is full of these sorts of games, but Far Cry usually airs on the side of fun. The ridiculous, makeshift weapons, over-the-top gameplay, and copious amounts of pink that we have seen so far suggest that this will be the case here as well. It is also worth noting that while New Dawn uses the same map, it is a smaller game, so it will also likely be slightly cheaper than the previous installment. (Toni Haynes)

Fire Emblem: Three Houses
Fire Emblem: Three Houses has a lot to live up to. Though the series maintained a small, dedicated following for decades, it was the incredible success of Fire Emblem Awakening that ultimately saved the franchise and thrust it into the AAA spotlight. Nintendo has treated it like a part of their core lineup ever since, and I couldn't be more excited.
The brief glimpse of gameplay we saw of the game at E3 signaled several things. For one, the added horsepower of the Switch is finally allowing Fire Emblem to visually represent how many fighters comprise a unit on the battlefield (in previous games, it always felt like the characters being directly controlled were the only ones fighting). This extra power to play with is also translating to some truly gorgeous, almost Disgaea 5-caliber HD character portraits. While the backgrounds didn't look quite as spectacular from what we saw at E3, the character designs were all fairly interesting. 2017's Fire Emblem Echoes excelled with its presentation, so hopefully Three Houses gets the same treatment — including full voice acting — by launch.
The main questions still surrounding Three Houses largely come down to the story and gameplay innovations. While Awakening and Fates didn't have the most memorable narratives, their casts of characters and the way they interacted on and off the battlefield was a huge focus. Will Three Houses follow a similar formula, or might it be more story-heavy this time around? Will the partner battle system, marriage, and children return from previous entries? And in a series recently infamous for having tons of paid DLC, will the game launch with a season pass like Breath of the Wild, Xenoblade Chronicles 2, and Super Smash Bros. Ultimate? I can't wait to find out (except for that last one — that's definitely happening). (Brent Middleton)

Jump Force
Obviously, the big selling point of Jump Force is the huge character roster featuring icons from Dragon Ball Z, Yu-Gi-Oh!, Bleach, One Piece, My Hero Academia, Fist of the North Star, City Hunter, and so much more. But Bandai Namco's 3-on-3 tag team fighting game also has many other features that other fighting games don't generally have that are worth pointing out. For starters, Jump Force features fighters battling in 3D stages based on real-world locations, such as Himeji Castle, Hong Kong, San Francisco, and New York, as well as series-specific settings. It also allows players to create custom characters with just about every look, style, moveset, and detail familiar to the genre.
Unlike most games that have players pick a team of three characters, Jump Force has your entire team sharing the same health meter and special meter. Last but not least, Jump Force also comes with a story mode that attempts to draw together all of the characters from the many disparate series, while also introducing some new ones. All in all, that is a lot of content being offered in a fighting game, and while the jury is still out on whether or not the gameplay mechanics work well, it does look promising. (Ricky D)
PAX Online: 'Unpacking' and 'Infernax'
Our PAX Online coverage continues with a game the calm and relaxing Unpacking and the not-so calm and relaxing Infernax.
Our PAX Online coverage continues with a game that takes a hated activity and somehow makes it relaxing and another game that will leave you clenching your buttocks.
Unpacking
Platforms: PC
Release: 2021
As someone who is coming fresh off of moving just a little over a month ago, you couldn't have blamed me for being a little skeptical going into what was dubbed a "zen puzzle" game based on the final stretch of the process. Unpacking is just that, though. It's a calming, almost therapeutic exercise that happened to serve as a wonderful way for me to unwind at the end of a day.
Unpacking is exactly what it says on the tin. There are no scores, no timers, no leaderboards, just you, and a few boxes with various items in them that need to be placed somewhere. The demo starts with a single bedroom in 1997. There's nothing in the game that tells you where something should go, only your own taste and intuition; a locked diary would probably go in a desk-drawer while a soccer trophy would probably be displayed on a shelf.
As I slowly unearthed items one-by-one, I gradually got a feel for what the room's new inhabitant was most likely like. The endless supply of stuffed animals implied someone of younger age while the numerous art supplies indicated someone inclined to right brain thinking. It's rather engaging to learn about this person's life purely by their belongings.
Every item taken out was like a delightful surprise and would sometimes even make me feel a little sentimental such as when I took out a small device that was clearly a Tamagotchi. More importantly, Unpacking nails that sinking feeling of when you feel like you've used all your available space but still have boxes left. Reaching the point of just throwing stuff wherever it fits is such an immediately relatable feeling that I was almost offended. And that was only for a single bedroom!
The demo's second stage was a little more involved with a bedroom, bathroom, and kitchen in the year of 2004. The hilarious moments of finding a boot in your kitchenware box or a bra with your toiletries also felt like a call-out to my own hodge-podge packing methods. It's something I can't help but let out an exasperated chuckle at.
It was also neat to see how this person has grown since their earlier abode. Much fewer stuffed animals but more art supplies and a brand new computer imply this character is maybe entering the working adult world. I've never actually seen this character, but I can't help but feel a connection to them already, and that was only after two moves. The full game will have eight total moves to follow them through and I am genuinely curious to see how our nameless and faceless protagonist grows throughout them.
Now if only unpacking in real life could be this soothing.
Infernax
Platforms: PC
Release: TBA
Some players may recognize Berzerk Studio for their excellent 2018 bullet-hell, rhythm game Just Shapes & Beats. Coming hot of the heels of that hit they immediately pivoted in the new direction with Infernax, a delightfully edgy 8-bit adventure platformer that takes cues from old-school Castlevania titles.
Our hero returns to his land after a successful crusade only to find it overrun by horrible monstrosities in every which direction. With nothing but mace in hand, he sets out on a quest anew to rid the land of the undead filth. Immediately apparent upon starting is just how tightly the game controls; anyone fond of earlier NES titles will feel right at home with Infernax. I quickly got a handle on my exact attack reach down to the pixel and began mowing down the zombies in front of me. It emphasized how much joy a game is possible of eliciting from simply a jump and attack button.
Getting to that proficiency is important too because the game doesn't waste any time in taking off the training wheels! Even the base enemies shaved off half my HP if I got careless and that difficulty ramped up at a rapid rate as new enemy types were introduced at a decent clip such as flying evil eyes and jumping rodents. Not only do these foes burst into tasty experience points and gold to be spent on upgrades, but also into extremely satisfying fountains of blood.
Infernax isn't particularly shy about turning up the gore factor, but it's still impressive by just how creative they get with it using simple pixel art. Nowhere is this more apparent than when you are killed. Every single enemy type has a unique kill animation when they deal the final blow to our hero. From the chump ass pillbugs to the big bad bosses, all of them mutilate you in a different way and it's honestly morbidly mesmerizing to witness. It made me want to suicide against every enemy I came across just so I could see what creative way they took my life.
Depending on your playstyle you might not want to do this, though, as Infernax features two different ways to respawn when you die. Hardcore respawn sends you all the way back to your last save point, just like in those classic NES titles. Casual respawn lets you restart right where you left off with no loss in progress, but choosing to do so locks you out from Hardcore the rest of the game. It's a sort of mark of shame that I was glad to wear during the demo after I came up against the final boss and promptly got my ass handed to me. It sounds a little cheeky on paper but is actually very consistent with the game's overtly edgy tone.
Infernax feels like a game that was lost to time during the NES era and is just now being rediscovered. Those looking for for a game that harkens back to the simplicity of the olden days need not look any further.
Indie Games Spotlight – Going Full Circle
We're featuring five exciting indie games in our latest spotlight, including the internship roguelike Going Under and the cozy puzzles of Lonesome Village.
Indie Games Spotlight is Goomba Stomp's biweekly column where we highlight some of the most exciting new and upcoming independent games. Summer may have come to a close, but that hasn't stopped big announcements from rolling in. With events like PAX Online and the recent PlayStation 5 Showcase flooding the web with announcements, trailers, and gameplay footage, there's been a constant deluge of news to keep up with. With so much coming on the horizon, we're spotlighting five exciting indies that you'll be able to play sooner rather than later. Whether you're in the mood for a brutally addictive action game or a cozy adventure and social sim, there's bound to be a game that speaks to you in this spotlight.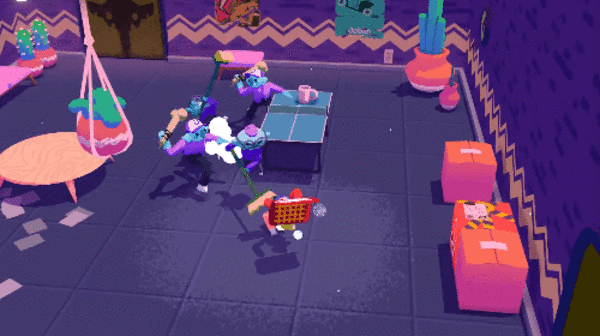 Moving Up Professionally in Going Under
Work is its own payment in Going Under. In this action game from developer Aggro Crab, you're put in the shoes of an unpaid intern who must explore the endless ruins of failed tech startups while fighting off the monsters that spawn within them. It's hard work to do without a single paycheck—but hey, at least you're gaining valuable experience!
As a former unpaid intern myself, the writing in Going Under certainly resonates with me and it's sure to strike a chord with anyone who's ever felt underappreciated or overworked. Its vibrant and colorful 3D graphics, as well as its satirical story, only make it all the more enticing. It really should offer a great working experience when it hits all consoles and PC via Steam on September 24.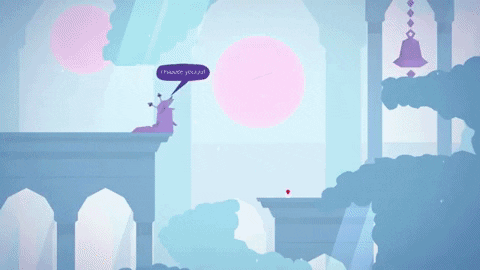 Fill in the Gaps in Journey of the Broken Circle
Something's missing in Journey of the Broken Circle. Like its name would suggest, this puzzle platformer follows a Pacman-like circle with a hole to fill. It wanders through a world that is whimsical and existential at once, searching for a companion to fill its gaps. As the circle rolls through ethereal environments, it encounters different shapes to use that allow for new gameplay mechanics.
Journey of the Broken Circle might be about an abstract shape, but in its quest to become whole, it strives to capture the human experience. It promises to be an intimate experience that clocks in at about five hours to complete. If you're interested in getting this ball rolling, it's already available now on Switch and Steam.

Prepare to Get GORSD
There's a delicate balance between unsettling the player without being outright scary. GORSD treads the line here as a one-hit-kill shooter that stars humans encased in the skins of octopuses, dragons with human faces, and nightmarish environments. Something feels off about GORSD, but that's exactly what makes it so interesting.
Brought to life with detailed pixel art, GORSD supports up to four players who can face off in chaotic matches in varied arenas. It also features a full-fledged single-player campaign with a vast overworld with dozens of unique stages. Its concept is inspired by its developers' native Southeast Asian cultures, making for a unique gameplay and aesthetic experience. If you're ready to dive in and see it for yourself, it's available now on all consoles and PC via Steam.
Get Ready For a Foregone Conclusion
Saying Foregone is a 2D Dark Souls would be cliché, but accurate nonetheless. It's a hardcore action game where you'll fight against insurmountable odds to prevent monsters from overrunning the world. It has a brutally addictive gameplay loop—its difficulty may be excruciating, but because it offers a wide assortment of abilities to leverage, it's immensely euphoric once you overcome the challenges before you.
This beautiful 3D/pixelated hybrid action game has been available on PC in early access since February, but at long last, it's seeing its full console release in October. It's been a promising title ever since its pre-release days, and now that it's finally seeing its complete iteration, there's never been a better time to dive in and give it a shot. It's hitting all platforms on October 5, so there's not long to wait!
Finding Good Company in a Lonesome Village
Mix Zelda with Animal Crossing and you might get something like Lonesome Village. This newly-revealed puzzle adventure game features Zelda-like adventure in a hand-drawn world populated by animal characters. Players control a wandering coyote who stumbles upon a strange village and decides to investigate its mysterious happenings by interacting with villagers, solving puzzles, and exploring its dungeons.
It's more than a simple adventure game. In addition to puzzle-solving, you'll interact with Lonesome Village's eclectic cast of characters to forge relationships and unravel brooding mysteries. It's showing plenty of potential with its cozy gameplay loop, and if you want to give it a shot, check out its official demo from its Kickstarter page! It's already been fully funded in less than 24 hours, but if you want to help the developers out even further, consider contributing to their campaign.
PAX Online: 'Inkulinati' and 'Pumpkin Jack'
The PAX Online celebrations continue with the strategy game, Inkulinati, and spooky Halloween themed Pumpkin Jack.
The PAX Online celebrations continue with a strategy game whose tales are writ in ink and a game sure to put you in an early Halloween mood.
Inkulinati
Platforms: Switch and Steam
Release: 2021
Preview in new tab(opens in a new tab)
Competitive strategy games stress me out. Chess? Stresses me out. Checkers? Stresses me out. Star Craft? Stresses me out. Managing that stress as a form of stimulation is what makes the best strategy games shine, though, and Inkulinati is so far demonstrating all the facets of such a game.
The titular Inkulinati are masters of a craft that brings their inked creatures to life on parchment, including a caricature of themselves. The two Inkulinati do written battle with each other until only one is left standing. The battles are carried out in a charming medieval art style that looks like it was taken straight out of a manuscript you'd find carefully stored in a library. These aren't the masterpieces of Da Vinci or Van Gogh, but the kinds of scribbles you'd find the layman making on the edges of pages either out of boredom or mischievousness. The playful art makes for a playful tone and jolly times.
The core thrust of the gameplay is that each Inkulinati utilizes ink points to conjure units, or "creatures", onto the parchment in a turn-based manner and sends them into the fray. There were a fair amount of creatures available in the demo — ranging from a simple swordsdog with well-rounded stats to a donkey capable of stunning foes with its trusty butt trumpet. Many many more creature types are promised in the full game, but I found even with the limited selection of the demo the gameplay was still able to be showcased well.
Your primary Inkulinati also has some tricks up its depending on the type you've chosen to take into battle. Instant damage to or healing a unit were the two shown off in the demo, as well as being able to shove units. Shoving is particularly useful as you can push enemies into the hellfires that encroach the battlefield as the battle wages on, instantly defeating them.
Doing battle with an opponent it all well and good, but what's the point if it's not immortalized for generations to experience down the line? Inkulimati understands this need and will record every single action of the battlefield in written word. It's infinitely charming, and the amount of variations in how to say what amounts to just "X unit attacked Y enemy" is astonishing. How can you not chuckle at, "Powerful Morpheus killed the enemy and may those who failed to witness this live in constant pain and regret"?
Pumpkin Jack
Platforms: PS4, Xbox One, Switch, and Steam
Release: Q4 2020
Halloween may be a little over a month away but that didn't stop the 3D action platformer Pumpkin Jack getting me in the spookyween mood. The human realm is suffering from the Devil's curse and have elected the aid of a wizarding champion to save them from it. Not to be outdone, the Devil also chooses his own champion to stop the wizard, choosing the despicable spirit Jack. With the tasty reward of being able to pass on from hell, Jack dons his pumpkin head and a wooden & straw body on his quest to keep the world ruined. The premise sounds slightly grim but make no mistake that this is a goofy game through and through, a fact only emphasized by a brilliant opening narration dripping with sarcasm and morbid glee.
The demo took us through Pumpkin Jack's first stage, a dilapidated farmland full of ambient lanterns abandoned storehouses. The visuals are compliments by a wonderfully corny soundtrack full of all the tubas, xylophones, and ghost whistles one would expect a title that is eternally in the Halloween mood.
We got the basics of traversal, like dodge rolling and double jumps, before coming upon a terrified murder of crows. Turns out their favorite field has been occupied by a dastardly living scarecrow and they want Jack to take care of it. One crow joins Jack on his quest, taking the form of a projectile attack that he can sic on enemies. Jack also obtains a shovel he can use to whack on the animated skeletons with a simple three-hit combo. There's nothing particularly standout about the combat, but it doesn't necessarily need to be this early on. More weapons such as a rifle and scythe are promised in the full game and should go a way towards developing the combat along with more enemy variety.
Collectible crow skulls also dot the map and seem to be cleverly hidden as even when I felt like I was carefully searching the whole stage I had only found 12 out of 20 by the end. Their purpose is unknown in the demo, so here's hopping they amount to something making me want to find those last eight in the full version.
After accidentally lighting a barn ablaze and escaping in a dramatic sequence we came across the scarecrow in question. Defeating it was a rather simple affair that was just a matter of shooting it out of the air with the crow then wailing on it with Jack's shovel. We were awarded a new glaive-type weapon as a reward but unable to give it a whirl in the demo, unfortunately. All-in-all, Pumpkin Jack shows promise as a follow-up to action 3D platformers of yore like Jak & Daxter, so here's hoping to a solid haunting when it releases later this year.