10 Heartwarming Highlights From Wholesome Direct 2021
This year's Wholesome Direct was packed with cozy games coming in the near and far future. Here are 10 of our absolute favorites.
Once upon a time indie games used to get completely overshadowed by the heavy hitters premiering at the major E3 conferences. Now between events like the Wholesome Direct, Day of the Devs, and Guerilla Collective, however, developers have never had a better chance to get their creations spotlighted. This year's Wholesome Direct was far and away the strongest showing they've ever head, bringing an eclectic mix of 75+ titles together for a common goal: bringing a little more joy and empathy into the world. It was difficult narrowing down the list to just 10 picks (as is evident by the numerous honorable mentions at the end), but the titles we ended up with are all truly worth checking out. Let's jump into it!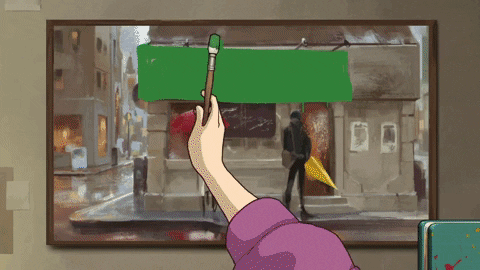 Behind the Frame: The Finest Scenery
While feel-good vibes permeated everything in the Wholesome Direct, Behind the Frame: The Finest Scenery was one of several entries that had creating art as the cornerstone of its game concept. The trailer showed a mix of everyday household activities (making breakfast, turning on some music) and painting vibrant creations. Described as a narrative-driven puzzle game, every painting will have a story to tell and secret to uncover as players take their time learning more about the painter's past and those around her. There's no release date yet, but you can wishlist Behind the Frame here.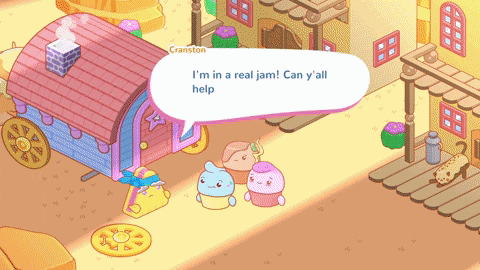 BattleCakes
Sometimes you have to see a game in action to fall in love with it's crazy premise. Enter BattleCakes, a turn-based RPG where you lead a party of cupcakes on a colorful adventure to save the sweet world of Pasteleria. The level of polish shown in its Wholesome Direct trailer is striking; not only do the environments and character animations ooze with personality, but even the speech bubbles and magic effects look painstakingly designed. Even more interestingly, players have the option of either battling or befriending the monsters they come across. It remains to be seen how this impacts the party composition or narrative, but it's an interesting wrinkle nonetheless. You'll be able to pet jellyroll cats and customize your frosting later this year when BattleCakes hits Xbox and PC. For now, you can wishlist it on Steam here.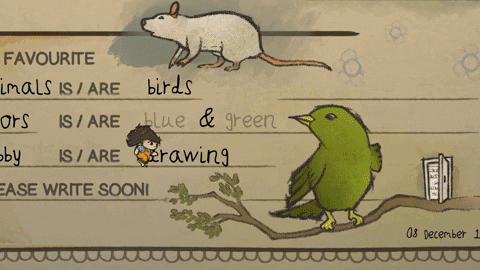 Letters: A Written Adventure
Navigating the complexities of childhood and teenagehood isn't easy for most people, but what about shaping someone else's? Letters: A Written Adventure lets you directly impact the life of a girl named Sarah by moving through the letters she writes and rearranging the words. She'll keep in touch with friends, discover new interests, fall in love, and make decisions that'll change how her life plays out over time.
From a gameplay standpoint, all of this happens by solving various word-based riddles. You'll have to both break words apart and create new ones to alter drawings and interact with the people you're writing to. As someone who's had a deep love of writing and wordplay from a young age, the core mechanic here–and the way it's being used to tell such a relatable coming of age story–speaks to me on a level few other titles have. Thankfully, we won't have to wait long to help Sarah navigate her youth; Letters comes out later this year on Switch and PC, and there's a Steam demo available right now.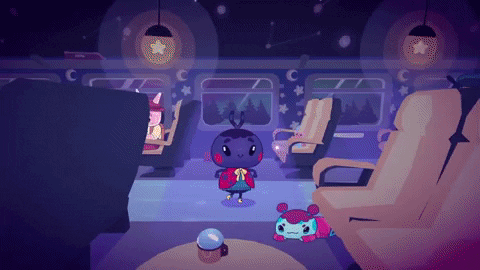 Tracks of Thought
Tracks of Thought is yet another creative take on the robust deck-building genre. You'll begin on a train, and the name of the game is trying to discover where that train is headed. To do so, you'll have to get other passengers to open up–but it might not be so easy. Communication is simulated through card battles rather than conversations, and every player's deck is based on their personality. Assuming that Tracks of Thought has players take a personality test at the start of the game, this means that battles should play out differently for everyone based on the first cards they're given.
Developer Tidbits Play promises an adventure tailored to your personality and the way it meshes with the personalities of other characters. What makes this title a prime candidate for the Wholesome Direct, though, is that the goal is to recognize your differences and work together to resolve them rather than try to "defeat" each other. If everyone's health gets to zero no one wins. The sheer amount of potential this idea has is staggering, and it could make for a truly transformative experience if you're able to gain cards and feedback based on your actual personality after each battle. Tracks of Thought is "coming soon" to PC and you can go hands-on now with a Steam demo.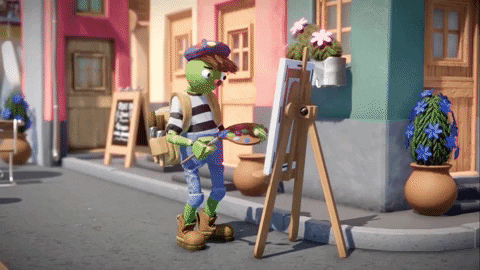 Passpartout 2: The Lost Artist
Though there's not much to go off of at the moment, it'd be hard not to include the reveal of Passpartout 2: The Lost Artist on this list. Passpartout: The Starving Artist was something of a sensation when it released back in 2017, and the novel concept of creating in-game paintings and selling them to the highest bidder still gathers crowds for some streamers.
Fast-forward to today and all we know about Passpartout 2 is that players will be able to travel to different parts of the world and sell their masterpieces "on the go." How many locations will there be? Will each one offer unique challenges? Is your character still addicted to wine and baguettes? You can follow the game's development here for answers to these burning questions and to sign up for an eventual beta.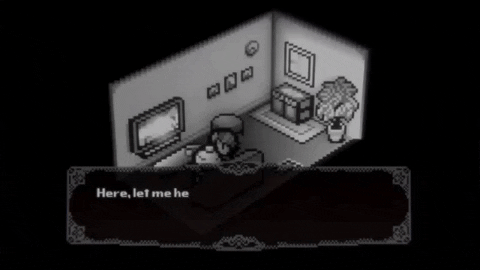 A Walk With Yiayia
One of gaming's greatest strengths as a medium is the ability to tell personal stories that people can experience for themselves. A Walk With Yiayia is a perfect example of this. It's a light adventure game about taking your Greek grandmother (yiayia) on a walk around the neighborhood shortly after she's recovered from a fall. It's an incredibly intimate story about regaining confidence, connecting with loved ones, and inspiring someone to live without fear. As a primarily narrative experience with no fail states, everyone should be able to witness the uplifting story of A Walk With Yiayia when it eventually releases on PC. You can wishlist it here.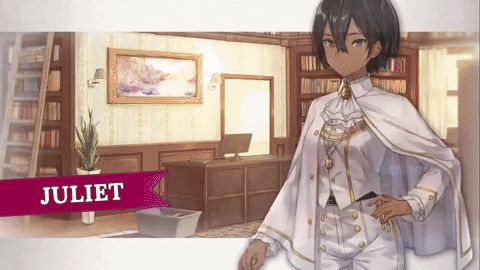 Please Be Happy
It's rare to see traditional visual novels highlighted during E3 season, but it's easy to see why Please Be Happy would be a perfect fit for the Wholesome Direct. As the title implies, Please Be Happy is all about working towards happiness and finding love in the process. Taking place in a fantastical version of New Zealand, the story follows Miho, a fox-girl who's still getting used to human society after having been a fox for so long. Though she's seen the worst of what mankind has had to offer, over the course of the VN she begins to learn what kindness is and what falling in love feels like.
There's some beautiful character art here, and the fact that it has a full English dub is a welcome surprise. It remains to be seen how long the two heroine routes (each with two endings) take to complete, but Please Be Happy promises to be a heartwarming tale nonetheless when it releases later this year. Give the demo a look!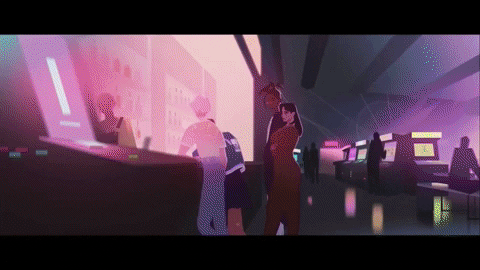 We Are OFK
We Are OFK first introduced themselves to the world at The Game Awards six months ago with a "live" performance of their first single. However, it wasn't until today's show that we got to see the actual game behind this virtual band. The trailer played like a coming of age teen drama: cinematic, wistful, and full of angst. This lines up since We Are OFK is being billed as an "interactive animated series" chronicling how the band came together for their first EP.
Comprised of five episodes and five interactive music videos, this making-of-the-band series will be low on gameplay but high on the drama that comes with hustling, dating, and struggling to survive in L.A. It also helps that the voice acting sounds natural and the ways that you do get to impact the story seem entertaining. It's still unclear when the first episode will arrive, but you can wishlist it on Steam to be notified when it does.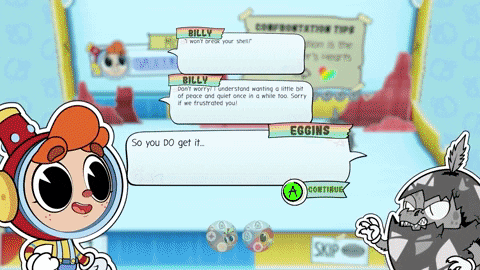 Rainbow Billy: The Curse of the Leviathan
Rainbow Billy stands out for two reasons: its beautiful art direction and its focus on bringing color and hope to a dreary world ridden with misery and joylessness. After an evil Leviathan curses the World of Imagination to be stripped of its color and happiness, it's up to the titular Billy to revitalize the world and its inhabitants. Everything about Rainbow Billy is cloyingly cute, from being able to help creatures with their problems in non-violent ways to the home base being called the "Friend Ship." It's an adventure full of empathy and hope, and much like Tracks of Thought its approach to "battles" is a refreshing spin on a classic video game formula. Prepare to build your party and set off on the high seas by wishlisting Rainbow Billy on Steam to know when it releases.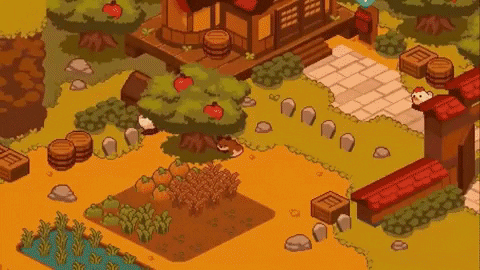 Yokai Inn
It feels surreal that Yokai Inn is an actual playable game. It boasts some of the most charming art I've ever seen, and the aesthetic is full of warmth, coziness, and Japanese influence. As a slice-of-life sim that seems to be heavily inspired by Spirited Away and the Harvest Moon series, players will balance tending to the needs of yokai and maintaining the inn by doing things like gathering food for the cook, mining materials to craft with, sweeping the floors, and more. Eventually the inn will expand, presumably leading to more activities to tackle and grounds to upkeep. Yokai Inn is still in early development and quite a ways away, but you can follow the game's development here to know when it eventually lands on PC, mobile, and possibly Switch down the line.
Honorable Mentions