The upcoming release of Cyberpunk 2077 by CD Projekt Red has brought the spotlight back to pop culture's obsession with the cyberpunk aesthetic. But what is cyberpunk, and where did the movement come from?
For those of you new to cyberpunk as a genre, and those looking to re-adorn your mirrorshades and leather jackets, we've assembled a list of cyberpunk classics, covering everything from its origins in 80s 'zines, to satirical offshoots and Japanese influences, to the changing literary landscape of a post-cyberpunk future.
If you ever needed a breakneck introduction to the world of cyberpunk, this is it. There's a lot to see, so keep up, chummer.
1. 'Neuromancer' by William Gibson
"The sky above the port was the color of television, tuned to a dead channel"
Will Gibson's Neuromancer is heralded as the defining literary work of the cyberpunk genre. Published in 1984, it went on to revolutionize science-fiction writing, and to set the style-guide for cyberpunk writers to come. Its freestyle, bleeding-edge prose dumps us into a world of cyber enhancements and faceless corporations, and burnt-out street dwellers doing what they can do get by, and bring down the powers that be. In Neuromancer the drug-culture, sexual revolution, and technological advancements of the 60s are sped up to high frequency in a dystopia that pulses with change, but the little guy is just as exploitable as ever.
Neuromancer follows the story of Case, a down-and-out hacker on the streets of Japan who makes a deal with a mysterious benefactor after the state fried his central nervous system with a mycotoxin, leaving him unable to access the Matrix. Together with Molly, an augmented street samurai, Riviera, a cybered up illusionist, and Armitage, their elusive employer, Case follows the trail of a rogue AI, and catches a glimpse of the corporate world's struggle for power.
Neuromancer is our first reference point for words and concepts such as 'cyberspace' 'ICE' and even the 'Matrix', this classic is required reading for the cyberpunk genre, and paints a darkened future not so far from the world we know today.
2. 'Do Androids Dream of Electric Sheep' by Phillip K Dick
The book that inspired Blade Runner and Blade Runner 2049, Do Androids Dream of Electric Sheep looks at what it means to be human, and where the reaches of technology could take us if we aren't careful. Far different from the film's action-focus, Philip K Dick's masterwork is far more concerned with Rick Deckard's internal struggle over metahumanity, the mad hopelessness of middle-class experience, and the importance of rearing an android sheep. Dick is a master of the symbolic, and threads his work with enigmas and quandaries that have forced readers to return to it, again and again, for decades to come.
Set in a post-apocalyptic San Francisco, the story follows Deckard as he hunts down Nexus-6 replicants: a malfunctioning batch of androids whose quest for freedom is threatening to destroy what little life on Earth remains. Tasked with catching the replicants and putting them through the Voigt-Kampff test, the difference between human and android begins to blur, along with the question of their right to survive.
Do Androids Dream of Electric Sheep moves slowly, but runs deep. Its philosophical musings have left audiences captivated, and inspired generations of cyberpunk writers to question the line where blood meets metal.
3. 'Mirrorshades: The Cyberpunk Anthology' by Bruce Sterling
Mirrorshades is a cyberpunk anthology straight out of the 80s. The shiny chrome, pixel-art, and rainbow cover is enough reason alone to buy it, but it also brings together a broad array of sci-fi authors into a collection that serves as the perfect analog for 80s cyberpunk obsessions. Including short stories from William Gibson, Greg Bear, and Pat Cadigan, the anthology features a history of cyberpunk alongside its chaotic origins in rebellious, philosophical, and aesthetic niche fiction.
The result is a mix of stories that vary widely in their themes and seriousness, but give a sincere picture of cyberpunk's splintered beginnings. The anthology is tied together with a fascinating introduction from Bruce Sterling on the emerging subculture of cyberpunk, and the zine writers who helped define a genre, then decried its absorption into the mainstream.
If cyberpunk sold its soul in the 90s, this anthology is as authentic as it gets for those seeking an honest overview of the cyberpunk movement.
4. 'Rewired: The Post-Cyberpunk Anthology' by James Kelly and John Kessel
Cyberpunk is dead. Long live cyberpunk. Rewired, the confidently named Post-Cyberpunk Anthology is an unofficial sequel to Mirrorshades. It examines the fall of cyberpunk, its transition into the status-quo, and rebellion as a sell-out aesthetic. It also asks where the genre is today, showcasing short stories from authors such as Paolo Bacigalupi and Cory Doctorow, as well as experimental pieces from cyberpunk giants Bruce Sterling, William Gibson, and Pat Cadigan.
"Cyberpunk is dead. The revolution has been co-opted by half-assed heroes, overclocked CGI, and tricked-out sunglasses. Once radical, cyberpunk is nothing more than a brand."
Rewired asks us: what happened to the punks after they grew up? Where did the revolution lead us? What's happening beyond the streets? These post-cyberpunk stories exhibit how writers may have ditched the chrome shades, but continues to interrogate the friction between society and its technology. The entire anthology is underpinned by extracts from letters between Bruce Sterling and John Kessel as they unpick what the cyberpunk movement was about, and question the future of science fiction. It makes for a truly fascinating academic reflection on the cyberpunk genre, alongside a mix of new fiction that thrums with new ideas and building anxieties. If nothing else, Rewired gives a nod to the authors you might be reading tomorrow.
5. 'Snow Crash' by Neal Stephenson
"Exploring linguistics, religion, computer science, politics, philosophy, cryptography and the future of pizza delivery, Snow Crash is a riveting, breakneck adventure into the fast-approaching future."
Neal Stephenson crashed the cyberpunk scene in 1992 with his merciless genre satire: Snow Crash. It's a joyously unapologetic rip-ride through a cyberpunk future, but its smart-mouth commentary fronts for a truly thoughtful experimentation with sci-fi tropes. Stephenson hops from one idea to the next with spit-ball prose that riddles the pages like bullets, and you're invited along for the ride.
Our hero, Hiro Protagonist, works as a pizza delivery guy, but in the Metaverse he's a master swordfighter and computer hacker. When a new cyberdrug, Snow Crash, hits the streets, it begins to infect virtual reality and bleed into the real world itself – and only one man has the power to stop it. Snow Crash refuses to slow down, it's cyberpunk that doesn't take itself too seriously, and in doing so deconstructs the zany madness of our everyday life.
6. 'Ghost in the Shell' by Shirow Masamune
Ghost in the Shell is one of the most famous manga series of all time, adapted into anime and live-action movies, Major's naked body, riddled with wires and electric circuits, is iconic to the cyberpunk genre.
In Ghost in the Shell's post-cyberpunk setting technology has progressed to the point where the brain itself can be cyber-enhanced to connect with networks around the world. Major is a serving member of Public Security Section 9, and a fully prosthetic cyborg following the destruction of her body as a child. Her team are responsible for hunting down ghost hackers: cybercriminals who hack and take control of cyborg's minds and bodies, turning them into cyberenhanced puppets. Major's journey takes her to the underbelly of Niihama, a city of soaring skyscrapers and hidden depths, but on the way there she begins to question where her humanity lies. Is there a ghost in the machine, or is it just an empty shell?
Masamune's work has an over-emphasis on cryptic philosophical exchanges, a common feature across many Japanese manga that occasionally leaves western audiences confused. But for those willing to read closely Ghost in the Shell offers real depth and complexity, a myriad of unreliable narrators, and competing worldviews. The manga is cyberpunk to the core, occasionally taking style over substance with its ultra-violent and sexualized aesthetic, but in amongst its action sequences are philosophical quandaries worth exploring.
7. 'AKIRA' by Katsuhiro Otomo
AKIRA is a critically acclaimed manga and anime series, imagining an urban future where Japan has been torn apart by war and government corruption. Otomo's masterwork was one of the first complete manga series to be published in English, and its handling of complex subject matter and detailed art style revolutionized manga at the time, let alone the cyberpunk genre.
We follow characters from all walks of life, from gang members, to military leaders, to psychic 'Espers', as they try to stop the awakening of Akira: a being with telekinetic powers that could raise Neo-Tokyo to the ground. Through Akira and Tetsuo, a child torn apart by his own psychic powers, the manga explores not only the fear of atomic warfare that sprang from the post-war experience but also the risks of isolation and alienation in an urbanized world overflowing with lost souls.
AKIRA is inseparable from the history and cultural anxieties of Japan, but its fears speak universally, and its warnings stand clear for us all to take note.
8. 'The Windup Girl' by Paolo Bacigalupi
Breaking out of the 80s classics, if you want to see where post-cyberpunk sci-fi has come to today you could do no better than to check out Paolo Bacigalupi's The Windup Girl. Bacigalupi takes 'cyber' anxieties and replaces them with those of biology. Examining the waiting catastrophes of pollution, crop-devastation, and biological warfare. And his ideas also reach beyond the worldview of the 'punk', stretching beyond the chrome horizons and glamorous technology of Japan and America to find ourselves on the dusty sun-sweltering streets of Bangkok, Thailand. Bacigalupi descends into the culture of the Thai, Malaysians, Chinese, and farang businessmen who are forced to rub shoulders in a world that is overcrowded and underfed.
Bacigalupi's setting is rich with wonder, the streets brim with the scent of flowers and the burning incense of street shrines, orange-robed monks bless algae factories in the hopes of hastening electricity production, calorie men prey along the market stalls, and merchants whisper of a new outbreak of cibiscosis. In the chaos of it all, Emiko, one of the New People designed by the Japanese as a model slave, finds herself adrift in a world her body was not built to endure. The forces at work in Bangkok are set to come to a head, and Emiko risks being caught up in the center of it all.
The Windup Girl won the 2010 Hugo Award and is a perfect read for those who might be tired of cyberpunk's frenzied concepts and stylised aesthetic, but who still feel fascinated by explorations into the transhuman, and the future that awaits our isolation and corporate greed.
9. 'Shadowrun' by Catalyst Game Labs
A spiritual successor to Cyberpunk 2020, Shadowrun is one of the best cyberpunk tabletop roleplaying games still being updated today. While it's not, strictly speaking, a 'book', the Shadowrun 5th Edition Core Rulebook is a kitten-squishing 476 pages long, filled with flash fiction, gorgeous art, and lengthy item tables for you to spend your credsticks on. If you've had your fill of cyberpunk media, Shadowrun is a master encyclopedia of all the information and tools you could possibly need to start crafting your own stories.
As a roleplaying game, Shadowrun lets you play as a team of shadowrunners: professional guns for hire, assassins, infiltrators, and procurers of information. Players choose from a pool of different roles: Deckers, Street Samurai, Spellcasters, Technomancers, Riggers, and Faces. The game takes place in 2070, though the setting is your decision: from the Imperial State of Japan, to the Kingdom of Hawai'i. But you're not just limited to the geographical limitations of meatspace, the Matrix network has grown vast, conquered by megacorporations yet still prey to the whims of talented deckers.
Magic, too, has bled into the world since the Awakening, revealing spirits, blood magic, and powerful spells of persuasion to those with the gift of sight. Others were changed by magics arrival in the sixth world, and across the world humans were goblinized into Orks, Trolls, Elves, and Dwarves, each heaving with their own supplies of guns, drugs, and cyber enhancements. Shadowrun is full of ideas to play with, and though its item lists and combat systems can be hell to deal with, its vivid worldbuilding and core system have inspired thousands of players to dig deep into cyberpunk and see where their own stories can take them.
10. 'Cyberpunk 2020' by Mike Pondsmith and R. Talsorian Games
Last, but not least, the original cyberpunk roleplaying game: Cyberpunk 2020, is cited as Cyberpunk 2077's main inspiration. Mike Pondsmith, the tabletop game's lead designer has been confirmed as an advisor on the CD Projekt Red team, so we can be sure that there will be a lot of crossover with this gorgeous 1980s title and the coming Cyberpunk 2077 first-person role-playing game. Cyberpunk 2020 centers around Night City, a west coast city thrown into dystopic chaos and ruled by megacorporations:
"The Corporations control the world from their skyscraper fortresses, enforcing their rule with armies of cyborg assassins. On the Street, Boostergangs roam a shattered urban wilderness, killing and looting. The rest of the world is a perpetual party, as fashion-model beautiful techies rub biosculpt jobs with battle armored roadwarriors in the hottest clubs, sleaziest bars and meanest streets this side of the Postholocaust. The Future never looked so bad."
Cyberpunk 2020 has a much broader range of player roles compared to Shadowrun, branching into social and class descriptors, ranging from Netrunners and Solos (hackers and hired guns), to Corporate businessmen, Rockerboy rebels, Fixers, Cops, and even Media sleuths out to bring down The Man.
If you want to start Cyberpunk 2077 early, this is the next best thing. Just grab your dice, a group of friends, and make sure you aren't scammed a couple hundred bucks for your copy. We could be waiting a year or two for Cyberpunk 2077's release, so grab your cyberdeck, jack in, and we'll see you on the flipside after our crash course in the works that defined the cyberpunk genre.
Did we miss a critical title? Do you have a favorite piece of cyberpunk media to recommend? Cyberpunk has a habit of transcending mediums: from books, to film, to video games, so let us know in the comments below what works you think readers should be checking out next.
15 Years Later: 'Metal Gear Solid 3: Snake Eater' Is Kojima's Espionage Love Letter
On November 17th, 2004, Metal Gear Solid 3 was released, marking the first entry in what would become a major part of the Metal Gear Saga.
"After the end of World War II, the world was split into two — East and West. This marked the beginning of the era called the Cold War."
On November 17th, 2004, Metal Gear Solid 3: Snake Eater released in North America and Japan marking the first entry in what would later become a line of prequel games within the Metal Gear Saga. Big Boss's story would finally be expanded upon in the Hollywood action game that forever changed the course of video game storytelling.
The legendary mercenary's journey began in Kojima's espionage love letter to the '60s that broke the primordial gaming standards of both interactive design and visual storytelling through immeasurable gameplay depth piled onto a mind-boggling top-notch origin story. Snake Eater was only the beginning of a tale of how one of gaming's greatest heroes descended into a villain through what is not only arguably the most compact and well-executed Metal Gear story, but Kojima Productions story ever conjured up to date.
Taking the Narrative Back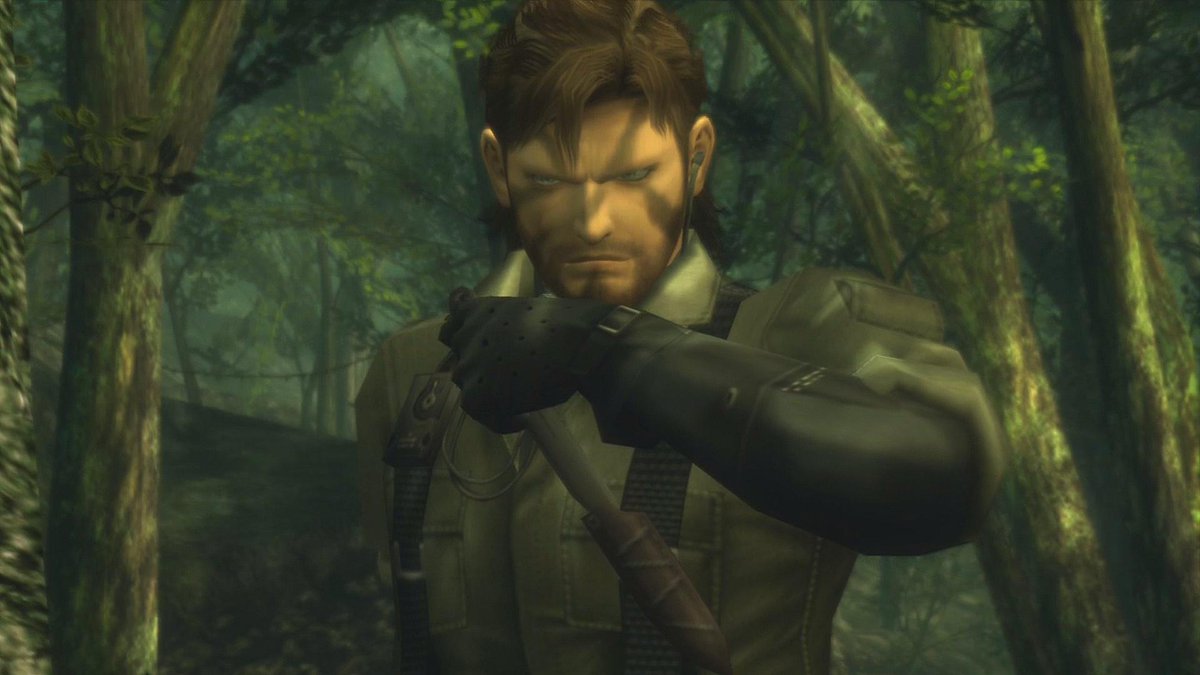 Snake Eater ditched Solid Snake and Raiden's current predicaments in a postmodern world to provide audiences with background knowledge and explanations for the previous chapters that came before it in what was intended to be Hideo Kojima's final Metal Gear game at the time. Cold War political fiction and espionage thrillers from the game's time period such as the Sean Connery and Roger Moore James Bond 007 films became the foundation for this entry's story and tone; a balance of both goofiness and seriousness that is simply unmatched when compared to the rest of the series.
Metal Gear Solid 3 marked the beginning of a prequel series of games that would later proceed to continue after Solid Snake's story had concluded in Metal Gear Solid 4: Guns of the Patriots. Snake Eater threw players back in time to tackle the story of Metal Gear and Metal Gear 2: Solid Snake villain Big Boss, who was formerly referred to as three different names being John, Jack, and of course the iconic codename Naked Snake — the first character to take on the reptilian infiltration name.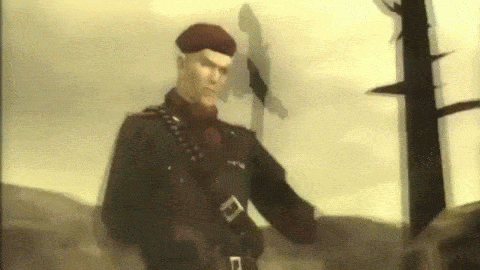 Whereas Metal Gear Solid and Sons of Liberty questioned the fantasy aspects of the story, Snake Eater fully embraced the campiness that it provided. A gun-slinging, cat-growling GRU Major or a man who is able to manipulate bees are never questioned by the game's characters. Nothing feels out of place due to how accepting everyone is of what is going on in their interpretation of history. The first fantasy aspect that players encounter is during the opening 5 minutes of the game when Naked Snake makes the HALO jump. The location the game takes place, Tselinoyarsk, is not the actual name of the location and isn't an area of the world that has jungles.
Political fiction often comes into play during the story by incorporating real figures and the game's characters into events that actually happened during the height of the Cold War. For example, Eva and Ocelot are depicted as the two NSA codebreakers, Martin and Mitchell, who defected to the Soviet Union. Weapons and designs featured in the game such as the hybrid screw-propelled metal gear, the Shagohod, are based on real blueprints for military weapons of the time period. While the story incorporates science fiction and fantasy aspects, the story still remains grounded and has its own limits even in gameplay.
A Whole New Meaning to Survival
When Hideo Kojima and Yoji Shinkawa saw the 1987 movie Predator, one concept from the film that stuck with them was how the technologically advanced alien Predator used camouflage within the jungle setting to stealthily take out a military rescue team lead by Arnold Schwarzenegger. Camouflage became part of the foundation for Snake Eater's gameplay that delved into the realism and campy side of the series. Players could swap outfits and face paints at any given moment to adapt to their current surroundings. The top right-hand corner has a camouflage index that constantly keeps track of how well-hidden you are in the environment.
Just as gadgets are a critical part of James Bond's arsenal of weapons, Snake Eater saw the Metal Gear Solid series expand on the variety and utilization of items. The number of different ways to tackle standard environmental obstacles and boss battles was exponentially increased due to how many ways one could actually use their equipment. Grenades, lethal firearms, night-vision goggles, cigarettes, and even cardboard boxes all inherited a multi-functional philosophy that most players would never even discover unless they had experimented during their playthrough or were told to do a specific action. Even food became a weapon of war that could be used to poison and distract guards if it had gone spoiled.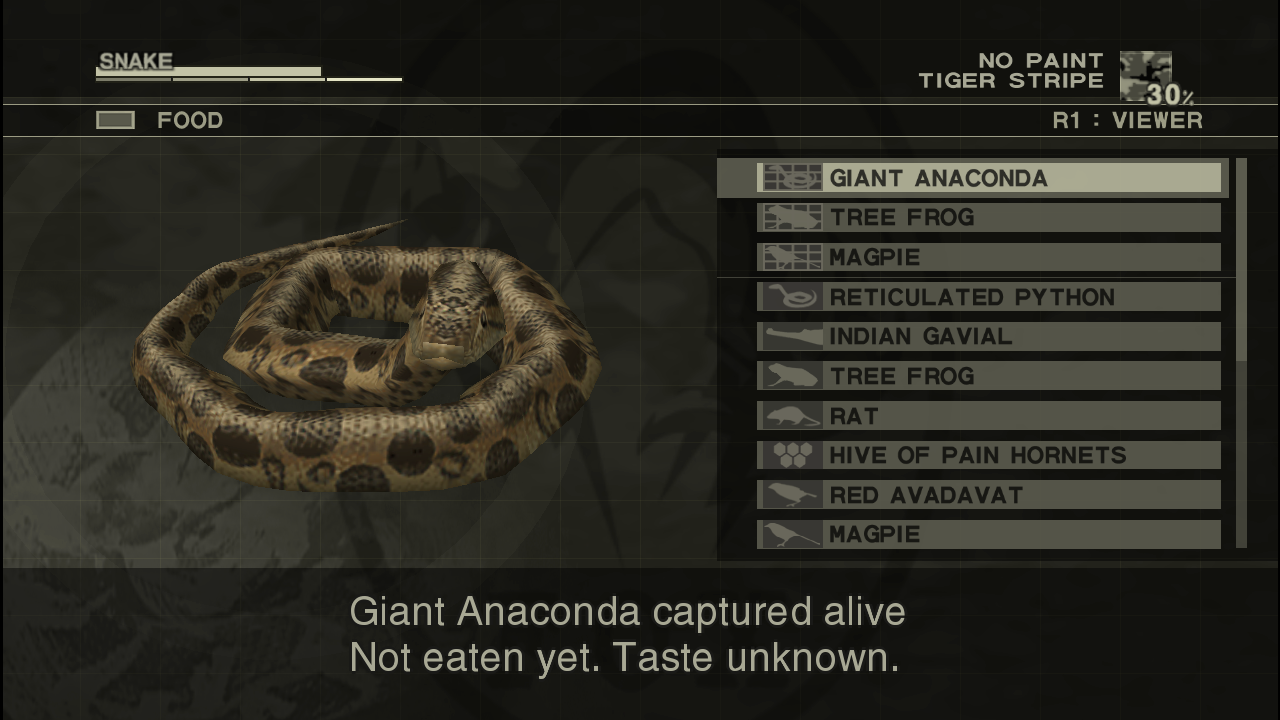 On the topic of food, alongside the standard health bar, Snake has a stamina meter that must be ministered to constantly by eating foods found on-site and administering proper medical treatment. Animals, fruit, medicinal items, and various packaged resources must be collected and watched over throughout the game. All food items ran on a real-time clock leaving food to go unsanitary and rotten after a matter of real-time days.
The Beginning of Product Placement
The Metal Gear Solid series kickstarted Hideo Kojima's constant usage of product placements within his games that are still ongoing today. These products include but are certainly not limited to clothing, accessories, toys, household items, and of course, food. Snake Eater began a trend of future Kojima Production games featuring real-life items that are purchasable in many small scale and large retail stores throughout Japan through the brand of nutritional energy bars and gels, CalorieMate.
The chocolate-flavored CalorieMate Block appeared in the original version of Snake Eater, while the maple-flavored kind replaced it in the HD Collection due to it being the latest flavor release at the time. Advertisements for CalorieMate during the game's release showed Naked Snake holding a chocolate-flavored Block saying "If you wanna survive in the jungle, your going to need one of these."
When initiating a Codec call with Paramedic after eating a CalorieMate Block, the character will question the legitimacy of the food. In reality, CalorieMate first released in 1983, contradicting the 1960's setting of the story, therefore, making its placement in the game an anachronism; an object or person that is displaced in time.
A Legacy Worthy of The Big Boss Rank
At the time of Snake Eater's release, although the game garnered a completely positive reception from critics with a 91 Metacritic score, it was highly debated whether the sequel-prequel was superior to the entries that came before it. Critics commonly praised the graphics and cinematics the game had to offer but questioned whether the gameplay was too complex for its own good. Snake Eater also had to ride the coattails of unsatisfied audiences originating from the previous entry's lack of Solid Snake being the protagonist which ultimately lead to sales of the game being significantly lower than the previous Solid entries.
Over time, Snake Eater became the fan-favorite entry of the series and would go on to receive the most re-releases out of all the Metal Gear games to date. Most notably, in 2006 Metal Gear Solid 3: Subsistence expanded upon the online mode in the game and added a completely new third-person controlled camera system that enhanced the overall experience and became the right analog stick standard for future entries. Buyers of this version were also treated with the original two MSX Metal Gear games found on the main menu- the first time the original Metal Gear and Metal Gear 2: Solid Snake had ever been localized outside of Japan.
2011 saw the release of the Metal Gear Solid HD Collection, a compilation title that included an updated version of Subsistence — arguably the best way to play Snake Eater today. In 2012 the game also saw a release on the Nintendo 3DS dubbed Metal Gear Solid 3D: Snake Eater which included a new real-life camera camouflage system and multiple gameplay changes inherited from Metal Gear Solid: Peace Walker to accommodate the 3DS's lack of dual analog sticks.
Metal Gear Solid 3: Snake Eater is a true patriot that definitively holds its ground against the rest of the series today due to its creative liberties that the series never quite revisited in complete depth. Hideo Kojima and his team of masterminds behind Kojima Productions are well deserved of a salute for the tremendous efforts they put into creating a groundbreaking title that forever changed what it meant to be a cinematic video game. From its action-packed plot to its cinematic orchestra inspired-score, even after 15 years the pure indigenous nature of creativity from the studio never ceases to amaze audiences.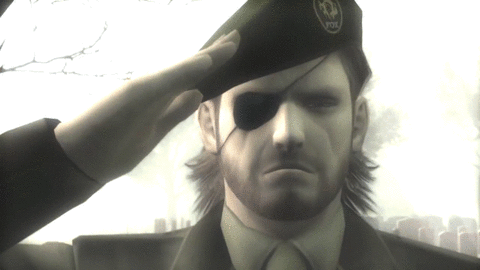 'Castlevania Bloodlines': The Official Sega Genesis Sequel to Bram Stoker's Hit Novel, Dracula
Castlevania isn't a dialogue-heavy series by any means, but it's still home to one of gaming's most compelling narratives. Equipped with only their ancestral weapon, the legendary Vampire Killer, descendants of the Belmont clan face off against Count Dracula every 100 years like clockwork (give or take). His resurrection is inevitable. Just as good will always triumph over evil, evil will rise again. Castlevania was about the cyclical nature of good and evil long before Dracula mused about the nature of humanity in Symphony of the Night. Castlevania chronicled the Belmont family's centuries-long struggle to keep Count Dracula at bay, game after game. Of course, he wasn't the Count Dracula– more a representation of evil– but that was as much a given as a Belmont rising up to wield Vampire Killer. Then Castlevania Bloodlines happened.
Released in 1995 exclusively for the Sega Genesis, Bloodlines may have looked like any other Castlevania game, but it marked a series of eclectic firsts for the franchise. Gone are the Belmonts and the game neither takes place inside of or involves getting to Dracula's Castle. Bloodlines is even titled Vampire Killer in Japan, creating a bigger divide between it and previous entries, but that hardly compares to Bloodlines' strangest contribution to the series: making Bram Stoker's Dracula canon.
The nature of how Dracula fits into the Castlevania mythos isn't as plain and simple as just taking the book as writ as canon, but it fits much cleaner than one would expect. Although Bloodlines may lift elements from the novel with its own embellishments, its changes are ultimately inconsequential. Quincey Morris doesn't have a son in the novel, but he's the only major character alongside Dracula not to keep a journal, keeping his background relatively obscured. Quincey also doesn't sport his signature bowie knife in Bloodlines' backstory, finishing Dracula off with a stake (instead of the Vampire Killer for whatever reason.)
There's no mention of Jonathan Harker, Mina, or Abraham Van Helsing– and Dracula's motives aren't at all in-line with his novel counterpart's– but Konami's references to the novel make it clear that audiences are intended to consider the novel canon even if the details don't quite match up. It seems a strange choice, especially for a franchise that was pushing its tenth anniversary by the time Bloodlines released in 1995, but it's not a totally random decision on Konami's part. Much like how Super Castlevania IV's tonal maturity gave it a greater layer of depth, Bloodlines thrives off its connection to Bram Stoker's Dracula.
If there's one immediate benefit to tying Dracula to Castlevania: Bloodlines, it's grounding the latter in some semblance of reality. Set in 1917, Vampire Killer was the most modern Castlevania to date– not just at its release, but until Aria of Sorrow was released in 2003. The games were never period pieces, but they were set far enough in the past where literal Universal Monsters wouldn't keep the series from staying narratively grounded. More importantly, the series' settings were always consistently gothic, creating a unique sense of style around Dracula himself rather than the time period.
Bloodlines opts for a wildly different approach altogether when it comes to setting, doubling down on the series' historical elements while keeping Super Castlevania IV's darker tone intact. Dracula feels a part of the world, rather than the world of Castlevania feeling a part of Dracula. At the same time, Bram Stoker's Dracula helps ground the very minimal plot by giving John and Eric's trek across Europe greater scope. John and Eric even have a personal stake in the plot, having witnessed Quincey's death. It's all window dressing, but Bloodlines' assimilation of Bram Stoker's Dracula gives the series some narrative legitimacy to rub shoulders with its high quality gameplay.
The connections to Bram Stoker's Dracula are admittedly loose, but they're loose enough to work in the game's benefit. Dracula is structured as an epistolary novel with chapters divided in letters, journal entries, articles, and logs. The story is told coherently, but this approach often results in the point of view & setting changing. While uncertainly a direct reference to the novel, Bloodlines similarly allows players to switch between John & Eric whenever they use a continue on Easy mode, and each stage takes place in a different country rather than just Transylvania.
Bram Stoker's Dracula may give Bloodlines its foundation, but it's that globetrotting that gives the game its identity. Stage 1 opens in Romania, the ruins of Dracula's Castle left to time after his previous defeat. Where other games would immediately transition into the depths of Castle Dracula, Bloodlines' Stage 2 instead takes players to the lost city of Atlantis in Greece, while Stage 3 involves scaling the Leaning Tower of Pisa in order to slay a demon at the top. There's a grandiosity to the stage design simply not present in previous entries. Not just in terms of scope, but in actual structure.
Only six stages long, Bloodlines is the shortest of the mainline Castlevania games, but it makes up for its lack of length with longer stages overall. The main story falls on the shorter side, but the stage to stage pacing ensures that Bloodlines neither outstays its welcome or goes too soon. While a Stage 7 may have done the game some good, Bloodlines' six stages offer some of the tightest action-platforming in the franchise. Enemies are by no means infrequent, and Bloodlines requires players to understand both John & Eric's unique platforming skills by Stage 3, outright preventing progress should players fail to adapt.
John's unique platforming ability will be familiar to all those who played Super Castlevania IV as, predictably, he can use the Vampire Killer to hang. This time around, however, John can whip onto just about any ceiling. Eric, on the other hand, has a charged jump that thrusts him into the air when released. Eric's jump ignores platforms entirely, allowing him a degree of verticality Castlevania typically doesn't give to players. Stage 3 even features a room that's a bottomless pit for Eric, but easy platforming for John thanks to its whip. Subsequently, there's a room where John can't make progress due to the ceiling, but Eric can jump right through.
John and Eric's abilities are natural extensions & evolutions of Simon's from Super CV IV, just split between the both of them, but it's also worth noting how Bloodlines' more involved platforming helps to further flesh out Castlevania's world. Bram Stoker's Dracula coupled with the European setting did more for the series' world-building at the time than any of its predecessors, save for Rondo of Blood. It's not often that a video game series absorbs a literary classic into its main plot, but Castlevania handles it surprisingly well.
It's fitting that Castlevania Bloodlines is titled Vampire Killer in Japan. At its core, Vampire Killer is a recontextualization of Castlevania. The story is still framed through the Belmonts' struggle against Dracula, but the scope is wider, extending mediums in the process. Vampire Killer is about the legacy of the Vampire Killer and the vampire killers whose fates are sealed by the whip. Symphony of the Night may be a direct sequel to Rondo of Blood, but Bloodlines set the stage for Symphony to tell a traditional and intimate story.
More important than anything, though, Castlevania taking Bram Stoker's Dracula and making it a part of its canon is just so outlandish that it makes perfect sense. The series that regularly featured Universal Monsters as bosses was never going to ignore the novel forever. That Bloodlines uses the novel tactfully and in a game where its presence is appropriate– intentional or otherwise– weirdly elevates Castlevania as a franchise. Castlevania isn't just a Dracula story, it's the Dracula story. And of all the games to make that declaration with, Bloodlines is a damn good choice.
XO19: Top 10 Best Announcements of the Show
Xbox just had their best XO presentation ever, and it wasn't even close. Here's a rundown of the best announcements from XO19.
Microsoft had a lot to prove going into its fifth annual XO showcase. Console launches are on the horizon, cloud competitor Google Stadia is about to ship to early adopters, and Game Pass subscribers are as hungry as ever for new additions to the lineup. Then there's the fact that XO has always been looked down upon by the gaming community in general as a lackluster, padded presentation.
All of that changed with XO19. This was, by far, the best XO in the event's history. In fact, it featured more shocking reveals and genuinely impressive announcements than a good deal of Microsoft's recent E3 press conferences. From new IP reveals, to first-time looks at gameplay, to a couple "I never would've believed you a week ago" shockers, it's clear that Xbox stepped up its game from years past. Here's our list of the best announcements of the show.
10. Everwild Reveal
It's not too often that we get to experience a new IP from Rare. Their last attempt, Sea of Thieves, was a fully multiplayer, always-online affair that gradually garnered a cult following thanks to some of the best community engagement and most consistent content updates in the industry.
We don't know what type of game Everwild is yet, but it's certainly oozing that same colorful, ambient charm that made players fall in love with Sea of Thieves all those years ago. Seeing as how we only got a cinematic teaser, though, it might be quite some time before we're running around these gorgeous environments.
---
9. ID@Xbox Lineup
The ID@Xbox team has pulled it off again. Despite being stuck with an almost insultingly poor time slot in the presentation, several of the indies shown off in this short montage rivaled some of the show's AAA spotlights. It had everything from high-profile indies like Streets of Rage 4, Touhou Luna Nights, and the Yacht Club Games-published Cyber Shadow, to more modest beauties like SkateBIRD, Haven, Cris Tales, and she dreams elsewhere.
The best part? All of these are launching on Game Pass day and date. The worst part? No actual dates were announced for anything shown. Regardless, it's encouraging that so many high quality indies are continuing to come to Xbox (and that relationships with Devolver Digital and Yacht Club are rock-solid).
---
8. West of Dead Reveal/Open Beta
Raw Fury has one of the better eyes in the indie publishing scene. Gems like GoNNER, Dandara, and Bad North have all released under their watch, and West of Dead might be their best acquisition yet. It's a heavily-stylized twin stick shooter that switches things up by making tactical cover a core part of the experience.
The trailer hinted at roguelike elements being present, and the ever-popular procedurally generated levels should significantly up replayability. How it plays, however, remains to be seen…unless you have an Xbox, in which case you can play the exclusive open beta now before the full game comes to all platforms next year.
---
7. Halo Reach Release Date
The Master Chief Collection has long been the one golden goose that endlessly eludes those outside of the Xbox ecosystem. Earlier this year, though, Microsoft made waves when it announced that it was bringing the entire collection over to PC. Reach is the first step in that process, and it's finally making its way to both PC and Xbox One as part of the MCC on December 3rd.
It's just a date, but the fact that so many new players get to experience one of Halo's most beloved outings at last easily made it one of the highlights of the night.
---
6. Grounded Reveal
Who woulda thought? Fresh off releasing one of the best RPGs in years with The Outer Worlds, Obsidian decided to show off a passion project from one of its smaller teams: Grounded. The premise? Honey, I Shrunk the Kids: Survival Edition.
Players take control of kids the size of ants as they fight off actual bugs, cook, craft armor and weapon upgrades, and build shelter to survive in the wilderness of someone's backyard. As silly as it sounds and looks, and as unexpected a project it is for Obsidian to undertake, it genuinely looks rather promising. The cheerful color palette is a welcome contrast to the dark, brooding aesthetic so many other survival games have adopted. There are plenty of details left to be uncovered, but if early impressions are anything to go by, this is one to keep on your radar early next year.
---
5. Age of Empires IV Gameplay Reveal
Age of Empires is one of the most esteemed strategy franchises in history. Despite having this beloved IP in their back pocket, however, Microsoft hasn't published a new mainline game in the series since 2005. Age of Empires IV was originally announced over two years ago, and after buttering everyone up with the release of Age of Empires II Definitive Edition that afternoon, the first glimpse of gameplay was finally shown at XO19.
Simply put, the game looks gorgeous. Every building is full of detail and the countryside looks surprisingly lush and picturesque. Witnessing hundreds of units charging down the valley towards the stronghold in the trailer was mind-blowing as an old-school fan. They didn't show off any innovations or moment-to-moment gameplay, but it's looking more and more like the future of the franchise is safe in Relic's hands.
---
4. Final Fantasy Blowout
Xbox's success in Japanese markets has become something of a running joke over the years. Though inroads were clearly made with Bandai Namco, many more Japanese publishers won't go within a mile of the platform. Possibly through working with Square Enix's western division to put the latest Tomb Raider and Just Cause entries on board, it looks like the main branch has finally decided to give Xbox players a chance.
Starting this holiday, Game Pass subscribers will gradually get every single-player Final Fantasy game since Final Fantasy VII. More shocking still, The Verge reported that the Xbox team is working to get the massively popular MMO Final Fantasy XIV over as well. The sheer value of having every post-Super Nintendo Final Fantasy game included in Game Pass (even XV) is ridiculous. It remains to be seen what the rollout cadence of these ten titles will look like, but considering how long each of these are, one per month wouldn't shock or disappoint.
---
3. The Reign of Project xCloud
With Stadia launching just next week, Microsoft had been surprisingly quiet on their cloud gaming front up to this point. The service had gone into preview for those lucky enough to get in and, by most accounts, it had been fairly well-received. The real question came down to what Xbox was going to do to make itself stand out from its competition.
The bombs dropped here felt like the equivalent to the thrashing Sony gave to Microsoft back at E3 2013. Microsoft shadow dropped 40+ new games into Preview for players to test (for free) including Devil May Cry 5, Tekken 7, Bloodstained, and Ace Combat 7. Even better, xCloud will support third-party controllers including the DUALSHOCK 4 and will finally show up on Windows 10 PCs in 2020.
Perhaps the most damning announcement, however, is that xCloud will be integrated with Game Pass starting next year. Only having to pay for a Game Pass subscription to access 100+ games and play them in the cloud (including Halo, Forza, The Outer Worlds, and all those Final Fantasy titles) makes xCloud a far better value than Stadia right out of the gate. If this didn't force Google to adjust its strategy, we might be looking at a very short cloud gaming war.
---
2. Square Sharing the Kingdom Hearts Love
Kingdom Hearts 3 releasing on Xbox One was somewhat bittersweet. On the one hand, players who had left the PlayStation ecosystem after playing the first games had a chance to see the arc's conclusion. On the other hand, new players had no options for going back and experiencing the series' roots.
Kingdom Hearts HD 1.5+2.5 Remix and Kingdom Hearts 2.8 Final Chapter Prologue finally coming to Xbox next year is a godsend for younger players and new players alike. More important, however, is the tearing down of those over 15+ years old exclusivity walls. Just like with many of the Final Fantasys, the main Kingdom Hearts games had been married to PlayStation systems for years. This shift at Square is an exciting one, and it bodes particularly well for the next generation of Xbox hardware.
---
1. Yakuza Finally Goes Multi-Console
It seems like Phil Spencer's trips to Japan finally paid off. In what was arguably the most shocking announcement of XO19 (right next to Kingdom Hearts), it was revealed that SEGA is taking the Yakuza series multi-console at last. Not only are Yakuza 0 and Kiwami 1+2 coming to Xbox, but all three are going to Game Pass next year as well.
Does this mean support from Japanese studios will increase across the board? Of course not. But getting big names like Bandai Namco, Square Enix, and SEGA on board is nothing if not encouraging. Xbox is clearly pulling out all the stops to ensure a diverse suite of third-party support come Scarlett's launch next year, and it's the healthiest the platform has looked in a very long time.
Honorable Mentions:
Bleeding Edge Release Date
KartRider Drift Reveal/Closed Beta Announcement
Last Stop Reveal
Wasteland 3 Release Date