'The World According to Jeff Goldblum' is a Quirky and Oddly Engrossing Worldview of Modern Culture
Disney Plus launched on November 12th to the general public and with it came ten new pilot episodes for upcoming original shows including Star Wars: The Mandalorian and Pixar In Real Life. Out of all the original television series to debut on opening day, one strikingly stands out from the rest: a quirky National Geographic docuseries featuring Jurassic Park and Thor: Ragnarok actor Jeff Goldblum that was initially going to air on the television channel before switching over to the digital streaming service.
In the mouse's newest selection of shows for their Netflix Competitor, variety can be the key to the foundation of building something successful and The World According to Jeff Goldblum might just hit the sweet spot for what this service needs, but it is still notably something that would never be labeled as a reason to buy into Disney Plus. With that being said, viewing a regular conversation with Jeff Goldblum has never been so engrossing before than in this odd gem of a series.
Goldblum Versus The World
The pilot episode of the series turns Goldblum into a comedic ethnographer who indulges himself in the culture of shoe collectors and creators. Goldblum slowly dives into his worldview of the purpose and significance of the common day footwear, while looking into how the business operates and the passion behind those who proclaim shoes to the highest extent. The pilot episode focuses on a theme of revelation while jumping from different specialists within the culture such as basketball teams, business owners, creators, and even YouTube personalities.
If you are a fan of the actor then you should already except what you are about to watch. Goldblum has his typical quirky and childish mannerisms that make him iconic, while he goes around interacting with a vast selection of people who are widely educated about the subject matter that each half-hour episode focuses on. Despite seeming like a show that can easily become a bore to watch, it never loses steam and becomes an exceptionally well-executed documentary with a flair of humor and spice of knowledge thanks to Goldblum's mesmerizing appearance.
From the perspective of becoming an ethnographer, Goldblum surprisingly does a good job interacting with an audience he typically would never engage with. He never misses a beat as he proceeds to ask serious questions and of course, make humor out of certain situations when appropriate. Never once does he provocatively attempt to embarrass a group of people for mindless entertainment or make fools out of them like other docuseries on specific cultures have.
In fact, Goldblum goes the extra mile to participate in sneaker conventions, recreational basketball games, and even professional science laboratory visits- taking on the tasks that a legitimate ethnographer would have to engage in. All of his crazy yet conventional doings ultimately pays off into what ends up building a captivating show that may even attract audiences who do not care about anything that is being discussed. Goldblum's personality will miraculously keep you hooked on his wild journeys through everyday life as he attempts to explain his stance on common objects while plunging into a perspective of life he has never once stepped into.
Science, Psychology, and Style
This is a National Geographic production though, after all. It is no surprise that this series would be injected with a relentless amount of historical knowledge that is slowly seeping into the core of the show. In the pilot episode, Goldblum combines science, psychology, and of course eccentric style to form a captivating presentation that is quite unlike any other docuseries. For example, in the pilot episode alone Goldblum covers how shoes work, why the category of clothing is so popular among shoe collectors, and the different art styles of footwear found throughout shoe brands.
That being said, for a series revolving around such a simple concept, there is a substantial amount of content to actually talk about and the production value here is unnecessarily high- hitting that Disney expected production value to the point where its astonishingly remarkable how much passion was actually put into this series. From the editing to the cinematography, this is certainly something that was not made without passion. On-screen graphics are always welcomely flashy, lighting is constantly up to pristine quality, and the focus always remains on the title actor.
Goldblum's consistent upbeat pazazz and high energy makes this series not only entertaining and relaxing to watch for his comedic appearance, but for an enjoyable source of overall education- something that most other docuseries tend to struggle with when multitasking multiple genres.
The Pursuit of Happiness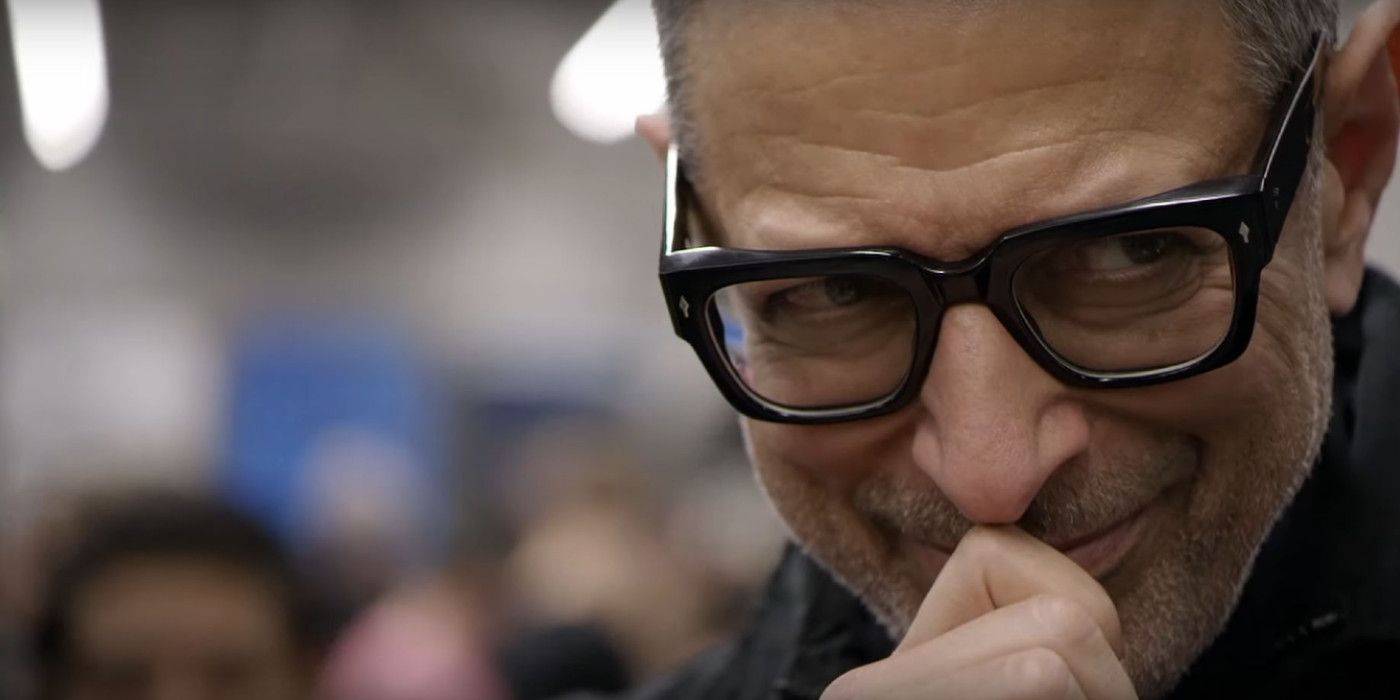 Is The World According to Jeff Goldblum worthy of being called a reason to purchase Disney Plus? Absolutely not. Is it worth watching on an empty afternoon though? Unsurprisingly yes. This is a fun family series that is not only educational regarding subject-matter but educational to learn more about Jeff Goldblum himself. Without the big-name actor though it would be hard to imagine why anyone would ever want to watch this series.
Goldblum's presence allows this series to become a notable piece of content available on the streaming service, however, without him, it would be nothing but another typical documentary series with no real focus. It is entertaining until the very end and is keen on ending off on a positive punchline to keep you coming back next time. Simply put, it is another great addition to Disney Plus's colossal lineup that will seemingly never stop producing high-quality content.
"Crisis on Infinite Earths" Is an Endearingly Clumsy Love Letter to DC's Television Legacy
DCTV's sprawling, ambitious crossover is creatively uneven, but its endearing nostalgia easily outweighs its flaws.
The ambition of The CW's "Crisis on Infinite Earths" crossover can't be understated, an attempt to integrate the network's sprawling set of universes into a single, coherent reality – and perhaps more importantly, to say farewell to the series, and star, at its heart. A world-hopping, universe-jumping adventure acting as an homage to 50-plus years of DC television (and, in one notable case, film), the first three parts of "Crisis on Infinite Earths" are unfiltered joy, embracing its limited budget and impossibly large cast of characters (and famous cameos) in a wildly entertaining – if creatively uneven – journey through DC's strange history on the small screen.
The sheer audacity of "Crisis on Infinite Earths" is, frankly, incredible to watch: while it doesn't always work, it makes the crossover event utterly fascinating to dissect.
The CW's sixth official crossover technically began during its fifth; last season's "Elseworlds" established the broad strokes to follow, setting Oliver Queen on his path to destiny – and in the process, muting the impact of every isolated story line of the extended DC lineup. The reveal of The Monitor in "Elseworlds (Part 3)" (which was Supergirl's ninth episode of its fourth season, if anyone is keeping score) was intriguing, but ultimately distracting: knowing the fate of the multiverse was casually hanging in the balance, limited the ability of stories like Lex Luthor and Barry's convoluted time-traveling to have any sort of noticeable impact. Knowing what was coming made these (slightly) smaller scale stories just not matter; knowing the final season of Arrow was directly integrated with the "impending crisis" only further overwhelmed any sense of purpose the stories of its shows held.
(and if we're being honest, "Crisis on Infinite Earths" has kind of been teased since The Flash's pilot episode in 2014, though that's splitting hairs a bit.)
Perhaps it is all that hype that makes "Crisis on Infinite Earths (Part 1)" the weakest entry of the three to air this week (parts four and five air in mid-January) feel like such an underwhelming, rushed introduction to this universe-hopping story of Drama and Emotion. When an anti-matter wave begins wiping out parallel Earths (including Earth-66, letting them sneak in a quick Burt Ward cameo), "Crisis on Infinite Earths" begins pulling it its many iconic major characters – which, let's admit, doesn't quite have the same impact it did back in "Invasion" or "Crisis on Earth-X".
It then spends an inordinate member of time trying to integrate Supergirl's supporting cast into the fray (albeit briefly); which, as fans of previous crossovers would probably agree, always ends up being the weakest part of any crossover. Lena, Querl, Alex, and Kelly feel like nothing but obligatory inclusions in the episode – whatever is going on with Supergirl and the DEO, "Crisis on Infinite Earths (Part 1)" struggles mightily to make it feel like anything meaningful.
In their defense, it's hard to invest in whatever side stories Part 1 is trying to nod towards; it all pales in comparison to seeing Kara fawn over momma Lois and poppa Clark, which is a tall task to compete with. But the DEO's characters are noticeable momentum killers, moments where "Crisis on Infinite Earths" fumbles at grounding its outlandish, epic story with the non-powered entities of its universe.
Unfortunately, it gets worse before it gets better: once we get all the heroes arranged, we get a lame-ass fight scene where the heroes (Supergirl, The Flash, Green Arrow, Atom, White Canary, Superman, and Batwoman) battle against some terrible CGI demons. It is easily the low point of all three hours, a clumsily-executed scene that utterly fails in providing any sense of urgency to the larger story (The Monitor's nemesis killing off entire planets and realities with a massive wave of anti-matter, in case you were wondering).
It's strange, because the fight scene ostensibly serves as the kicking off point for the whole crossover: and boy, is it awkward when it tries to make the CGI ghost fight the moment Oliver sacrifices himself to save the universe (or does he?). It's a halting way to end Part 1, after a herky-jerky hour with a few choice cameos (including Griffin Newman as a trivia host, and Wil Wheaton as a protestor) and a lot of sci-fi mumbo jumbo establishing the stakes of the anti-matter wave.
"Crisis on Infinite Earths (Part 2)" is really where the crossover comes to life; both as a contained story, and a cumulative celebration of the strange, long legacy of mixed DC media. Batwoman travels to a parallel Earth to visit a embittered Batman (played by longtime Batman voice actor Kevin Conroy), Sara Lance gives Jonah Hex his signature scar outside a Lazarus Pit, and there's an extended cameo of Tom Welling and Erica Durance as the OG The CW Clark and Lois; though all of those things are exactly as ludicrous and self-indulgent as they sound, the more Part 2 – and as a byproduct, Part 3 – bounce around worlds to visit iconic characters (and performers) from its past, the more powerful it becomes as a true crossover event.
And despite the abundance of casting announcements and on-set photos, "Crisis of Infinite Earths" is still able to deliver a number of surprising appearances: who could've predicted a scene where Netflix's Lucifer Morningstar talks to NBC/The CW's John Constantine, which occurs after Part 3 does a motherfucking Birds of Prey cameo with Ashley Scott (AND the voice of Dina Meyer as Oracle, to boot). It is a fan fiction wet dream come true, even FINALLY integrating Black Lightning's Jefferson Pierce into the multiverse, with a shockingly (sorry) strong introduction of The CW's most underrated hero into the already-crowded mix.
The sheer audacity of "Crisis on Infinite Earths" is, frankly, incredible to watch: while it doesn't always work, it makes both Parts 2 and 3 utterly fascinating to dissect. It is Justice League by way of Into the Spider-Verse and Avengers: Endgame, as clumsy and endearing as that sounds; at times, it utterly fails to make its universe-ending narrative hold any actual weight, but it is an emotional powerhouse of iconic, often underappreciated performances in DC's television history (I swear to God, if they bring in Linda Hamilton for a Wonder Woman cameo, I'll lose my shit).
If we're being honest, it's more interesting in its construction than it is in execution: after ingesting 200+ episodes of DC television over the years, I hold no expectations for "Crisis on Infinite Earths" to ever capture the immense dramatic potential of its narrative.
That's just not what DC television is good at (save for a couple seasons of Arrow, and most of Legends of Tomorrow): where these shows shine is their heartfelt depictions of human connection, of the beauty in finding shared purpose. At that, "Crisis on Infinite Earths" is a pretty resounding success; whether Batwoman and Supergirl's young friendship, or Barry's tunnel-visioned optimism, "Crisis on Infinite Earths" proves the DC universe still has engaging stories to tell with the biggest stars of the present – and with characters like Kate Kane, Jefferson Pierce, and Ryan Choi (introduced in Part 3, in what appears to possibly be establishing a new Atom), the future.
We'll have to wait until January to see how the grand experiment to unite all the timelines works out – but in its holiday send off, "Crisis on Infinite Earths" is a pretty touching love letter to decades of superhero television, earning its entry into the annals of modern television's most ambitious endeavors.
Other thoughts/observations:
In what appears to be his swan song (knowing that he is departing Legends of Tomorrow), Brandon Routh's double-duty as Ray Palmer and Superman (reprising his role from Superman Returns) is wonderful.
Even Wentworth Miller makes an appearance, kind of: the alternate-reality Wave Rider the team of heroes, paragons, and ominous entities is guided by Leonard, an AI who ironically sounds exactly like Captain Cold.
We forever stan Sara Lance; to see her guide and organize the team in Part 1 and Part 2… well, it's just beautiful to see.
Boy, it is strange how "Crisis" just kind of glosses over Batwoman killing the bitter, murderous version of Batman her and Supergirl visit in Part 2.
Easy litmus test to know whether you're in or out on this whole endeavor; whether you jump for joy or scream in agony when hearing the word "infinitude" in the opening moments of Part 1.
There is a very, VERY brief shot of a few characters from DC Universe's Titans, which I always forget exists. No Doom Patrol or Swamp Thing, unfortunately.
Unlike previous crossovers, only Supergirl's episode feels like it is still kind of trying to be an episode of its own series. I haven't watched much Batwoman, but part 2 definitely does not attempt to make any play at drawing in a new audience with a unique display of personality (and in fact, I don't think there's a single other Batwoman regular in the episode).
Apparently the Brec Bassinger Stargirl character will make her debut in the final part of "Crisis on Infinite Earths", even though her series is not airing until 2020… on DC Universe? Modern television is so fucking weird.
It is still hard to believe Jon Cryer as Lex Luthor.
There are hints of the theme from the 1989 Batman film in Blake Neely's score, which is just fucking insane.
When Earth 90's Barry Allen makes a major sacrifice, we are treated to a brief flashback to actual footage from the 1991 The Flash series. It is perhaps the most breathtaking surprise of the whole crossover.
'J.T.' – A Tragic, Poetic and Improbably Beautiful Holiday Special that is a Must-See!
Join us as we spend the next 25 days writing about some of our favourite Holiday TV specials! Today we look back at the unsung gem, J.T.
What's it About?
Produced for a Saturday morning children's anthology on CBS, J.T. premiered to such rave reviews, the network scheduled it again a week later in a prime time slot. The Christmas special follows J. T. Gamble (Kevin Hooks), a shy, withdrawn Harlem boy who befriends a sick, one-eyed, old and badly injured alley cat days before Christmas. Showing compassion and responsibility, J.T. secretly nurses the feline back to health.
Review
Those who have seen J.T. will never forget the emotional impact this heartfelt drama has. Nor will they have forgotten the heartbreaking moment in which the cat is hit by a car. Priceless because it catches the sights, sounds, and moods of a city that are of a bygone era, watching J.T. is like being present for the opening of a time capsule, giving us one a look back at pre-Giuliani NYC. Brilliantly written by Jane Wagner and based on her own book of the same name, J.T. will capture the hearts of many, as we witness the young boy create a wellspring of comfort for his newfound pet in an abandoned apartment complex.
Winner of a Peabody Award, J.T. is also a story of a single mother's struggle to be independent and support both herself and her son, while refusing to allow the ghetto life to break the family's optimism. Come the teary denouement, this story will warm the coldest of hearts and challenge even the most hard-hearted moviegoer. There is a wonderful surprise at the end when a local grocer and his wife offer the young boy a second chance. Kevin Hooks is amazing in the lead, as is Ja'Net Dubois who plays his overworked mother, who tries her best to supply for her family while slaving away and working a low-paying job. Sensitively directed and rarely over-sentimental, this touching parable will likely ravish the emotions of cat lovers everywhere.
How Christmassy is it?
There isn't much Christmas cheer, Christmas music, holiday shopping, decorations and so on, but the special ends on an uplifting note – one that rings true with Christmas spirit. So I would say 50/50.
You May Like It If…
If you are nostalgic for the late 60's New York City or are an animal lover.
Final Thoughts:
It stars actor Kevin Hooks as the young lead. Hooks currently works as a director for several hit TV shows including Lost, 24, Monk and Prison Break. The role of J.T.'s mother is played by actress Ja'net DuBois, who also appeared as the upstairs neighbour, Willona, on the groundbreaking 1970s sitcom Good Times.
Watchmen Podcast: Breaking Down "A God Walks into Abar"
"A God Walks into Abar" is the deeply heartfelt episode we've been waiting for!
The wonderfully pun-titled penultimate episode—directed by Nicole Kassell, written by Damon Lindelof and Jeff Jensen— is a powerful love story that spans many years, and told in a disjointed fashion to explain just how the most powerful man in the world wound up in Tulsa, Oklahoma, married to Angel Abar and with his memory wiped out. It's an amazing hour of television—able to carefully turn a seemingly indecipherable character, into something beautifully textured, human, and meaningful— and we have plenty to say about it.
Our Watchmen podcast will see Simon Howell and an assortment of guests tackle the entire series (or at least the first season). In this eight episode, Simon Howell , Randy Dankievitch and guest Sean Collettin take a deep dive into "A God Walks Into Abar" and note some of the more astonishing facts of the episode you might have missed.
And for those of you wondering, in order to keep things simple, we've decided to upload each episode to the same feed as our other podcast, Before the Internet.
Listen here on iTunes or listen here on Stitcher.
You can also catch our show on Pocketcast and on Spotify, or simply listen via the player embedded below.