'The World According to Jeff Goldblum' is a Quirky and Oddly Engrossing Worldview of Modern Culture
Disney Plus launched on November 12th to the general public and with it came ten new pilot episodes for upcoming original shows including Star Wars: The Mandalorian and Pixar In Real Life. Out of all the original television series to debut on opening day, one strikingly stands out from the rest: a quirky National Geographic docuseries featuring Jurassic Park and Thor: Ragnarok actor Jeff Goldblum that was initially going to air on the television channel before switching over to the digital streaming service.
In the mouse's newest selection of shows for their Netflix Competitor, variety can be the key to the foundation of building something successful and The World According to Jeff Goldblum might just hit the sweet spot for what this service needs, but it is still notably something that would never be labeled as a reason to buy into Disney Plus. With that being said, viewing a regular conversation with Jeff Goldblum has never been so engrossing before than in this odd gem of a series.
Goldblum Versus The World
The pilot episode of the series turns Goldblum into a comedic ethnographer who indulges himself in the culture of shoe collectors and creators. Goldblum slowly dives into his worldview of the purpose and significance of the common day footwear, while looking into how the business operates and the passion behind those who proclaim shoes to the highest extent. The pilot episode focuses on a theme of revelation while jumping from different specialists within the culture such as basketball teams, business owners, creators, and even YouTube personalities.
If you are a fan of the actor then you should already except what you are about to watch. Goldblum has his typical quirky and childish mannerisms that make him iconic, while he goes around interacting with a vast selection of people who are widely educated about the subject matter that each half-hour episode focuses on. Despite seeming like a show that can easily become a bore to watch, it never loses steam and becomes an exceptionally well-executed documentary with a flair of humor and spice of knowledge thanks to Goldblum's mesmerizing appearance.
From the perspective of becoming an ethnographer, Goldblum surprisingly does a good job interacting with an audience he typically would never engage with. He never misses a beat as he proceeds to ask serious questions and of course, make humor out of certain situations when appropriate. Never once does he provocatively attempt to embarrass a group of people for mindless entertainment or make fools out of them like other docuseries on specific cultures have.
In fact, Goldblum goes the extra mile to participate in sneaker conventions, recreational basketball games, and even professional science laboratory visits- taking on the tasks that a legitimate ethnographer would have to engage in. All of his crazy yet conventional doings ultimately pays off into what ends up building a captivating show that may even attract audiences who do not care about anything that is being discussed. Goldblum's personality will miraculously keep you hooked on his wild journeys through everyday life as he attempts to explain his stance on common objects while plunging into a perspective of life he has never once stepped into.
Science, Psychology, and Style
This is a National Geographic production though, after all. It is no surprise that this series would be injected with a relentless amount of historical knowledge that is slowly seeping into the core of the show. In the pilot episode, Goldblum combines science, psychology, and of course eccentric style to form a captivating presentation that is quite unlike any other docuseries. For example, in the pilot episode alone Goldblum covers how shoes work, why the category of clothing is so popular among shoe collectors, and the different art styles of footwear found throughout shoe brands.
That being said, for a series revolving around such a simple concept, there is a substantial amount of content to actually talk about and the production value here is unnecessarily high- hitting that Disney expected production value to the point where its astonishingly remarkable how much passion was actually put into this series. From the editing to the cinematography, this is certainly something that was not made without passion. On-screen graphics are always welcomely flashy, lighting is constantly up to pristine quality, and the focus always remains on the title actor.
Goldblum's consistent upbeat pazazz and high energy makes this series not only entertaining and relaxing to watch for his comedic appearance, but for an enjoyable source of overall education- something that most other docuseries tend to struggle with when multitasking multiple genres.
The Pursuit of Happiness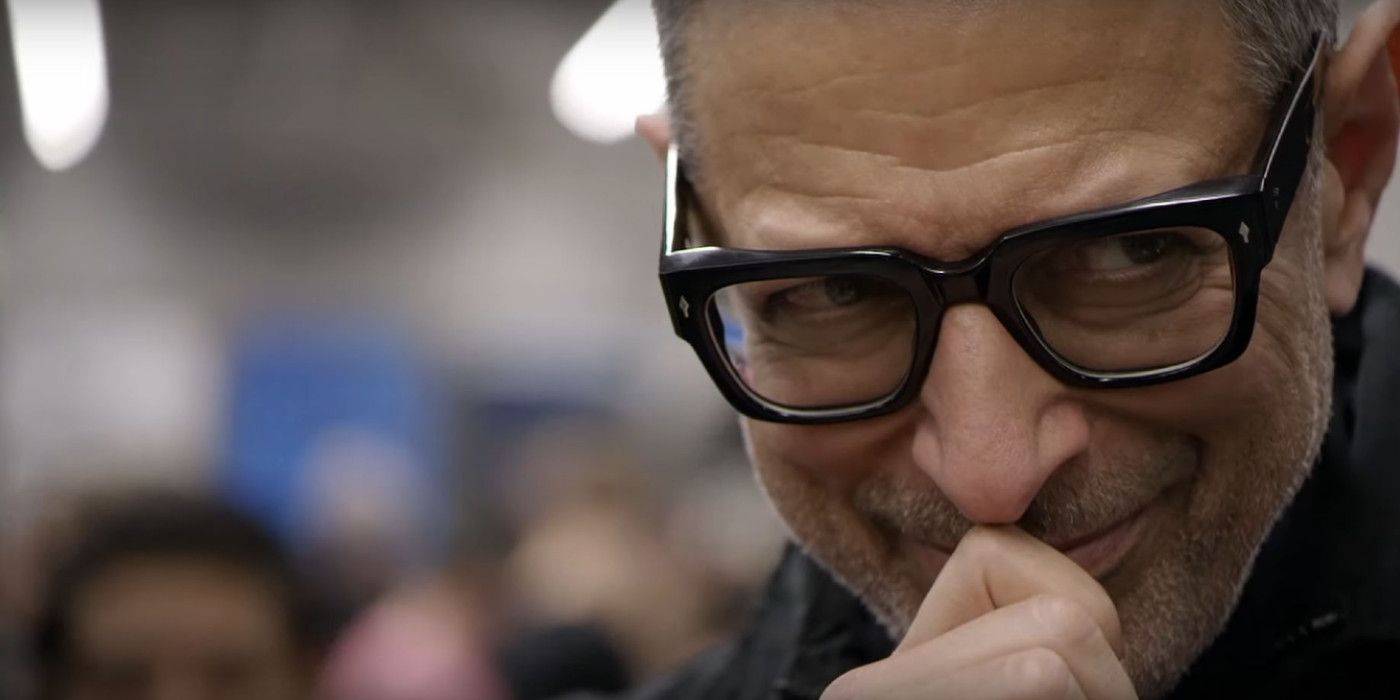 Is The World According to Jeff Goldblum worthy of being called a reason to purchase Disney Plus? Absolutely not. Is it worth watching on an empty afternoon though? Unsurprisingly yes. This is a fun family series that is not only educational regarding subject-matter but educational to learn more about Jeff Goldblum himself. Without the big-name actor though it would be hard to imagine why anyone would ever want to watch this series.
Goldblum's presence allows this series to become a notable piece of content available on the streaming service, however, without him, it would be nothing but another typical documentary series with no real focus. It is entertaining until the very end and is keen on ending off on a positive punchline to keep you coming back next time. Simply put, it is another great addition to Disney Plus's colossal lineup that will seemingly never stop producing high-quality content.
'Bojack Horseman's Xmas Special Is the Height of Schmaltzy Satire
If you were lucky enough to grow up watching bad sitcoms with awful specials, then Bojack Horseman's Christmas special is just for you.
Join us as we spend the next 25 days writing about some of our favourite Holiday TV specials! Today we look back at Bojack Horseman's "Sabrina's Christmas Wish".
---
When it comes to sitcoms, the grand tradition of the holiday special is a long time staple of the genre. The schmaltzy corniness of the 80s and 90s made these specials all the more egregious, and it is this tradition that Bojack Horseman echoes back to with its brilliant Christmas special.
Ostensibly just a full episode of Horsin' Around (the show that made Bojack famous), Bojack Horseman's Christmas special only uses the present day as a framing device before diving into the stupid fun of a very special episode of Horsin' Around.
The central plot of the episode focuses on Bojack's youngest adopted child, Sabrina, wishing for her parents to come back to life after Bojack assures her that Santa can give her anything she wants for Christmas. Of course, in typical sitcom fashion, rather than simply explaining to Sabrina that Santa can't bring people back from the dead, Bojack instead opts to try and trick her into being naughty so Santa will have an excuse not to grant her wish.
The absolute apex of this silliness comes when Bojack tries to get Sabrina to give in and eat some freshly baked chocolate chip cookies. "I've heard of lookie-lookie don't eat the cookie but this is ridiculous!" The use of lines like these in sitcoms is a classic cut to simpler and stupider times, where shows could really get away with lines as ham-fistedly ridiculous as these and actually call them jokes.
Ultimately this is the greatest strength of the Bojack Horseman Christmas special: calling back to the tropes of 80s and 90s sitcoms before satirizing and roasting them into oblivion.
All of the classics are here. From the annoying neighbor character, who is legitimately named Goober, to the absurd onslaught of character catchphrases that permeate the episode. The best of the latter comes from Ethan, the nerdy middle child, who espouses the line "Yowza-yowza-bo-bowsa!" to a few sparse claps and a cough from the unamused studio audience. That every character needed a catchphrase in these types of sitcoms is a given but to have one so bad that even the studio audience can't be bothered to care is a beautiful bit of satire.
Speaking of the studio audience, Bojack Horseman doesn't stop using them for fodder there. Thanks to one very stupid audience member, some of the best moments of the episode come from reactions to classic sitcom tropes. For instance, when Bojack flirts with his secretary, while most of the audience opts for the classic whoops and cheers of yore, the idiot just yells "Kiss her!". He also points out catchphrases ("She said the line!") and lets out a confused "What!?!?" at the message of the episode.
If you were lucky (or unlucky) enough to grow up watching bad sitcoms with even worse Christmas specials every single year, then Bojack Horseman's Christmas special is just for you. Hearkening back to the nostalgia of the time before ripping it to shreds with endless glee, Bojack Horseman's Christmas special isn't just one of the funniest episodes of the show, it's also one of its best.
A Doctor Who Christmas: Revisiting "Voyage of the Damned"
Join us as we spend the next 25 days writing about some of our favourite Holiday TV specials! Today, we look back at the Doctor Who Christmas special, "Voyage of the Damned".
What's it About?
First broadcast in December 2007, "Voyage Of The Damned" runs 72 minutes long and is the third Christmas special since the show's revival in 2005. The Doctor finds his TARDIS colliding with a luxury space cruiser (based on the RMS Titanic) during a Christmas party. The ship's captain, Hardaker (Geoffrey Palmer), sabotages the cruise liner by purposely lowering the ship's shield, resulting in severe damage after colliding with several asteroids. It's up to the Doctor (David Tennant), with the help of a waitress named Astrid Peth (Kylie Minogue), to fight off robot-like creatures in the form of golden angels and save the day.
Review
A festival of ideas, bursting with wild imagination, ambitious set pieces, strange characters, curious visual effects, and one charming Doctor who had this critic glued to the screen midway through, when he turned around to deliver this rousing monologue:
I'm the Doctor. I'm a Time Lord. I'm from the planet Gallifrey in the Constellation of Kasterborous. I'm 903 years old and I'm the man who is gonna save your lives and all 6 billion people on the planet below. You got a problem with that?
This time around, the mammoth cruise ship struck fire (not, ice) and the passengers are a sordid bunch including robotic golden angels armed with killer boomerang-like-halos, and a dwarf named Bannakaffalatta – a cyborg Zocci who strangely resembles Darth Maul. We learn that due to an accident, Bannakaffalatta had undergone conversion into a cyborg, for which he felt shame because apparently where he comes from, cyborgs are discriminated against. "Voyage of the Damned" features a batch of religious imagery (including a messianic portrayal of the Doctor himself being carried away into space by two of the angels), and the blank and trite performance by the beautiful pop sensation Kylie Minogue, (whose role was specifically written for her).
For a Christmas special, we get a number of casualties along the way, including Bannakaffalatta's self-sacrifice and Astrid's fall into the fires of hell. One could accurately describe this episode as The Poseidon Adventure in space, a nightmarish schematic rhapsody of virtuous discomfort. "Voyage" doesn't end on a happy note. Sabotage and corporate greed destroy our ragtag bunch of passengers, and those who are lucky enough to survive do come out with lasting scars. Not much Christmas cheer here, but the script is sprinkled with clever comedic moments from time to time, including a surprising gag involving the royal family.
Astrid's final appearance comes in the form of "an echo with the ghost of consciousness"; her stardust-hologram-like image fades after a final kiss. Perhaps a tad bit corny, but the sequence is enough to bring a tear to the eyes of die-hard Whovians. "Voyage" is ridiculous, but also oddly fun in the sheer overkill of pulp and fantasy imagery. Technically it impresses, loaded with eye-catching-hi-tech chase scenes and more importantly, characters and a plot (even if incoherent) to support them.
Is this thrilling no holds barred sci-fi/disaster mash-up brilliant or idiotic? Perhaps a bit of both, but "Voyage of the Damned" satisfies because of its strong emotional core and unnerving dark themes couched in stunning visuals. This visually arresting, occasionally funny ride is neatly wrapped in a comfortable Yuletide package.
– Ricky D
How Christmassy is it?
Despite the high death toll and the titanic setting, "Voyage" strangely delivers a Christmas vibe, if in scenes few and far between. I would say 50/50.
You May Like It If…
Obviously, if you like Doctor Who, disaster films, and science fiction.
Revisiting The Sopranos Christmas Special
25 Days of Holiday TV Specials
The Sopranos Season 3
Episode 10: "To Save Us All From Satan's Power"
Join us as we spend the next 25 days writing about some of our favourite Holiday TV specials! Today, we look back at The Sopranos Christmas episode.
Note: It's difficult to really encapsulate the events that take place in this episode without spoiling it since so much of it's impact relies on the events that take place during the three seasons prior. I won't be going into any specifics about the episode to avoid spoiling it for anyone who hasn't watched the entire third season. With that said, if you haven't seen an episode of The Sopranos, I highly recommend you start since it is one of the greatest TV series of all time. Apart from that, I hope my review will simply serve as a reminder for fans of the show.
What's it About?
The annual pork-store holiday party is fast approaching, but Tony Soprano isn't feeling the Christmas spirit. A visit with the ghosts of Christmas past lands Tony back on his psychiatrist's couch. Meanwhile, the gang needs to find someone to replace Pussy and don the Santa suit. While the memories of Tony's friend continues to haunt him, he tries to find time to balance his work with his family life.
Review
Every year around Christmas, there are two stories guaranteed to pop up on television: A Christmas Carol and It's a Wonderful Life. Both have inspired countless adaptations, spoofs, homages and so on – but who would have ever guessed Frank Capra's classic would have somehow inspired an episode of The Sopranos?
The Christmas episode, nicely titled "To Save Us All From Satan's Power," sees Tony Soprano dealing with the death of a good friend. As always, Tony is our focus. Tony may be a mobster but he's just as human as any of us, and the holidays have him looking back at the important events that unfolded in his life that year. Much of season three sees his friend's death snake around the edges of the stories. This episode is all about Tony dealing with his guilt, betrayal, paranoia – and his doubt concerning a decision he recently made. The challenge for Tony is to overcome these obstacles so that he can hopefully look ahead and start his new year fresh.
Unlike George Bailey (It's A Wonderful Life), who overcomes his depression by remembering all the people who love him and all the ways that he's helped others, Tony instead realizes just how much he has lost. Using very clever flash-forwards and flashbacks, the nonlinear structure of the episode presents his deceased friend as both a literal and figurative ghost. Nearly every scene of "Satan's Power," is haunted by this ghost in one way or another, even if he's not physically (or spiritually) present.
For an episode this late in a Sopranos season, there's not a lot happening, plot-wise. "Satan's Power" is a fairly insignificant episode in advancing the season-spanning story arc, but while the mob business is barely present (outside of a few flashbacks), what's really important is the emotions and the memories Tony's dead friend brings. Combine the characters, the story, the message, and the acting, and it's easy to see why this is a holiday favourite to revisit every year during the holidays.
Big-Mouth Billy Bass closes off the episode. Tony's torn expression dissolves into the rolling waves as gospel music gradually kicks in, drowning out Billy's voice. Tony's friend may be gone, but his memory will forever live on. "Satan's Power" carries a powerful emotional punch and is a necessary pause in a season-long storyline.
How Christmassy is it?
Unless you're a mobster or a family member of one, you won't be able to relate to the character's inner turmoil, but it still has one hell of a Christmas feel. It may not be very cheerful, but it does revolve entirely around the holiday and features a scene from A Wonderful Life. It also features a ton of Christmas classics, including "O Come, All Ye Faithful," "The First Noel," "Little Drummer Boy", The Chipmunks' "Christmas Don't Be Late," and "Santa Baby," among others.
Who's it for?
Since it doesn't really work as a stand-alone episode, I'd recommend it to fans of the series who may have forgotten about the episode.
Other observations:
The best line comes from Paulie Walnuts: "In the end, fuck Santa Claus."
Ricky D