In celebration of the recent announcement that the Shirobako movie, imaginatively titled Shirobako Movie, has a Japanese release set for February 29th, 2020, it's time to reflect on one of the best series of the 2010s:
Spoilers abound
Few anime series reflect the societal tension of achieving success, and therein causes of failure, more acutely than Shirobako. Centered on the working lives of five school friends in the anime industry, the central theme is laid out explicitly within the first five minutes: Aoi Miyamori and her school anime club friends are excited at the prospect of joining the anime industry, their major anime project bringing them creative pride. The montage illustrating their hard work has vibrant tones; then Shirobako jumps forward into the future. Overworked production assistant Aoi grips her steering wheel while delivering more animation cuts that need checking. The background colours are muted. While she momentarily perks up at hearing a promotional radio interview for the anime that she's working on, this is still not exactly as she imagined.
Success is elusive. The type of success is immaterial, for each person has their own passions and ambitions, and indeed what qualifies as success is also personal. At some point, however, one may catastrophically fail at achieving their desired success, adapting and resurging in response, but sometimes failure is an endpoint. Point blank. Other times, success eludes a person for reasons wholly outside their control. Society, in general, poorly prepares young people for the ramifications of failure, because it is so focussed on escalating ascendency. Within the nurturing structures of home or school a great lie is told, repeatedly, that personal improvement and effort will proportionally result in accomplishment and acknowledgment. Schools, especially, convey this through validating scores and grades, such that individual contentment with one's own success becomes tied to external approval. Thus transitioning to the chaos of society beyond the protective confines of home or school is very often difficult for people. There is still always another marker or level of achievement attainable, but the path to success and contentment is obfuscated, and if people don't outright fail, then they may suffer from aspirational deflation. Some people have the misfortune to be apprised of this early, but more often, the realization arrives in burgeoning adulthood.
Exploring the concept of adult success through that juxtaposition — where reality dispels the ideal — with anime as vector, is inspired, not solely meta-textually. As one of Japan's most distinctive and unique fictional mediums stylistically, anime encapsulates that creative ideal imbued with cultural heritage. In this way, creating anime becomes a creative zenith, bringing the arduous pursuit of realizing professional creative success, in all its fits and bursts and economic considerations, into stark relief. Shirobako approaches this from several angles with Aoi and her friends as conduits. For example, Ema Yasuhira, a key animator, is harrowed that her drawing rate may not be sufficiently quick enough to earn enough money and feed herself. Misa Toudou, a CGI animator, wants more than from her career than modelling car tires and hubcaps — she joined her current company because the CEO was once a famed anime creator, but he felt the need to prioritize financial stability, not just for himself, but for all of his staff. Creative endeavours are a risk and prone to failure, especially as anime operates on thin profit margins.
That would be a simplistic thematic discussion, however, and Shirobako is far more multifaceted. Returning to Aoi, she is elevated for her efforts when the opportunity arises. Mechanically, as the viewpoint character for the audience, Aoi's promotion through the ranks allows the series to show more fields within the industry, but it also serves as a counterpoint to the trajectories of the other main characters. However, Aoi still struggles, because although she has a dream to create anime, she laments that she doesn't concretely know what she wants to actually achieve now that she's there. Her future prospects concern her. Setting aside compounding factors, societal success rarely has room for people without overarching plans—it's regarded as listlessness. Shirobako has empathy for these people: some people, like Aoi, focussing on the current step in front of them, just stumble onto a new and unexpected avenue towards contentment. Late in the series, fellow people in the company are quizzed on why they wanted to make anime. Some were passionate, while others just fell into it, happenstance, and stuck around because they enjoyed the minutiae of the work they were doing. Shirobako emphasizes that the latter is perfectly okay and a form of success, as well as contentment.
Perhaps that notion about success should be then rewritten: personal contentment is elusive. Especially in a creative field, where satisfaction with one's creations can be so ephemeral, and art — in its incipient stages at least — is direct self-expression, the other hurdles and barriers formed by a civilisation that impede personal creative contentment cause severe frustration in denying an outlet for successful expression.
As a corollary, Ralph Waldo Emerson wrote in his 1841 essay, Self Reliance, describing the social imposition on valuing personal testimony and discernment, "I am ashamed to think how easily we capitulate to badges and names, to large societies and dead institutions." Nearly two hundred years on, the aggregated names, societies, and dead institutions often remain a bulwark against new people entering the circuit of success, where one achievement begets another through increasing recognition. Not that those already on the circuit are generally undeserving of their success, far from it; and they too are liable to face a precipitous drop from precarious fame, as Shirobako's main director character, Seiichi Kinoshita, found out when the follow-up project to his award-winning debut was a disaster. However, frequently the hardest element in achieving success is initially getting the proverbial foot in the door, because there's an accreted doorstopper of "badges" jamming it shut. Shirobako knows this, and the tribulations of Shizuka Sakaki, an aspiring anime voice actress, consequently make for the most affecting storyline and a pertinent rumination on failure.
Shizuka's failures in entering the voice-acting industry threaten to cause her recession into obscurity. Humanity is mostly anonymous, but those with the desire to rise above the crowds and perform with a platform frequently fear such a thing. Pointedly, Shizuka joins a group of voice actors providing background cheers as sports fans, but her zeal has her shunted away from the microphone, because she is too loud.
A particularly wounding vignette related to Shizuka's struggles bluntly satirizes an anime production committee meeting. After a successful audition, Shizuka is on the shortlist for a major character in a new series. She is, in fact, the anime director's first choice. Here Emerson's "badges and names" rear their heads, with the representatives for the brands co-funding the anime reverting to their bureaucratic interests, solely focussing on the marketability or promotional qualities of their companies' favoured actresses. It's a familiar experience for anyone who has ever entered a meeting knowing, that for whatever reason, those judging have pre-emptively made their decision based on preconceptions and extraneous circumstances.
Shirobako further thematically underscores Shizuka's trials through Waiting for Godot. Shizuka's former acting coach invites her along to see the rehearsals of an all-female production that she is directing. The play's first act revolves around two companions, Estragon and Vladimir, as they wait beside a tree for the arrival of the unknown Godot that evening. Eventually Pozzo and Lucky — a loquacious, abusive master and denigrated slave — pass by, interrupting their humorous and poignant squabbling. At the end of the act, a messenger boy tells the pair that Godot is unable to come today, but that he will be there tomorrow (it is implied that the men have been waiting regularly for a long time). The far more serious second act sees Estragon and Vladimir still underneath the tree, patiently waiting for Godot, until a blind Pozzo and mute Lucky appear. Evidently a significant amount of time has passed, and yet Estragon and Vladimir are expecting (hoping!) that Godot will arrive. This is the most facile reading of Waiting for Godot, but it draws a direct parallel with Shizuka's plight. Her career is stagnant; the daily chore of failing auditions is a repetitive stasis. In the same way Estragon and Vladimir expect Godot to eventually arrive as promised, Shizuka is waiting for the tacit societal promise of getting an acting job as a result of her hard work to be fulfilled. Godot never arrives in the play, and Shizuka's dreams are perilously close to failing by virtue of never being given the chance to realize them. The demoralizing truth is that not everyone is rewarded with vindication for their talents.
This can curdle into bitterness, if not resentment. Shirobako's most extreme example is the ornery production assistant Daisuke Hiroaka, who is disenfranchised with animators taking his role and the anime production process as a whole for granted. Shizuka is not so jaded, but one evening a dejected Shizuka envies a younger, successful actress complaining about her work schedule on television. Most heart-wrenchingly, Shizuka discovers all of her friends are working together in the anime adaptation of a popular manga series that she auditioned for, lamenting that "[She] would have loved to have worked with all of [them] just want[s] to work with you all". Seeing friends succeed while one is continuously failing can strain even the most affectionate friendships.
Here is where Shirobako's prevailing positivity exists. Shizuka magnanimously does not resent her friends, despite frustrations, and they, in turn, all admire her qualities and have faith in her abilities. Likewise, throughout the series, multiple anime production crew-members commiserate setbacks and issues together over drinks. As much as creating anime is a collaborative effort where people solve problems together, friendships and support structures help bear the load of failure. There is also a more positive and possibly misconstrued interpretation of Waiting for Godot (having not read or watched it properly since 2009). Estragon and Vladimir remain undaunted about waiting, and are content to bickering with each other for as much time passes. They are together under that tree; the final line is "Yes, let's go", but neither leaves. Similarly, none of the girls are ready to give up on either their careers, or each other.
In that optimistic vein, Shizuka leaves Waiting For Godot invigorated and determined to continue trying. People acquiring resilience against rejection and overriding failure, and detaching their self-worth from external success, is a difficult process. But it enables reconciling with reality and appreciating the more minor achievements in life. Soon afterward, Shizuka gets the opportunity to play a prefecture mascot. Her friends worry that she sees this as a tangent to her career objectives, but Shizuka appreciates it as lateral progression, and more importantly, a worthwhile experience in its own right.
Towards the end of Waiting For Godot, Vladimir demands that the messenger boy recognizes him when he surely returns tomorrow with the eternally disappointing news that Godot won't be coming. Vladimir wants acknowledgment on a personal, human level. It is an external validation of ourselves and our place in society. As such, Shizuka also wants to be accepted on her own merits: Aoi, due to friendship and appreciation of her talent, is on the verge of recommending Shizuka to director Seiichi Kinoshita and producer "Nabe P" when they visit the bar Shizuka works at, but she stops her. Fundamentally, humans want to be accepted and heard as part of respect and dignity for their individuality.
That same granular humanity is really Shirobako's silver lining in the grind of overwhelming failure: for all the nebulousness of the person that is Godot or the nebulousness of the anime industry, Shirobako humanizes the process by showing everyone's interior and working lives. Subsequently, it illustrates that all it takes is one person acknowledging your efforts to opening the door to success. Aoi messes up interviews at multiple anime production studios until her enthusiasm for the children's anime Andes Chucky amuses the heads of Musashino Animation, as they worked on it, and they give her a chance. College student Midori Imai helps research some technical information on Aoi's behalf, and the director and screenwriter are impressed and contract her as an employee. A revered background artist originally got his break because one of the production assistant staff members — who eventually became head of Mushashino Animation — saw his skill and asked him to paint snowy weather for Andes Chucky.
So it is the most cathartic moment in the series when Shizuka steps through the recording studio door to record a significant minor character, the younger sister of the character she had originally auditioned for. Seiichi Kinoshita had remembered her and thus gave her the role. That karmic justice and emotional fulfillment and resolution are partly why we consume narrative fiction. The empathy we have for characters — both in their joys and suffering — allows us to reflect on our own experiences, but with the refinement of narrative that abstracts things from the mundane human experience and brings them into focus. Pathos is heightened. It's also a more palatable way of processing our own feelings, because there is the reassurance, especially in optimistic series like Shirobako, that failure does not have the same finality as in life. Shizuka's struggles ultimately leading to success is uplifting and also a wonderful way of reminding us that one shut recording room door is not the same as every door being closed to us. Our own narratives continue beyond failure and setbacks.
Grand scale success is elusive and too dependent on other factors to be a pure reflection of one's capabilities; but if one is actively determined and finessed, eventually somebody else will appreciate it. It could just be one's friends or family, but it could a person who grants further opportunities. Shirobako, therefore, asks us to find the process of trying to succeed, stumbles and all, worthwhile in and of itself. Shirobako then asks us to continue doing so, and always hold out hope that we will find that one person who reaches out and unlocks that blocked recording room door, letting us, like Shizuka, perform.
Declan Biswas-Hughes
Anime Ichiban 24: Forecasting the Anime Awards
Matt and Kyle have some fresh hottakes on Makoto Shinkai's newest film, Weathering With You.
Matt and Kyle have some fresh hottakes on Makoto Shinkai's newest film, Weathering With You. The Crunchyroll Anime Awards are also a thing happening which means it's time for the crew to demonstrate once again how off their tastes are.
TIMESTAMPS
13:41 – Satoshi Konposthumously honored
18:14 – TRIGGER's Brand New Animal project
28:20 – Netflix adds the entire Ghibli library to their catalog!… in some places
31-37 – Weathering With You impressions and thoughts
1:02:33 – Crunchyroll Anime Award Predictions
1:38:36 – Closing remarks
TRACKS
Intro – "Kiss Me" by Vo.Nai BrXX&Celeina Ann (Carole & Tuesday opening theme)
Outro – "Drown" by milet (Vinland Saga ending theme 2)
'Weathering With You' Isn't Quite the Storm It Wanted to Be
Makoto Shinkai's Weathering With You delivers a gorgeous film that doesn't quite resonate as much as it wanted to.
Climate change and global warming have been topics of concern and discussion for years now, with melting ice caps and rising ocean temperatures being some of many signs. Director Makoto Shinkai — acclaimed the world over for his 2016 work Your Name — aims to show just how at the mercy humans are to the weather with his newest animated film, Weathering With You. Although he presents a visually stunning depiction of Mother Nature in all her various moods, Weathering With You ultimately lacks the storming power it seeks to bear upon its audience.
Tokyo has been having a particularly rainy year, seeing precipitation almost every day and nary a sight of the sun or clear blue skies. It's during this unusual time that high school boy Hodaka arrives in the metropolis seeking escape from the suffocating life he had on his island. The young teenager naturally has trouble finding his bearings on his own in the oftentimes unforgiving hustle and bustle of the city. It's in these early scenes that Weathering With You has some of its strongest moments, depicting the uglier side of Japanese society not often seen in anime, while also highlighting Hodaka's strength of character to make it on his own.
As Hodaka gradually carves out his own place in the city, he eventually has an encounter with a young girl named Hina. Matching her sunny and cheerful disposition, Hina has the ability to make it stop raining and have the sunshine in very localized spots by praying to the sky. In a place where the rain never ceases, it's easy to see why Hodaka latches onto Hina to use for the greater good (while also making a little pocket change along the way).
"The hand-drawn rain is downright mesmerizing in all its forms — fierce and calm — while the sunshine that follows seems to hang in the air caught by the leftover humidity."
Gloomy skies and damp grounds can take their toll on one's mood and psyche, which someone who lives in such a climate can surely relate to. Even the briefest moments of sunshine revitalize us and give a glimpse of the "light at the end of the tunnel." Hodaka and Hina's "100% Sunshine Girl" services to those in need of that light boldly underscore that fact, and make for a strong argument for how the weather affects us all beyond its objective physicality, along with providing some much-appreciated levity to the story.
That power of weather is beautifully illustrated by CoMix Wave Films' stupendous animation efforts. The hand-drawn rain is downright mesmerizing in all its forms — fierce and calm — while the sunshine that follows seems to hang in the air, caught by the leftover humidity. Tokyo itself isn't to be outdone either, with its streets running the gamut between peaceful neighborhoods to grimy and dark back alleys with dilapidated buildings. The animation is punctuated by the return of Japanese band RADWIMPS, who create numerous memorable tracks to complement the wild swings in mood that weather can elicit.
That makes it all the more unfortunate, however, that the greater narrative is so weak.
The progression of Weathering With You is made painfully obvious right from the outset of the story — so much so that it's hard to wonder if it's actually the set-up for a bait-and-switch. As a result, much of the first half of the film is simply waiting for the other shoe to drop, making it difficult to really settle in and become intimate with its characters.
This would be less of an issue if the cast had smaller interactions that were a delight to watch, but they fall short in that regard as well. All of the characters have a charm to them for sure — with Hina's younger elementary school brother, Nagi, putting modern playboys to shame being a particular standout — but the story never quite makes a compelling case as to why they are as close as they are, especially Hina and Hodaka. They're fun enough to watch be together, but don't quite make that emotional attachment with the viewer that the story wants to create.
That lack of an emotional connection is distinctly felt in Weathering With You's second act, when unnecessary confrontations and bizarre plot directions converge to create an artificial sense of stakes amidst a central conflict that would have been fine on its own. What's meant to strengthen the impression of the characters' bonds instead cheapens it, undermining the already faulty progress the first half did make. The result is a narrative that's hard to care about, although its ending does leave the viewer with some potentially interesting questions to ponder.
Weathering With You is far from a bad movie, however. It has a clear direction and vision with a message to say about our climate crisis. The characters are endearing enough, and there are a handful of heartfelt scenes because of that. It also cannot be understated just how drop-dead gorgeous the animation is. The story, however, is simply too straightforward for its own good, resulting in an experience that is at times enjoyable, and at others plain boring.
And that's only when being judged in a vacuum on the movie's own merits. When compared to Shinkai's recent masterpiece that is Your Name, it's hard to see Weathering With You as anything but a disappointing follow-up. That's perhaps the film's greatest weakness, but fortunately, it's one that Shinkai's next work won't have, and we can still look forward to it because of that fact.
How Rimuru Tempest Changed the Game for Isekai Protagonists
That Time I Got Reincarnated as a Slime shines within the vast sea of generic isekai thanks in no small part to protagonist Rimuru Tempest.
The core premise of the isekai genre–a character being transported from their everyday life on Earth to a parallel universe–has become wildly popular for a reason: it's an immensely appealing fantasy. Just as audiences everywhere fell in love with the seminal Spirited Away in the early 2000s, it's still exciting to fantasize about discovering a new world and going on all manner of crazy adventures. However, the incessant flood of new isekai every season to capitalize on this trend has resulted in some of the most generic, overly-manufactured protagonists in any genre.
Though this sea of formulaic main characters is vast, it makes it all the easier to recognize when one bucks the typical conventions and actually proves that there's room for unique takes on the genre. That Time I Got Reincarnated as a Slime adheres to a few cliches, but it also manages to set a new bar for what a captivating isekai protagonist can be.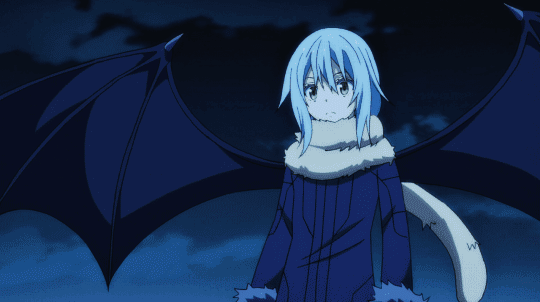 Breaking the Mold
That Time I Got Reincarnated as a Slime is as wholesome and optimistic an anime as they come. The tone can be deceptive at first; when Satoru Mikami is suddenly stabbed when trying to protect his junior, his dying wish is for his computer's hard drive to be destroyed. But after being reincarnated as a slime–and gaining the new name Rimuru Tempest–his true desires become clear: world peace and a simple, comfortable life with friends.
What's immediately striking about Rimuru as the main character is that he starts off as an average 37-year-old man. He spent his life working hard and appeasing his higher-ups to climb the corporate ladder. Shady hard drive aside, he lived a respectable and long life compared to the vast majority of protagonists in the genre. This significant age difference is evident in nearly every action and major decision Rimuru makes; he looks at situations practically before jumping headfirst into conflict.
When Rimuru gets a drink poured on him by a noble in a bar, for instance, he quells his anger in consideration of the bar and the friends around him. When someone asks for his aid in an impending battle, he pauses to go over all the available information and reaches a consensus among everyone before agreeing. And when protecting a goblin village from a pack of wolves, he doesn't just mindlessly slaughter all the wolves; he looks for the way of least resistance (killing the leader of the pack) before ultimately integrating them with the goblins as equals. Though his human form looks young, it's the wisdom behind his actions that makes those around him respect his leadership.
This is especially impressive considering just how overpowered Rimuru is. His transformation into a slime came with resistances to fire, cold, electric currents, pain, paralysis, and the ability to absorb, analyze, and take the form of anything he wants. In other words, he could go down the path of the typical shounen protagonist and solve his problems with his fists, but he never lets his overwhelming power dictate his decision-making process.
Leading a Nation
That Time I Got Reincarnated as a Slime is as much about Rimuru's adventures as it is about the rise of the independent monster nation he helps establish. Instead of running off in search of adventure, the little slime decides to nurture the goblin village he protected at the outset. He helps the goblins and wolves "level up" by naming them, shows them sustainable ways to gather food and build makeshift defenses, and even brings back dwarves to introduce blacksmithing and carpentry.
Through expansion, industrialization, and conflict, Rimuru manages to orchestrate the creation of his country in a way that's genuinely believable. His ambitions for a peaceful and integrated world play out in his willingness to accept other goblin tribes, ogres, lizardmen, and even friendly humans in his country. Being able to rationally read situations makes forging alliances and negotiating with neighboring nations possible. When a major calamity threatens all life in the forest, Rimuru wastes no time in holding a summit and allying with other forest dwellers over a common interest.
None of this would be possible without the uncanny, Luffy-like ability to inspire a sense of trust and reliability in those he comes across. Just like the members of the Straw Hat Pirates follow Luffy out of respect and loyalty, Rimuru's commanders follow him because of his sound judgment and dedication to seeing everyone in his nation be happy. It's satisfying seeing members of Rimuru's guard take personal offense when others talk poorly of him because it's clear that he's earned the respect he's given.
If isekai is to continue growing in popularity and thriving long-term, room must be made for different types of protagonists. Be they depraved, refreshingly honest characters like Kazuma or upstanding yet easygoing leaders like Rimuru, both demonstrate how valuable it is to shake up the formula and try new approaches to the genre. If the constant barrage of isekai has bittered your tolerance to it as a whole, That Time I got Reincarnated as a Slime is well worth giving a shot.