'Room 237' – Conspiracy Theorists Take On Kubrick's 'The Shining'
In Rodney Ascher's documentary Room 237, the subject in question is Stanley Kubrick's beloved The Shining. It explores the numerous theories and alleged hidden meanings lurking deep within the film, conceptualized by devoted non-casual observers, theorists, and scholars. The Shining may be over three-decades-old ,but it continues to spark debate and speculation. For many, the film is just another horror pic, an auteur taking on a new genre, but to some it is so much more. Subtitled Being an Inquiry into The Shining in 9 parts, Room 237 focuses on five very unique points of view, broken into nine sections and told entirely via voiceover. There are no talking head interviews; his interview subjects never appear on film. The documentary is made up entirely of stock footage, animation, dramatic reenactments, digitally-altered images, and scenes from various movies — sometimes in slow motion, sometimes sped up — with frame-by-frame analysis, sequences superimposed, manipulated and so on.
The doc itself is structured much like the movie's hedge maze, drawing the audience into endless twists and turns. This is best seen in an explanation of the Overlook Hotel's "synchronous space," detailed in 3-D illustrations of the set layout. Yes, a devoted fan took the time to create a map of the hotel's geography. There's one spectacular sequence in which two celluloid strips of The Shining are superimposed backward and forward over one another to illustrate a famous comment made by a blogger named MSTRMIND, who once said that "The Shining was meant to be watched both forwards and backward." Just think REDRUM!
Ascher's cutting and assembly is entertaining, but without a face to the names, the film leaves a lot to be desired. These theorists are, much like Wendy and Danny, trapped inside the Overlook Hotel. But exactly who are these people? All we are told about this breakfast club of jokers is that they are a journalist, a playwright, a professor, a musician, and a conspiracy theorist. Apart from that, we know little else, and Room 237 quickly becomes something like a PowerPoint presentation. The ubiquitous tagline reads "Look Again," but the theories are as old as the film itself, shedding little light on them for anyone already familiar. At best, Room 237 works as a study of obsession and delusion, and these ghostly figures interviewed are as frightening as Jack Torrance himself.
Much like Jack, the film and interviewees put an axe to film criticism — in the limelight, the line between the insightful and the ridiculous is thin. Ascher's playful montage tries its best to back up some of the wildest theories, but with little hope. The conspiracies don't always relate directly to room 237; the majority often focus on mundane details and aesthetic choices. Why is Jack reading a Playgirl magazine in the hotel lobby? Is that Kubrick's God-like image airbrushed within the clouds? Is the film a metaphor for the murder of Native Americans? Why did Kubrick change the room number from 217 (as read in the novel) to 237? Was Kubrick dropping clues that he faked the footage of the Moon landing? Is that why NASA allowed him to use their special camera for the filming of Barry Lyndon? What is the meaning behind the film's occasional use of the number 42, and what is the significance of the German typewriter? Is there a deeply-laid subtext that takes on the Holocaust?
Of all the wildest theories, the most plausible (and best argued) is Kubrick's possible commentary on his Apollo-moon-conspiracy. Kubrick, after all, was a joker who loved to tease us. But he was also a notorious perfectionist who obsessed over every detail. It can be argued that there is little in a Kubrick film that is there without reason. Coming from such a notorious stickler, could continuity errors be accepted as errors? Is it a coincidence that Danny wears an Apollo shirt? No, but perhaps Kubrick was teasing those very conspirators interviewed here. After all, The Shining was released in 1980, and the NASA/Kubrick connection had already been given birth.
If you put any movie through the microscope repeatedly over and over, you will eventually see something that wasn't there to begin. In the case of art and life, there are subconscious themes and ideas that somehow find a way to creep in, even unknown to the creator. The problem with Room 237 is that it feels more like a companion piece, or special features on a DVD. It's always great to approach movies from new perspectives, but for this critic, Room 237 plays as a video essay. Although incredibly entertaining, Room 237 is mediocre filmmaking at best.
Note: The film is now available to stream on YouTube.
'Greener Grass' Is a Pain in The Ass
Maybe get high for this one
Co-written, co-directed, and co-starring Jocelyn DeBoer and Dawn Luebbe as two soccer moms who battle it out over who has the more perfect suburban life, Greener Grass looks like it creators are having a lot of fun. Possibly more fun than anyone actually watching the film, a surrealist satire of suburban life that is neither cutting enough to be insightful nor funny enough to be worthwhile. While watchable thanks to its strange, cartoonish world-building and bold production design, it ultimately fails both as comedy and as meaningful commentary.
Greener Grass starts with Jill (Jocelyn DeBoer) and Lisa (Dawn Luebbe) watching their kids play soccer; Jill has a new baby, which Lisa hadn't previously noticed. In the first sign that this world is completely askew, Jill just gives her baby to Lisa as a present. This is one of the least weird things that happens in a film with little concern towards logical construction or narrative coherence.
Featuring a soundtrack giving off serious original Twin Peaks vibes, the world of Greener Grass is one of pure strangeness: cars are replaced by golf carts, characters wear matching coloured suits, and the whole town gives off a twinkling aura reminiscent of classic television adverts. Jill and Lisa are classic models of femininity, at one point switching husbands to kiss as a comment on how generic their men seem. Nonetheless, they are constantly competing, with the ever-susceptible Jill constantly on the lookout for a way that she can finally improve her life, while Lisa tries to iron out her own familial issues. Sadly, neither Jill nor Lisa ever make it past their sketch-show characterisations, making them at first unrelatable, before eventually becoming straight-up annoying.
There is a sense here that more care has been put into crafting this weird universe then telling a coherent story of what actually happens in it; Greener Grass mostly using its setting as an excuse to string together a bunch of middling skits. At first, the randomness seems freeing; when you watch so many films for a living, B constantly following A can get rather repetitive. This is a world where anything can happen and nothing is explained. For example, when Jill's son turns into a dog — suddenly leaving the woman who once had two children with none at all — the how of it all is never asked, and the event is instead used as a means to explore Jill's relationship to Lisa. Yet, once it becomes obvious that there is no true connective tissue between absurdities (like you might find in the tightly-wound films of Yorgos Lanthimos), the world of Greener Grass grows easily tiring — even moreso considering its barrage of adolescent, amateurish, awkward and atrocious attempts at comedy.
Comedy is a hard thing to quantify. Sometimes it simply boils down to whether something makes you laugh…or at least smile. While the madcap world of Greener Grass is aesthetically delightful, the jokes can come across as painfully awful — the kind of try-too-hard skits you find in the bottom basement of a bar at the Edinburgh Fringe. Undeniably an each-to-their-own kind of situation, its an even bigger shame that these jokes cannot even be corralled into something actually interesting.
The obvious influence here, in both form and construction (featuring a subplot with a mysterious killer), is David Lynch. Yet, while Twin Peaks (at least in season 1 and The Return) and Blue Velvet used that weirdness to expose the darker underbelly of American life, it's hard to say what Greener Grass is actually saying about the nature of suburban aspiration. While it seems that the point is to show how suburban life is already kind of absurd, dialing the zaniness up to eleven doesn't hammer in that point any further. It comes as little surprise that the feature film is adapted from a short. Perhaps it should've stayed that way.
'In Fabric' is a Mesmerizing Satire of Consumerism
TIFF 2018
Our obsession with shopping and consumerism is going to be the death of us all — at least, director Peter Strickland seems to think so. The constantly increasing Black Friday crowds and coupon-clipping masses will rue the day they bought that really nice pair of pants at such a great price. Or in the case of Strickland's latest cocktail of absurdity and horror, a beautiful red dress. In Fabric is a phantasmagoric allegory for our growing obsession with buying into our wants, and losing our souls in the process — and it's about as weirdly fantastic as it sounds.
Though Strickland may refute that he consciously went for evoking giallo films when making In Fabric (which he did at a Q&A that took place at the midnight screening of the Toronto International Film Festival), it's difficult not to see the influence. While there isn't much here in terms of plotting — a red dress makes its way to different owners, affecting their lives in different, negative ways — Strickland focuses more on illuminating the characters' lives while they have this haunted outfit.
The only real connection between stories is the department store that sells the dress, filled with bald women wearing wigs and saying everything in as complicated and absurd of a way as possible. They move through the interior of the building using dumbwaiters, and are managed by a creepy old man who is a professional at customer service. The same model can be found throughout an in-store catalogue that showcases all the latest fashions; it's an eerily intricate nightmare of normality. The women all essentially cast spells on their customers to get them to buy something, except the spells are just really flattering comments and exceptional customer service. Strickland strikes right at the heart of consumerism with his weird fixation on the ways we're lulled into parting with our money.
Standing out is the way that the rich atmosphere is presented. In Fabric blends a deadly cocktail of sensuality and dread in every frame, from a red dress lighting up an entire room with its bright colors, to images of its smooth texture overlapping over morbid imagery; every moment in Strickland's fourth feature is a delight. It's not necessarily style over substance, but one of the many ways In Fabric falters is how indebted to its editing and visuals it becomes, especially by the second half. Berberian Sound Studio also fell into the same trappings, but where that was used for narrative purposes, In Fabric utilizes it solely for a more textured atmosphere. This lends it a strong voice, but one that drags on too long.
The question that many will wonder as the movie progresses: is this is horror or comedy? The truth is, In Fabric falls more on the comedic side of things. It's not exactly a scary movie, but it evokes a lot of haunting imagery. Strickland has always written from a more humorous point of view, with maybe the exception being his debut film, Katalin Varga, but this marks the first film of his to just lean into the laughs. It's absurd and preposterous, but grounded in something we can all relate to in some manner — either the customer service side of things, or being swindled into buying something we don't need.
The appropriately campy performance from Fatma Mohamed as a saleswoman who manages to convince different people to purchase the possessed red dress is one of the greatest delights of In Fabric. On top of that are some of the weirder concepts that the film latches onto and decides to explore — like the semantics of washing machine repair. The monotonous descriptions of washing machines in disarray, and subsequently what parts and procedures are needed to fix them, offers a glimpse at how monotony can be hypnotic.
There's an allure to everything here, as even its smallest jokes feel representative of some larger conversation about the items we purchase and the meaning (or lack thereof) that we attach to them. Peter Strickland exists within a very unique form of cinema. Here he's at his most reverential for the medium, but also posits his most ambitious and relevant statements. There may not be more than just a simple self-awareness to the act of consumerism, but Strickland at least offers an entertaining satire of an industry we all submerge ourselves into for the smallest deal.
Editor's Note. This article was originally published on September 17, 2018, as part of our coverage of the Toronto International Film Festival.
'The Painted Bird' is An Incredibly Grim Portrait of Anti-Semitism
From 14 Films Around the World Festival: Not for the faint of heart, the latest film from Václav Marhoul, is a deep dive into human misery without much love, hope or grace.
A grueling epic of misery, The Painted Bird (based on the novel of the same name by Jerzy Kosiński) makes Come and See look like a children's book. Taking place in the Czech Republic during the end of WWII, it finds one young Jewish boy on an odyssey to find his family, suffering indignity after indignity on the way there. Nearly all human deprivation is here — rape, murder, bestiality — which is made all the worse by its grim inevitability. It's a difficult, brutal watch; the kind of film I'd recommend, but would find difficult to defend if challenged.
The Painted Bird is not like other birds. Due to its strange plumage, the other birds get jealous. They surround the painted bird, and they kill it. This metaphor suggests that due to the savagery of Central Europe during WWII, anything that is different — whether Slavic, gay, gypsy, or Jewish — must be surrounded and bullied and ultimately destroyed.
Our unnamed young protagonist (Petr Kotlar) is one such painted bird. The film starts with him holding a ferret while running through the woods, being chased by other boys. They beat him up and burn his pet to a crisp. He then comes home to his aunt, who tells him it's his fault. Things get much, much, much worse from there.
It turns out that the boy has been sent away to the countryside by his parents, evidently for his own protection. When his aunt dies, he finds himself completely adrift, relying on the kindness of strangers to get by. The big problem is that these strangers aren't too kind at all. In fact, they are kind of evil, with nearly each one finding a new way to abuse the young lad. Told in a completely unsentimental style, The Painted Bird is an incredibly difficult watch — yet, its disturbing scenes aren't merely there to exploit or titillate, but to lay witness to the horrors of recent history.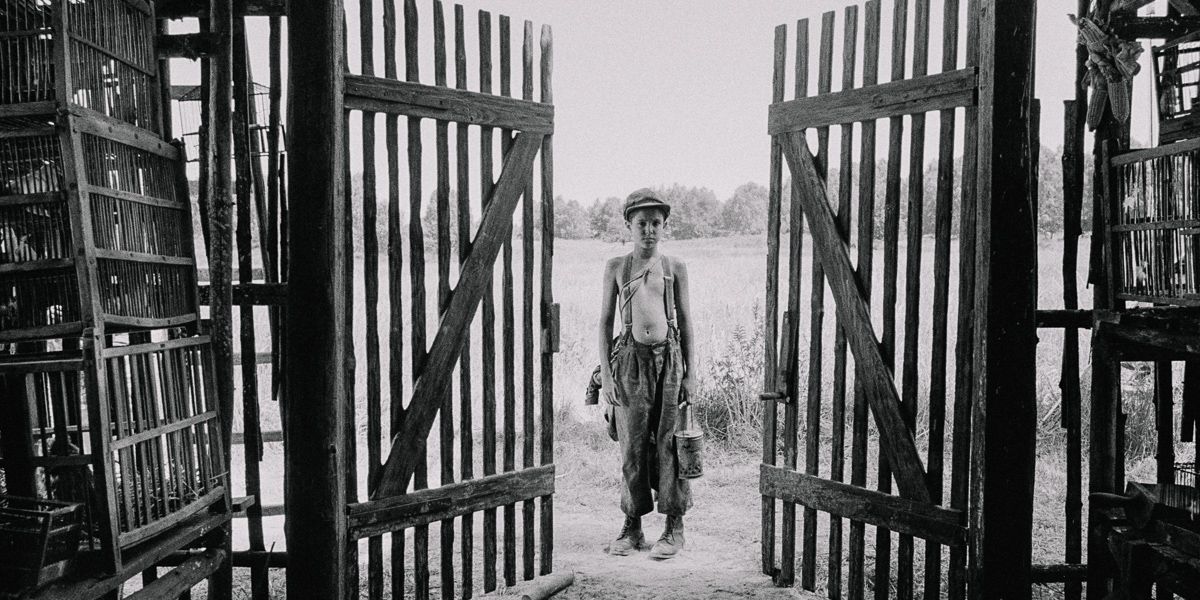 The story is told in an episodic format, with each chapter bookmarked by one or two names. Each one brings a new sense of dread: will this person be kind, or just another monster? The genius of the screenplay is how each episode seems to change the young lad just a little bit more, showing how one's view on life can be completely altered by experience.
Credit must go to Kotlar, who turns in all-time great child performance, Bresson-like in the simple and pure way he interprets the role. This is the right choice; if it aimed for histrionics, it would have been unbearable. As it is, it feels inevitable. Like The Irishman, the weighty runtime here really immerses us into the young boy's life; make it an hour shorter, and his transformation wouldn't have anything near the same effect.
The epic-length is matched by the epic 35mm black-and-white-cinematography. Making use of a huge anamorphic widescreen, our protagonist is often situated to the side of the frame while horrific things going on in the background, as if to stress his unwilling participation in a degraded world. Unlike the cinematography, the film's moral conclusions are a complete grey zone, depicting horrific things that show how terrible the war was — and what the disease of antisemitism led to — without ever editorializing or telling us how to feel. One can only watch and watch and watch, powerless to stop the awful things from happening.
The Painted Bird makes it absolutely clear that antisemitism was not just limited to the Nazis. Nearly everyone seems to hate the young lad, simply for the unavoidable fact of his birth. Anti-semitism doesn't end with the Nazi's demise either; the transition to peacetime does little to placate the locals' hatred of Jews. Coming at a time when hatred of Jewish people seems on the rise and being weaponized, The Painted Bird devastatingly shows us the inevitable end of such hate. While it definitely courts controversy, there is a method to such relentless misery. This is the story of survival. The kind of story that should never be told again.
'The Painted Bird' played as part of 14 Films Around The World Festival at Kino in der KulturBrauerei in Berlin, Germany, a special selection of 14 films from 14 countries from Cannes, Locarno, Berlinale, Venice and more.