Ranking the 'One Piece' Openings
With 2019 marking the One Piece anime's 20th anniversary, what better time (after much deliberation) to rank its openings from worst to best?
Few manga and anime franchises boast the prestige of Eiichiro Oda's One Piece. The anime celebrates its twenty year anniversary in 2019, and with a bevvy of openings under its belt, what better time (after much deliberation) to rank them from worst to best?
21: Opening 10 – We Are! Remix (TVXQ)
How do you spoil a masterpiece? In the words of that awful YouTube Rewind: "K-pop!". Despite K-pop's global popularity spike, it doesn't hold a candle to its J-pop sibling. This is painfully evident as South Korean duo TVXQ bumble their remix of "We Are!" with clumsily clunky electronics and a misguided sense of style.
(Also, the chorus repeats a bajillion times.)
20: Opening 11 – Share The World (TVXQ)
TVXQ strike again! Albeit, "Share The World" is a step up, but it nonetheless slips into bog standard ideals of K-pop trendiness (see: western ideals of trendiness). Where One Piece's typical J-pop/J-rock openings put dumb fun at the forefront, "Share The World" misses the memo and has a bland crack at coolness, butting heads with One Piece's tongue in cheek tone.
19: Opening 09 – Jungle P (5050)
I hate "Jungle P"! Why? It has the ingredients for an adventure fueled romp, but its overly repetitive (and irritatingly frequent) chorus lands it in the 'piss off outta here' camp. Still, the pre-chorus is pretty good.
18: Opening 18 – Hard Knock Days (Generations from Exile Tribe)
"Hard Knock Days" is decently fun and catchy, but ultimately mediocre. Unveiling the finale of Dressrosa (where Luffy kicks Doflamingo's ass), it's ironic that such an exciting bit of One Piece's story is soundtracked by such a forgettable opening.
17: Opening 21 – Super Powers (V6)
"Super Powers" is stylistically gross, and too commercial for its own good. If One Piece ever devolved into a sickeningly sanitized iteration of itself, "Super Powers" would be its soundtrack. The autotuned boyband manufacturization doesn't click with Luffy's adventure, but it scores points for (beyond its ugly exterior) being a legitimately catchy track.
16: Opening 8 – Crazy Rainbow (Tackey and Tsubasa)
Every opening beyond here is a bona-fide banger! "Crazy Rainbow" is the kind of brass laden goof fest that encapsulates the spirit of One Piece. Chock-full of eclectic instrumentation, from the aforementioned brass, to electric guitars, to bloopy synths; it's a wild ride.
15: Opening 12 – Kaze o Sagashite (Yaguchi Mari and Straw Hats)
As One Piece's story dives headlong into bleak territory (the Straw Hats have been separated, and Luffy infiltrates Impel Down), "Kaze o Sagashite" throws a curveball via its starry eyed optimism. It's so unabashedly gleeful, and its tonal juxtaposition is super effective.
14: Opening 02 – Believe (Folder 5)
"Believe" is a product of its time, and it rocks as a result! From the gimmicky Eurobeat synths, to the cringey vocal imperfections, it bellows 90s with loud and proud gusto. It's silly to the max, and the classic era of One Piece is more memorable thanks to "Believe in wonderlaaaaaaaaaand".
13: Opening 14 – Fight Together (Namie Amuro)
Post-Marineford's a glum period. The violent war has concluded with tragic character deaths, and "Fight Together" matches the emotional tone of these losses. But despite the melancholy, its synth spearheaded instrumentation inspires hope, transitioning the grim reality of Luffy's present to a pleasant flashback of him, Ace, and Sabo. It's a stylistically spot on followup to Luffy's lowest moment, held afloat by Namie Amuro's beautiful vocals.
12: Opening 19 – We Can! (Hiroshi Kitadani and Kishidan)
When it comes to One Piece openings, Hiroshi Kitadani is king! As the third of four openings he's contributed, "We Can!" flaunts countless killer qualities (like its supremely satisfying bridge and chorus), but loses its edge on repeat listens. It lacks the longevity of Hiroshi Kitadani's other openings, but it's a bloody good head bopper nonetheless.
11: Opening 15 – We Go! (Hiroshi Kitadani)
One Piece needed an anthem to ignite the Straw Hats' adventure post-timeskip, and "We Go!" is that anthem. It's a full frontal assault of mega joy, empowered by Hiroshi Kitadani's thunderous vocals once again.
10: Opening 20 – Hope (Namie Amuro)
Black Leg Sanji, a talented cook and infamous pirate, has been strong armed into a political marriage with a three eyed memory manipulator called Pudding. This will bring together the genetically modified Vinsmoke family of mercenaries, Germa 66, to the sweet addicted tyrant Big Mom. It's a plot of bonkers proportions that One Piece pulls off perfectly, and it's soundtracked by a sombre opening.
Sanji's leaving the Straw Hats, and Namie Amuro's upbeat but emotional "Hope" conveys this. The fear of losing a fan favourite character melds with the titular song's embers of hope. Like "Fight Together" (also by Namie Amuro), it's pretty darn beautiful.
09: Opening 03 – Hikari e (The Babystars)
Brent Middleton put it best in his 2018 article documenting his favorite anime openings:
"One Piece has been my favorite anime ever since I was in middle school. The pure sense of setting out for adventure with friends has always felt magical to me, and "Hikari e" is the theme I've always felt captures that the best. Seeing the gang looking so happy and showing off their skills never fails to make me smile, especially when coupled with groovy tunes like these."
08: Opening 16 – Hands Up! (Kota Shinzato)
"Hands Up!" is an underdog. It follows Hiroshi Kitadani's legendary return in "We Go!", and comes out the gate with a surprisingly sad sound for a pretty not sad arc (Punk Hazard). But it's a quality bop by all accounts, refusing to conform whilst remarkably fitting One Piece like a glove (a heartfelt, emotional glove).
07: Opening 04 – BON VOYAGE! (Bon-Bon Blanco)
And on the topic of underdogs, "BON VOYAGE!" claims the crown. Smushed between the beloved "Hikari e" and "Kokoro no Chizu" (see: this list's top pick), it's something of a forgettable oddity. Well I've not forgotten it, and I rate "BON VOYAGE!" hard! The Skypiea arc wouldn't be the same without this charming tune, beginning with heartwarming visuals of the Straw Hats living it up on the beach.
06: Opening 17 – Wake up! (AAA)
"Wake up!" is so stuffed to the brim with energy that it's hard not to love it. Introducing Dressrosa, which (despite its pacing problems) is One Piece's best arc to date, "Wake up!" juxtaposes its dark themes (Doflamingo's murderous manipulation of Riku, and the mystery behind Dressrosa's toy population) with hefty helpings of happiness. The lyric "We are best friends" as Luffy, Usopp, and Chopper chase a golden hercules beetle is corny but cute, and the visual switch midway through Dressrosa's run to show Pica and the other Donquixote family baddies is a pleasant surprise.
(Also, the bassline is wild.)
05: Opening 06 – Brand New World (D-51)
Enies Lobby, the action heavy epic where the Straw Hats battle a malicious government entity to save their kidnapped crew member Robin, is often cited as One Piece's best arc. With a stomper like "Brand New World" soundtracking it, it's not hard to see why. It's a shame this catchy adrenaline rush, bolstered by eye candy of the Straw Hats going toe to toe with CP9, only runs for 15 episodes.
04: Opening 13 – One day (The ROOTLESS)
As the Marineford arc enters full swing, viewers anticipate loss. To accentuate this, One Piece musters its saddest vibes. "One day" pulls on the heartstrings whilst simultaneously serving as a battle cry for the war to come. It's a moody rocker that shatters One Piece's formula, but matches Marineford's tone to a tee.
03: Opening 22 – OVER THE TOP (Hiroshi Kitadani and Kohei Tanaka)
Hiroshi Kitadani returns in One Piece's latest opening (at the time of writing), and damn diggity damn did he deliver! With the Wano Country arc being so hotly anticipated, hopes were high for this one, but Hiroshi Kitadani knocked it out the park. "OVER THE TOP", true to name, is the most hyperactively over the top belter one could drum up. With visuals teasing the rip-roaring future of Wano Country, this gem surpasses the lofty expectations fans had for it and then some.
02: Opening 01 – We Are! (Hiroshi Kitadani)/Opening 07 – We Are! (Straw Hat Pirates Version)
This is where it started. "We Are!" cemented Hiroshi Kitadani's awesome reputation, and is a classic slice of Japanese music years following its 1999 release. A special version (opening 07) replaced Hiroshi Kitadani's vocals with contributions by the Straw Hats, and whilst it's no competition to the original, it's still fantastic fun. There's not much to say other than reiterate: "We Are!" is iconic for a reason.
01: Opening 05 – Kokoro no Chizu (BOYSTYLE)
How does an opening attain perfection? Well, the music needs to be hella hella hella hella hella catchy, the visuals need to pique viewers' interests to the max, and the whole package needs to channel the tone of its anime flawlessly. "Kokoro no Chizu" achieves all this and more! From a chorus that ticks every earworm box under the sun, to visuals of Sanji somersaulting into flying kicks and Kaku nailing nifty parkour; nothing encapsulates One Piece's off kilter eccentricity and Eiichiro Oda's boundlessly playful imagination as effectively as this.
So do you agree or disagree with my rankings? Hop into the comments and fire away!
'Weathering With You' Isn't Quite the Storm It Wanted to Be
Makoto Shinkai's Weathering With You delivers a gorgeous film that doesn't quite resonate as much as it wanted to.
Climate change and global warming have been topics of concern and discussion for years now, with melting ice caps and rising ocean temperatures being some of many signs. Director Makoto Shinkai — acclaimed the world over for his 2016 work Your Name — aims to show just how at the mercy humans are to the weather with his newest animated film, Weathering With You. Although he presents a visually stunning depiction of Mother Nature in all her various moods, Weathering With You ultimately lacks the storming power it seeks to bear upon its audience.
Tokyo has been having a particularly rainy year, seeing precipitation almost every day and nary a sight of the sun or clear blue skies. It's during this unusual time that high school boy Hodaka arrives in the metropolis seeking escape from the suffocating life he had on his island. The young teenager naturally has trouble finding his bearings on his own in the oftentimes unforgiving hustle and bustle of the city. It's in these early scenes that Weathering With You has some of its strongest moments, depicting the uglier side of Japanese society not often seen in anime, while also highlighting Hodaka's strength of character to make it on his own.
As Hodaka gradually carves out his own place in the city, he eventually has an encounter with a young girl named Hina. Matching her sunny and cheerful disposition, Hina has the ability to make it stop raining and have the sunshine in very localized spots by praying to the sky. In a place where the rain never ceases, it's easy to see why Hodaka latches onto Hina to use for the greater good (while also making a little pocket change along the way).
"The hand-drawn rain is downright mesmerizing in all its forms — fierce and calm — while the sunshine that follows seems to hang in the air caught by the leftover humidity."
Gloomy skies and damp grounds can take their toll on one's mood and psyche, which someone who lives in such a climate can surely relate to. Even the briefest moments of sunshine revitalize us and give a glimpse of the "light at the end of the tunnel." Hodaka and Hina's "100% Sunshine Girl" services to those in need of that light boldly underscore that fact, and make for a strong argument for how the weather affects us all beyond its objective physicality, along with providing some much-appreciated levity to the story.
That power of weather is beautifully illustrated by CoMix Wave Films' stupendous animation efforts. The hand-drawn rain is downright mesmerizing in all its forms — fierce and calm — while the sunshine that follows seems to hang in the air, caught by the leftover humidity. Tokyo itself isn't to be outdone either, with its streets running the gamut between peaceful neighborhoods to grimy and dark back alleys with dilapidated buildings. The animation is punctuated by the return of Japanese band RADWIMPS, who create numerous memorable tracks to complement the wild swings in mood that weather can elicit.
That makes it all the more unfortunate, however, that the greater narrative is so weak.
The progression of Weathering With You is made painfully obvious right from the outset of the story — so much so that it's hard to wonder if it's actually the set-up for a bait-and-switch. As a result, much of the first half of the film is simply waiting for the other shoe to drop, making it difficult to really settle in and become intimate with its characters.
This would be less of an issue if the cast had smaller interactions that were a delight to watch, but they fall short in that regard as well. All of the characters have a charm to them for sure — with Hina's younger elementary school brother, Nagi, putting modern playboys to shame being a particular standout — but the story never quite makes a compelling case as to why they are as close as they are, especially Hina and Hodaka. They're fun enough to watch be together, but don't quite make that emotional attachment with the viewer that the story wants to create.
That lack of an emotional connection is distinctly felt in Weathering With You's second act, when unnecessary confrontations and bizarre plot directions converge to create an artificial sense of stakes amidst a central conflict that would have been fine on its own. What's meant to strengthen the impression of the characters' bonds instead cheapens it, undermining the already faulty progress the first half did make. The result is a narrative that's hard to care about, although its ending does leave the viewer with some potentially interesting questions to ponder.
Weathering With You is far from a bad movie, however. It has a clear direction and vision with a message to say about our climate crisis. The characters are endearing enough, and there are a handful of heartfelt scenes because of that. It also cannot be understated just how drop-dead gorgeous the animation is. The story, however, is simply too straightforward for its own good, resulting in an experience that is at times enjoyable, and at others plain boring.
And that's only when being judged in a vacuum on the movie's own merits. When compared to Shinkai's recent masterpiece that is Your Name, it's hard to see Weathering With You as anything but a disappointing follow-up. That's perhaps the film's greatest weakness, but fortunately, it's one that Shinkai's next work won't have, and we can still look forward to it because of that fact.
How Rimuru Tempest Changed the Game for Isekai Protagonists
That Time I Got Reincarnated as a Slime shines within the vast sea of generic isekai thanks in no small part to protagonist Rimuru Tempest.
The core premise of the isekai genre–a character being transported from their everyday life on Earth to a parallel universe–has become wildly popular for a reason: it's an immensely appealing fantasy. Just as audiences everywhere fell in love with the seminal Spirited Away in the early 2000s, it's still exciting to fantasize about discovering a new world and going on all manner of crazy adventures. However, the incessant flood of new isekai every season to capitalize on this trend has resulted in some of the most generic, overly-manufactured protagonists in any genre.
Though this sea of formulaic main characters is vast, it makes it all the easier to recognize when one bucks the typical conventions and actually proves that there's room for unique takes on the genre. That Time I Got Reincarnated as a Slime adheres to a few cliches, but it also manages to set a new bar for what a captivating isekai protagonist can be.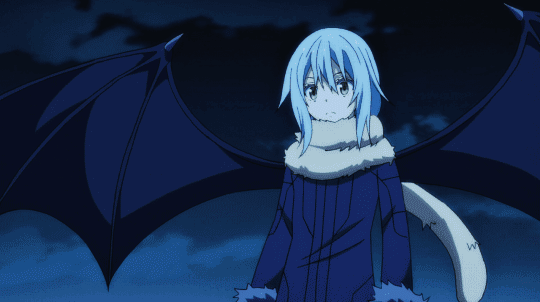 Breaking the Mold
That Time I Got Reincarnated as a Slime is as wholesome and optimistic an anime as they come. The tone can be deceptive at first; when Satoru Mikami is suddenly stabbed when trying to protect his junior, his dying wish is for his computer's hard drive to be destroyed. But after being reincarnated as a slime–and gaining the new name Rimuru Tempest–his true desires become clear: world peace and a simple, comfortable life with friends.
What's immediately striking about Rimuru as the main character is that he starts off as an average 37-year-old man. He spent his life working hard and appeasing his higher-ups to climb the corporate ladder. Shady hard drive aside, he lived a respectable and long life compared to the vast majority of protagonists in the genre. This significant age difference is evident in nearly every action and major decision Rimuru makes; he looks at situations practically before jumping headfirst into conflict.
When Rimuru gets a drink poured on him by a noble in a bar, for instance, he quells his anger in consideration of the bar and the friends around him. When someone asks for his aid in an impending battle, he pauses to go over all the available information and reaches a consensus among everyone before agreeing. And when protecting a goblin village from a pack of wolves, he doesn't just mindlessly slaughter all the wolves; he looks for the way of least resistance (killing the leader of the pack) before ultimately integrating them with the goblins as equals. Though his human form looks young, it's the wisdom behind his actions that makes those around him respect his leadership.
This is especially impressive considering just how overpowered Rimuru is. His transformation into a slime came with resistances to fire, cold, electric currents, pain, paralysis, and the ability to absorb, analyze, and take the form of anything he wants. In other words, he could go down the path of the typical shounen protagonist and solve his problems with his fists, but he never lets his overwhelming power dictate his decision-making process.
Leading a Nation
That Time I Got Reincarnated as a Slime is as much about Rimuru's adventures as it is about the rise of the independent monster nation he helps establish. Instead of running off in search of adventure, the little slime decides to nurture the goblin village he protected at the outset. He helps the goblins and wolves "level up" by naming them, shows them sustainable ways to gather food and build makeshift defenses, and even brings back dwarves to introduce blacksmithing and carpentry.
Through expansion, industrialization, and conflict, Rimuru manages to orchestrate the creation of his country in a way that's genuinely believable. His ambitions for a peaceful and integrated world play out in his willingness to accept other goblin tribes, ogres, lizardmen, and even friendly humans in his country. Being able to rationally read situations makes forging alliances and negotiating with neighboring nations possible. When a major calamity threatens all life in the forest, Rimuru wastes no time in holding a summit and allying with other forest dwellers over a common interest.
None of this would be possible without the uncanny, Luffy-like ability to inspire a sense of trust and reliability in those he comes across. Just like the members of the Straw Hat Pirates follow Luffy out of respect and loyalty, Rimuru's commanders follow him because of his sound judgment and dedication to seeing everyone in his nation be happy. It's satisfying seeing members of Rimuru's guard take personal offense when others talk poorly of him because it's clear that he's earned the respect he's given.
If isekai is to continue growing in popularity and thriving long-term, room must be made for different types of protagonists. Be they depraved, refreshingly honest characters like Kazuma or upstanding yet easygoing leaders like Rimuru, both demonstrate how valuable it is to shake up the formula and try new approaches to the genre. If the constant barrage of isekai has bittered your tolerance to it as a whole, That Time I got Reincarnated as a Slime is well worth giving a shot.
Anime Ichiban 23: New Decade, Same Questionable Tastes
Hatsune Miku at Coachella? Mangadex getting targeted for legal issues? People defending OreImo? 2020 is off to a crazy start!
Welcome to 2020, Anime Ichiban listeners!

Lots of things have happened in the past few weeks, not the least of which is Hatsune Miku making her Coachella debut. After catching up on industry news, we take a look back at some of our more questionable choices in anime and how on earth we manage to defend them.
TIMESTAMPS
0:00 – Introduction and what we've been playing
17:46 – Hatsune Miku to Perform at Coachella
25:29 – Crunchyroll's "Most Watched Shows of the Decade"
30:03 – Funimation's Popularity Awards
38:13 – Wages in the Japanese Animation Industry
45:38 – Miki Yoshikawa's New, Fan-Picked Serialization
47:08 – Legal Trouble Brewing for Mangadex
57:02 – Highest Grossing Domestic Anime Films for Japan in 2019
59:33 – What shows surprised us and which ones do we struggle to defend?
TRACKS
Intro – "Dream X Scramble!" by Airi (Keijo!!!!!!!! OP)
Outro – "Lucky☆Orb feat. Hatsune Miku" by emon(Tes.)