'Pokémon the Movie: I Choose You!' Coming to Theatres Internationally
The 20th theatrical Pokémon film, I Choose You!, will receive a limited theatrical release worldwide November 5 and 6. The movie is a retelling of how Ash and Pikachu met, and how their adventure first began. Find showtimes in your area and purchase tickets via the Fathom Animation website.
According to Pokemon.com, movie-goers will receive a promotional Pokémon trading card, as well as a QR code to download a Pikachu wearing Ash's hat from the movie to their Pokémon Sun and Pokémon Moon games.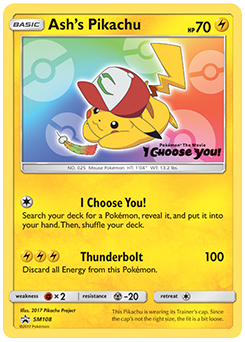 To further celebrate the film, all players can download another special Pikachu to their Pokémon Sun and Pokémon Moon games. Using the code PIKACHU20, players can download one of six Pikachu, each with an exclusive moveset and wearing a different one of Ash's hats from the animé. The code can only be used once, and the date it is redeemed will affect which Pikachu the player receives.
September 19–25: Ash's original hat
September 26–October 2: Ash's Hoenn hat
October 3–9: Ash's Sinnoh hat
October 10–16: Ash's Unova hat
October 17–23: Ash's Kalos hat
October 24–30: Ash's Alola hat
A new Pokémon film is released every year, and usually stars Ash and company with a new or legendary Pokémon. These feature-length films often have higher budgets than ordinary animé episodes, and are accompanied by a short Pikachu-centric film beforehand. These films are shown in theatres every July in Japan, and often draw huge crowds. Japanese movie-goers also tend to receive exclusive Pokémon in their games, as well as free merchandise.
This is the first time a Pokémon movie has had an international theatrical release in 14 years. In North America, only the first five Pokémon films (which were associated with the "original" first few seasons of the animé) were released in theatres. A few of the films have had limited theatrical runs since, including the 13th movie in the US and and 14th-19th movies in Australia and New Zealand. Pokémon: The First Movie – Mewtwo Strikes Back also had a short theatrical rerelease in the US last year, bringing back the nostalgia of the 90's for old fans.
The latest Pokémon film is sure to create great memories for both old and new fans alike.
Ricky Da Conceicao, Founder, Editor-in-Chief
Patrick Murphy, Editor, co-founder
Mike Worby, Managing Editor
Marc Kaliroff, Games Editor, (NXpress Podcast)
Brent Middleton, Indie Games Editor
Campbell Gill, Indie Editor; (NXpress Podcast)
Izsak Barnette, Senior Writer
Renan Fontes, Senior Writer
Mathew Ponthier, Senior Writer
Cameron Daxon, Staff Writer, (NXpress Podcast)
Antonia Haynes, Senior Writer
Christopher Cross, Senior Writer
Tim Maison (Game Boys Podcast)
Ryan Kapioski (Games Boys Podcast)
Alex Aldridge (The Winner is You Podcast)
David Smile (The Winner is You Podcast)
Marty Allen, Staff Writer
Patrick Morris, Staff Writer
Caitlin Wiliams, Staff Writer
Daniel Pinheiro, Staff Writer
Dylan MacDougall, Staff Writer
Michael McKean, Staff Writer
Nicholas Straub, Staff Writer