'The Last Jedi' Blasts Star Wars Reverence into Meaningless, Fun Space Bits
Disney has essentially turned Star Wars into a Marvel movie, but it's still decent fun.
As if trying to make some sort of point to die-hard fans who cling to the high standards set by their beloved original trilogy, Star Wars: The Last Jedi rarely misses an opportunity to hammer home that priorities in this belabored universe should and will focus around those with a future, those with the opportunity to establish themselves beyond the deep shadow cast by old legends now turned old fogies. Never mind that this latest trilogy has so far relied heavily on the past; it's all in good Disney fun, a chance to playfully subvert expectations and bring the franchise more in line with their other cash cows. Star Wars as many of us remember it is dead, folks; the Force didn't awaken as its old self, and it probably never will again. However, while what has taken the place of George Lucas' fairy tale vision might not provide the cinematic nourishment of yore, The Last Jedi shows that this Marvel-like product can still entertain with a steady dose of humor and a skilled hand piloting the ship.
It could easily be debated whether the story of The Last Jedi matters to anything at all — save for a few points, one could skip it almost entirely and most likely still understand whatever comes next — but it does have one of the goofiest premises in the series (or any other), stretching the idea of a feature-length chase scene to the point of cheesy audaciousness. Basically, the New Order has the Resistance on the run, and so a large fleet of large ships follows behind a smaller fleet with smaller ships, casually bombarding their vulnerable prey with lasers in one of the slowest pursuits in cinema. It's up to General Leia, Poe Dameron (with a welcome increased role), Finn, and some others to figure out how to keep their ragtag band (and hope for the galaxy) alive. Meanwhile, Rey is on an island with Luke Skywalker (Mark Hamill, auditioning for Grumpiest Old Men), trying to convince the former Jedi to come back and save the day.
Strangely, it's a mix of the bombastic fireworks display that was The Force Awakens (albeit with a far superior pacing), meta humor that encroaches on Avengers territory, and a sincere effort at depicting nuanced conflict. Despite a few moments of eye-rolling ridiculousness that recall — yes, I'll say it — the much-maligned prequels, it works on its own terms, pretty much like Guardians of the Galaxy with lightsabers. Splitting up all the main characters and sending them planets apart means that any additional development in their relationships is out of the picture, but did anyone really believe these people as good friends anyway? Or even as people, period? Sadly, The Last Jedi doesn't give much room to breathe in this department, though Adam Driver does manage to find interesting deliveries that imply a deep-down complexity the others can't match. That the eternally mopey Kylo Ren is the most fascinating person in the film is not necessarily a bad thing though, and the ambiguity behind his figurative mask is a welcome bit of serious unpredictability.
Like its predecessor, The Last Jedi rushes from scenario to scenario, rarely taking time to let anything sink in (perhaps knowing that would be its downfall), but director Rian Johnson knows how to inject mystery and excitement in a flash, even constructing a few powerful interactions in the process. His camera placement is top-notch (this is how you take inspiration from a classic), and he and cinematographer Steve Yedlin compose flashes of moody beauty wherever they go, rolling with the variety while creating schemes that keep the multiple locations visually distinct, yet cohesive. We know where we are, and what everyone is doing, and these days that's a plus. Just when the conventional juggling of story threads seems to be wearing a bit thin, a fresh plot surprise or burst of color brings the film back to life (a few classic music cues don't hurt either in getting the heart pumping). Johnson clearly also has a handle in the jokes department, scoring some well-timed quips and gags, even if many of them feel a bit too self-referential or spoofy for a Star Wars film. Again though, this isn't your daddy's Holy Trilogy.
Because every middle entry (or any half-decent entry, for that matter) must be compared to the pinnacle that is The Empire Strikes Back, so too will The Last Jedi, but this seems a tad unfair. Really, the two have little to do with each other in tone, structure, or objective. Whereas Episode V uses its characters' spiraling personal situations as a metaphor for the Rebel Alliance's precariousness as a whole, here the stakes are more literal, and the tone has a tinge of upbeat spirit that doesn't even try to replicate the overcast doom and gloom of its ancestor. The Last Jedi wants to wow audiences, not make them contemplate ancient wisdom or spiritual connections. Anything requiring more than a line or two to consider is glossed over as quickly as possible in favor of efficient exposition, no matter how awkward. There is one exception to this that emerges as a pleasantly interesting recurrence, but whether it eventually leads to somewhere of value is anyone's guess.
No, The Last Jedi is not about examining mythic archetypes, heroic journeys, or even logical human behavior (a later subplot forces drama to the brink of obvious unbelievability). It's about fun, and there's plenty to be had. A running time usually saved for self-indulgence instead breezes by quickly, whisking the audience away before any realization sets in, and the action is expertly put together, filled with just the right amount of old assets and new additions to play off the desire for both nostalgia and novelty, with a good-natured vibe lacking from the shameless fan service that was The Force Awakens. It's a far better film than the last, even if they share a certain shallowness. Fans should beware that Disney does not seem very interested diving deep into any lore, and though questions are certainly addressed in this sequel, many may take issue with the nonchalance of the answers.
Most importantly though, Star Wars: The Last Jedi seems like closure for those hoping for a return to the traditional storytelling of the original trilogy. This is the kind of well-oiled machine that signifies a Disney property, and no matter how much care and craft Rian Johnson has brought to the proceedings, the heart of beloved classics will have a hard time being resuscitated with the required modern formula. However, as some people in The Last Jedi try to make clear, maybe it's time to let the old ways go. It's a Disney universe now; we're all just living in it.
'Greener Grass' Is a Pain in The Ass
Maybe get high for this one
Co-written, co-directed, and co-starring Jocelyn DeBoer and Dawn Luebbe as two soccer moms who battle it out over who has the more perfect suburban life, Greener Grass looks like it creators are having a lot of fun. Possibly more fun than anyone actually watching the film, a surrealist satire of suburban life that is neither cutting enough to be insightful nor funny enough to be worthwhile. While watchable thanks to its strange, cartoonish world-building and bold production design, it ultimately fails both as comedy and as meaningful commentary.
Greener Grass starts with Jill (Jocelyn DeBoer) and Lisa (Dawn Luebbe) watching their kids play soccer; Jill has a new baby, which Lisa hadn't previously noticed. In the first sign that this world is completely askew, Jill just gives her baby to Lisa as a present. This is one of the least weird things that happens in a film with little concern towards logical construction or narrative coherence.
Featuring a soundtrack giving off serious original Twin Peaks vibes, the world of Greener Grass is one of pure strangeness: cars are replaced by golf carts, characters wear matching coloured suits, and the whole town gives off a twinkling aura reminiscent of classic television adverts. Jill and Lisa are classic models of femininity, at one point switching husbands to kiss as a comment on how generic their men seem. Nonetheless, they are constantly competing, with the ever-susceptible Jill constantly on the lookout for a way that she can finally improve her life, while Lisa tries to iron out her own familial issues. Sadly, neither Jill nor Lisa ever make it past their sketch-show characterisations, making them at first unrelatable, before eventually becoming straight-up annoying.
There is a sense here that more care has been put into crafting this weird universe then telling a coherent story of what actually happens in it; Greener Grass mostly using its setting as an excuse to string together a bunch of middling skits. At first, the randomness seems freeing; when you watch so many films for a living, B constantly following A can get rather repetitive. This is a world where anything can happen and nothing is explained. For example, when Jill's son turns into a dog — suddenly leaving the woman who once had two children with none at all — the how of it all is never asked, and the event is instead used as a means to explore Jill's relationship to Lisa. Yet, once it becomes obvious that there is no true connective tissue between absurdities (like you might find in the tightly-wound films of Yorgos Lanthimos), the world of Greener Grass grows easily tiring — even moreso considering its barrage of adolescent, amateurish, awkward and atrocious attempts at comedy.
Comedy is a hard thing to quantify. Sometimes it simply boils down to whether something makes you laugh…or at least smile. While the madcap world of Greener Grass is aesthetically delightful, the jokes can come across as painfully awful — the kind of try-too-hard skits you find in the bottom basement of a bar at the Edinburgh Fringe. Undeniably an each-to-their-own kind of situation, its an even bigger shame that these jokes cannot even be corralled into something actually interesting.
The obvious influence here, in both form and construction (featuring a subplot with a mysterious killer), is David Lynch. Yet, while Twin Peaks (at least in season 1 and The Return) and Blue Velvet used that weirdness to expose the darker underbelly of American life, it's hard to say what Greener Grass is actually saying about the nature of suburban aspiration. While it seems that the point is to show how suburban life is already kind of absurd, dialing the zaniness up to eleven doesn't hammer in that point any further. It comes as little surprise that the feature film is adapted from a short. Perhaps it should've stayed that way.
'In Fabric' is a Mesmerizing Satire of Consumerism
TIFF 2018
Our obsession with shopping and consumerism is going to be the death of us all — at least, director Peter Strickland seems to think so. The constantly increasing Black Friday crowds and coupon-clipping masses will rue the day they bought that really nice pair of pants at such a great price. Or in the case of Strickland's latest cocktail of absurdity and horror, a beautiful red dress. In Fabric is a phantasmagoric allegory for our growing obsession with buying into our wants, and losing our souls in the process — and it's about as weirdly fantastic as it sounds.
Though Strickland may refute that he consciously went for evoking giallo films when making In Fabric (which he did at a Q&A that took place at the midnight screening of the Toronto International Film Festival), it's difficult not to see the influence. While there isn't much here in terms of plotting — a red dress makes its way to different owners, affecting their lives in different, negative ways — Strickland focuses more on illuminating the characters' lives while they have this haunted outfit.
The only real connection between stories is the department store that sells the dress, filled with bald women wearing wigs and saying everything in as complicated and absurd of a way as possible. They move through the interior of the building using dumbwaiters, and are managed by a creepy old man who is a professional at customer service. The same model can be found throughout an in-store catalogue that showcases all the latest fashions; it's an eerily intricate nightmare of normality. The women all essentially cast spells on their customers to get them to buy something, except the spells are just really flattering comments and exceptional customer service. Strickland strikes right at the heart of consumerism with his weird fixation on the ways we're lulled into parting with our money.
Standing out is the way that the rich atmosphere is presented. In Fabric blends a deadly cocktail of sensuality and dread in every frame, from a red dress lighting up an entire room with its bright colors, to images of its smooth texture overlapping over morbid imagery; every moment in Strickland's fourth feature is a delight. It's not necessarily style over substance, but one of the many ways In Fabric falters is how indebted to its editing and visuals it becomes, especially by the second half. Berberian Sound Studio also fell into the same trappings, but where that was used for narrative purposes, In Fabric utilizes it solely for a more textured atmosphere. This lends it a strong voice, but one that drags on too long.
The question that many will wonder as the movie progresses: is this is horror or comedy? The truth is, In Fabric falls more on the comedic side of things. It's not exactly a scary movie, but it evokes a lot of haunting imagery. Strickland has always written from a more humorous point of view, with maybe the exception being his debut film, Katalin Varga, but this marks the first film of his to just lean into the laughs. It's absurd and preposterous, but grounded in something we can all relate to in some manner — either the customer service side of things, or being swindled into buying something we don't need.
The appropriately campy performance from Fatma Mohamed as a saleswoman who manages to convince different people to purchase the possessed red dress is one of the greatest delights of In Fabric. On top of that are some of the weirder concepts that the film latches onto and decides to explore — like the semantics of washing machine repair. The monotonous descriptions of washing machines in disarray, and subsequently what parts and procedures are needed to fix them, offers a glimpse at how monotony can be hypnotic.
There's an allure to everything here, as even its smallest jokes feel representative of some larger conversation about the items we purchase and the meaning (or lack thereof) that we attach to them. Peter Strickland exists within a very unique form of cinema. Here he's at his most reverential for the medium, but also posits his most ambitious and relevant statements. There may not be more than just a simple self-awareness to the act of consumerism, but Strickland at least offers an entertaining satire of an industry we all submerge ourselves into for the smallest deal.
Editor's Note. This article was originally published on September 17, 2018, as part of our coverage of the Toronto International Film Festival.
'The Painted Bird' is An Incredibly Grim Portrait of Anti-Semitism
From 14 Films Around the World Festival: Not for the faint of heart, the latest film from Václav Marhoul, is a deep dive into human misery without much love, hope or grace.
A grueling epic of misery, The Painted Bird (based on the novel of the same name by Jerzy Kosiński) makes Come and See look like a children's book. Taking place in the Czech Republic during the end of WWII, it finds one young Jewish boy on an odyssey to find his family, suffering indignity after indignity on the way there. Nearly all human deprivation is here — rape, murder, bestiality — which is made all the worse by its grim inevitability. It's a difficult, brutal watch; the kind of film I'd recommend, but would find difficult to defend if challenged.
The Painted Bird is not like other birds. Due to its strange plumage, the other birds get jealous. They surround the painted bird, and they kill it. This metaphor suggests that due to the savagery of Central Europe during WWII, anything that is different — whether Slavic, gay, gypsy, or Jewish — must be surrounded and bullied and ultimately destroyed.
Our unnamed young protagonist (Petr Kotlar) is one such painted bird. The film starts with him holding a ferret while running through the woods, being chased by other boys. They beat him up and burn his pet to a crisp. He then comes home to his aunt, who tells him it's his fault. Things get much, much, much worse from there.
It turns out that the boy has been sent away to the countryside by his parents, evidently for his own protection. When his aunt dies, he finds himself completely adrift, relying on the kindness of strangers to get by. The big problem is that these strangers aren't too kind at all. In fact, they are kind of evil, with nearly each one finding a new way to abuse the young lad. Told in a completely unsentimental style, The Painted Bird is an incredibly difficult watch — yet, its disturbing scenes aren't merely there to exploit or titillate, but to lay witness to the horrors of recent history.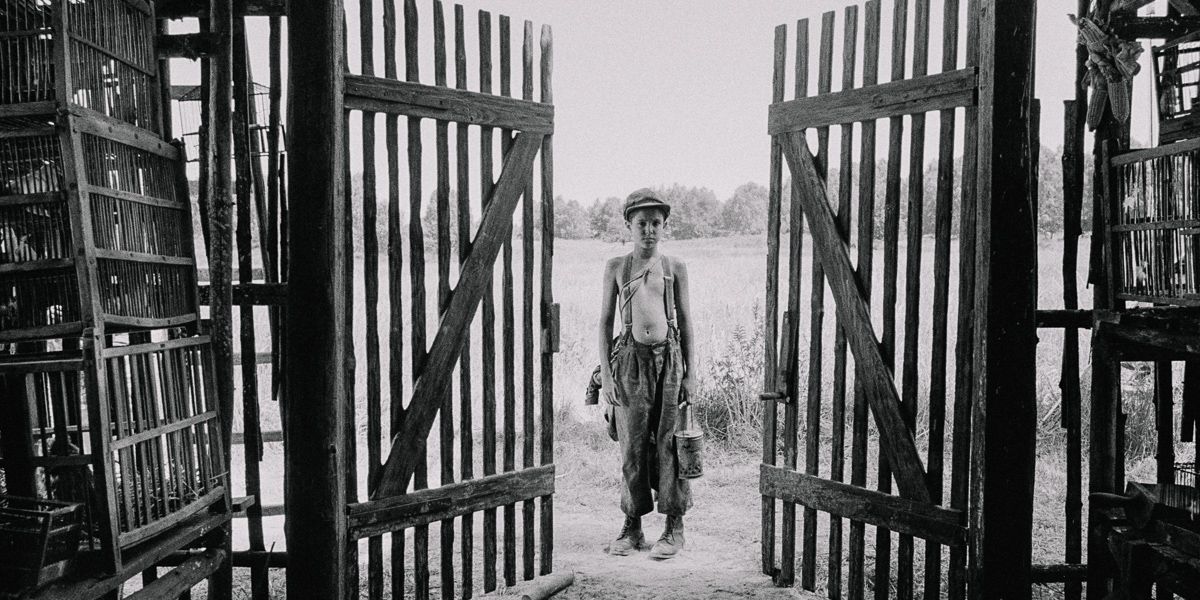 The story is told in an episodic format, with each chapter bookmarked by one or two names. Each one brings a new sense of dread: will this person be kind, or just another monster? The genius of the screenplay is how each episode seems to change the young lad just a little bit more, showing how one's view on life can be completely altered by experience.
Credit must go to Kotlar, who turns in all-time great child performance, Bresson-like in the simple and pure way he interprets the role. This is the right choice; if it aimed for histrionics, it would have been unbearable. As it is, it feels inevitable. Like The Irishman, the weighty runtime here really immerses us into the young boy's life; make it an hour shorter, and his transformation wouldn't have anything near the same effect.
The epic-length is matched by the epic 35mm black-and-white-cinematography. Making use of a huge anamorphic widescreen, our protagonist is often situated to the side of the frame while horrific things going on in the background, as if to stress his unwilling participation in a degraded world. Unlike the cinematography, the film's moral conclusions are a complete grey zone, depicting horrific things that show how terrible the war was — and what the disease of antisemitism led to — without ever editorializing or telling us how to feel. One can only watch and watch and watch, powerless to stop the awful things from happening.
The Painted Bird makes it absolutely clear that antisemitism was not just limited to the Nazis. Nearly everyone seems to hate the young lad, simply for the unavoidable fact of his birth. Anti-semitism doesn't end with the Nazi's demise either; the transition to peacetime does little to placate the locals' hatred of Jews. Coming at a time when hatred of Jewish people seems on the rise and being weaponized, The Painted Bird devastatingly shows us the inevitable end of such hate. While it definitely courts controversy, there is a method to such relentless misery. This is the story of survival. The kind of story that should never be told again.
'The Painted Bird' played as part of 14 Films Around The World Festival at Kino in der KulturBrauerei in Berlin, Germany, a special selection of 14 films from 14 countries from Cannes, Locarno, Berlinale, Venice and more.