Wes Craven intended Nightmare to be an exploration of surreal horror as opposed to just another stalk-and-slash horror movie, and not only did Nightmare offer a wildly imaginative, inspired concept, but it was a solid commercial genre entry for the dating crowd. Elm Street was New Line's first genuine mainstream cinematic venture (after Alone In The Dark), and made the company a huge pile of money. The film was shot in 30 days at a cost of roughly $1.8 million, but it made back its figure and then some on opening weekend. New Line Cinema was saved from bankruptcy by the success of the film, and was jokingly nicknamed "the house that Freddy built."
Perhaps the most influential horror film of the '80s, Craven's 1984 slasher about a quartet of high school kids terrorized in their dreams by a torched boogeyman in a fedora hat and dusty pullovers spawned countless sequels and even a TV series.
One great thing Nightmare offered, perhaps more than anything else, was a new horror star in Robert Englund. Englund based the physicality of Freddy on Klaus Kinski's performance in Werner Herzog's Nosferatu: Phantom der Nacht (1979), making Freddy one of the most recognizable modern horror villains: vicious, but with a sense of humour as sharp as the blades on his gloves. The horribly barbequed man with the ragged slouch hat, dusty red-and-green striped sweater, and metal gloves with knives at the tip of each finger, had not yet become the ridiculous wisecracking clown of the sequels. Here he says very little, and when he does speak, his words are powerful for its brevity – and oh those infamous razor gloves scraping against metal is enough to send shivers down your spine.
The inspiration for the character of Freddy came from several sources in Wes Craven's childhood. The name, Fred Krueger, came from a schoolmate of Craven who had bullied him for several years and Freddy's appearance was inspired by a hobo lurking around Craven's house, who Craven spotted from his bedroom window one night at the age of ten. But the basis of the film was inspired by several newspaper articles printed in the LA Times on a group of Khmer refugees, who were suffering disturbing nightmares, and refused to sleep – with the most extreme cases leading to actual death in the throes of horrific nightmares. Medical authorities called the phenomenon Asian Death Syndrome.
"I don't know who he is, but he's burned and he wears a weird hat and a red and green sweater, really dirty. And he uses these knives, like giant fingernails… "
This was the film that introduced the world to Freddy Krueger, a monster who exists in his victims' dreams and preys on them in the vulnerability of sleep. The idea behind the glove was a practical one on Wes Craven's part, as he wanted to give the character a unique weapon, but also something that could be made cheaply and wouldn't be difficult to transport. The end result brings a macabre ghostly figure throughout – indeed, precisely what nightmares are made of.
In addition to offering the visceral thrills that are necessary in a genre entry, Craven's screenplay works on several levels. Here the idea of sleep as the ultimate threat is ingenious and incredibly insidious. Craven masterfully disguises dreams as reality and vice versa, and the idea that injuries sustained in dreams also exist outside helps to further blur the already murky distinction between the two. The primary element that elevates A Nightmare on Elm Street above many other slasher films is that the storyline invites intellectual observation: At times, we're aware that the characters are trapped in a dreamscape, but there are times when we are not, and there are occasions when we suspect they're awake and they are actually asleep – as if the children are in a never-ending state of hypnagogia.
The ultimate revelation however is that Freddy is really the byproduct of parental vigilantism. The teenagers in the film are paying for the sins of their parents —and thus the brute is determined to exact revenge in using their children as his victims. Nightmare has been described as a reaction to the perceived innocence of American suburbs: parents in the film's fictional suburb dispose of Krueger and hide any form of his existence in an attempt to build a safe environment for their children. There's a clear generational divide in A Nightmare on Elm Street, with the children trying to stay awake both figuratively and literally and the parents continuing to ignore the situation, utterly avoiding taking responsibility for their hideous actions. They instead bury their memories of the crime they once commuted so deep down inside, it remains lodged in the far reaches of their brain, where we can also find their declarative memories. As a result, the sins-of-the-father biblical warning (in a slasher-movie setting) have allowed Krueger to amass incredible power in his nightmare world – power he uses to exact his revenge. More so, Freddy's actions have been interpreted as symbolic of the often traumatic experiences of adolescence. Sexuality is ever present in Freudian images and is almost exclusively displayed in a threatening and mysterious context (i.e. Tina's death visually evokes a rape, Freddy's glove emerges between Nancy's legs in the bath, a centipede crawls out of the mouth of one of the victims and finally a mattress swallows up Johnny Depp only to ejaculate him immediately after). The original script actually called for Krueger to be a child molester, rather than a child killer, but somehow the idea was lost in the process of shooting.
Craven claimed he wanted someone very "non-Hollywood" for the role of Nancy, and he believed Langenkamp met this quality. Depp was another unknown when he was cast; and initially never intending on auditioning. Instead he was only tagging along with friend Jackie Earle Haley (who went on to play Freddy in the 2010 remake), yet it was Depp who got the part of Glen instead. Nightmare was both the feature debut and breakthrough for Depp and a stepping stone to bigger things to come.
Nightmare is the story of the courage and resourcefulness of one extraordinary girl. At the age of 19, Langekamp portrays one of the most perfectly realized and well-expressed teenagers/heroines of the 1980s. The best slasher films all have realistic heroines, and Langenkamp ranks as close to the top as Janet Leigh or Jamie Lee Curtis. As Nancy, Heather Langenkamp is closer to Alien's Sigourney Weaver than to Halloween's Jamie Lee Curtis: quick-witted, adventurous and courageous, and willing to enter into Freddy's realm even when she knows he has the upper glove. Nancy and Freddy are incredibly well-matched: during the climax, she even uses a few survivalist techniques to turn the tables on Freddy. Her character is one of the greatest "final girls" in the history of slasher films, and goes on to reappear throughout the franchise in the only two solid sequels (A Nightmare On Elm Street 3, Wes Craven's New Nightmare).
Visually, A Nightmare on Elm Street is a real treat hovering somewhere between gothic, supernatural imagery and the typical 80's slasher fare. Cinematographer Jacques Haitkin's work here is innovative and atmospheric, capturing a malevolent mood with light and shadow, most notably in the surrealistic basement scenes set around the furnace. Like so many films of this genre, its artistic ingenuity is intensified with various bloody set-pieces and visual effects. A Nightmare on Elm Street boasts several impressively conceived and well executed dream/kill sequences. During production, over 500 gallons of fake blood were used for the special effects production. The special effects, most of which are low-tech, are surprisingly effective, and this was the first film to use a breakaway mirror.
Craven's probing of the waking/dreaming barrier results in some memorable kill sequences. Tina's (Amanda Wyss) death scene, which featured her trashing across the ceiling, was partly inspired by the movie Royal Wedding (1951), which was the first movie to use a rotating set. The set here slowly spun to allow her to roll into position, with a camera bolted to the wall and a cameraman strapped into a chair beside it, which turned in tandem with the room. It's important to remember that this was a low budget film shot in 30 days. For the two shots where Rod (Jsu Garcia) and Tina reach out for one another, Tina is actually lying on the floor and Garcia is hanging upside down with his hair pasted to stay flat.
FX man Jim Doyle was responsible for designing and constructing the ingenious full-scale gyro rotating room which was again used for Johnny Depp's kill. For the famous blood geyser sequence, the furniture, cameraman, director and actor were fixed in place, and the room would spin upside down, thus allowing the rigged room to appear right side up while thousands of gallons of fake blood would seem to gush, erupt and ejaculate from the bed. On the DVD commentary, Wes Craven remarks that the room spinning the wrong way was like a "Ferris Wheel from hell." This scene was partly inspired by the elevator scene in The Shining. Particularly effective is the scene where Nancy is attacked by Krueger in her bathtub and pulled under the water into a pitch-black pool leading to a back alley chase where Freddy stalks her. To achieve this effect, the tub was put in a bathroom set that was built over a swimming pool. During this underwater sequence Heather Langenkamp was replaced with a stuntwoman. Also worth noting is the "melting staircase" as seen in Nancy's dream, which was created using pancake mix and directed by Friday the 13th director Sean S. Cunningham (who is uncredited). Finally, the sequence in which Freddy is set on fire, shot in one long take (with several cameramen), featured one hell of an elaborate and dangerous stunt by stuntman Anthony Cecere (who won best stunt of the year for it).
Finally I just couldn't end without mentioning Charles Bernstein's spare score, the musical cues, synthesizers, creepy sound effects and the film's unforgettable children's rhyme – which is all perfect for the material – eerie but never overwhelming.
A Nightmare on Elm Street is tailor made for those who like their scares evened with thought-provoking ideas – something that is a rarity in this genre. Yes, there are plenty of shocks, but there's something much more: a psychological fantasy thriller that tears away at the barrier of dreams and reality, making us think twice before settling in for a good night's sleep. The film may be a bit rough around the edges for the new generation, and multiple viewings do tend to expose its low-budget origins, but Nightmare is still to this day dark and forbidding, chilling and incredibly unnerving – a near masterpiece of independent genre filmmaking.
Ricky D
'Greener Grass' Is a Pain in The Ass
Maybe get high for this one
Co-written, co-directed, and co-starring Jocelyn DeBoer and Dawn Luebbe as two soccer moms who battle it out over who has the more perfect suburban life, Greener Grass looks like it creators are having a lot of fun. Possibly more fun than anyone actually watching the film, a surrealist satire of suburban life that is neither cutting enough to be insightful nor funny enough to be worthwhile. While watchable thanks to its strange, cartoonish world-building and bold production design, it ultimately fails both as comedy and as meaningful commentary.
Greener Grass starts with Jill (Jocelyn DeBoer) and Lisa (Dawn Luebbe) watching their kids play soccer; Jill has a new baby, which Lisa hadn't previously noticed. In the first sign that this world is completely askew, Jill just gives her baby to Lisa as a present. This is one of the least weird things that happens in a film with little concern towards logical construction or narrative coherence.
Featuring a soundtrack giving off serious original Twin Peaks vibes, the world of Greener Grass is one of pure strangeness: cars are replaced by golf carts, characters wear matching coloured suits, and the whole town gives off a twinkling aura reminiscent of classic television adverts. Jill and Lisa are classic models of femininity, at one point switching husbands to kiss as a comment on how generic their men seem. Nonetheless, they are constantly competing, with the ever-susceptible Jill constantly on the lookout for a way that she can finally improve her life, while Lisa tries to iron out her own familial issues. Sadly, neither Jill nor Lisa ever make it past their sketch-show characterisations, making them at first unrelatable, before eventually becoming straight-up annoying.
There is a sense here that more care has been put into crafting this weird universe then telling a coherent story of what actually happens in it; Greener Grass mostly using its setting as an excuse to string together a bunch of middling skits. At first, the randomness seems freeing; when you watch so many films for a living, B constantly following A can get rather repetitive. This is a world where anything can happen and nothing is explained. For example, when Jill's son turns into a dog — suddenly leaving the woman who once had two children with none at all — the how of it all is never asked, and the event is instead used as a means to explore Jill's relationship to Lisa. Yet, once it becomes obvious that there is no true connective tissue between absurdities (like you might find in the tightly-wound films of Yorgos Lanthimos), the world of Greener Grass grows easily tiring — even moreso considering its barrage of adolescent, amateurish, awkward and atrocious attempts at comedy.
Comedy is a hard thing to quantify. Sometimes it simply boils down to whether something makes you laugh…or at least smile. While the madcap world of Greener Grass is aesthetically delightful, the jokes can come across as painfully awful — the kind of try-too-hard skits you find in the bottom basement of a bar at the Edinburgh Fringe. Undeniably an each-to-their-own kind of situation, its an even bigger shame that these jokes cannot even be corralled into something actually interesting.
The obvious influence here, in both form and construction (featuring a subplot with a mysterious killer), is David Lynch. Yet, while Twin Peaks (at least in season 1 and The Return) and Blue Velvet used that weirdness to expose the darker underbelly of American life, it's hard to say what Greener Grass is actually saying about the nature of suburban aspiration. While it seems that the point is to show how suburban life is already kind of absurd, dialing the zaniness up to eleven doesn't hammer in that point any further. It comes as little surprise that the feature film is adapted from a short. Perhaps it should've stayed that way.
'In Fabric' is a Mesmerizing Satire of Consumerism
TIFF 2018
Our obsession with shopping and consumerism is going to be the death of us all — at least, director Peter Strickland seems to think so. The constantly increasing Black Friday crowds and coupon-clipping masses will rue the day they bought that really nice pair of pants at such a great price. Or in the case of Strickland's latest cocktail of absurdity and horror, a beautiful red dress. In Fabric is a phantasmagoric allegory for our growing obsession with buying into our wants, and losing our souls in the process — and it's about as weirdly fantastic as it sounds.
Though Strickland may refute that he consciously went for evoking giallo films when making In Fabric (which he did at a Q&A that took place at the midnight screening of the Toronto International Film Festival), it's difficult not to see the influence. While there isn't much here in terms of plotting — a red dress makes its way to different owners, affecting their lives in different, negative ways — Strickland focuses more on illuminating the characters' lives while they have this haunted outfit.
The only real connection between stories is the department store that sells the dress, filled with bald women wearing wigs and saying everything in as complicated and absurd of a way as possible. They move through the interior of the building using dumbwaiters, and are managed by a creepy old man who is a professional at customer service. The same model can be found throughout an in-store catalogue that showcases all the latest fashions; it's an eerily intricate nightmare of normality. The women all essentially cast spells on their customers to get them to buy something, except the spells are just really flattering comments and exceptional customer service. Strickland strikes right at the heart of consumerism with his weird fixation on the ways we're lulled into parting with our money.
Standing out is the way that the rich atmosphere is presented. In Fabric blends a deadly cocktail of sensuality and dread in every frame, from a red dress lighting up an entire room with its bright colors, to images of its smooth texture overlapping over morbid imagery; every moment in Strickland's fourth feature is a delight. It's not necessarily style over substance, but one of the many ways In Fabric falters is how indebted to its editing and visuals it becomes, especially by the second half. Berberian Sound Studio also fell into the same trappings, but where that was used for narrative purposes, In Fabric utilizes it solely for a more textured atmosphere. This lends it a strong voice, but one that drags on too long.
The question that many will wonder as the movie progresses: is this is horror or comedy? The truth is, In Fabric falls more on the comedic side of things. It's not exactly a scary movie, but it evokes a lot of haunting imagery. Strickland has always written from a more humorous point of view, with maybe the exception being his debut film, Katalin Varga, but this marks the first film of his to just lean into the laughs. It's absurd and preposterous, but grounded in something we can all relate to in some manner — either the customer service side of things, or being swindled into buying something we don't need.
The appropriately campy performance from Fatma Mohamed as a saleswoman who manages to convince different people to purchase the possessed red dress is one of the greatest delights of In Fabric. On top of that are some of the weirder concepts that the film latches onto and decides to explore — like the semantics of washing machine repair. The monotonous descriptions of washing machines in disarray, and subsequently what parts and procedures are needed to fix them, offers a glimpse at how monotony can be hypnotic.
There's an allure to everything here, as even its smallest jokes feel representative of some larger conversation about the items we purchase and the meaning (or lack thereof) that we attach to them. Peter Strickland exists within a very unique form of cinema. Here he's at his most reverential for the medium, but also posits his most ambitious and relevant statements. There may not be more than just a simple self-awareness to the act of consumerism, but Strickland at least offers an entertaining satire of an industry we all submerge ourselves into for the smallest deal.
Editor's Note. This article was originally published on September 17, 2018, as part of our coverage of the Toronto International Film Festival.
'The Painted Bird' is An Incredibly Grim Portrait of Anti-Semitism
From 14 Films Around the World Festival: Not for the faint of heart, the latest film from Václav Marhoul, is a deep dive into human misery without much love, hope or grace.
A grueling epic of misery, The Painted Bird (based on the novel of the same name by Jerzy Kosiński) makes Come and See look like a children's book. Taking place in the Czech Republic during the end of WWII, it finds one young Jewish boy on an odyssey to find his family, suffering indignity after indignity on the way there. Nearly all human deprivation is here — rape, murder, bestiality — which is made all the worse by its grim inevitability. It's a difficult, brutal watch; the kind of film I'd recommend, but would find difficult to defend if challenged.
The Painted Bird is not like other birds. Due to its strange plumage, the other birds get jealous. They surround the painted bird, and they kill it. This metaphor suggests that due to the savagery of Central Europe during WWII, anything that is different — whether Slavic, gay, gypsy, or Jewish — must be surrounded and bullied and ultimately destroyed.
Our unnamed young protagonist (Petr Kotlar) is one such painted bird. The film starts with him holding a ferret while running through the woods, being chased by other boys. They beat him up and burn his pet to a crisp. He then comes home to his aunt, who tells him it's his fault. Things get much, much, much worse from there.
It turns out that the boy has been sent away to the countryside by his parents, evidently for his own protection. When his aunt dies, he finds himself completely adrift, relying on the kindness of strangers to get by. The big problem is that these strangers aren't too kind at all. In fact, they are kind of evil, with nearly each one finding a new way to abuse the young lad. Told in a completely unsentimental style, The Painted Bird is an incredibly difficult watch — yet, its disturbing scenes aren't merely there to exploit or titillate, but to lay witness to the horrors of recent history.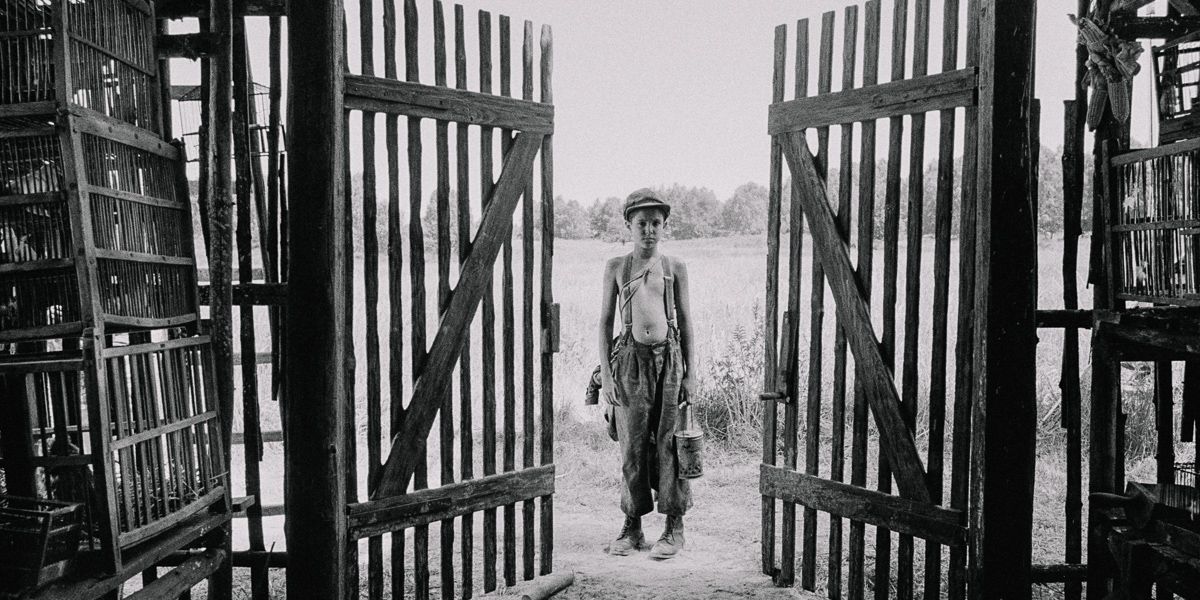 The story is told in an episodic format, with each chapter bookmarked by one or two names. Each one brings a new sense of dread: will this person be kind, or just another monster? The genius of the screenplay is how each episode seems to change the young lad just a little bit more, showing how one's view on life can be completely altered by experience.
Credit must go to Kotlar, who turns in all-time great child performance, Bresson-like in the simple and pure way he interprets the role. This is the right choice; if it aimed for histrionics, it would have been unbearable. As it is, it feels inevitable. Like The Irishman, the weighty runtime here really immerses us into the young boy's life; make it an hour shorter, and his transformation wouldn't have anything near the same effect.
The epic-length is matched by the epic 35mm black-and-white-cinematography. Making use of a huge anamorphic widescreen, our protagonist is often situated to the side of the frame while horrific things going on in the background, as if to stress his unwilling participation in a degraded world. Unlike the cinematography, the film's moral conclusions are a complete grey zone, depicting horrific things that show how terrible the war was — and what the disease of antisemitism led to — without ever editorializing or telling us how to feel. One can only watch and watch and watch, powerless to stop the awful things from happening.
The Painted Bird makes it absolutely clear that antisemitism was not just limited to the Nazis. Nearly everyone seems to hate the young lad, simply for the unavoidable fact of his birth. Anti-semitism doesn't end with the Nazi's demise either; the transition to peacetime does little to placate the locals' hatred of Jews. Coming at a time when hatred of Jewish people seems on the rise and being weaponized, The Painted Bird devastatingly shows us the inevitable end of such hate. While it definitely courts controversy, there is a method to such relentless misery. This is the story of survival. The kind of story that should never be told again.
'The Painted Bird' played as part of 14 Films Around The World Festival at Kino in der KulturBrauerei in Berlin, Germany, a special selection of 14 films from 14 countries from Cannes, Locarno, Berlinale, Venice and more.