Life on Mars: Breaking Down the SDCC 'Watchmen' Trailer
The latest trailer for HBO's Watchmen has premiered at SDCC, but it offers as many new questions as those it appears to answer.
It's that time of year again gang, and with the arrival of San Diego Comic Con comes, of course, a bevy of announcements and trailers. One such trailer was the second for HBO's upcoming Watchmen series. Helmed by Damon Lindelof, of Lost and The Leftovers, the series is already set to begin with a talented hand on the prow, and with the further pedigree of Alan Moore and Dave Gibbons' seminal graphic novel to draw from, Watchmen is shaping up to be the must-watch event of the fall.
While the fantastic teaser released earlier this summer already got fans motors revving, the latest trailer reveals even more about the world of Watchmen, and how Lindelof intends to adapt one of the most beloved and iconic comic book stories of all time into a TV series for HBO. As Lindelof has stated explicitly in interviews, he has no interest in retreading the story of the original comic series, calling the original run "sacred".
Doubling down on this notion, the latest trailer seems to further confirm what many suspected from the first teaser: that this will instead be a sequel series, taking place after the events of the original comic. There were many elements in the initial teaser, from the establishment of the Rorschach group (seemingly in lieu of the original character, who dies in the final issue of the comic) to an older, more esteemed version of Ozymandias, to be played by Jeremy Irons.
While some sources are suggesting that the new series will take place 10 years after the original story, it could extend even as far as modern times. Either way, the new Watchmen trailer answers many questions fans had after the original teaser, including why the police are masked and whether other characters from the comic series would be present on top of the confirmed Ozymandias. For example, we see Night Owl's Archimedes ship flying through the sky, and taking down a plane later in the trailer, as well as a couple of quick looks at Dr. Manhattan.
While the first bit of Dr. Manhattan shows him living in isolation on Mars, where he spends much of the original comic series, the second snippet of footage appears to show him returning to Earth, something that has huge implications for the story. Dr. Manhattan's ability to control the molecular structure of himself and others gave him god-like powers in the original run, including the ability to see all of time and space like an open book. His inclusion in the new Watchmen will complicate things extensively, not just for those who oppose him, but for the writers of this story. There's a reason, after all, that such a powerful character spends much of Moore and Gibbons' series separated from the conflict on Earth.
On top of these reveals, the SDCC trailer offers elaboration on some of the newcomers to this story, including Regina King's vigilante character, who appears to be the central protagonist of the series (and who worked with Lindelof on The Leftovers), and a middle-aged FBI agent who seems to be as suspicious of the police as she is of the vigilantes who threaten them. As she states in the trailer: there's very little difference between a masked vigilante and a masked cop. One of the things that makes the police force work, in so much as it does, is the notion of accountability. If no one knows who the police are anymore, they've essentially got carte blanche to operate as they see fit, with little to no repercussions for their actions.
This will no doubt be one of the key conflicts of the new series, and it feels right at home with Lindelof's existing body of work. After all, both Lost and The Leftovers dealt extensively with doomsday cults and secret organizations, as well as those who opposed them and their influence. Of course, this conflict ties in even deeper to the story of the original Watchmen run. Fans will remember that Watchmen ended with the revelation that Ozymandias had manufactured the entire conflict, and killed millions, in hopes of averting nuclear catastrophe and saving the world from itself. The remaining characters agree to begrudgingly keep the secret at the end, meaning they are probably still keeping that secret in the current timeline.
This is likely the "vast and insidious conspiracy" that a character describes in the trailer, and if the Watchmen are protecting that secret, could some of their members find themselves added to Ozymandias' rogue's gallery as villains of the series? At best they will find themselves morally challenged by this new world, but then the grey nature of right and wrong was one of the key themes of the original work. The Comedian, for example, was certainly as much a villain as he was a hero. Still, with the stakes as high as they seemingly are, the many moral quandaries that the heroes and villains of the series will undoubtedly face will make navigating them all the more perilous.
Finally, we can't analyze the new material without mentioning that the trailer begins with Hooded Justice foiling an attempted robbery. A deep cut character, Hooded Justice was one of the original Minutemen who operated in the 1950s, along with the original Night Owl, original Silk Spectre and The Comedian. His inclusion suggests that the scope of Watchmen could extend back in time as well as forward, opening up entire new realms of storytelling, ones that might even allow for the return of dead characters like Rorschach and The Comedian in some fashion.
Either way, with 2-3 months remaining before the series will likely premiere, we've got plenty more time to speculate, and possibly enough time for one more trailer or so. What questions do you have about the new series? Feel free to let us know in the comments below.
'The World According to Jeff Goldblum' is a Quirky and Oddly Engrossing Worldview of Modern Culture
Disney Plus launched on November 12th to the general public and with it came ten new pilot episodes for upcoming original shows including Star Wars: The Mandalorian and Pixar In Real Life. Out of all the original television series to debut on opening day, one strikingly stands out from the rest: a quirky National Geographic docuseries featuring Jurassic Park and Thor: Ragnarok actor Jeff Goldblum that was initially going to air on the television channel before switching over to the digital streaming service.
In the mouse's newest selection of shows for their Netflix Competitor, variety can be the key to the foundation of building something successful and The World According to Jeff Goldblum might just hit the sweet spot for what this service needs, but it is still notably something that would never be labeled as a reason to buy into Disney Plus. With that being said, viewing a regular conversation with Jeff Goldblum has never been so engrossing before than in this odd gem of a series.
Goldblum Versus The World
The pilot episode of the series turns Goldblum into a comedic ethnographer who indulges himself in the culture of shoe collectors and creators. Goldblum slowly dives into his worldview of the purpose and significance of the common day footwear, while looking into how the business operates and the passion behind those who proclaim shoes to the highest extent. The pilot episode focuses on a theme of revelation while jumping from different specialists within the culture such as basketball teams, business owners, creators, and even YouTube personalities.
If you are a fan of the actor then you should already except what you are about to watch. Goldblum has his typical quirky and childish mannerisms that make him iconic, while he goes around interacting with a vast selection of people who are widely educated about the subject matter that each half-hour episode focuses on. Despite seeming like a show that can easily become a bore to watch, it never loses steam and becomes an exceptionally well-executed documentary with a flair of humor and spice of knowledge thanks to Goldblum's mesmerizing appearance.
From the perspective of becoming an ethnographer, Goldblum surprisingly does a good job interacting with an audience he typically would never engage with. He never misses a beat as he proceeds to ask serious questions and of course, make humor out of certain situations when appropriate. Never once does he provocatively attempt to embarrass a group of people for mindless entertainment or make fools out of them like other docuseries on specific cultures have.
In fact, Goldblum goes the extra mile to participate in sneaker conventions, recreational basketball games, and even professional science laboratory visits- taking on the tasks that a legitimate ethnographer would have to engage in. All of his crazy yet conventional doings ultimately pays off into what ends up building a captivating show that may even attract audiences who do not care about anything that is being discussed. Goldblum's personality will miraculously keep you hooked on his wild journeys through everyday life as he attempts to explain his stance on common objects while plunging into a perspective of life he has never once stepped into.
Science, Psychology, and Style
This is a National Geographic production though, after all. It is no surprise that this series would be injected with a relentless amount of historical knowledge that is slowly seeping into the core of the show. In the pilot episode, Goldblum combines science, psychology, and of course eccentric style to form a captivating presentation that is quite unlike any other docuseries. For example, in the pilot episode alone Goldblum covers how shoes work, why the category of clothing is so popular among shoe collectors, and the different art styles of footwear found throughout shoe brands.
That being said, for a series revolving around such a simple concept, there is a substantial amount of content to actually talk about and the production value here is unnecessarily high- hitting that Disney expected production value to the point where its astonishingly remarkable how much passion was actually put into this series. From the editing to the cinematography, this is certainly something that was not made without passion. On-screen graphics are always welcomely flashy, lighting is constantly up to pristine quality, and the focus always remains on the title actor.
Goldblum's consistent upbeat pazazz and high energy makes this series not only entertaining and relaxing to watch for his comedic appearance, but for an enjoyable source of overall education- something that most other docuseries tend to struggle with when multitasking multiple genres.
The Pursuit of Happiness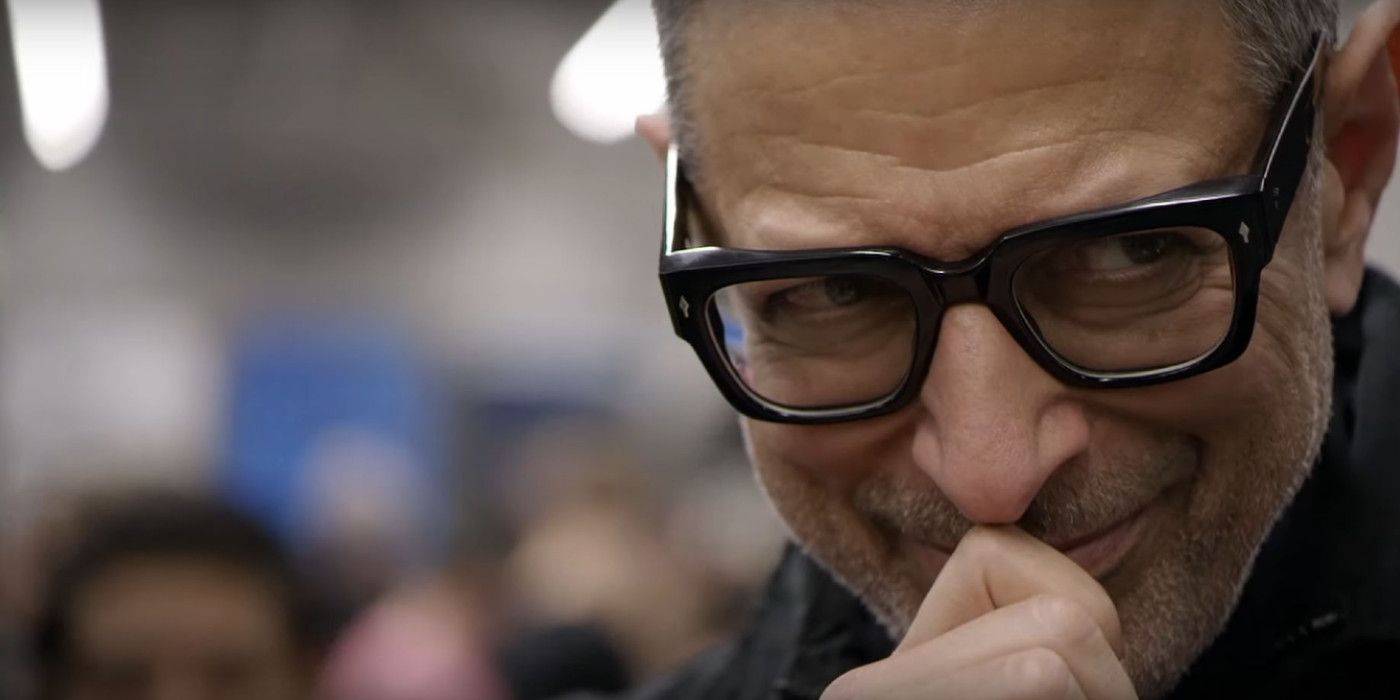 Is The World According to Jeff Goldblum worthy of being called a reason to purchase Disney Plus? Absolutely not. Is it worth watching on an empty afternoon though? Unsurprisingly yes. This is a fun family series that is not only educational regarding subject-matter but educational to learn more about Jeff Goldblum himself. Without the big-name actor though it would be hard to imagine why anyone would ever want to watch this series.
Goldblum's presence allows this series to become a notable piece of content available on the streaming service, however, without him, it would be nothing but another typical documentary series with no real focus. It is entertaining until the very end and is keen on ending off on a positive punchline to keep you coming back next time. Simply put, it is another great addition to Disney Plus's colossal lineup that will seemingly never stop producing high-quality content.
The Mandalorian's First Episode is an Impressively Lush, Spaghetti Western-inspired Introduction to its World
The Mandalorian Season 1 Episode One Review: "Chapter One"
George Lucas famously took inspiration from Akira Kurosawa's The Hidden Fortress when first writing his treatment of what was then titled The Star Wars; it's pretty much why we spend the first twenty minutes of A New Hope with R2-D2 and C3-PO. He also used many of its shot compositions, but ultimately reconstituted the pastiche through a unique, worn science fantasy style into what we collectively recognise as Star Wars: A New Hope. In the ensuing four decades, the Star Wars franchise has looked well beyond Kurosawa for its cinematic language, channeling everything from gangster movies to political thrillers to survival horror to wuxia through its peculiar galactic design.
Now, to the delight of everyone who has ever wanted Star Wars to be a Western since seeing gunslinger Boba Fett, The Mandalorian is here to satisfy under auspices of director Dave Filoni.
That "Chapter One" is a meditative and deliberate character study where nothing extraordinary happens, and yet is still riveting, suggests that The Mandalorian will be a complex and thoughtful offering.
The first episode, titled "Chapter One," is a tale of two halves, and within those halves are two different Sergio Leone spaghetti westerns. As with that genre, the exposition is minimal; yet, accepting the basic conceit as one does with a Western — in this case, the eponymous Mandalorian (forever the 'Mando' with No Name, played by Pedro Pascal) is a gun-toting bounty hunter who goes around chasing renegades — the rest is parsed out. Given the series is so stylistically steeped in that heritage, it is fruitful to analyse The Mandalorian in the context of its spaghetti western influences.
The opening moments find the Mandalorian checking a transponder on some icy planet amidst a sleet storm, then ambling towards some podunk outpost framed by a wide shot, in much the way Stony the gunman did in the beginning of Once Upon A Time In The West. The subsequent scene, in a bar, reflects Once Upon A Time In The West's saloon confrontation as well — if not for the actual exchanges, then for the chiaroscuro contrast in the set lighting, the cutting to the other patrons' reaction to accentuate unease, and the close-ups of all involved. Composer Ludwig Göransson even tries for something akin to the famous aching harmonica, but lower-pitched with woodwinds.
Unlike Cheyenne and Harmonica in Leone's masterpiece, "Chapter One" sees the Mandalorian break the tension by breaking a few heads, as he quickly comes to collect his target fugitive: a blue-gilled alien named Mythrol (Horatio Sanz), who immediately tries to talk his way out of it. This is one of many naturally-lit, seated conversations that frame the episode, with each successively coaxing a little more emotion from the initially silent Mandalorian. It's a simple but effective technique, providing expositional context for the uninitiated, introducing the other starring actors, and it ultimately suggests a nuanced character beneath that blank helmet.
The affable-yet-blubbering Mythrol's juxtaposing role in "Chapter One" efficiently emphasises how imposing the bounty hunter is. For example, Mythrol is a terrified wreck as the Mandalorian clinically dispatches a giant, scaly walrus called Ravinak. His nervous yammering in the face of the Mandalorian's austere silence aboard the starship makes his request to "evacuate a thorax" far more intimidating. And when Mythrol inevitably tries to plan his escape, the Mandalorian appears like a phantom, mercilessly freezing him in carbonite (but not before Mythrol laments that he won't be seeing his family by "Life Day"…The Star Wars Holiday Remake, coming to Disney+ this December). To his enemies, this Mandalorian is as much of a frigid void as carbonite.
To his employers, however, he is marginally more talkative. Carl Weathers as Greef Carga, a bounty hunter guild-master and form of bail bondsman, along with Werner Herzog (presumably as "Werner Herzog"), have sparse, largely expositional dialogue, but both immediately create an engaging dynamic with the Mandalorian on the strength of their acting. Weathers especially makes the most of deviously trying to pass off Imperial Credits in the aftermath of the defunct Galactic Empire; the mixture of indignation and exasperation when exclaiming, "They still spend!" is perfect. Werner Herzog essentially just has to intone in his distinctive German accent, but clad in black and surrounded by ex-Stormtrooper bodyguards, it's no wonder that the Mandalorian is unsettled by his new client's dubious proposition.
However, the fortune he will be paid in Beskar — the metal alloy used in Mandalorian armour that was ostensibly robbed by the Empire from the Mandalorian homeworld — allows him to ignore the obliquely threatening idea that it is "good to restore the natural order of things after a period of such disarray."
These conversations are interspersed with brief vignettes of the Mandalorian walking about town ignoring roasted and caged Kowakian monkey-lizards, or through dark alleyways and halls, observed by other mute bounty hunters, which serves to distance him from the liveliness of the society. One gets the feeling that he is less troubled in the desolate plains of foreign planets, or in the cold steel of his spaceship.
Leone's spaghetti westerns were enriched by a masterful, atmospheric craftsmanship that complemented the profoundly beautiful composition of the cinematography; in that vein, "Chapter One" is very much a pensive tonal piece over anything else, happy to leave much to situational subtext while lingering on that inscrutable helmet.
Only once does the episode pierce through the mask to the man behind it, with disorientating flashbacks to the childhood trauma punctuated by the triggering anvil strikes of a newly minted shoulder plate from the Beskar ingot he received as down-payment.
Each interaction — with his victims, his superiors, his equals — makes the Mandalorian slightly more forthcoming, more human, and less robotic, like the droids he so detests. Credit should be given to Pedro Pascal and his doubles' physical acting. As the Mandalorian's emotions come increasingly to the fore, Pascal's physical demeanour and movements become less constricted, and instead grow more loping and loose. Now that his shoulder plate signet is ceremonially fitted onto his ensemble, it will be interesting to see how the rest of this season explores the broken man occupying the armour, and whether it is a protective halo to suppress his nightmares, or a cage for reawakening humanity.
With humanity comes fallibility, and while the second half of "Chapter One" mirrors the beginning of the first — with a transponder held aloft — here The Mandalorian transitions to its second Leone work, A Fistful of Dollars. Almost immediately after he steps onto the planet's surface, the Mandalorian nearly has his arm ripped off by a bipedal fish-headed monster called a "Blurrg." He genuinely becomes "The Mando with No Name," because Clint Eastwood's "Stranger" in the Dollars Trilogy couldn't take a punch either, despite being a fantastic gunman. It's also possibly the first time a feted, cool, masked Star Wars character anticlimactically getting knocked about hasn't infinitely diminished the allure; rather, it acts as a reminder of the tenuousness of their line of work. It only took thirty-six years, but Star Wars has finally cracked the "Boba Fett Syndrome."
The Mandalorian is rescued by Nick Nolte's pig-faced Kuiil, whose facial hair is alike José Calvo's helpful innkeeper, Silvanito, in A Fistful of Dollars. Kuiil plays a similar role to Silvanito, feeding and resting the Mandalorian, then guiding him to where the bandits are hiding. There is a shot of the two looking down over a ridge to observe the bandits that echoes Eastwood and Calvo watching the massacre of Mexican soldiers.
The closing act of "Chapter One," as one would expect for a Western, is a shootout (heavily promoted in the previews). Things are complicated, however, by the presence of the unintentionally deadpanning bounty hunter murder-bot, IG-11 (voiced by Taika Waititi), who shoots before he asks questions like whether the Mandalorian is also part of the bounty hunter's guild. However, the two team up in order to try to kill the bandits and split the reward. In a true sign of growth, the Mandalorian goes from dismissing droid landspeeder taxi drivers at the start of the episode to repeatedly stopping IG-11 from initiating self-destruction. It's a darkly funny scene, and like most of the episode, is tonally on point amidst gunfire.
In general, the comedic style in "Chapter One" is comparable to the Original Trilogy in its understated and wry sensibility. The comedy is indicative of larger reassuring qualities that the episode possesses: it is atmospherically, thematically, and tonally cogent. This returns us to the discussion at the start of the review, and poses a question: with the variety of genres Star Wars has subsumed, one can reasonably ask, what is Star Wars "supposed" to be? And therefore, does The Mandalorian feel like Star Wars?
Lest this be mistaken for some covert screed about agendas and ruined childhoods, it is an important question, because it is one that Star Wars has been asking itself since at least 1999, when The Phantom Menace first arrived with its diplomatic negotiations and midichlorians. During Dave Filoni's show-running and development of The Clone Wars and later Rebels, physical and mystical manifestations of The Force were introduced. Rebels even had time-travel! Rogue One had moral turpitude and bleakness.
Relating to comedy, Lawrence Kasdan's script made The Force Awakens probably the most overtly comical Star Wars film to date. Meanwhile, one of the frequent criticisms levied at the divisive The Last Jedi was that the so-called "gag humour" pushed things too far for Star Wars. So The Mandalorian and "Chapter One" arrives at a crucial, but not unusual moment in helping to set standards for what Star Wars is — or more accurately, illustrating what it could be.
For that reason, having Dave Filoni direct the first episode of this venture into live-action television was a smart decision. Some shot compositions are deceptively beautiful in their clarity, the mark of a masterful animator who appreciates the importance of artistic staging and creating coherent lines of focus. Furthermore, at this point, Filoni may have contributed more hours to Star Wars canon than George Lucas himself. As Lucas' padawan, he has a firm grasp of navigating the tonal and shifts within the realm of Star Wars, while still having learnt the core tenets of the series directly from the source.
However, he has frankly executed those ideas with more panache than Lucas managed post-1999. At a time when legions of people are imposing upon the franchise some decades-worth of expectations of what they believe a galaxy far far away should be and represent, The Mandalorian is a nexus of both traditional Star Wars adventure and pushing it towards what fans always imagined the imperfect films to be. That "Chapter One" is a meditative and deliberate character study where nothing extraordinary happens, and yet is still riveting, suggests that The Mandalorian will be a complex and thoughtful offering.
That was a lie about nothing extraordinary happening. There is one revelation at the very end that serves as a brilliant hook for the next episode and has ramifications for Star Wars as a whole. Suffice to say, it brings the Mandalorian's arc in "Chapter One" to a thematically interesting place that is consistent with his burgeoning humanity. The consequences will surely propel the conflicts for the rest of the season, and it's the sort of momentous event that gives renewed hope the tumultuous times Star Wars finds itself in won't be the death of its potential inventiveness as a galaxy-wide lens for exploring compelling concepts.
Other Thoughts/Observations:
The Mandalorian and Greef Carga's conversation references Star Wars: Underworld, the unproduced live-action series George Lucas had proposed and commissioned purportedly fifty scripts for, and the main reason why he made Clone Wars in the first place — to see if Star Wars was viable on a television budget.
Armourer (Emily Swallow) has an interesting Mandalorian costume that mixes a Viking fur cloak and a cross between a Corinthian and Trojan helmet. Also, watching two Mandalorians sit across from each other, barely speaking with neither removing their helmets, is the sort of awkward visual comedy I hope we see more of amongst these reserved bounty hunters.
Kuiil witheringly chastising the Mandalorian that his ancestors rode "Mythosaurs" and he can barely mount a Blurrg was funny.
Similarly, Brian Posehn's taxi driver showing up in a spluttering, barely functioning landspeeder was a good joke. They also got a wide-shot landspeeder and screen-wipe in! It's like poetry!
The CGI for the Blurrgs was generally good, but the combination of the bright daylight and their smooth skin texture made the effect much more obvious than others. Still, we've come a long way from staccato creatures incongruously inserted into the Original Trilogy. Also, IG-11 looks so photorealistic!
Watchmen Podcast: Breaking Down "If You Don't Like My Story, Write Your Own"
With its fourth episode, titled "If You Don't Like My Story, Write Your Own," HBO's Watchmen examines questions of legacy and inheritance but also leaves the viewers scratching their heads trying to figure out what the series is all about. There are countless jaw-dropping scenes in the fourth episode, but there are also scenes that have didn't quite work for us. Needless to say, the episode left us somewhat disappointed this week. Tune in and find out why.
Our Watchmen podcast will see Simon Howell and an assortment of guests tackle the entire series (or at least the first season). In this fourth episode, Simon Howell, Kate Rennebohm and Randy Dankievitch, take a deep dive into "If You Don't Like My Story, Write Your Own" and note some of the more astonishing facts of the episode you might have missed.
And for those of you wondering, in order to keep things simple, we've decided to upload each episode to the same feed as our other podcast, Before the Internet.
Listen here on iTunes or listen here on Stitcher.
You can also catch our show on Pocketcast and on Spotify, or simply listen via the player embedded below.