Fantasia 2019: Bruce McDonald's 'Dreamland' is Strange, Surreal and Singular
Pontypool director Bruce McDonald makes his return with 'Dreamland'.
Bruce McDonald's Dreamland is, for good or ill, on its own very particular wavelength. A strange mix of noir atmosphere and surrealism, the film seems to continue the path McDonald walked with 2015's Hellions, with dreamlike atmospheres laid over otherwise typical genre fare. But while Hellions applied this new fascination with the surreal to horror, Dreamland turns its focus onto hard-boiled crime. Or at least, that's the closest reference point one can make out through Dreamland's odd, singular landscape. It's a film that very much walks to the beat of its own drum. If that rhythm is one you can get in step with, it can be an interesting and sometimes engrossing experience. If not, McDonald's latest effort may leave you cold.
Stephen McHattie stars in a dual role, on the one hand playing an aging and soft-spoken gun for hire, and on the other a strung-out trumpet player. The Killer is distraught to discover that his boss, played by Henry Rollins, has begun trafficking in children, a line the aging assassin won't cross. The Trumpet Player, meanwhile, is staying in the extravagant castle of a local countess, preparing to perform at her brother's wedding. Her brother, incidentally, is a vampire in full Nosferatu mode, and everyone seems to take this as normal. The paths of these two men seem strangely an inexplicably linked, and the Killer's blood-splattered path to redemption brings them ever closer together.
Appropriately for its title, Dreamland is a film driven by a hazy, dreamlike logic. Set against an unnamed Eastern European city and refusing to elaborate on its exact time period, the film is awash with odd moments and unexplained quirks. In one scene, a wife implores the Trumpet Player to kill her husband, as the dumbfounded husband looks on no less. A half-hour or more later we see them again, the previous encounter seemingly behind them. This comes mere seconds after the Killer barely escapes from a squad of hitmen, none of them over thirteen years old.
The Killer and the Trumpet Player's strange link is never elaborated on, but in one key scene, the Trumpet Player's distinctive black fingernail materializes on the Killer for no reason given. And again, there's that vampire. It's a weird, weird movie, and that weirdness will either endear it to you or alienate you. It rarely feels too much like an affectation, but it's also really hard to discern what's driving it all, what it all means. Is it just weird for the sake of it? Perhaps, and it's understandable to get turned off by that. But there's also enough atmosphere, enough offbeat charm, and enough sheer uniqueness of vision to make it worth trying at least.
McHattie, for his part, is marvelous as the two leads, playing two distinct shades of a haunted loner sometimes directly opposite one another. The Killer, with his long black hair and hard-boiled attitude, could almost be mistaken for an aging John Wick, and the strange criminal underworld he inhabits backs up the comparison more than a little. The Trumpet Player, who is less seen but no less engrossing, is the prototypical burned-out artist — never seeming quite in his right mind. Henry Rollins, meanwhile, does a decent but unremarkable turn as Hercules, a short-fused and morally bankrupt gang boss. It's not a demanding role, but the former Black Flag frontman wears it well. Juliette Lewis plays the Countess, and gives her all to what ends up as a fairly insubstantial role. McHattie's Pontypool costar Lisa Houle pulls up the rear in an underdeveloped role as Lisa, a character who probably had much more to do in a previous draft. It's never quite clear who she is or what her relationship to anyone else is, making her character feel like an afterthought.
Dreamland is one of those movies that in many ways defines categorization, and that uniqueness and defiance of convention is its primary selling point. The odds are that you haven't seen a movie quite like this before, and that promise of a unique experience could be enough to draw a lot of people in. Dreamland presents a singular vision, brought into reality with enthusiasm from all involved. It's most assuredly not for everyone, but McDonald's commitment to telling his story in his voice are sure to win it some fans.
The Fantasia Film Festival runs July 11 – August 1. Visit the official website for more information.
The Piercing 'Marriage Story' Is Noah Baumbach's Best Film to Date
TIFF 2019
In 2010, director Noah Baumbach began divorce proceedings with his now ex-wife, Jennifer Jason Leigh. The divorce was finalized three years later, and since then Baumbach has been in a relationship with actor and director (and occasional collaborator) Greta Gerwig. It's impossible to view his newest film, Marriage Story, without taking into account his own dissolved marriage; this is a searching, seething work of recriminations and longing that pits two all–too–human parents against each other, and invites the audience to not only imagine which bits of psychic trauma are his own, but also to consider our own relationships, successful or not.
Marriage Story stars Scarlett Johansson and Adam Driver as Nicole and Charlie, a married couple living in New York City with their young son Henry. The film opens with a montage as Nicole recites the things she most loves about her husband, from the way he can cook and doesn't mind waking up with their son, to his skill as a theater director. In turn, Charlie narrates his favorite aspects of Nicole, his regular lead actor. There are plenty of opportunities for tears here, but the unguarded emotions of these confessions might get them started right from the beginning. But just as they finish reciting these traits, we're brought back to reality; these confessions were things that they had written down to read to each other as a kind of peace offering at the start of their mediation following a separation that has led up to their divorce. But Nicole doesn't like what she has written — or at least doesn't want Charlie to hear it. And if she won't go, then it's not really fair for him to read his. So neither tells each other what they most admire in the other, and instead stop seeing the mediator.
It's the first strike in Nicole and Charlie's mutually assured destruction agreement. Though they initially plan on avoiding using lawyers, Nicole gets tipped off to a well-regarded attorney (a funny and ice-cold Laura Dern) who advises her to take a maximalist position in order to ensure she gets half of everything she wants — at the very least. Once she has a lawyer, Charlie tries out a variety of legal counsels (a soothing Alan Alda and a fiery Ray Liotta), but the real conflict comes down to location; Nicole has taken Henry to Los Angeles while she films a pilot, and wants to stay even after it's finished. Charlie, however, thought they would move back to New York. Each escalation in the feud necessitates an opposing reaction, and the two are driven further and further apart, even as they try to stay close for the sake of their son.
Baumbach has admitted that some details of the film are based on his own divorce, but he's also said he interviewed many of his friends who divorced around the same time, as well as lawyers and judges involved in divorce cases. In some ways, Marriage Story isn't just a portrait of a couple separating, but a primer on divorce court that far surpasses something like Kramer vs. Kramer, which was out of date even in 1979. The film is also an opportunity to observe two of the best living actors at the top of their game. Johansson and Driver have a knack for finding the sweet spot between un-actorly naturalism and the stylistic ticks that we recognize as compelling acting. It gives us a sense that these people were actually a family, and really cared for each other. Baumbach's script helps; it's maybe his best writing ever, filled with so many painfully open moments, yet leavened with just the right amount of humor. He's also as fair as he could be, and neither parent comes off as too saintly or self-centered.
Marriage Story ends in a circle of sorts with the discovery of Nicole's notes about Charlie's best qualities. Their marriage was effectively over before the film even started, but I kept thinking back to that lovely introductory scene. How might their journey to divorce progressed if they had the courage to speak openly to each other in that one moment? Perhaps something might have been better. Marriage Story doesn't harbor any of those romantic illusions, however; once it's over, it's over.
Editor's Note: This article was originally published on September 12, 2019, as part of our coverage of the Toronto International Film Festival.
'In Fabric' is a Mesmerizing Satire of Consumerism
TIFF 2018
Our obsession with shopping and consumerism is going to be the death of us all — at least, director Peter Strickland seems to think so. The constantly increasing Black Friday crowds and coupon-clipping masses will rue the day they bought that really nice pair of pants at such a great price. Or in the case of Strickland's latest cocktail of absurdity and horror, a beautiful red dress. In Fabric is a phantasmagoric allegory for our growing obsession with buying into our wants, and losing our souls in the process — and it's about as weirdly fantastic as it sounds.
Though Strickland may refute that he consciously went for evoking giallo films when making In Fabric (which he did at a Q&A that took place at the midnight screening of the Toronto International Film Festival), it's difficult not to see the influence. While there isn't much here in terms of plotting — a red dress makes its way to different owners, affecting their lives in different, negative ways — Strickland focuses more on illuminating the characters' lives while they have this haunted outfit.
The only real connection between stories is the department store that sells the dress, filled with bald women wearing wigs and saying everything in as complicated and absurd of a way as possible. They move through the interior of the building using dumbwaiters, and are managed by a creepy old man who is a professional at customer service. The same model can be found throughout an in-store catalogue that showcases all the latest fashions; it's an eerily intricate nightmare of normality. The women all essentially cast spells on their customers to get them to buy something, except the spells are just really flattering comments and exceptional customer service. Strickland strikes right at the heart of consumerism with his weird fixation on the ways we're lulled into parting with our money.
Standing out is the way that the rich atmosphere is presented. In Fabric blends a deadly cocktail of sensuality and dread in every frame, from a red dress lighting up an entire room with its bright colors, to images of its smooth texture overlapping over morbid imagery; every moment in Strickland's fourth feature is a delight. It's not necessarily style over substance, but one of the many ways In Fabric falters is how indebted to its editing and visuals it becomes, especially by the second half. Berberian Sound Studio also fell into the same trappings, but where that was used for narrative purposes, In Fabric utilizes it solely for a more textured atmosphere. This lends it a strong voice, but one that drags on too long.
The question that many will wonder as the movie progresses: is this is horror or comedy? The truth is, In Fabric falls more on the comedic side of things. It's not exactly a scary movie, but it evokes a lot of haunting imagery. Strickland has always written from a more humorous point of view, with maybe the exception being his debut film, Katalin Varga, but this marks the first film of his to just lean into the laughs. It's absurd and preposterous, but grounded in something we can all relate to in some manner — either the customer service side of things, or being swindled into buying something we don't need.
The appropriately campy performance from Fatma Mohamed as a saleswoman who manages to convince different people to purchase the possessed red dress is one of the greatest delights of In Fabric. On top of that are some of the weirder concepts that the film latches onto and decides to explore — like the semantics of washing machine repair. The monotonous descriptions of washing machines in disarray, and subsequently what parts and procedures are needed to fix them, offers a glimpse at how monotony can be hypnotic.
There's an allure to everything here, as even its smallest jokes feel representative of some larger conversation about the items we purchase and the meaning (or lack thereof) that we attach to them. Peter Strickland exists within a very unique form of cinema. Here he's at his most reverential for the medium, but also posits his most ambitious and relevant statements. There may not be more than just a simple self-awareness to the act of consumerism, but Strickland at least offers an entertaining satire of an industry we all submerge ourselves into for the smallest deal.
Editor's Note. This article was originally published on September 17, 2018, as part of our coverage of the Toronto International Film Festival.
'The Painted Bird' is An Incredibly Grim Portrait of Anti-Semitism
From 14 Films Around the World Festival: Not for the faint of heart, the latest film from Václav Marhoul, is a deep dive into human misery without much love, hope or grace.
A grueling epic of misery, The Painted Bird (based on the novel of the same name by Jerzy Kosiński) makes Come and See look like a children's book. Taking place in the Czech Republic during the end of WWII, it finds one young Jewish boy on an odyssey to find his family, suffering indignity after indignity on the way there. Nearly all human deprivation is here — rape, murder, bestiality — which is made all the worse by its grim inevitability. It's a difficult, brutal watch; the kind of film I'd recommend, but would find difficult to defend if challenged.
The Painted Bird is not like other birds. Due to its strange plumage, the other birds get jealous. They surround the painted bird, and they kill it. This metaphor suggests that due to the savagery of Central Europe during WWII, anything that is different — whether Slavic, gay, gypsy, or Jewish — must be surrounded and bullied and ultimately destroyed.
Our unnamed young protagonist (Petr Kotlar) is one such painted bird. The film starts with him holding a ferret while running through the woods, being chased by other boys. They beat him up and burn his pet to a crisp. He then comes home to his aunt, who tells him it's his fault. Things get much, much, much worse from there.
It turns out that the boy has been sent away to the countryside by his parents, evidently for his own protection. When his aunt dies, he finds himself completely adrift, relying on the kindness of strangers to get by. The big problem is that these strangers aren't too kind at all. In fact, they are kind of evil, with nearly each one finding a new way to abuse the young lad. Told in a completely unsentimental style, The Painted Bird is an incredibly difficult watch — yet, its disturbing scenes aren't merely there to exploit or titillate, but to lay witness to the horrors of recent history.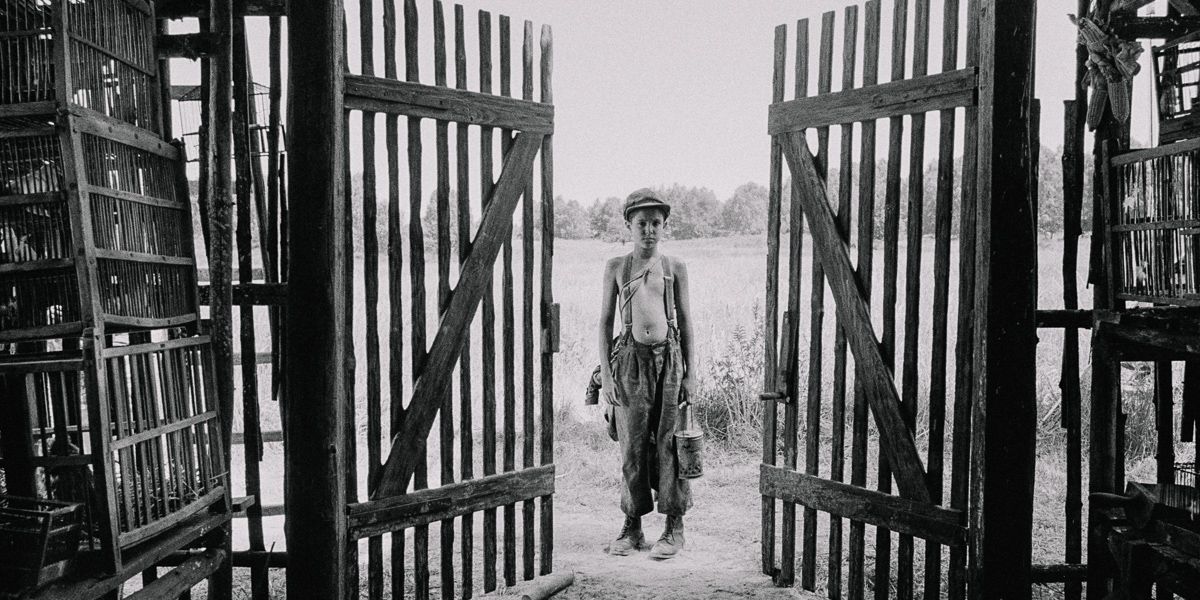 The story is told in an episodic format, with each chapter bookmarked by one or two names. Each one brings a new sense of dread: will this person be kind, or just another monster? The genius of the screenplay is how each episode seems to change the young lad just a little bit more, showing how one's view on life can be completely altered by experience.
Credit must go to Kotlar, who turns in all-time great child performance, Bresson-like in the simple and pure way he interprets the role. This is the right choice; if it aimed for histrionics, it would have been unbearable. As it is, it feels inevitable. Like The Irishman, the weighty runtime here really immerses us into the young boy's life; make it an hour shorter, and his transformation wouldn't have anything near the same effect.
The epic-length is matched by the epic 35mm black-and-white-cinematography. Making use of a huge anamorphic widescreen, our protagonist is often situated to the side of the frame while horrific things going on in the background, as if to stress his unwilling participation in a degraded world. Unlike the cinematography, the film's moral conclusions are a complete grey zone, depicting horrific things that show how terrible the war was — and what the disease of antisemitism led to — without ever editorializing or telling us how to feel. One can only watch and watch and watch, powerless to stop the awful things from happening.
The Painted Bird makes it absolutely clear that antisemitism was not just limited to the Nazis. Nearly everyone seems to hate the young lad, simply for the unavoidable fact of his birth. Anti-semitism doesn't end with the Nazi's demise either; the transition to peacetime does little to placate the locals' hatred of Jews. Coming at a time when hatred of Jewish people seems on the rise and being weaponized, The Painted Bird devastatingly shows us the inevitable end of such hate. While it definitely courts controversy, there is a method to such relentless misery. This is the story of survival. The kind of story that should never be told again.
'The Painted Bird' played as part of 14 Films Around The World Festival at Kino in der KulturBrauerei in Berlin, Germany, a special selection of 14 films from 14 countries from Cannes, Locarno, Berlinale, Venice and more.