Anime Ichiban: Brent's Favorite Opening Themes
In Anime Ichiban, we take a look at our writer's totally personal, totally subjective, possibly biased, and possibly stupid opinions regarding anime associated affairs.
While it's the show itself that ultimately leaves a lasting impression, opening themes have the crucial role of getting viewers in the mindspace to be entertained. Whether it's getting you hyped like Dragon Ball Z's "Rock the Dragon" did for millions of western children, or preparing you for the hilarious nonsense that is Bobobo-bo Bo-bobo, opening themes really set the tone for the following half hour of entertainment. These are my top 10 favorites of all-time, and they all belong to shows that I highly recommend checking out. Judge for yourself!
"Kibou no Uta" is one of my favorite songs on this list. The performance exudes passion and determination as the OP shows Soma (the main character) facing some seriously tough challengers in his rise to being a top chef. His commitment to the craft from childhood helping his father in the kitchen is heartwarming and easily my favorite scene here. And what would Food Wars! be without a little food porn sprinkled throughout for good measure?
9. "Cosmic Love"–Nana Mizuki (Rosario + Vampire, Opening)
You know an OP is great when you never want to miss its first few moments. Rosario + Vampire's opening wastes no time in establishing the show's harem dynamic. The way the main cast of girls is revealed in time with the music is ace, and their interactions with Tsukune afterwards do a great job of getting across the lighthearted humor and playful ecchiness of the series.
8. "Kuusou Mesorogiwi"–Yousei Teikoku (The Future Diary, Opening 1)
Yuno Gasai's reputation as the premier yandere in anime is firmly established. The Future Diary's first OP doesn't do much to set up story, characters or highlight key events (something the second OP goes overboard with), but it instead sets the extremely grim scene for what viewers should expect from the show. Yuno's insanity is on full display here, and it's intoxicating. The last few seconds are subtle but powerful, and become even more meaningful further into the anime.
7. "Bon Appétit?S"–Blend-A (Blend-S, Opening)
Yes, the start of this OP is a meme. But it's actually great overall, I promise! Blend-S is a rather by-the-numbers slice of life anime with a ton of color and personality, and the OP captures this perfectly. Not only is the song catchy and synced brilliantly with the visuals (which I always love), but the visuals themselves are super clean and cute. This Blend-S's OP screams high production values and knowledge of its target audience. As part of that audience, I absolutely adore it.
6. "Deal with the Devil"–Tia (Kakegurui, Opening)
While "Deal with the Devil" is another top-tier OP in terms of production value alone, its confident sense of style really pushes it over the top. Everything is very sexual and symbolic, often referencing specific moments from the show and its themes directly. Identifying these as you make your way through the season is quite fun. And I'd be remiss if I didn't mention just how well Tia captures the true essence of Kakegurui in her performance!
5. "Underground River"–Kevin Penkin ft. Raj Ramayya
(Made in Abyss, Opening 1)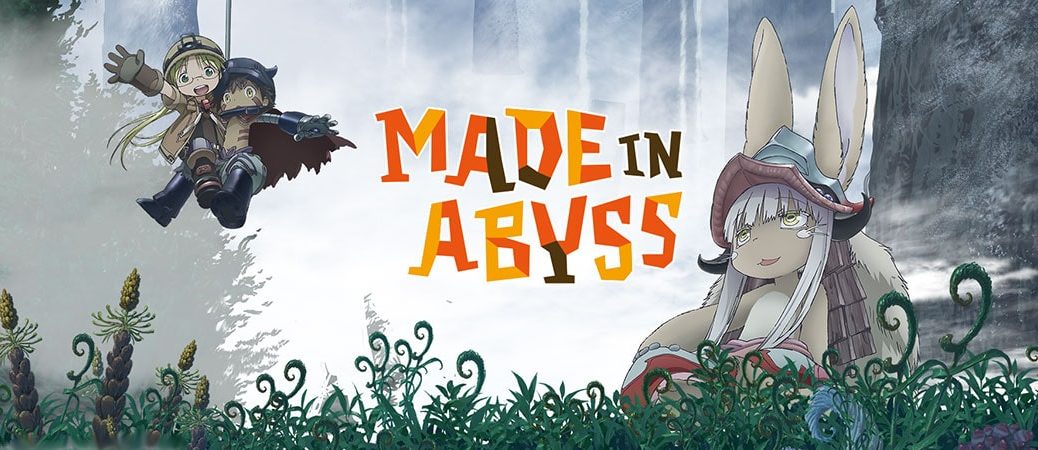 Made in Abyss' second opening is also brilliant, but there's something decidedly cinematic and emotional about Underground River. Though the same length as a typical OP, it plays out much more like the opening credits to a film than the first season of an anime. It's easily my favorite song on this list, encapsulating the somber and questioning tone that defines the series. If you watch this and aren't tempted to watch the rest of the season, I don't know what to tell you.
4. "THE WORLD"–Nightmare (Death Note, Opening 1)
Death Note is the first anime I ever bought on DVD and, even though there were only 4 episodes on that thing, it was worth it for the ability to rewind the OP alone. What's striking about "THE WORLD'" is how much it's able to communicate with so little. The use of basic religious symbolism makes it easy for new viewers to get a general idea of the dynamics at play. And the final image of Light? Chilling.
3. "Hikari E"–The Babystars (One Piece, Opening 3)
One Piece has been my favorite anime ever since I was in middle school. The pure sense of setting out for adventure with friends has always felt magical to me, and "Hikari E" is the theme I've always felt captures that the best. Seeing the gang looking so happy and showing off their skills never fails to make me smile, especially when coupled with groovy tunes like these.
2. "99"–MOB CHOIR (Mob Psycho 100, Opening)
It's hard to watch Mob Psycho 100's OP just once. "99" is so visually delightful in its design and intricately paced with its theme that it just flies by before you know it. What's even more impressive is how natural the constant counting towards 100 throughout the song feels. The transitions, stunning art direction and meticulous attention to detail all come together to make this one of the best OPs I've ever seen.

This is everything I look for in a great OP. Immediate hook at the start (similarly to the start of Rosario + Vampire's OP), a synced and catchy theme, a great sense of adventure with friends (again, something I hold dear), and a couple of standout moments throughout that just feel special (in this case, 1:08). There's a lot to love here. If you haven't seen this little gem of a series yet, give it a watch!
Videos were uploaded courtesy of the /r/AnimeThemes community
Anime Ichiban 21: Explosions are so Kakkoii!
The Konosuba movie delivers on almost all fronts while this anime season delivers more shows of varying quality.
TIMESTAMPS
0:00 – Introductions
10:03 – Konosuba movie impressions and revenue news
22:23 – DEEMO movie announcement
26:29 – A cruise for anime fans
30:22 – Clip Paint Studio manga software donated to Texan schools
34:05 – The decline of Japanese arcades
38:53 – Yuki Kaji monetizes his voice even more
42:17 – This week in stage play adaptations
49:47 – Tokyo anime studio exhibition
51:08 – SHITSUMON! The yabai, the ma ma, and the kakkoii of this season
1:20:38 – Closing remarks
TRACKS
Intro – "Papapa" by Shuka Saito (ORESUKI opening theme)
Outro – "Chisana Boukensha" by Sora Amamiya, Rie Takahashi, and Ai Kayano (Konosuba first season ending theme)
Anime's Survival Genre: Creating a Killing Game
Anime's survival genre, which has lent itself to a spectrum of popular, critically acclaimed shows over the years, has a sub-genre that is more diverse and nuanced than it seems to the casual glance. The infamous "killing game" sub-genre has spawned many easily recognizable, seeming cult-classics.
While the killing game genre is massive, and maybe even a bit oversaturated to date, the three anime adaptations covered in this article serve as proof that a seemingly rigid basis for a plot can take many concrete and thematic twists and turns.
There are many listicles online that can serve as great jumping-off points to find different entries to your liking—here, however, you'll read a more in-depth analysis of three shows, each with their own cult following and notoriety.

These shows are: When the Seagulls Cry (Umineko no naku koro ni), Danganronpa: The Animation, and Future Diary (Mirai Nikki).
For these shows, this article will ask the same three questions:
What is the basic premise of the killing game?
What is the defining philosophy of the protagonist?
How are the character deaths handled during the game?
In the interest of not spoiling the ending for these shows, this article will focus mostly on how each killing game is first introduced.
Answering these questions, with a laser focus on just three examples, will show just how nuanced the construction of a killing game anime can be.
When the Seagulls Cry (Umineko no naku koro ni)
Question 1: What is the basic premise of the killing game?
This anime serves as an adaptation for the Umineko: When They Cry visual novel series. Protagonist Battler Ushiromiya travels to his family's estate on a private island, reuniting with his extended family after an absence of six years. As Battler reconnects with his cousins, his aunts and uncles discuss the finances (the potential inheritance) to be left behind by Battler's grandfather, Kinzo Ushiromiya. Battler, his family members, and several of the estate's staff, get stranded on the isolated island by a typhoon, and a chain of brutal murders begins, in accordance with a strange riddle, supposedly hinting at a way to find Kinzo's secret stash of gold, and the headship of the family, simultaneously avoiding a gruesome death at the hands of Beatrice, the mysterious "golden witch."
Thus, this particular killing game has dual incentives for survival and material wealth.
The killings follow a pre-determined schedule of sorts, the twelve "twilights," described in the main riddle, which predict both the number of people who will die, and how.
However, they are intentionally cryptic, and do not specify who will die. This adds to an overall sense of the killing game being both a dreaded inevitability and an impossible mystery, leaving everyone subjected to it utterly defenseless.
Question 2: How are the character deaths handled throughout the game?
Characters' deaths in this entry are by far the goriest and grotesque out of the three anime covered here. There's a seeming fetishization of death, as the bodies are often horribly disfigured—to the point that, even seeing the censored versions can be hard to look at. However, this is not senseless gore—this apparent disrespect to the dignity of his murdered relatives and the estate's longstanding employees enrages Battler, fueling him to declare all-out-war against Beatrice and the killing game itself.
Question 3: What is the defining philosophy of the protagonist?
Battler is determined to use logic and reasoning to solve the various, seemingly "impossible" murders that occur around him, while refuting the idea that the deaths of his loved ones were caused by the "golden witch" Beatrice and, thus, magic. After the first series of deaths, the anime places Battler in a different dimension, able to converse with a woman who claims to be Beatrice. What follows is a test of Battler's faith in logic and reasoning, in the face of the cruel and vindictive witch "Beatrice." This tension amplifies as a sort of groundhog-day effect happens, wherein the scenario resets itself, with Battler forced to watch the murders begin anew, with new victims and circumstances, struggling to keep his head and solve the atrocities in a rational way.
Danganronpa: The Animation
Question 1: What is the basic premise of the killing game?
This anime adaptation of the Danganronpa: Trigger Happy Havoc video game, places Makoto Naegi and his fifteen classmates trapped in a sealed-off, underground version of Hope's Peak Academy high school. With no memory of what happened to them and how they got there, they are pressured into playing a killing game, wherein the winner can both survive and escape back to the outside world.
The killing game follows a specific pattern for each murder. Monokuma, the self-proclaimed principal (a talking teddy bear) states that participation in the killing game is the only way to escape to the outside. Each new murder begins with a body discovery, followed by a limited window of time to investigate the murder, and, finally, a class trial, wherein the students try to present evidence to vote for and convict the culprit.
The game itself is very controlled and regimented, with the only freedom presented is the freedom to kill in any way the culprit chooses.
The incentive, then, besides basic survival, is to escape to the outside world, albeit at the other classmates. Soon, however, a thematic duality between protagonist and the killing game's mastermind occurs, similar to When the Seagulls Cry, as Makoto Naegi fights Monokuma's attempts to spread despair to incite murder with a fervent belief in "hope" to both stop participation in the killing game and for everyone to escape.
Question 2: How are the character deaths handled throughout the game?
This show revels in death, but not in gore so much as in spectacle. Similar to its source material, the anime builds tension leading up to each body discovery, and everybody discovery is surreal, near-unbelievable because each is bizarre in its own way. The bodies bleed pink blood, and each body discovery is shown with a shaking screen.
The number of bizarre details provided to each murder is crucial to the plot progression, as this lends itself to the "investigation" component, followed by the trial. Additionally, every time a culprit is found guilty of murder, they are given a tailor-made execution scene, complete with its own unique animation sequence—at the hands of a teddy bear.
Question 3: What is the defining philosophy of the protagonist?
Naegi remains staunchly against falling under Monokuma's influence and engaging in the killing game. At first, he tries his best to deny that anyone would play into Monokuma's game. However, once the murders begin, he develops a fervent belief in "hope," which, as mentioned, runs in exact contrast to the theme of "despair" espoused by Monokuma (and, later, the true culprit). Naegi's survival instinct becomes intertwined with his belief in his "hope." As the story continues, Naegi and Monokuma dig themselves deeper into their dualing ideologies, and are alternatingly angered by, and dismissive of, the other's ideals.
The inclusion of the other classmates on equal footing means that, while some try to murder their peers, others begin to side with and aid Naegi, to end the game and regain their freedom.
Future Diary (Mirai Nikki)
Question 1: What is the basic premise of the killing game?
Protagonist Yukiteru Amano, a shy fourteen-year-old student, is pulled out of his ordinary school life as a social recluse when he is thrown into a killing game by the god of causality Deus Ex Machina, wherein Yuki and eleven others are provided their own future diaries, which predict the future in a manner unique to their character, and are pressed to find and kill one another, with the last person remaining will become the next god in place of Deus.
This killing game has next to no rules—kill the other diary holders, and you win. The game, then, has the dual incentives of survival and becoming a god.
At the anime's beginning, the other participants have seemingly been chosen at random to participate (with the commonality of living within Sakurami City). However, Yuki has previously conversed privately with Deus many times as his "imaginary friend," and, in the anime, after Yuki muses about having no "dreams or goals," and saying "all I have is this diary and this imaginary world," Deus states he will start an "entertaining game," telling Yuki "I shall bestow the future upon you." Soon after the game begins and, while the other contestants are regularly summoned to speak with Deus as a group, their identities obscured, Deus clearly favors Yuki from the start, which ironically leads many contestants to try killing him first.
Question 2: How are the character deaths handled throughout the game?
Interestingly, the first two diary-holder deaths are more strange that horrific—their diaries are destroyed, and their bodies morph and warp in a spiral into sheer nothingness. However, there are plenty of non-diary holder characters who die gruesomely, even at this early stage, and soon after the deaths of diary holders become gory in their own right. Much of this death and destruction comes from Yuno Gasai (another diary holder and infamous yandere), who seems unfazed by it, particularly as it involves protecting Yuki—however, as time goes on, Yuki bloodies his own hands, likely desensitized by the game.
Question 3: What is the defining philosophy of the protagonist?
Prior to the game's start, Yuki's personal philosophy is being a mere "observer" of life around him. This is made impossible once the game begins. Throughout the game, Yuki struggles between his basic instinct for survival and a growing desire to cast aside his loneliness and build friendships with those around him. This theme is highlighted a number of times, when Yuno, determined to help Yuki survive, delivers heat-of-the-moment ultimatums urging Yuki to abandon potential allies and friends to save himself. This dynamic is ironic, as Deus originally positioned the start of the killing game as a chance for Yuki to break out of his socially isolated tendencies. However, Yuno is from the start is simultaneously reliable and unreliable. On the one hand, she seems an expert at survival and knows the rules of the killing game before Deus has even given his official explanation to Yuki (and the viewer). On the other hand, she is Yuki's stalker, and her obsessive tendencies are emotionally unhealthy for Yuki.
In the end…
As this discussion hopefully shows, there are a number of ways to expound upon the specific anime sub-genre of killing games. Using the above examples illuminates how choices governing both the killing game's rules and it's protagonist's identity and personal philosophy can take a viewer down vastly different, and shockingly entertaining narrative paths.
By Katharine Booth

'Shirobako': Meditations on Success and Failure
The First Step Through the Recording Room Door
In celebration of the recent announcement that the Shirobako movie, imaginatively titled Shirobako Movie, has a Japanese release set for February 29th, 2020, it's time to reflect on one of the best series of the 2010s:
Spoilers abound
Few anime series reflect the societal tension of achieving success, and therein causes of failure, more acutely than Shirobako. Centered on the working lives of five school friends in the anime industry, the central theme is laid out explicitly within the first five minutes: Aoi Miyamori and her school anime club friends are excited at the prospect of joining the anime industry, their major anime project bringing them creative pride. The montage illustrating their hard work has vibrant tones; then Shirobako jumps forward into the future. Overworked production assistant Aoi grips her steering wheel while delivering more animation cuts that need checking. The background colours are muted. While she momentarily perks up at hearing a promotional radio interview for the anime that she's working on, this is still not exactly as she imagined.
Success is elusive. The type of success is immaterial, for each person has their own passions and ambitions, and indeed what qualifies as success is also personal. At some point, however, one may catastrophically fail at achieving their desired success, adapting and resurging in response, but sometimes failure is an endpoint. Point blank. Other times, success eludes a person for reasons wholly outside their control. Society, in general, poorly prepares young people for the ramifications of failure, because it is so focussed on escalating ascendency. Within the nurturing structures of home or school a great lie is told, repeatedly, that personal improvement and effort will proportionally result in accomplishment and acknowledgment. Schools, especially, convey this through validating scores and grades, such that individual contentment with one's own success becomes tied to external approval. Thus transitioning to the chaos of society beyond the protective confines of home or school is very often difficult for people. There is still always another marker or level of achievement attainable, but the path to success and contentment is obfuscated, and if people don't outright fail, then they may suffer from aspirational deflation. Some people have the misfortune to be apprised of this early, but more often, the realization arrives in burgeoning adulthood.
Exploring the concept of adult success through that juxtaposition — where reality dispels the ideal — with anime as vector, is inspired, not solely meta-textually. As one of Japan's most distinctive and unique fictional mediums stylistically, anime encapsulates that creative ideal imbued with cultural heritage. In this way, creating anime becomes a creative zenith, bringing the arduous pursuit of realizing professional creative success, in all its fits and bursts and economic considerations, into stark relief. Shirobako approaches this from several angles with Aoi and her friends as conduits. For example, Ema Yasuhira, a key animator, is harrowed that her drawing rate may not be sufficiently quick enough to earn enough money and feed herself. Misa Toudou, a CGI animator, wants more than from her career than modelling car tires and hubcaps — she joined her current company because the CEO was once a famed anime creator, but he felt the need to prioritize financial stability, not just for himself, but for all of his staff. Creative endeavours are a risk and prone to failure, especially as anime operates on thin profit margins.
That would be a simplistic thematic discussion, however, and Shirobako is far more multifaceted. Returning to Aoi, she is elevated for her efforts when the opportunity arises. Mechanically, as the viewpoint character for the audience, Aoi's promotion through the ranks allows the series to show more fields within the industry, but it also serves as a counterpoint to the trajectories of the other main characters. However, Aoi still struggles, because although she has a dream to create anime, she laments that she doesn't concretely know what she wants to actually achieve now that she's there. Her future prospects concern her. Setting aside compounding factors, societal success rarely has room for people without overarching plans—it's regarded as listlessness. Shirobako has empathy for these people: some people, like Aoi, focussing on the current step in front of them, just stumble onto a new and unexpected avenue towards contentment. Late in the series, fellow people in the company are quizzed on why they wanted to make anime. Some were passionate, while others just fell into it, happenstance, and stuck around because they enjoyed the minutiae of the work they were doing. Shirobako emphasizes that the latter is perfectly okay and a form of success, as well as contentment.
Perhaps that notion about success should be then rewritten: personal contentment is elusive. Especially in a creative field, where satisfaction with one's creations can be so ephemeral, and art — in its incipient stages at least — is direct self-expression, the other hurdles and barriers formed by a civilisation that impede personal creative contentment cause severe frustration in denying an outlet for successful expression.
As a corollary, Ralph Waldo Emerson wrote in his 1841 essay, Self Reliance, describing the social imposition on valuing personal testimony and discernment, "I am ashamed to think how easily we capitulate to badges and names, to large societies and dead institutions." Nearly two hundred years on, the aggregated names, societies, and dead institutions often remain a bulwark against new people entering the circuit of success, where one achievement begets another through increasing recognition. Not that those already on the circuit are generally undeserving of their success, far from it; and they too are liable to face a precipitous drop from precarious fame, as Shirobako's main director character, Seiichi Kinoshita, found out when the follow-up project to his award-winning debut was a disaster. However, frequently the hardest element in achieving success is initially getting the proverbial foot in the door, because there's an accreted doorstopper of "badges" jamming it shut. Shirobako knows this, and the tribulations of Shizuka Sakaki, an aspiring anime voice actress, consequently make for the most affecting storyline and a pertinent rumination on failure.
Shizuka's failures in entering the voice-acting industry threaten to cause her recession into obscurity. Humanity is mostly anonymous, but those with the desire to rise above the crowds and perform with a platform frequently fear such a thing. Pointedly, Shizuka joins a group of voice actors providing background cheers as sports fans, but her zeal has her shunted away from the microphone, because she is too loud.
A particularly wounding vignette related to Shizuka's struggles bluntly satirizes an anime production committee meeting. After a successful audition, Shizuka is on the shortlist for a major character in a new series. She is, in fact, the anime director's first choice. Here Emerson's "badges and names" rear their heads, with the representatives for the brands co-funding the anime reverting to their bureaucratic interests, solely focussing on the marketability or promotional qualities of their companies' favoured actresses. It's a familiar experience for anyone who has ever entered a meeting knowing, that for whatever reason, those judging have pre-emptively made their decision based on preconceptions and extraneous circumstances.
Shirobako further thematically underscores Shizuka's trials through Waiting for Godot. Shizuka's former acting coach invites her along to see the rehearsals of an all-female production that she is directing. The play's first act revolves around two companions, Estragon and Vladimir, as they wait beside a tree for the arrival of the unknown Godot that evening. Eventually Pozzo and Lucky — a loquacious, abusive master and denigrated slave — pass by, interrupting their humorous and poignant squabbling. At the end of the act, a messenger boy tells the pair that Godot is unable to come today, but that he will be there tomorrow (it is implied that the men have been waiting regularly for a long time). The far more serious second act sees Estragon and Vladimir still underneath the tree, patiently waiting for Godot, until a blind Pozzo and mute Lucky appear. Evidently a significant amount of time has passed, and yet Estragon and Vladimir are expecting (hoping!) that Godot will arrive. This is the most facile reading of Waiting for Godot, but it draws a direct parallel with Shizuka's plight. Her career is stagnant; the daily chore of failing auditions is a repetitive stasis. In the same way Estragon and Vladimir expect Godot to eventually arrive as promised, Shizuka is waiting for the tacit societal promise of getting an acting job as a result of her hard work to be fulfilled. Godot never arrives in the play, and Shizuka's dreams are perilously close to failing by virtue of never being given the chance to realize them. The demoralizing truth is that not everyone is rewarded with vindication for their talents.
This can curdle into bitterness, if not resentment. Shirobako's most extreme example is the ornery production assistant Daisuke Hiroaka, who is disenfranchised with animators taking his role and the anime production process as a whole for granted. Shizuka is not so jaded, but one evening a dejected Shizuka envies a younger, successful actress complaining about her work schedule on television. Most heart-wrenchingly, Shizuka discovers all of her friends are working together in the anime adaptation of a popular manga series that she auditioned for, lamenting that "[She] would have loved to have worked with all of [them] just want[s] to work with you all". Seeing friends succeed while one is continuously failing can strain even the most affectionate friendships.
Here is where Shirobako's prevailing positivity exists. Shizuka magnanimously does not resent her friends, despite frustrations, and they, in turn, all admire her qualities and have faith in her abilities. Likewise, throughout the series, multiple anime production crew-members commiserate setbacks and issues together over drinks. As much as creating anime is a collaborative effort where people solve problems together, friendships and support structures help bear the load of failure. There is also a more positive and possibly misconstrued interpretation of Waiting for Godot (having not read or watched it properly since 2009). Estragon and Vladimir remain undaunted about waiting, and are content to bickering with each other for as much time passes. They are together under that tree; the final line is "Yes, let's go", but neither leaves. Similarly, none of the girls are ready to give up on either their careers, or each other.
In that optimistic vein, Shizuka leaves Waiting For Godot invigorated and determined to continue trying. People acquiring resilience against rejection and overriding failure, and detaching their self-worth from external success, is a difficult process. But it enables reconciling with reality and appreciating the more minor achievements in life. Soon afterward, Shizuka gets the opportunity to play a prefecture mascot. Her friends worry that she sees this as a tangent to her career objectives, but Shizuka appreciates it as lateral progression, and more importantly, a worthwhile experience in its own right.
Towards the end of Waiting For Godot, Vladimir demands that the messenger boy recognizes him when he surely returns tomorrow with the eternally disappointing news that Godot won't be coming. Vladimir wants acknowledgment on a personal, human level. It is an external validation of ourselves and our place in society. As such, Shizuka also wants to be accepted on her own merits: Aoi, due to friendship and appreciation of her talent, is on the verge of recommending Shizuka to director Seiichi Kinoshita and producer "Nabe P" when they visit the bar Shizuka works at, but she stops her. Fundamentally, humans want to be accepted and heard as part of respect and dignity for their individuality.
That same granular humanity is really Shirobako's silver lining in the grind of overwhelming failure: for all the nebulousness of the person that is Godot or the nebulousness of the anime industry, Shirobako humanizes the process by showing everyone's interior and working lives. Subsequently, it illustrates that all it takes is one person acknowledging your efforts to opening the door to success. Aoi messes up interviews at multiple anime production studios until her enthusiasm for the children's anime Andes Chucky amuses the heads of Musashino Animation, as they worked on it, and they give her a chance. College student Midori Imai helps research some technical information on Aoi's behalf, and the director and screenwriter are impressed and contract her as an employee. A revered background artist originally got his break because one of the production assistant staff members — who eventually became head of Mushashino Animation — saw his skill and asked him to paint snowy weather for Andes Chucky.
So it is the most cathartic moment in the series when Shizuka steps through the recording studio door to record a significant minor character, the younger sister of the character she had originally auditioned for. Seiichi Kinoshita had remembered her and thus gave her the role. That karmic justice and emotional fulfillment and resolution are partly why we consume narrative fiction. The empathy we have for characters — both in their joys and suffering — allows us to reflect on our own experiences, but with the refinement of narrative that abstracts things from the mundane human experience and brings them into focus. Pathos is heightened. It's also a more palatable way of processing our own feelings, because there is the reassurance, especially in optimistic series like Shirobako, that failure does not have the same finality as in life. Shizuka's struggles ultimately leading to success is uplifting and also a wonderful way of reminding us that one shut recording room door is not the same as every door being closed to us. Our own narratives continue beyond failure and setbacks.
Grand scale success is elusive and too dependent on other factors to be a pure reflection of one's capabilities; but if one is actively determined and finessed, eventually somebody else will appreciate it. It could just be one's friends or family, but it could a person who grants further opportunities. Shirobako, therefore, asks us to find the process of trying to succeed, stumbles and all, worthwhile in and of itself. Shirobako then asks us to continue doing so, and always hold out hope that we will find that one person who reaches out and unlocks that blocked recording room door, letting us, like Shizuka, perform.
Declan Biswas-Hughes