Anime Ichiban: Brent's Favorite Opening Themes
In Anime Ichiban, we take a look at our writer's totally personal, totally subjective, possibly biased, and possibly stupid opinions regarding anime associated affairs.
While it's the show itself that ultimately leaves a lasting impression, opening themes have the crucial role of getting viewers in the mindspace to be entertained. Whether it's getting you hyped like Dragon Ball Z's "Rock the Dragon" did for millions of western children, or preparing you for the hilarious nonsense that is Bobobo-bo Bo-bobo, opening themes really set the tone for the following half hour of entertainment. These are my top 10 favorites of all-time, and they all belong to shows that I highly recommend checking out. Judge for yourself!
"Kibou no Uta" is one of my favorite songs on this list. The performance exudes passion and determination as the OP shows Soma (the main character) facing some seriously tough challengers in his rise to being a top chef. His commitment to the craft from childhood helping his father in the kitchen is heartwarming and easily my favorite scene here. And what would Food Wars! be without a little food porn sprinkled throughout for good measure?
9. "Cosmic Love"–Nana Mizuki (Rosario + Vampire, Opening)
You know an OP is great when you never want to miss its first few moments. Rosario + Vampire's opening wastes no time in establishing the show's harem dynamic. The way the main cast of girls is revealed in time with the music is ace, and their interactions with Tsukune afterwards do a great job of getting across the lighthearted humor and playful ecchiness of the series.
8. "Kuusou Mesorogiwi"–Yousei Teikoku (The Future Diary, Opening 1)
Yuno Gasai's reputation as the premier yandere in anime is firmly established. The Future Diary's first OP doesn't do much to set up story, characters or highlight key events (something the second OP goes overboard with), but it instead sets the extremely grim scene for what viewers should expect from the show. Yuno's insanity is on full display here, and it's intoxicating. The last few seconds are subtle but powerful, and become even more meaningful further into the anime.
7. "Bon Appétit?S"–Blend-A (Blend-S, Opening)
Yes, the start of this OP is a meme. But it's actually great overall, I promise! Blend-S is a rather by-the-numbers slice of life anime with a ton of color and personality, and the OP captures this perfectly. Not only is the song catchy and synced brilliantly with the visuals (which I always love), but the visuals themselves are super clean and cute. This Blend-S's OP screams high production values and knowledge of its target audience. As part of that audience, I absolutely adore it.
6. "Deal with the Devil"–Tia (Kakegurui, Opening)
While "Deal with the Devil" is another top-tier OP in terms of production value alone, its confident sense of style really pushes it over the top. Everything is very sexual and symbolic, often referencing specific moments from the show and its themes directly. Identifying these as you make your way through the season is quite fun. And I'd be remiss if I didn't mention just how well Tia captures the true essence of Kakegurui in her performance!
5. "Underground River"–Kevin Penkin ft. Raj Ramayya
(Made in Abyss, Opening 1)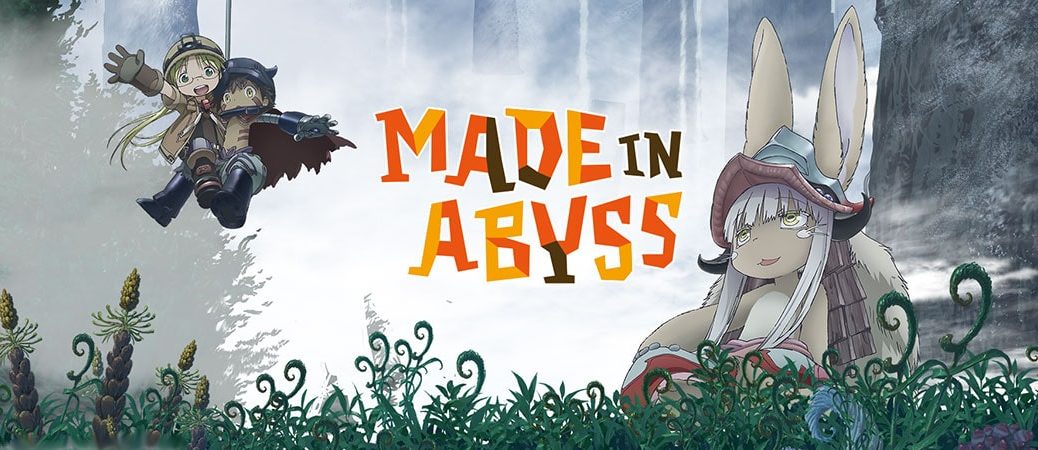 Made in Abyss' second opening is also brilliant, but there's something decidedly cinematic and emotional about Underground River. Though the same length as a typical OP, it plays out much more like the opening credits to a film than the first season of an anime. It's easily my favorite song on this list, encapsulating the somber and questioning tone that defines the series. If you watch this and aren't tempted to watch the rest of the season, I don't know what to tell you.
4. "THE WORLD"–Nightmare (Death Note, Opening 1)
Death Note is the first anime I ever bought on DVD and, even though there were only 4 episodes on that thing, it was worth it for the ability to rewind the OP alone. What's striking about "THE WORLD'" is how much it's able to communicate with so little. The use of basic religious symbolism makes it easy for new viewers to get a general idea of the dynamics at play. And the final image of Light? Chilling.
3. "Hikari E"–The Babystars (One Piece, Opening 3)
One Piece has been my favorite anime ever since I was in middle school. The pure sense of setting out for adventure with friends has always felt magical to me, and "Hikari E" is the theme I've always felt captures that the best. Seeing the gang looking so happy and showing off their skills never fails to make me smile, especially when coupled with groovy tunes like these.
2. "99"–MOB CHOIR (Mob Psycho 100, Opening)
It's hard to watch Mob Psycho 100's OP just once. "99" is so visually delightful in its design and intricately paced with its theme that it just flies by before you know it. What's even more impressive is how natural the constant counting towards 100 throughout the song feels. The transitions, stunning art direction and meticulous attention to detail all come together to make this one of the best OPs I've ever seen.

This is everything I look for in a great OP. Immediate hook at the start (similarly to the start of Rosario + Vampire's OP), a synced and catchy theme, a great sense of adventure with friends (again, something I hold dear), and a couple of standout moments throughout that just feel special (in this case, 1:08). There's a lot to love here. If you haven't seen this little gem of a series yet, give it a watch!
Videos were uploaded courtesy of the /r/AnimeThemes community
Anime Ichiban 22: Those That Make History
Some shows just "have it".
It's the last Anime Ichiban episode of the decade which means it's time for a little something special! Join the crew as they take a trip down memory lane and pick apart what made some of the most influential anime of the decade so impactful.
TIMESTAMPS
17:21 – Update on 2020 Olympic Gundam space launch
22:44 – Yoshiyuki Tomimo and Rumiko Takahashi recognized with government Cultural Honor award
25:48 – Global anime market growth
32:08 – New Retro Crush streaming service
36:26 – SHITSUMON! What are some of the most influential anime of the decade and why were they so?
TRACKS
Intro – "crossing field" by LiSA (Sword Art Online opening theme)
Outro – "Holy night's Dong" by Tai no Kobone
The Historical Comedic Mechanics that Make 'KonoSuba' a Great Fantasy Comedy
A deep dive into Japanese and Western comedic heritage and humor.
The Konosuba: Legend of Crimson movie made its North American premiere on November 12th. To celebrate, we're taking a look at why Konosuba is such a great comedy series on a character-writing level in the context of Japanese and Western comedic history.
Anime is a wondrous and varied medium, but the plague of generic European fantasy world "isekai" every season would make an onlooker think otherwise. Isekai stories revolve around characters entering another world from their own. Alice in Wonderland, The Chronicles of Narnia, and The Fionavar Tapestry could all be considered isekai. The glut of anime isekai in recent years—where protagonists invariably travel from the modern day to some Tolkienesque or Dungeons and Dragons-inspired fantasy world—has spawned its own permanent subgenre of self-aware parody and satires, of which Konosuba: God's Blessing on This World is a part. Yet Konosuba is notable because it is also an exceptional anime comedy.
Dying from the stress of trying to save a schoolgirl he mistakenly thought needed rescuing, teenage hermit Kazuma Satou arrives in purgatory having done nothing with his life. The goddess Aqua gives him the choice to start life over in another world as long as he defeats the great evil sweeping the land. She offers him a gift to help him of which Kazuma chooses to take Aqua along.
Unfortunately for Kazuma, Aqua is both spoilt and a moron. He spends most of his time rescuing her from the mouths of giant, man-eating toads and other mishaps. His other companions aren't useful either: the sorceress Megumin has specialized only in explosion magic, while Darkness is a highly skilled swordswoman but prefers to be hit by the enemy out of masochistic tendencies. They are a truly terrible company of heroes, and hilarious to watch.
To explain why Konosuba is brilliant beyond its amusing premise, passionate performances, or clever dialogue, however, we must ironically get serious about the mechanics of comedy.
Comedic Conflicts
Comedy is extremely subjective. The cultural nuances, sensibilities, and idiomatic expressions mean that not all comedy is universal—"American joke" is a derisive term amongst Japanese people for a failed and incomprehensible joke, for example—but certainly some elements do translate enough to make some general commentary on it.
Comedy is born of conflict, flaws, and suffering. Prominent Western comedies such as Blackadder, Frasier, and Parks and Recreation all share a few things in common. Firstly, the opposing personalities produce a strong and constant source of fundamental interpersonal conflict between them that can be mined continuously. This is absolutely the case for Konosuba; Aqua's gullible and stupid nature contrasts Kazuma's tactical deviousness, and their dynamic produces scenes such as him using her as bait to lure in crocodiles while she wails. It is a rich well of comedy.
Secondly, a character's personality flaws are what bring about their downfall in a scenario. All four of the main characters manage, in their own ways, to make any given problem worse, and they invariably descend into further debt.
Finally, the overall situation they are in is an obstacle to the fulfillment of their desires. Kazuma desires peace and to laze about at home, but he keeps being sent on kingdom-saving missions. Within those missions, his personality directs his actions and were Kazuma able to lounge about uninterrupted forever, there would be no series.
These three elements roughly make up the basis of all so-called "character-based humor". The versatility that it provides can be traced back through Eurocentric Western comedy for centuries if not millennia. Plautus' comedies performed between 205 and 184 B.C. frequently revolved around class obligations. All of Shakespeare's and Molière's comedies endure because they concern both character dilemmas forced upon them by society and pettier conflicts with and manipulations of one another (allowing for salient observations of humanity). Even early silent slapstick films of the 1920s and 30s physically built up characters and their dynamics in order to motivate the pratfalls and slip-ups.
Japanese comedy independently arrived at these principles of character-based humor as well, but has tended towards reducing these concepts down to smaller scales and acting within distinct roles in live performance. In this way, the flawed characters are more boxed in by the parameters set by their role. This is where anime comedies like Konosuba differ in their sensibilities, owing to the long history of Japanese comedy being performed in this way.
"Manzai" might be the most enduring; it originated in the Kansai region during the Heian period (794 – 1185). The style features a double act with one person in the "boke" idiot role, while the intelligent "tsukkomi" comments and challenges them as a comedic "straight man". Think Abbott and Costello. With the advent of television, the broader array of "owarai" (meaning "laugh") comedy has given rise to "reaction" comedy, where, as the name suggests, the physical and verbal reaction to a situation is the focus and joke, frequently conveyed through exaggerated facial expressions and noises.
This is not to say that Konosuba, or any comedic anime, is a direct synthesis of traditional Japanese comedic art-forms, but that heritage has clearly filtered through to the sensibilities of anime comedies. The most common joke across anime is a sharp cutaway to the straight man protagonist's exasperation and bewilderment at the bizarre actions of his compatriots. This copies manzai and "reaction" comedy. Konosuba is rife with these types of jokes and the limited and deformed animation by Studio Deen accentuates their impact. Konosuba's real cleverness, however, is the way it uses role-based humor as part of its comedic repertoire and avoids the pitfalls often associated with it.
Comedy Roles in Anime
As said earlier, Japanese comedy heavily favors role-based characters as the source of character humor for many centuries. This is frequently evident in anime comedies and sometimes this works to hilarious results. D-Frag, Monthly Girls' Nozaki-kun, Nichijou, and Tanaka-kun is Always Listless have characters with very defined roles they occupy in jokes on the basis of their personalities (that long list is there as suggestions for viewing). What they can, therefore, do comedically is limited by the role they play, becoming a subset of specialized characters with flaws.
Where this practically differs from simply being a character with comedic flaws is the limits the role sets with the type of joke being able to be told with that character. While a purely "flaw-based" character means that the output and outcome of a conflict will be foreseeable for a particular character as a result of their flaws in a certain scenario, role-based humor additionally limits the possible input and stimulus for the joke in the first place. Practically, characters evolving from role-based humor will only be used for certain kinds of jokes and will only ever take certain kinds of actions. Their responses are not tailored to the situation. The situation has to be more tailored to them.
In something like the anime series Grand Blue Dreaming and Kaguya-sama: Love is War, or say, the sitcom Friends, the audience knows how the characters will respond to and behave in a situation, but you could give them a simple dilemma and each would be able to carry on on the basis of their flaws and be funny.
A more role-based character would need a particular problem and sparring partner to find that same comedic value. For example, Seo from Monthly Girls' Nozaki-kun will always be completely oblivious and unintentionally confrontational in response to a situation, so she is only ever used for those sorts of jokes, like angering somebody with something she says, or placed in a situation to be boisterous with her opposite, the jittery Wakamatsu. There is absolutely crossover between these two forms of character creation, and a well-written "role-based" character is nearly indistinguishable from a "flaws-based character", but they are still slightly different in execution.
Where a lot of anime comedy falls flat then, at least to foreign audiences, is that the characters are identified less by their personalities, but rather exclusively by the role they play. At its worst, they become one-note and one-joke characters, repeated over and over to diminishing returns, as there is a lack of tension because the scenarios always have the exact same result. Certainly, all characters in all comedy, or even all fiction, have roles in the stories and conflicts, but there is a difference between characters having personality traits and being defined by their archetypal role. When there is a problem with a role-based character, and the series hinges on them and role-based humor, there is little way of alleviating the problem without changing the character entirely.
Konosuba avoids this issue with character roles because all the characters' personalities contrast the expected demeanors of the fantasy class roles they occupy. Aqua is an all-powerful god and yet she is a needy moron. Megumin is an "Arch Wizard" mage and should reasonably be proficient across various types of magic, but instead she is so hyper-specialized that she's rendered nearly useless after a single, uncontrolled spell. Darkness is outwardly a refined and noble crusader as one would expect from a powerful knight, but her penchant for flagellation and depraved fantasies always threatens to expose itself.
The juxtaposition of character role and flawed personality helps set the absurdist tone and is the foundation for reaction comedy when paired with the cynical and conniving comedic straight man in Kazuma. However, that gap between the ideal and reality also leads to personal amelioration for the characters. Darkness feels obligated to uphold her family's honor and embracing her fetishes becomes a mode for self-acceptance. Megumin's delight in explosions makes her a social pariah, and so it is a touching moment when Kazuma recognizes it as important self-expression, endearing him to her. In this way, Konosuba neatly eschews the problem of equating comedic role to personality, and that helps set it apart from many other anime comedies. It is a genuine character-based fantasy comedy.
On top of this, Konosuba can lampoon the trend of incorporating game elements into fantasy anime series, such as defined fighting class roles and skill trees, because it already is utilizing those same roles for its comedy. Thus it is able to hang its parodying of isekai and game tropes off this firm central character basis. The parody is not the source of the jokes, merely an added quality as a result of the sincere treatment of its characters, moving it from hollow parody to genuine satire.
Konosuba is a superlative comedy because it is a complementary blend of Japanese character-based humour and fantasy isekai, and is able to use video game structure towards fulfilling comedic intent. It can both adhere to and mock modern fantasy isekai adeptly because its comedic foundations are built on character conflicts.
Character conflicts are everything in comedy, and the extra layer of restrictions via character roles that have evolved in the course of Japanese comedic history can make the styles confusing or simply not funny to foreigners. Konosuba is exceptional and acclaimed as a comedy because it manages to integrate both character roles and character-based humor in a tautly written and witty package. The fact that it is a fantasy isekai is ultimately incidental to it being a great comedy, but Konosuba is a beacon for what more comedy and fantasy anime could aspire to.
Anime Ichiban 21: Explosions are so Kakkoii!
The Konosuba movie delivers on almost all fronts while this anime season delivers more shows of varying quality.
TIMESTAMPS
0:00 – Introductions
10:03 – Konosuba movie impressions and revenue news
22:23 – DEEMO movie announcement
26:29 – A cruise for anime fans
30:22 – Clip Paint Studio manga software donated to Texan schools
34:05 – The decline of Japanese arcades
38:53 – Yuki Kaji monetizes his voice even more
42:17 – This week in stage play adaptations
49:47 – Tokyo anime studio exhibition
51:08 – SHITSUMON! The yabai, the ma ma, and the kakkoii of this season
1:20:38 – Closing remarks
TRACKS
Intro – "Papapa" by Shuka Saito (ORESUKI opening theme)
Outro – "Chisana Boukensha" by Sora Amamiya, Rie Takahashi, and Ai Kayano (Konosuba first season ending theme)