There are shows you can watch while engaged in other activities. Better Call Saul is not one of them. This is a show that really asks you to pay attention. If you don't you can get easily bored. Ostensibly a prequel to Breaking Bad, it has functioned as a very different kind of show. It may be in love with the same sense of methodical process, but it avoids any of the big, badass moments that made the father series iconic. It rewards careful attention, making use of its leisurely pace to fully immerse the viewer into the moral decay of its central character. The result will be potentially heartbreaking, possibly more so than Walter White (Bryan Cranston) himself turning into a ruthless drug baron.
Season four continues the relaxed, composed tone that has characterised the series. We start, as has become a trademark of the show, with a monochrome look at Jimmy McGill (Bob Odenkirk) in his life post-Saul Goodman. And it is not all good; having just collapsed from a stroke, Jimmy's fake license nearly catches him out in the hospital, all before he convinces himself that his taxi driver —with an Albuquerque Isotopes air freshener hanging from his rearview mirror — knows who he really is. Although it looks like he is getting away this time, the message of the scene is clear: Jimmy will never be the same man again.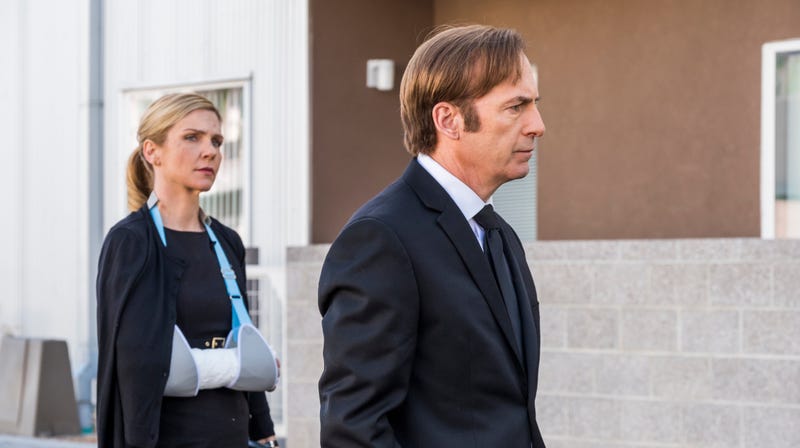 The show is slow but the wheels keep turning, and the timeline between the end of Better Call Saul and the start of Breaking Bad is coming closer and closer into focus.
From here, the title credits play and we are taken back to the series' present. It may have been a year since we witnessed Chuck (Michael McKean) kill himself by setting fire to his own house, but episode one of season four starts nearly exactly where we left off. In a moment of harsh dramatic irony, Jimmy wakes up next to Kim (Rhea Seehorn) in their apartment together, puts the coffee on and looks through the job listings. This is characteristic of the show as a whole, and will probably be a good hint as to its strategy this season; we know that something terrible has happened, but before we even get the reaction, we observe Jimmy in a happy, productive mood. It's cruel but necessary, perhaps allowing Jimmy his last moments of honest-to-goodness action. Once the news of Chuck's death breaks, its safe to say he will forever be a changed man.
The rest of Jimmy's storyline this episode twists the knife in further, with Chuck's partner Howard Hamlin (Patrick Fabian) calling him up to double-check his obituary. Even in death, Chuck finds a way to rankle Jimmy, his innumerable achievements — graduating school at fourteen(!), establishing the best law firm in New Mexico — a reminder of his superiority. Odenkirk does some of his best work here, the look of distaste on his face speaking volumes about how he views his deceased brother. He barely talks for the rest of the episode, engaging in silent drinking sessions with Kim, eventually falling asleep with a bottle of tequila by his side… Does he seem genuinely sad?
One of Better Call Saul's greatest strengths, however, is that we know exactly what is going to happen to Jimmy, as well as exactly what is going to happen to Mike (Jonathan Banks), Gus (Giancarlo Esposito) and Hector (Mark Margolis). Its from how the two series connect that Better Call Saul becomes intriguing, using every part of its seedy Albuquerque milieu to construct an intimate yet epic morality tale about people being drawn to the dark side despite their better nature.
For this reason, there is something intensely satisfying yet sad watching Mike hang up his career as a car park attendant — honest work, if boring — and infiltrate Madrigal Electromotive as their new security consultant. In a scene typical of Better Call Saul's angular plotting, we are introduced, without warning, to a man we have never seen before getting into his car (not before, of course, helping his son with his bike) only to find that it can't get started and his security pass is gone. The next sequence illustrates the unique pleasures of the show; seeing how plots are put together through scenes that initially appear inconsequential. His way of pointing out problems is by exposing them, managing to walk around a huge warehouse despite not being an employee, something he cleverly uses to get an interview with Breaking Bad-favourite and Madrigal executive Lydia Rodarte-Quayle (Laura Fraser). How this links up with Gus Fring's multimillion-dollar business, Jimmy's shady law firm and an exposed Nacho (Michael Mando) remains to be seen. The pleasure of season four will lie in how all this is slowly put together.
The show is slow but the wheels keep turning, and the timeline between the end of Better Call Saul and the start of Breaking Bad is coming closer and closer into focus. In a show densely layered with foreshadowing, this final transformation is best hinted at after Chuck's funeral (which tellingly, we do not see) when Hamlin sits down with Jimmy and expresses his remorse for what happened to his brother. After a suicide, its natural to feel guilty for one's actions, however insignificant they may be, and here we finally see a side to Hamlin hitherto missing; a man who truly cares and wishes that he could've done something different, especially with how he handled the insurance fiasco that saw out last season.
Instead of comfort, however, Jimmy offers a message of brutality, telling Hamlin that it is now his "cross to bear". Then he gets off the couch and offers to make coffee. It seems at this moment, with Jimmy carefreely whistling, as if a great burden has come off his shoulders, and the real Saul Goodman has been born. (Is it because he no longer feels guilty, or is it because he knows that now no one will blame him?) Many of us felt the same at the end of series one when he drove off humming "Smoke On The Water", the desire for a truly righteous life vanquished. Jimmy has had moments since then to redeem himself; but with Chuck now gone, the gloves are now truly off. Let's just hope Kim gets out before its too late.
Greatest Royal Rumble Matches: Diesel vs. Bret Hart
Royal Rumble 1995
"Big Daddy Cool" Diesel vs. Bret "Hitman" Hart
World Wrestling Federation Championship
The 1995 Royal Rumble was the eighth installment of the annual pay-per-view. It took place on January 22, in the USF Sun Dome located in Tampa, Florida and is remembered most for two things: Pamela Anderson's one and only appearance in the WWE ring and Shawn Michaels becoming the first wrestler to win the Royal Rumble after entering first. But aside from that the iconic, game-changing ending in which Shawn Michaels dangled on the ropes, barely hanging on, before pulling himself over and eliminating the British Bulldog— there was another great match that is often overlooked.
It was the first WWE Championship defense of Diesel and it came against the face of the company, Bret 'Hitman' Hart.
The storyline behind the WWF World Heavyweight Championship match began in 1994, when Bob Backlund with the help of Owen Hart, beat Bret Hart for the championship at Survivor Series. Three days later, Bob Backlund was scheduled to defend the title against Bret Hart at Madison Square Garden only on the eleventh-hour, Hart was replaced by Diesel. Despite spending most of the evening protesting the last-minute change in the card, Backlund was forced to square off against Big Daddy Cool who defeated Backlund in a nine-second match to win the World Title.
With Bret Hart looking to recapture the title, a match with Diesel was then scheduled at the Royal Rumble. It was a rare instance of two babyfaces assigned to compete against each other with the audience having to choose sides.
Unfortunately, the match ended in controversial fashion, but not without its share of drama and plenty of highlights.
Diesel's match with Bret Hart was a pivotal moment in his career. Not only was it the first time he had to defend the WWE Title on a PPV, but for someone who was often criticized as being over-rated, this match proved that with the right competition, Diesel could put on a great match while also telling a great story.
It was a face vs. face, but Hart played the de facto heel for much of the match, going so far as slamming a chair on Diesel's back and taking advantage of his injured knee by applying the figure-four leglock twice. The match itself lasted a good 28 minutes with plenty of finishers including Diesel's Jackknife powerbomb and of course, Bret Hart's signature Sharpshooter. It was physical; it was exciting, and it was an example of great storytelling thanks to the ongoing interference.
First, Shawn Michaels came out and attacked Diesel. After being thrown out of the ring, fans anticipated the referee would disqualify Bret Hart and end the match — only instead, the ref ordered it to continue. After a back and forth brawl, Hart hit the Sharpshooter on Diesel's injured leg but before Big Daddy Cool could tap out, Owen Hart ran in and attacked Bret from behind. And just like before, the referee cleared Owen out of the ring and ordered that the match continue, causing the fans in the arena to explode in cheers.
While the match isn't as notable as the Survivor Series fight between Diesel and Bret Hart, it's still a genuine classic and one of the best matches of Kevin Nash's career. With the help of Bret Hart, Kevin Nash had risen again and delivered a performance for the ages.
The match, however, would end in disappointing fashion. After the referee was knocked unconscious, Shawn Michaels, Jeff Jarrett, The Roadie, Owen Hart and Bob Backlund all came out to attack Bret Hart and Diesel. Realizing he had lost full control of the match and could no longer officiate due to the constant interference; the referee officially ended the match and rang the bell. In the end, it was ruled a draw and Diesel retained his championship.
Despite the interference, the match itself lasted a good half hour and featured two stellar performances by Bret Hart and yes, Kevin Nash. It was just another example of how with the right opponent, Kevin Nash could really work the ring and whatever mistakes and turmoil led Kevin Nash to the WCW, whatever demons that plagued him – you can't forget that at one point in time, the man was at the top of the WWE.
All in all, the Championship match was well choreographed; perfectly scripted and packed with non-stop action from beginning to end.
Arrow Season 8 Episode 9 Review: "Green Arrow and the Canaries"
Arrow looks to the future in an intriguing, clumsy penultimate episode/backdoor pilot.
It's not often the penultimate episode of a long-running series is constructed as a backdoor pilot to a spin-off. But even rarer is a show heading into its final two hours with its titular character already enjoying a hard fought, well earned dirt nap after casually saving the universe – a fate both hero and viewers alike were aware of well over a year ago. It is under those strange, post-Crisis on Infinite Earths circumstances that "Green Arrow and the Canaries" exists, a backdoor pilot trying to leap frog off a near-decade of world and character building, to continue building the next generation of Arrowverse heroes alongside shows like Supergirl and Batwoman.
It is tough to strike a balance to find between carrying the torch of an iconic series, while still finding room for its own identity; that is the challenge facing both Mia and Arrow, as the Arrowverse looks to its next generation of storytelling.
As Arrow – and inevitably, The Flash – ride off into the sunset, The CW's grasped the opportunity to diversify its starting lineup, on full display during the five-part Crisis on Infinite Earths crossover. No longer is the Arrowverse just led by Oliver Queen, Barry Allen, and Rip Hunter: with characters like Jefferson Pierce, Sara Lance, and now Mia Queen-Smoak, the Arrowverse is heading into the next decade with a refreshed starting lineup, a creative re-invigoration that reverberates through "Green Arrow and the Canaries" in some really interesting, if limited, ways.
Like most of the CW's attempts to introduce new characters and worlds, "Green Arrow and the Canaries" is an awkward mash of ideas and tones, establishing a new Star City in 2040 post-Crisis, with all the inconceivably ridiculous machinations it takes to get there. Frankly, it does not do a great job of catching anyone up who is new to the Arrowverse, or is checking in with the final few episodes of Arrow to see what's next: anytime it tries to explain how Mia lost her memories of 2020 (and how Dinah Drake ended up in 2040 Star City), "Green Arrow and the Canaries" strains credulity with its own premise.
Though, there is something to say for the episode's very Legends of Tomorrow-esque approach to not really giving a fuck: we get cool shots of Dinah singing in a bar she owns (under her apartment, which looks like it is in the original clock tower Sara used as a hideout? Please don't quote me on this if I am wrong), and it never lingers too long on trying to justify its existence. After all, how do you logically explain how the Earth-2 version of Laurel Lance, a Dinah who hasn't aged in 20 years, and Oliver Queen's adult daughter end up working on the same case (trying to find a kidnapped granddaughter of the Bertonelli family)? Smartly, "Green Arrow and the Canaries" only makes a few flimsy attempts before saying fuck it, and running with its narrative.
It makes for a fairly engaging experiment; with Mia Queen at the center, "Green Arrow and the Canaries" basically hits the reset button on Arrow's story of legacy, with Oliver as the deceased patriarch of the family, and Mia facing a world without either of her parents around (they do not mention Felicity at all, which is… very weird). How does someone follow in the footsteps of the man who saved the entire universe? "Green Arrow and the Canaries" doesn't directly attack this issue, but the pressure of reputation, and the echoes of the trauma of losing him, provide this potential spin-off with an interesting emotional framework.
It also features Black Siren, as the Kate Cassidy redemption tour continues; after years being stuck in a laughably thin character (and equally limited performance), the integration of Earth-2's badass, morally ambiguous Laurel Lance was a boon for Arrow's late season resurgence – a renaissance that welcomely continues into this new series, channeling Laurel-2's goth bitchiness into a powerful, driven portrayal of a rich supporting character.
"Green Arrow and the Canaries" is not without its limitations, though: despite the inherent pleasure of seeing these three characters team up together (and the simple fact it is vastly superior to the languid, mediocre Batwoman), the actual dramatic arc of the episode is cookie cutter material, formulaic in the way any experienced Arrow or The Flash viewer will recognize. There's plenty of intriguing notes there (like the maybe-return of Deathstroke 3.0, as Mia's now-estranged fiancee), but unlike Legends of Tomorrow or Black Lightning, "Green Arrow and the Canaries" doesn't really introduce any wrinkles to a well-worn storytelling style, which could quickly lead any spin-off down a disappointing road of dwindling returns.
The Arrowverse as a whole is in a strange place; as The Flash winds down (or at least, appears to be), Legends of Tomorrow continues to fucking rule, and shows like Supergirl and Black Lightning cement their place in The CW's lineup, the massive universe Berlanti and company have built (and with Crisis, completely integrated) is both in a great place, and at a critical crossroads.
If "Green Arrow and the Canaries" becomes Green Arrow and the Canaries, it must be careful not to follow in the footsteps of the disappointing Batwoman (which suffers from the unwieldy combination of poor plotting and dismal performances). Following the series that started it all is a challenging affair, and one that comes with the high stakes of tainting what came before it (after all, it wasn't long ago that Mia Queen-Smoak was one of Arrow's weakest points, through most of season seven's flashbacks).
But there's a lot of potential here; if Green Arrow and the Canaries harnesses the energy of its central trio, it could be so much more than a carbon copy of its hallowed predecessor – which, at its worst moments, briefly turning Dinah into Felicity and Mia into proto-season one Oliver, it comes dangerously close to being. It is tough to strike a balance between carrying the torch of an iconic series, while still finding room for its own identity; that is the challenge facing both Mia and Arrow, as the Arrowverse looks to its next generation of storytelling, and a question that "Green Arrow and the Canaries" ultimately only provides a partial answer to.
Greatest Royal Rumble Matches: Shawn Michaels vs. Undertaker Casket Match
Royal Rumble 1998
WWF World Heavyweight Championship
The 1998 Royal Rumble was the eleventh entry in the annual pay-per-view event. It took place on January 18, 1998, at the San Jose Arena and is remembered best for two things: Stone Cold Steve Austin winning his second Royal Rumble by eliminating The Rock– and the thrilling Casket Match between Shawn Michaels and The Undertaker for the WWF World Heavyweight Championship.
Unfortunately, it is also remembered as the match that temporarily ended the career of Shawn Michaels.
It was 'The Last Outlaw' Undertaker versus Mr. WrestleMania a.k.a. The Main Event a.k.a. The Heartbreak Kid a.k.a. The Showstopper. After costing him the Championship in a match against Bret 'The Hitman' Hart at Summerslam 1997, The Undertaker was out for revenge.
Shawn Michaels was the champion heading into the match, and he was also the favourite thanks to ample support from his fellow Degeneration X members Triple H and Chyna standing ringside.
Undertaker and Michaels had previously met in an outstanding match at Ground Zero: In Your House before going on to star in the first Hell in a Cell where Undertaker beat the hell out of Shawn, only to lose in the end no thanks to Kane interfering. This time around, however, Kane and Undertaker were now on good terms— or so we thought.
Needless to say, expectations were high for this one!
Despite his age, Shawn Michaels was in the prime of his career, and every one of his matches with The Undertaker during this era became legendary. Unlike many other rivalries in WWE history, every time these two men went toe-to-toe in the center of the squared circle; fans knew they were in for something special.
The match itself isn't necessarily their best work but it's arguably the best Casket Match ever and it culminated with a truly unforgettable ending that had many fans glued to their seats.
The Undertaker controlled most of the match despite the constant interference from Triple H and Chyna, which in retrospect makes sense since early in the match, Shawn Michaels herniated two disks in his back and completely crushed another after receiving a back body drop on the side of the casket. Being the champ that he was, Michaels continued to wrestle, and Undertaker eventually began to lose his dominance as things moved outside of the ring with Michaels delivering a piledriver on top of the steel steps. Following a high-flying elbow drop and Sweet Chin Music, Shawn Michaels seemed to have the match finally in his control but as all good heels do, he blew the opportunity to seal the deal and instead chose to taunt his opponent, giving Taker enough time to recuperate.
The rest of the match saw the two men go back and forth, rolling in and out of the casket and delivering their respected finishers. Eventually, the two men made it back to the ring where Undertaker gave Shawn Michaels a chokeslam before dragging him to the edge of the ring and hitting a jumping tombstone piledriver into the casket. The match looked to be over but before Undertaker could close it, the New Age Outlaws and Los Boricuas ran in and collectively pummeled Undertaker until the lights went out in the arena. Kane's music played and the Big Red Machine made his way to the ring to save the day.
Only he didn't…
Kane instead turned on Undertaker, and choke slammed his own flesh and blood into the casket thus allowing Triple H and Chyna to shut the lid, and end the match.
As mentioned above, the match itself isn't the best match we would see from HBK and The Phenom but in my eyes, they are two of the ten greatest superstars in WWE history and even their worst match is still far better than 90% of the other matches the WWE offers. But what really made the night memorable was the ending!
With the Undertaker trapped inside, Paul Bearer came to the ringside carrying giant padlocks and with the help of Kane, they locked the Undertaker inside the casket and proceeded to roll it to the top of the entrance ramp where Kane took an axe and began to dispatch the coffin before dousing it with gasoline and setting it on fire. And the entire time, Undertaker was supposedly inside.
If you were a young fan watching at the time, the ending of this match might have given you nightmares. It was like something straight out of a horror movie and it was an ending everyone was talking about for months.
As we watched various emergency officials extinguish the fire, Commissioner Slaughter and others desperately tried to break open the casket to free Undertaker. And when the casket was finally wedged opened, Undertaker was nowhere to be seen.
The match itself is historically significant for many reasons. It was the match that forced Michaels to take an extended hiatus due to a legitimate back injury and it also marked the last time Undertaker wrestled Shawn Michaels before their historic WrestleMania XIV match. Meanwhile, Kane's interference set up an ongoing rivalry between the brothers of destruction. In the end, the 1998 Royal Rumble Championship Match delivered a great story complete with stellar performances from everyone involved.
Editor's Note: This article is part of an ongoing series. Click here to see every entry.