There are shows you can watch while engaged in other activities. Better Call Saul is not one of them. This is a show that really asks you to pay attention. If you don't you can get easily bored. Ostensibly a prequel to Breaking Bad, it has functioned as a very different kind of show. It may be in love with the same sense of methodical process, but it avoids any of the big, badass moments that made the father series iconic. It rewards careful attention, making use of its leisurely pace to fully immerse the viewer into the moral decay of its central character. The result will be potentially heartbreaking, possibly more so than Walter White (Bryan Cranston) himself turning into a ruthless drug baron.
Season four continues the relaxed, composed tone that has characterised the series. We start, as has become a trademark of the show, with a monochrome look at Jimmy McGill (Bob Odenkirk) in his life post-Saul Goodman. And it is not all good; having just collapsed from a stroke, Jimmy's fake license nearly catches him out in the hospital, all before he convinces himself that his taxi driver —with an Albuquerque Isotopes air freshener hanging from his rearview mirror — knows who he really is. Although it looks like he is getting away this time, the message of the scene is clear: Jimmy will never be the same man again.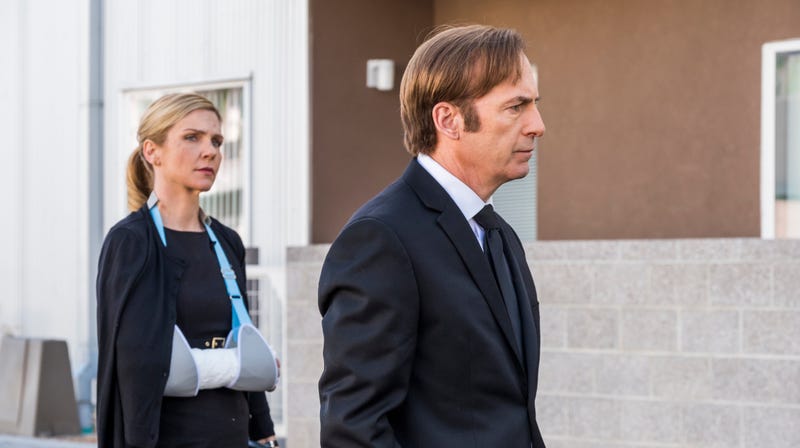 The show is slow but the wheels keep turning, and the timeline between the end of Better Call Saul and the start of Breaking Bad is coming closer and closer into focus.
From here, the title credits play and we are taken back to the series' present. It may have been a year since we witnessed Chuck (Michael McKean) kill himself by setting fire to his own house, but episode one of season four starts nearly exactly where we left off. In a moment of harsh dramatic irony, Jimmy wakes up next to Kim (Rhea Seehorn) in their apartment together, puts the coffee on and looks through the job listings. This is characteristic of the show as a whole, and will probably be a good hint as to its strategy this season; we know that something terrible has happened, but before we even get the reaction, we observe Jimmy in a happy, productive mood. It's cruel but necessary, perhaps allowing Jimmy his last moments of honest-to-goodness action. Once the news of Chuck's death breaks, its safe to say he will forever be a changed man.
The rest of Jimmy's storyline this episode twists the knife in further, with Chuck's partner Howard Hamlin (Patrick Fabian) calling him up to double-check his obituary. Even in death, Chuck finds a way to rankle Jimmy, his innumerable achievements — graduating school at fourteen(!), establishing the best law firm in New Mexico — a reminder of his superiority. Odenkirk does some of his best work here, the look of distaste on his face speaking volumes about how he views his deceased brother. He barely talks for the rest of the episode, engaging in silent drinking sessions with Kim, eventually falling asleep with a bottle of tequila by his side… Does he seem genuinely sad?
One of Better Call Saul's greatest strengths, however, is that we know exactly what is going to happen to Jimmy, as well as exactly what is going to happen to Mike (Jonathan Banks), Gus (Giancarlo Esposito) and Hector (Mark Margolis). Its from how the two series connect that Better Call Saul becomes intriguing, using every part of its seedy Albuquerque milieu to construct an intimate yet epic morality tale about people being drawn to the dark side despite their better nature.
For this reason, there is something intensely satisfying yet sad watching Mike hang up his career as a car park attendant — honest work, if boring — and infiltrate Madrigal Electromotive as their new security consultant. In a scene typical of Better Call Saul's angular plotting, we are introduced, without warning, to a man we have never seen before getting into his car (not before, of course, helping his son with his bike) only to find that it can't get started and his security pass is gone. The next sequence illustrates the unique pleasures of the show; seeing how plots are put together through scenes that initially appear inconsequential. His way of pointing out problems is by exposing them, managing to walk around a huge warehouse despite not being an employee, something he cleverly uses to get an interview with Breaking Bad-favourite and Madrigal executive Lydia Rodarte-Quayle (Laura Fraser). How this links up with Gus Fring's multimillion-dollar business, Jimmy's shady law firm and an exposed Nacho (Michael Mando) remains to be seen. The pleasure of season four will lie in how all this is slowly put together.
The show is slow but the wheels keep turning, and the timeline between the end of Better Call Saul and the start of Breaking Bad is coming closer and closer into focus. In a show densely layered with foreshadowing, this final transformation is best hinted at after Chuck's funeral (which tellingly, we do not see) when Hamlin sits down with Jimmy and expresses his remorse for what happened to his brother. After a suicide, its natural to feel guilty for one's actions, however insignificant they may be, and here we finally see a side to Hamlin hitherto missing; a man who truly cares and wishes that he could've done something different, especially with how he handled the insurance fiasco that saw out last season.
Instead of comfort, however, Jimmy offers a message of brutality, telling Hamlin that it is now his "cross to bear". Then he gets off the couch and offers to make coffee. It seems at this moment, with Jimmy carefreely whistling, as if a great burden has come off his shoulders, and the real Saul Goodman has been born. (Is it because he no longer feels guilty, or is it because he knows that now no one will blame him?) Many of us felt the same at the end of series one when he drove off humming "Smoke On The Water", the desire for a truly righteous life vanquished. Jimmy has had moments since then to redeem himself; but with Chuck now gone, the gloves are now truly off. Let's just hope Kim gets out before its too late.
Greatest Royal Rumble Matches: Kurt Angle vs. Chris Benoit
WWE Championship: Kurt Angle vs. Chris Benoit
WWE's annual Royal Rumble pay-per-view is famous for its over-the-top main event, but there have also been many legendary single and tag team matches over the years that wound up overshadowing the titular 30-man brawl. One such match came during the Ruthless Aggression Era when two of the greatest wrestlers in the history of professional wrestling, squared off in what would be a technical showcase between two mat technicians. Of course, I'm referring to the 2003 Royal Rumble WWE Championship match between Kurt Angle and the Rabid Wolverine, Chris Benoit.
The match between Benoit and Angle isn't just one of the greatest matches in WWE history— it is hands-down, the best match of 2003— a non-stop classic that doesn't get the full recognition it deserves.
This match took place on January 19, at the Fleet Center in Boston. It was the sixteenth annual Royal Rumble and it unfolded during the pinnacle of the first WWE brand split. Monday Night Raw placed a heavy emphasis on soap opera drama while Smackdown focused more on technical wrestling. And if this wasn't evident at the time, it became crystal clear during the 2003 Royal Rumble pay per view. In short, there was a huge difference in quality between the Angle/Benoit match which headlined the Smackdown brand and the primary match for Raw which saw Triple H and Scott Steiner fight for the World Heavyweight Championship. It was no contest. The Smackdown brand came out on top thanks to the sheer talent of Benoit and Angle; two world-class competitors in their prime and arguably at the time, two of the best wrestlers on the planet.
For roughly twenty minutes the Canadian Wolverine and the U.S. Olympic Gold Medalist went to war in a non-stop physical encounter which simmered with an amazing series of transitions from the Ankle lock to the Crippler Crossface. Needless to say, both men pulled off every single one of their special movies, multiple times throughout the match. Benoit attempted a diving headbutt on Angle, only Angle avoided the move and attempted an Angle Slam on Benoit which Benoit countered. Later when Benoit applied the sharpshooter on Angle, Angle in dramatic fashion, slowly made his way to the edge of the ring and touched the ropes to break the submission. Their chemistry was off the charts and the action in the ring kept the audience at the edge of their seats, as did the incredibly convincing near-falls which were executed to perfection. At one point, both men laid on the mat unable to get to their feet which almost resulted in a double count-out. It as a back and forth battle that had spectators believing anyone could win at any given moment.
WWE had built Benoit up as a babyface, and despite being the underdog— with the crowd behind the Canadian wolverine, many believed he would finally hold the belt over his shoulders. By the time Benoit executed a diving headbutt, nobody in the arena was left sitting on their chairs. In the end, however, Benoit applied yet another Crippler Crossface on Angle, only to have Angle counter it into a modified ankle lock, forcing Benoit to submit to the hold. It was a clean finish that featured a rare submission from the famously resilient Benoit.
The match exceeded any expectations and in the end, both men received a standing ovation. And while Benoit didn't win, he walked away as the man who stole the show. Thankfully, it wasn't the end for him but only the beginning. Over the course of the next year, he would rise in the ranks of the WWE roster and in 2004, he would win the WWE Championship at WrestleMania XX against Shawn Michaels and Triple H in a triple threat match.
As Kurt Angle said when asked about his career-defining match: If you want to learn and understand the art of pro wrestling, you need to watch the 2003 Royal Rumble World Championship match.
Angle vs. Benoit can be viewed as the single greatest non-Rumble match in the history of the pay per view. Watching it again after all these years proved to be just as thrilling— even if I already knew the outcome.
"Crisis on Infinite Earths" Concludes By Going Big… and Going Home
Crisis ends, and DC's television universe looks towards a bright future.
(click here for my review of Parts I through III)
After three hours of thrilling cameos, bold narrative design, and clumsy dramatic crescendos, "Crisis on Infinite Earths" returned to air its final two episodes, concluding what's been arguably the most ambitious experiment on a broadcast network post-LOST. Its final two parts – aired as the ante penultimate episode of Arrow, with Part V serving as the Legends of Tomorrow season premiere – are much like the three that aired in December; equally ridiculous and resonant, able to transcend an undercooked central premise with a combination of heart and humor unlike anything else in the superhero genre.
Equally ridiculous and resonant, Crisis on Infinite Earths transcends an undercooked central premise with a combination of heart and humor unlike anything else in the superhero genre.
"Part V" particularly benefits from being able to serve two critical roles: it serves as both a testament to the core characters of the DC-CW universe and their continued legacy on the network, as well as a poignant reflection on the impending departure of Green Arrow. And despite the obvious similarities, it would be a little simplistic to call Crisis on Infinite Earths the Endgame of the DC Universe: through characters like Sara Lance, Black Lightning, and The Flash, Crisis – and Part V in particular – is a reminder that even 500+ episodes into its universe, there's still a bright future ahead for its super powered paragons.
That being said, let's be honest: "Part IV" is a hot goddamn mess, rush through a web of silly plot twists and unnecessarily drawn-out scenes, that builds to one of the most laughably incoherent action climaxes of recent memory. Watching the heroes fight anti-matter ghosts was bad in "Part I" – by the time we get to the end of "Part IV," and Ollie the Spectre is trading energy beams with the Anti-Monitor while everyone else stands around punching the air, the conceit of the whole endeavor almost falls flat on its face.
The only reason it doesn't is because of what comes before it; though it is understandable to criticize "Part IV" for the strange collection of brief flashbacks into Oliver's past (experienced by our paragons as they exist within the Speed Force), there's a certain balance between chaos and clarity that's found in the random assortment of moments The Flash, Supergirl, and company experience. The Speed Force is an unruly, uncontrollable force, and "Part IV" establishes the difficulty of their ability to even exist in such a state: given that, it makes sense that much of what we experience in the Speed Force is unsatisfying, or feels like it is missing out on key moments.
There's no doubting how clumsy everything around it is: from the Monitor's origin story, to the inexplicable beard Ray Choi grows, much of "Part IV" feels like filler material, hamster wheeling its way to its final two minutes, where the paragons…. look up a CGI hill, and think really hard about what they're the paragon of? While the notions behind the final moments of "Part IV" are certainly noble – the idea that the super friends' greatest powers are not their physical attributes – the execution is sloppy at best, and teeters towards being utterly ludicrous in its most critical moments.
But when the Anti-Monitor's siege is (temporarily) defeated, Crisis on Infinite Earths drops the entertaining, if superficial conceit of unpredictable cameos and absolutely insane world building and turns towards deifying Green Arrow. And though it falls utterly flat in landing its emotional beats in "Part IV" (admittedly, it's hard to take anything seriously after the Climactic Collection of Stares), once Crisis leaves Arrow to move to Legends of Tomorrow, all the pieces begin coming together, to deliver a rather touching homage to the long shadow cast by Stephen Amell's impending departure.
By centering on The Flash and Sara, two characters who spend most of the episode refusing to believe Oliver doesn't exist in this new universe (where every character in the DCTV universe has been integrated into one world), "Part V" is able to grasp an emotional thoroughline "Part IV" is way too busy to find. Especially with Sara Lance; as she reflects on her journey from philandering sister, to dead assassin, to captain of a MF'in time ship, Crisis finds resonance in Oliver's departure, and how that has a rippling effect on every hero left behind.
Even more interesting is how the subtext of Sara's reflections give voice to the anxiety of uncharted seas lying ahead for the minds behind the DC television universe: without their original protagonist, their dramatic bedrock of nearly a decade, there is a changing of the guard happening on both sides of the camera. Positing Sara as the de facto protagonist moving forward is a logical move: her journey to becoming a true leader on Legends of Tomorrow might be the single most satisfying arc of this entire dramatic experiment, something "Part V" openly acknowledges as it begins to fill in the landscape of its new shared universe.
By the time "Part V" ends (which, let's be honest, it takes a long time to get to), there's a Hall of Justice, a Super Friends table, a brand new conflict for Supergirl to face, and plenty of intriguing new threads for its new and returning series to explore in the coming months and years. The impact of Crisis will ripple through the DC televerse for years to come, and that's an exciting creative kick start for some of its long running series: though sometimes Crisis certainly feels more interesting to dissect than it is to actually experience, the impact of its conclusion offers infinite potential to rejuvenate series like The Flash, and a fresh slate for shows like Black Lightning, the new Lois and Clark series, and the upcoming Stargirl to begin building a new, more refined foundation on.
Though the minute-to-minute quality of Crisis on Infinite Earths is wildly uneven – and ultimately, it comes up dramatically short in its climactic moments – it is undeniably one of the most exciting television events in recent memory, a crossover that should be lauded for its sheer ambition, and heartfelt delivery. Though the Arrowverse will be losing its bedrock when Arrow departs the air at the end of January, "Part V" proves the new, post-Crisis universe is clearly in good hands heading into the new decade.
Other thoughts/observations:
It is not surprising the two MVP's of the entire crossover are both Legends of Tomorrow regulars: Brandon Routh pulling dual roles before his own swan song from the universe ("Wait… there was a Super-me?") and Caity Lotz absolutely fucking chewing scenery in the final half of "Part V".
Best moment of the crossover? I mean, it's gotta be the scene with Ezra Miller and Grant Gustin, right? Extremely impressed how they kept that cameo under wraps. The Doom Patrol dance is probably a close second, though.
Swamp Thing cameo!
The sidelining of Constantine in the final two parts is a bummer, though I guess having a dude who can access the world of the dead might make the whole eulogizing Green Arrow thing weird.
Gotta say it: it sucks there was no Felicity in "Part IV" or "Part V".
Mick Rory the author continues to be the greatest subplot of the DC universe.
Unfortunately, Batwoman sticks out as the weakest part of the new Super Friends lineup. I want to like Ruby Rose in the role, but it's just not working for me, at least so far.
Beepo!
It is no surprise the best episode of the five-part series is the Legends of Tomorrow season premiere.
Royal Rumble: The Most Over The Top Moments
The Best of the WWE Royal Rumble
While WrestleMania might be considered WWE's biggest pay-per-view of the year, the Royal Rumble is arguably the most popular. It is the official start of WrestleMania season as the main events come into view. More than that, the actual Royal Rumble match is one of the most exciting WWE has.
The essential premise is that two wrestlers start in the ring. Then, another wrestler enters every 90 seconds, with a total of 30 wrestlers involved. There are no count-outs, pinfalls, or submissions. The only way to be eliminated is by going over the top rope and both feet hitting the floor.
What makes it blast to watch is the unpredictability of the match. The complete roster of wrestlers involved is rarely known, so most numbers have the potential for a surprise entrant. Even if fans think they know who is going to win, how it plays out is rarely as predictable.
Some of the most unique moments in WWE history have happened in a Royal Rumble match. Hopefully, this year won't be an exception.
Kofi Kingston: Royal Rumble MVP
Superstars like John Morrison and Shawn Michaels have pulled off off some impressively acrobatic moves in a Royal Rumble match. But Kofi Kingston has carved out a name for himself as one-man highlight reel.
Consistently, Kofi has produced some of the biggest saves from elimination moments. From walking around outside the ring on his hands to chair hopping from the commentator's desk back to the ring, Kofi has found the most creative ways possible to keep going.
His leap from the barricade to the ring apron at Royal Rumble 2014 remains one the most athletic moments in WWE history.
Asuka Wins The Royal Rumble
In 2018, WWE changed the game by having the first Women's Royal Rumble match. 30 female wrestlers both past and present entered, leading to some historic moments. One of the coolest was seeing Trish Stratus and Mickie James, two in-ring rivals, face off in match they helped build to.
The eventual winner was Asuka, which was both the expected and the hoped-for outcome. Asuka was in the midst of her juggernaut run that started in NXT. It was a huge win for her.
It meant Asuka was going to WrestleMania to face Charlotte Flair or Alexa Bliss.
Unfortunately, it was followed by another huge moment that overshadowed hers when Ronda Rousey made her debut. Through no fault of Rousey's, WWE's choice to have her appear at that second somewhat stepped on the importance of Asuka's win.
Stone Cold Rules The Royal Rumble
More than a few wrestlers have become two-time Royal Rumble winners. This includes the likes of Shawn Michaels, Randy Orton, Hulk Hogan, and John Cena. But only one man has won the match three times.
Stone Cold Steve Austin.
He won the Rumble back to back in 1997 and 1998, then again in 2001. Of all the great moments in the history of the Royal Rumble, Austin's record-setting third win is a big one. Even if that record ever is tied or broken, probably by Randy Orton, Austin will always be the first to achieve it.
Shawn Michaels And The One Foot Save
Being eliminated from a Royal Rumble match requires two components. The first is going over the top rope and the second is both feet touching the floor outside the ring. Keep in mind, the key word in the second component is "both."
In 1995, Shawn Michaels changed the game with a one foot save. It was the first time any wrestler had tested the limitations of the "both feet touching the floor" rule quite so literally.
It was a successful test, too. Shawn Michaels also became the first wrestler to enter at number one and win the entire match. Before him, the earliest entry to win was Ric Flair at number three. |In reality, Michaels wasn't the only number one entry to win. Chris Benoit also pulled it off in 2004, though WWE is unlikely to mention that one.
AJ Styles Debuts At The Royal Rumble
There was a time that one of the top wrestlers in the world to have never worked in the WWE full time was AJ Styles. Well, until Royal Rumble 2016. That's when unfamiliar music hit and Styles entered the arena. The pop from the audience was one of the biggest ever.
The confused look on Roman Reigns' face sold the moment. That being said, the camera stayed on his face longer than it did the entrance.
As great as the debut was, it would have been better if AJ had won the Rumble. Instead, Triple H won. Not the most surprising person to go over in a Royal Rumble match but Styles main roster debut was still one of the hottest moments of the year.