With nearly 500 scripted series available to watch in 2017, television officially exited the Peak TV era, nestling firmly into its new identity, which we semi-affectionately refer to as the Most TV generation of television. And what a year it was for television, from Twin Peaks: The Return, to the return of NBC to comedic prominence, to the visual splendors of newcomers like American Gods and Legion, and heartfelt farewells to iconic series like Girls, Halt and Catch Fire, and The Leftovers. After thousands of hours of cumulative consumption, here is Goomba Stomp's definitive list of the Best TV of 2017. Enjoy!
Editor's Note: We decided to list these shows alphabetically since we had so many ties.
Honourable Mentions: Manhunt Unabomber, Better Things, Orange is the New Black, Unbreakable Kimmy Schmidt, Feud: Bette and Joan, Sneaky Pete, Baskets, Broad City, Big Little Lies, Top of the Lake: China Girl and One Mississippi.
****
The Americans
This was no one's favorite season of The Americans. In its fifth year, FX's acclaimed spy/family drama got even more deliberate than usual, lowering the immediate stakes, lingering on needlessly cryptic plots, and placing its already-familiar characters under an even tighter scope to little appreciable effect. Yet, even in an "off" year, it's still one of the tautest and most psychologically astute shows around, and the performances from Matthew Rhys, Keri Russell, Noah Emmerich, and Holly Taylor are (almost) endlessly renewable resources. Chalk it up to the penultimate season curse – too concerned with setting up the final season to provide enough compelling material all its own. (More or less the exact same issue cropped up with FX's Justified in its next-to-last season as well.) Still, Joel Fields and Joe Weisberg have earned more than enough goodwill for us to assume the final season will be one for the ages. (Simon Howell)
American Gods
What's there not to like about American Gods, a series of wildly ambitious filmmaking that rewards viewers' with extraordinary visuals, haunting music, and stellar performances by a star-studded cast that includes Deadwood's Ian MacShane and Gillian Anderson appearing as the late David Bowie. Adapted from the 2001 bestseller by geek icon Neil Gaiman, the new Starz series is the latest act of aesthetic derring-do from Bryan Fuller, the genius behind Hannibal and Pushing Daisies. American Gods is violent, sexual, bloody, gruesome, grimy and bizarre. It's also one of the most beautiful and invigorating new television series that takes every aspect of show-running Bryan Fuller is famous for and runs wild with it.
Working with screenwriter Michael Green and Hannibal helmer David Slade, Fuller takes more risks than anyone else on television, and at the very least, American Gods is wildly different, highly entertaining and downright jaw-dropping. The boundary-shattering sex scene between Muslim immigrants — Salim (Omid Abtahi) and the Jinn (Mousa Kraish) — is one of 2017's essential TV moment as is the scene in which Yetide Badaki's goddess character, Bilquis, devours her helpless partner in the midst of their first sexual encounter. Whether you're a fan of Neil Gaiman's novel or a curious newcomer, American Gods will make a believer out of you. (Ricky D)
Amercian Vandal
All cards on the table; American Vandal is my favorite show of 2017. There may have been shows that were more meaningful, more iconic, and maybe even more memorable, but nothing left the immediate impact of Netflix's understated satire of true crime documentaries (or, alternatively, the best show about high school to air since Freaks and Geeks). The saga of Dylan Maxwell – and Hanover High's 2016-17 school year – enraptured me like no other series did this year, expertly walking the fine line between legitimate commentary on the documentary form, and sending up every trope in the hyper-masculine High School Drama, in the process creating a surprisingly deft, intelligent examination of both its fictional subjects, and the very real effects deep, invasive documentaries have on the people they examine, and the people tied up in constructing the narrative around that material.
Equal parts ridiculously meticulous (the handjob recreation of episode two and the party Snapchat breakdowns in episode four are among the best scenes of TV to air this year), American Vandal is the single most heartfelt piece of filmmaking I saw in the television realm in 2017. A show whose interests were split between being the ultimate send-off of the uber-serious "true crime" documentary, and an engaging, thorough dissection of how high school challenges, reforms, and even destroys an individual's sense of identity.
Yes, Peter and Sam's investigation into who drew the dicks is a cascade of penis jokes and juvenile humor; but they're the best dick jokes, all told in service of a surprisingly engrossing mystery, one with as many twists, turns, head fakes, and exciting reveals (the paint splatter!) as its many dramatic counterparts on television. Plus, it features a fascinating, complex protagonist in Dylan Maxwell, who for all his dumbassery, is easily one of the most compelling character studies of 2017. (Randy Dankievitch)
Attack on Titan
After a smash hit first season that set it as one of the most popular animes of all time, Attack on Titan tortured fans with a staggering four-year wait for its shorter second season.
So was it worth the wait? Well, in a word, yes. Though Attack on Titan's second season might be a bit surprising due to its early focus on side-characters and world-building, by the end of this sophomore effort things have gotten crazier than even the most subjective of fans might have guessed.
With another killer theme song, a few brutal twists, and one of the greatest battles in anime history, Attack on Titan season 2 may not be what you expected but it absolutely wows all the same.
If you feel a bit stuffy about anime, trust me, this is the show to change your mind. Add to that the recent announcement that next year will see the third season coming much faster than expected, and fans can look forward to giving their heart once again very soon. (Mike Worby)
Better Call Saul
Though Better Call Saul has spent much of its existence sheltered in the limelight of its prestige television parent, Breaking Bad, its sense of tone and careful confidence have done a lot to set it apart from its beloved forebear.
With that in mind, season 3 has been a bit of a juxtaposition on both fronts. While the show has never been more audacious or ambitious than in its tragic-comic third season, it has also been using more and more Breaking Bad leverage than ever before. With Hector Salamanca front and center, the introduction of everyone's favorite chicken-loving kingpin, Gus Fring (a chilling Giancarlo Esposito), and Jimmy inventing the alter ego of "Saul Goodman", things are getting closer and closer to the world where we were first introduced to New Mexico's underground drug trade.
Still, Better Call Saul soars in what might be its best season yet, driving a hard wedge between Jimmy (Bob Odenkirk) and his troubled brother Chuck (Michael McKean, doing his career-best work here) while setting up a world of possibilities with the newly realized partnership between Mike and Gus. Finally, Kim Wexler (Rhea Seehorn) is given the opportunity to shine as never before, with a particular twilight moment toward the end of the season giving her what might be her most interesting arc yet.
Either way, after a cliffhanger ending like that, one thing is for sure: we're going to find ourselves looking at a very different Jimmy McGill come next season. (Mike Worby)
Black Mirror
Black Mirror, despite being profoundly unsettling, has a wickedly simple premise: what if there were dark, unseen ramifications to the technologies we play, work, and depend on? In its fourth season, the show achieves something truly improbable, by continuing to stave off any staleness that might come from reworking and repackaging of such a simple premise with each new episode. The series has shifted–almost imperceptibly but critically–from illustrating technology as a dangerous enabler of our worst instincts to depicting various devices that are the products of human malevolence. Episodes like "Black Museum," "U.S.S. Callister," and "Metalhead" propose realities where technology is designed by people either trying to physically harm others, or attempting to snatch their agency; to rob their humanity entirely.
This is in many ways a bleaker-than-usual season of Black Mirror, which is its own type of achievement. There is less of a reliance on paradigm shifting twists or obvious commentary packaged as a clever metaphor, and more of a willingness to stare human enmity in the face; to call it what it is, and to partially absolve technology itself. Early seasons of the series concocted devices that appeared as innocuously as any iPhone or Google Home, but preyed insidiously on human nature. Season Four marries tech to human nature; the devices we see have distinct human fingerprints and hew closer to the overt motivations of their creators.
Black Mirror once seemed to argue for the neutrality of technology, and for the devastating potential humans have to corrupt it, to bend it to their needs – think of episodes such as "An Entire History of You," "Men Against Fire," or "Hated in The Nation." Now it seems to be arguing that neutrality was a myth in the first place – particularly relevant in a time when social media has transcended from an arena for cat pictures to a forger of reality for some, able to swing electorates; and in a time when American politicians have recently voted to abolish Net Neutrality itself. In one important way, Black Mirror hasn't changed: the series constantly reminds us that technological development is profit-driven and that consumers are fodder for creators. Season four just seems more committed to illustrating the ugliness in that transaction, not just the result of it. (Michael Haigis)
Bojack Horseman
After BoJack's ambitious, harrowing third season – which culminated in a powerful ending that was equal parts heartbreaking and peacefully eloquent, there were a lot of open questions on what was next for our bipedal protagonist and his merry band of fucked-up friends and colleagues. The answer? BoJack went deeper, digging into the genetic history – and future – of BoJack to find new ways to explore the broken psyche of a horse who is more of a man (or a man who is more of a horse, depending on who you ask). With it came the introduction of Hollyhock Manheim-Mannheim-Guerrero-Robinson-Zilberschlag-Hsung-Fonzerelli-McQuack and Beatrice Horseman, offering BoJack a new set of familial dynamics to dig its nails into, which led to another surprisingly emotional arc for what is arguably the most cynical, depressing, and thoroughly inspirational half hour available on any network, streaming or otherwise (in fact, the only show that can come close is CBS's Mom).
Though there is certainly a debate to be had around the overall effectiveness of the wild narratives surrounding Mr. Peanutbutter's political run and disappointment to be expressed around the reduced importance of Todd and Diane to the main plot, there's no denying the powerful moments catalyzed by the show's exploration of the generations past, present, and future for its main character. That, combined with the show's absolute mastery of comic delivery (and animal punnery, of course), further cemented BoJack's position as one of the best comedies on television, not to mention one of the best series of the past decade. (Randy Dankievitch)
The Carmichael Show
There are a lot of shows vying to be the most #Woke show on television; many of them, however, wear their agendas on their sleeves, their crowd-sourced opinions so brazenly presented as to garnish #support from audiences and #thinkpieces from hip #millennials… it's a growing problem in the age of Crowd Think TV (the post-Peak TV age we are beginning to enter, that David Lynch is extremely determined to break with his own show… more on that from Simon in this article, however). The Carmichael Show is the perfect antithesis to that, a show that isn't looking to appease any liberal or conservative agendas when it discusses the social, emotional, and mental impacts of such topics like rape, transgender athletes, religion, marriage… basically any culturally relevant topic sitcoms won't touch with a ten foot pole, The Carmichael Show dives into head first, without hesitation.
However, the bold approach to current events and debates is not one that comes without nuance; and that's what makes The Carmichael Show one of the most impressive achievements in modern television. Using the traditional, multi-camera sitcom as a backdrop, Jerrod Carmichael, Nick Stoller, and his team of writers shape conversations around questions, rather than suggesting they know better by forming plot around what they think the most socially acceptable answer would be – The Carmichael Show's conclusions are often layered, complex, and brutally honest, translating Carmichael's stand-up into fertile comedic and dramatic territory with a surprising amount of confidence and accessibility.
It's unfortunate the show was canceled this year, because its much-delayed third season has already tackled topics like mass shootings, rape, assisted suicide, and examinations of beauty…. there's never been a laugh-track comedy like The Carmichael Show, a show that not only schools leagues of Prestige dramas trying to be #relevant on how to examine both sides of an issue but still remembers to be a hilarious comedy about family and relationships at the same time. It's a balancing act like TV's never seen, and probably won't again anytime soon. (Randy Dankievitch)
Catastrophe
Sharon Horgan and Rob Delaney's dark-but-humane comedy series about adult fuckups trying to build a life together is sort of a feeling person's answer to You're the Worst, offering an unsparing look at alcoholism, grief, relationship and parenting anxieties, and more, always with a lacerating punchline or seven lying in wait. Horgan and Delaney's exquisite comic chemistry (they co-write every episode) keeps the proceedings light enough to ensure even when the subject matter inevitably gets heavy, but even the most hardened viewers might have trouble resisting a tear or two when Carrie Fisher, whose Catastrophe character is much closer to her real-life persona than Princess Leia ever was, makes what we can assume are her final appearances this season. (Simon Howell)
Crazy Ex Girlfriend
Crazy Ex-Girlfriend remains one of the best shows on television in 2017.
It's a break-up show, with lots of songs. On paper, Crazy Ex-Girlfriend doesn't work. In practice, it remains one of the smartest and most fun shows on television. A musical comedy that follows the painfully honest ups and downs of a troubled and intelligent young woman- Crazy Ex is rich with diversity, incisive subtext, and deep characterization. And funny as hell. It's School House Rock for dismantling the patriarchy, and it's awesome to learn.
Crazy Ex gleefully resists conventional explanation. Outwardly and at first, Rachel Bloom and Alicia Brosh McKenna's hour-long musical sitcom is easy to mistake or dismiss for the script that it so slyly flips and re-flips. A big city gal seems to have it all, but despite outward success, internal unhappiness looms. Adrift in despair, she spies her forgotten teen romance. Glittery sparks fly, old gears turn, and she follows lost love to a slow-paced small town where her uptown ways fritter away. Her sights are set on a simpler life, on fixing her broken soul and re-connecting with Mr. Right. Songs are sung. This all resembles rom-com and gets us ready for familiar and cozy feelings. That is until Bloom and McKenna slap you with the deconstruction of your every expectation.
Now in its third season, the loving deconstruction continues to unfold as the songs and cast continue to surprise and, dare we say it, delight.
We sit back and wait for True Love to blossom in all of its familiar televised glory, but the rosy veneer feels cracked from the start, and more and more real problems unfold rather than retread and resolve. Like life. In a world filled with fake news and broken online personas, Crazy Ex-Girlfriend speaks rare truths through well-crafted comedy, drama, and music. Watch it. (Marty Allen)
Dear White People
The characters in Dear White People, a group of ivy league students, populate the series' intersectional narrative with heady ideas about the complexities of race, class, and oppression. The (mostly) black characters, while united by skin tone, represent a vast diversity of experience, and each jumps from the screen with unique perspective crafted by backstories that the series cleverly weaves around one flash point: a blackface fraternity event that devolves into a race riot when the school's black students crash the party.
Sam, a biracial firebrand, weaponizes her college radio time slot, railing against the overwhelmingly white patriarchy of the institution and acting as the central figure in Dear White People. But as much as the show is addressed to a blissfully ignorant monoculture, especially in Sam's oration, it's her interplay with friends (and enemies) that gives the series' broad cultural commentaries an undeniable sense of specificity.
Sam's boyfriend Gabe is a well-meaning white liberal dude, who clumsily attempts to navigate Sam's proudly black social landscape. Scenes of tension, and humor, in Gabe's endeavor, are never treated entirely as tribalism on behalf of Sam's friends or ignorance on behalf of Gabe; the series eschews such easy constructs (and the easy solutions those constructs would beget), in favor of crafting a world that resembles nuanced reality, full of characters driven as much by their ideas as by their emotion.
The fiercely intellectual Reggie pines for Sam, adding a layer of personal scorn to his rebukes of Gabe. Coco, who has purposefully joined the school's waspy white segment, clashes with Sam over who has the right to define "black"; Sam, is after all, biracial – Coco is not. The conversations in Dear White People are multitudinous, and hilarious, and heartbreaking, and frustrating. Sam and her friends have an infinite number of questions, but few answers, which is fine. With a wry sense of humor and a keen understanding of human emotion, Dear White People pointedly asks the questions anyway and suggests you do the same. (Michael Haigis)
The Deuce
David Simon never truly left television, even it has been some time since he created anything as impactful as The Wire. He's created a full-blown series – Treme – since that show ended, as well as smaller projects like Generation Kill and Show Me a Hero. And like all of Simon's work, those three series shared attributes: a journalistic attention to detail, a sympathetic view of the proletariat, and extremely low viewership numbers. With The Deuce, though, Simon appears to have found a story with the potential to match both the popularity and the urgency of his masterpiece ode to the dying American city.
Like The Wire, The Deuce paints a broad portrait of a city in flux – in this case, the New York City of 1970. Simon and his longtime collaborator George Pelecanos have a knack for interrogating the factors that shape economies while weaving detailed and humanistic tapestries of the laborers who flounder as work disappears. The Deuce focuses on the sex workers of 1970's Times Square and commits to illustrating that world in unflinching, loving detail. It can be uncomfortable, tense, and occasionally harrowing, but Simon also allows the joy of characters' everyday life to bleed into the frame, with grace notes that echo the most memorable exchanges from The Wire.
Without some dramatic inciting event or McGuffin for narrative thrust, the season meanders through a year in New York, focusing our attention on events both cataclysmic and not. We will remember the quiet, human moments: pimps and cops joking around at a shoeshine stand, or with the Times Square prostitutes grousing over cigarettes like any other weary workforce. Importantly, Simon sensed his own limitations writing for such an overwhelmingly female cast, enlisted the help of renowned crime fiction authors Megan Abbott and Lisa Lutz to add perspective to the series' writers room. The result is a series with a sprawling cast of fully realized characters and a world that beckons the audience and has us wanting to simply spend time with The Deuce. (Michael Haigis)
Fargo
Fargo's third season is all about the perception of truth: if enough people tell you that an apple is a pear will you eventually believe them? Despite being set in 2010 season 3 of Fargo is very much a commentary on Trump's post-truth America. There is a scene late in the season where Russian goon Yuri tries to convince a cop standing not ten feet away from him that he's not really there. It's a scene that could have easily ended up being ridiculously absurd but instead plays out like an allegory for the gaslighting the country as a whole endured on an almost daily basis in 2017.
The third season of Fargo continues to nail the tone of the Coen brothers original film with a group of oddball characters committing acts of both dark comedy and gratuitous violence. The cast this year was top notch: both Mary Elizabeth Winstead as bad girl and bridge aficionado Nikki Swango and Carrie Coon's small-town sheriff Gloria Burgle stand out as particularly good.
The best part of Fargo though has always been the villains and season 3 is no exception. David Thewlis's V.M. Varga is more in line with season one's Lorne Malvo than anyone from season two but where Malvo was straight up evil for evil's sake, Varga is more of a boorish glutton who's status as a villain is more a side effect of his insatiable appetite for wealth and his apathy towards any of the people he has to step on to get it. Varga's greed is highlighted by his bulimia a result of his inability to eat anything less than a grossly indulgent smorgasbord – easily enough food for three people – at every single meal.
There's been speculation that Fargo may not continue after this season and honestly, that might not be a bad idea. As it stands now, Noah Hawley has delivered three near-perfect seasons of television, to try to and maintain that level of creativity might be tempting fate. On the other hand, if anyone can do it, it's Hawley. In the end, there's no telling how far the show will go…and that's why I don't write for television. (Zachary Zagranis)
Game of Thrones
Season seven of Game of Thrones was the put up or shut up season for its showrunners and for its fans. Would the fantasy juggernaut fold under the weight of its hype and mythology, becoming just another tease of cool stuff around the corner (looking at you, The Walking Dead)? Would its fans embrace a new frontier beyond George R.R. Martin's book series and beyond the blood-filled, sex-crazed political soap opera that kept them tuning in? The answers were more nuanced than season seven turned out to be, a truncated seven episode smorgasbord of accelerated plot and satisfying payoff that finally cut the contrarian prestige TV bullshit and got to the pulp. To borrow a phrase from The Simpsons, Game of Thrones got to the "fireworks factory," and it was glorious indeed. Characters long separated were reunited, seasons long strategic machinations were realized, and dragons were unleashed in some of the best technical wizardry in the history of TV. For many fans, it was an unholy mess of "how did they get there?, "how did they know that?," and "who are they kidding?" But for those who were willing to sit back and bask in the delicious silliness of it all, it was a feast. Winter came to Westeros. About goddamn time. (Shane Ramirez)
Girls
Whatever the weaknesses of Girls' sixth and final season, you can't say it didn't go out on its own terms. For all the hemming and hawing when it first premiered that super-producer Judd Apatow would iron out Lena Dunham's peculiarities in favor of a more mainstream sensibility, Dunham's brand of hyper-neurotic comedy-of-discomfort hasn't diluted over the years; if anything, it's subtly pulled the rest of television a little closer to its orbit instead.
The last season opened strong with a series of episodes intended as "one-offs" Dunham and company always wanted to try out but never found room for in the previous seasons; in the age of the arc, Girls always relished self-contained, high-concept episodes as a chance to shed new light on its characters and explore new tonal possibilities. While it stumbled later in the season as it attempted to cap things off inappropriately messy fashion, Girls has left its mark on the medium; no climactic missteps can change that, whether you like it or not. (Simon Howell)
GLOW
Considering how incredibly popular professional wrestling is, it's amazing that it took this long for someone to make a television show about it. With spot-on 1980s period detail, knockout writing, and a killer cast, Netflix's wrestling drama GLOW is fast, funny, poignant, and absurd. It's also chock-full of sharp commentary, great performances, and a smartly written plot, allowing the ensemble cast of women characters to emerge in an organic way.
Indeed, the real strength of GLOW is in its exploration of their friendships. Wrestling may be fake, but the relationships these characters forge throughout the season, always ring true. Each episode runs around 30 minutes, which allows the show to delve into individual stories and spin a larger arc, without ever dragging on its heels. It isn't quite a comedy and isn't exactly a drama, but it is nevertheless, always a blast to watch. (Ricky D)
The Good Place
Many shows of the past decade have been saddled with the adage of being "the next LOST", an endless parade of failed sci-fi premises, "event" dramas (like NBC's aptly titled The Event), and Super Convoluted Mystery shows addled by an unfair, often unearned comparison with FOX's divisive (and iconic) series. Not only is The Good Place the first show to earn that comparison (at least on the Big Four), but it may be the first show to actually surpass the legacy of its spiritual predecessor, in terms of philosophic ambition, narrative bravery, and masterful characterization of an engaging, diverse cast of main and supporting players.
One part The Leftovers and one part Community, The Good Place is like a love child of Bryan Fuller aesthetics and Ray McKinnon spiritual exploration; a show that, on paper, has absolutely no business being as good and uninhibited as it is on NBC (also see Superstore and Great News for NBC's commitment to letting comedies develop themselves, as encouraging a sign as we've seen from the network in years). Led by powerhouse performances from Ted Danson (who singlehandedly delivers the single best moment of TV in 2017), William Jackson Harper and D'Arcy Carden, and buoyed by some truly audacious, beautifully resonant storytelling – The Good Place may have had the best opening season and a half to any network show since… well… you know, LOST. (Randy Dankievitch)
Halt and Catch Fire
Halt and Catch Fire was never supposed to be this good. Brought into the world as a lowly Mad Men clone – mercurial geniuses in a niche industry navigate the trials of life and work, surrounded by period detail, oh my! – it seemed destined for an early end, to be written off as one of AMC's early misfires in its hunt for original content. But a strange thing happened: in its second season, it got really, really good. That turned out to be the case for the remainder of its run, and this year miraculously brought us the series' fourth and final season, a heart-wrenching comedown that managed to do justice to the series' many complex characters and relationships without sacrificing its underlying integrity. H&CF gradually became one of the standard-bearers for series that don't seek to innovate, but instead to simply tell a great story anchored by strong writing and performances without resorting to structural gimmicks or high-stakes dramatic gamesmanship. A lot of series – and showrunners – could stand to learn from it. (Simon Howell)
Apple TV+'s The Morning Show Both-Sides Itself Into Prestigious Irrelevance
The Morning Show's mix of flashy performances and one-dimensional writing makes for one of 2019's more intriguing misfires.
One of Apple TV+'s early projects was a Whitney Cummings-helmed comedy firmly rooted in the #MeToo movement – unsurprisingly, it was canceled when Apple executives balked at the idea of hosting such politically charged content.
Then Hillary Clinton's press secretary walked in with a #MeToo-themed drama based on a CNN's anchor's poorly-reviewed book, and Apple said: "Here's $300 million."
Everything about The Morning Show bows at the temple of Late Sorkin, shows whose neutered centrist politics bleed through indulgent monologues, carelessly crafting limp arguments and diatribes around events nakedly parallel to our own world.
The strange optics are a rather apt reflection of Apple TV+'s The Morning Show, one of the more confounding high-profile dramas in recent years. Comparisons to Aaron Sorkin's HBO disaster The Newsroom might seem lazy and obvious, but there's really no comparing it to anything else. From shot composition to dialogue and performance, everything about The Morning Show bows at the temple of Late Sorkin, shows whose neutered centrist politics and indulgent monologues, carelessly crafting limp arguments and diatribes around events nakedly parallel to our own world.
It, unfortunately, begins with one of 2019's worst pilots, a grating 63-minute introduction to its world of morally compromised broadcast news players. As it builds out its world of producers, lackeys, stars, and C-suite executives, The Morning Show's first (and most of its second) hour painfully imitates the worst Sorkin-isms with glee, a series of painfully overt character introductions and an overwhelming feeling the script is about five years behind on the many conversations it wants to have about gender, power, political conflict, and the state of broadcast news.
At the center of it all is Jennifer Aniston, relishing in the decidedly two-dimensional Alex Levy, host of the eponymous show-within-a-show. When the delicate balance she's found between being a mother, a star, and a serious contributor to the morning show culture, is disrupted by sexual misconduct allegations against her co-host Mitch Kessler (Steven Carell, doing the best he can with it all), it becomes an inflection point in her career.
To her credit, Aniston justifies the hype of her streaming debut; her committed performance allows her to run the full emotional gamut of Alex's life, grounding her with an emotional restraint I only wish carried through to the writing. Both to its benefit and detriment, it writes around its star, offering Aniston all the room in the world for showy, dedicated, awards bait. And though it carefully avoids falling completely into a series of tropes and cliches about women almost having it all – and what they're willing to sacrifice to achieve it – there's no denying how the basic notes of her character are pounding over and over in early episodes, to dull effect.
The same goes for Reese Witherspoon's Bradley Jackson, a woman whose Libertarian opinions and rough edges have stalled her career as a try-hard journalist… for a conservative news outlet (twist!). In the pilot, Bradley gets fired for yelling at someone during a protest against the coal industry, a speech that absolutely belongs in the Both Sides-ism Hall of Fame. Experienced and naive, whip-smart but held back by her own intelligence, Witherspoon's overbearing presence as Bradley combines with some of the show's clumsiest writing, an unremarkable attempt to subvert expectations on multiple levels.
Jackson's character begins to come together by the third hour (once Jay Carson, the show's creator, was fired and no longer credited on scripts), after she's thrown unexpectedly into the mix by an Alex Levy power move; "unexpected" in that Bradley didn't see it coming, though it is painfully obvious to even the most casual observer where the first 110-plus minutes of plot is heading. But it's a painful road to get there, one full of asides about blue-collar upbringings and frustrations with the left and right (centrism, baby!), with the obligatory tinges of bad mom drama and professional insecurity.
Bradley's character becomes an unfortunate mouthpiece for all the issues The Morning Show is woefully equipped to handle; the fossil fuel industry, what's wrong with broadcast news… and in "That Women," abortion, when she accidentally (or…??) reveals what the show treats as a Deep, Dark Secret of her past… and then immediately drops as an actual plot halfway through "That Woman," folding it into the background noise that is the capital-d Drama surrounding the fictional Morning Show.
(This happens on her second broadcast, I might add, during her attempt to subtly undermine the wickedly facile dialogue being fed to everyone from cue cards and teleprompters.)
The benefit of having such a large, talented cast and prestigious directors (Mimi Leder and Lynn Shelton direct three of the first four hours) does allow The Morning Show to occasionally stumble into being quite watchable. There's strange chemistry to the cast, and it combines with the sharp direction to breathe life in between the many instances where The Morning Show trips over itself with bloated plots and repetitive character beats.
There are a number of scenes in the third and fourth episode that are genuinely compelling, in a sadistic kind of way: the writing and performances are so confident and dedicated to what they're trying to say, even when it is blindingly obvious The Morning Show is ill-equipped to catalyze on the many compelling ideas it throws into the mix. It can be fun to watch, an incongruous relationship between style and substance that is occasionally intoxicating in the sheer ludicrousness of it all.
But mostly, The Morning Show is just tiring in its dissonance, and its clear horniness for moderation and careful reinforcement of systemic norms – it is more interested in getting participation trophies for being in complex sociopolitical conversations, than actually having a concrete point of view on anything (it's like the anti-Superstore in a lot of ways). The first four episodes are a confluence of elements, brash lead performances clashing with the naturalistic work of the show-within-a-show characters around them, all trying to convincingly deliver the dramatic equivalent of sugar-coated chalk. There are certainly some tasty, addictive qualities to The Morning Show; but those delicious morsels are overwhelmed by the bitter, archaic nature of its central narrative and episodic flow.
It is certainly fascinating to watch a show consistently jump in the deep end without knowing how to swim – it's just not entertaining to watch The Morning Show flounder around helplessly scene after scene, a creative misfire of epically-budgeted proportions.
Other thoughts/observations:
$300 million and those are the best opening credits you could come up with? Dots?
It is interesting how Steve Carell is listed among the main cast; he is not in these first four episodes very much – and when he is, it offers some of the show's most uncomfortably strained writing.
This show constantly cuts to a shot of a clock alarm going off at 3:30 am. Literally every day that passes on the show, we get Bradley or Alex slamming the alarm off. WE GET IT.
Mark Duplass co-stars as the longtime producer of The Morning Show; of the show's collection of idiotic male characters, his Charlie is rather carefully constructed. It is unexpectedly strong, and stands in interesting contrast to Billy Crudup's Cory Ellison, a network executive Crudup clearly relishes in making a brash, exaggerated performance.
There's a subplot about a simpleton weatherman (the always-welcome Nestor Carbonell) and the young producer he's hooking up with. She's apparently from a rich, influential family? It kind of feels like this show's 2019-ified take on Sports Night's Jeremy and Natalie.
Yes, there is an episode that ends with an acoustic version of Kelly Clarkson's "Stronger"… spoiler: it is the episode that has a Kelly Clarkson cameo.
Karen Pittman chews up scenery as Mia, a very pragmatic producer, and Bradley's guiding hand.
The second episode focuses pretty intently on Alex's role as a mother… and then her daughter basically disappears without mention? I'm sure they'll come back to it, but boy does The Morning Show like to go on tangents and forget its many, many, many side plots.
Oh man, there is an awful, awful scene where Martin Short plays an unnamed director, who talks with Mitch about what they've done, and how they can try and return respect to their names. And then Mitch reveals he knows the director is an "actual rapist," and presumably decides not to make a documentary with him? It is so weird and distonal, and feels like The Morning Show presenting a weird moralistic litmus test to Mitch.
A Brief History of Survivor Series: A Cornerstone of WWE
Relive Some of the Biggest Moments in Survivor Series history
There are a few pay-per-views that are mainstays of WWE's annual slate of offerings. SummerSlam. Royal Rumble. WrestleMania. Kids grow up dreaming of wrestling at these shows, and Survivor Series is one of them. The classic Survivor Series match is a five-on-five elimination bout, featuring a variety of top stars as well as up and coming wrestlers. It provides an important showcase for WWE's talent, some of which don't always get pay-per-view time.
Besides that, it's a lot of fun for fans to watch.
Over the years, Survivor Series has produced a number of career-defining moments for the talent involved and those moments can mean everything. This is the pay-per-view that kicks off the build-up to WrestleMania, the ultimate goal for all WWE wrestlers.
The 2019 event is even more interesting than past iterations because of its incorporation of talent from NXT for the first time ever, pitting their champions against Raw and SmackDown. If fans were looking for a statement as to how seriously WWE is taking NXT as its own brand, matching NXT against their long-standing brands accomplishes that. Let's look back at some of the most memorable moments of the event.
Bret Hart's Survivor Series History
Many of the biggest moments in Survivor Series history happened outside of the actual namesake match. One of the most infamous moments in WWE history, The Montreal Screwjob, happened at Survivor Series 1997. Knowing Bret Hart was leaving WWE and wanting to make sure he didn't take the belt to WCW, Vince McMahon ordered a fast count during Hart's match with Shawn Michaels.
Hart's response was infamous and understandable, his long feud with both McMahon and Michaels only coming to a relatively recent end.
Hart had a part in another big moment, this time at Survivor Series 1996. One year before The Montreal Screwjob, Bret Hart faced off against a young wrestler name Stone Cold Steve Austin who was looking to make a name for himself. Thanks to this match, he would do it. While it's not often recognized as such, this match was the start of Austin taking the wrestling world by storm and building a legendary career that fans still talk about.
Notable Survivor Series Debuts
A WWE franchise player, The Undertaker himself debuted at Survivor Series 1990, starting arguably the most legendary run for any gimmick in wrestling history. The next year at Survivor Series 1991, The Undertaker would go on to defeat Hulk Hogan for the World Championship and cement his legacy as 'The Phenom.'
The Undertaker wasn't the only wrestler to debut at the venerable pay-per-view. The Shield, a faction that would go one to produce three major singles champions, made their first main roster appearance at Survivor Series 2012. They came through the crowd and destroyed both John Cena and Ryback on behalf of CM Punk. The legendary Sting made his first WWE appearance at Survivor Series 2014, attacking Triple H and setting up a WrestleMania match between them.
Sole Survivors
Asuka also achieved glory at Survivor Series 2017 as part of her build-up to WrestleMania. She was a member of the Raw Women's Team, putting in a typically dominant performance. Asuka was the sole survivor, winning the match for her brand and eventually going on to win the first Women's Royal Rumble match.
Unfortunately, she didn't win her match at WrestleMania, a loss that took months and months to recover from. Now, it seems like she's finally back on track alongside Kairi Sane as the Women's Tag Team Champions.
Many big names have been sole survivors, as well. Roman Reigns, Kofi Kingston, Andre the Giant, and Lex Luger have all held that distinction. The likes of Ric Flair, The Rock, and Dolph Ziggler have been sole survivors on two separate occasions each. Randy Orton holds the unique distinction of being a three-time sole survivor, though that's no surprise for 'The Viper.' He is nothing if not a survivor.
Now. Then. Forever.
The big four pay-per-views will always have a special place in the hearts of WWE fans, and Survivor Series is no exception. While every moment on screen plays a role in building a successful wrestler, showing up and showing out in big moments like this set the tone for the rest of the year.
Some of the biggest names in WWE history have made their names at Survivor Series, possibly even more so than WrestleMania. Survivor Series was created to play off the success of Andre the Giant versus Hulk Hogan at WrestleMania III. Both men led their own teams at the inaugural event, featuring some of the biggest talents of their time.
That continues today as modern talent use this traditional pay-per-view event as a means of launching careers. It's one of those events young wrestlers grow up dreaming about.
'The World According to Jeff Goldblum' is a Quirky and Oddly Engrossing Worldview of Modern Culture
Disney Plus launched on November 12th to the general public and with it came ten new pilot episodes for upcoming original shows including Star Wars: The Mandalorian and Pixar In Real Life. Out of all the original television series to debut on opening day, one strikingly stands out from the rest: a quirky National Geographic docuseries featuring Jurassic Park and Thor: Ragnarok actor Jeff Goldblum that was initially going to air on the television channel before switching over to the digital streaming service.
In the mouse's newest selection of shows for their Netflix Competitor, variety can be the key to the foundation of building something successful and The World According to Jeff Goldblum might just hit the sweet spot for what this service needs, but it is still notably something that would never be labeled as a reason to buy into Disney Plus. With that being said, viewing a regular conversation with Jeff Goldblum has never been so engrossing before than in this odd gem of a series.
Goldblum Versus The World
The pilot episode of the series turns Goldblum into a comedic ethnographer who indulges himself in the culture of shoe collectors and creators. Goldblum slowly dives into his worldview of the purpose and significance of the common day footwear, while looking into how the business operates and the passion behind those who proclaim shoes to the highest extent. The pilot episode focuses on a theme of revelation while jumping from different specialists within the culture such as basketball teams, business owners, creators, and even YouTube personalities.
If you are a fan of the actor then you should already except what you are about to watch. Goldblum has his typical quirky and childish mannerisms that make him iconic, while he goes around interacting with a vast selection of people who are widely educated about the subject matter that each half-hour episode focuses on. Despite seeming like a show that can easily become a bore to watch, it never loses steam and becomes an exceptionally well-executed documentary with a flair of humor and spice of knowledge thanks to Goldblum's mesmerizing appearance.
From the perspective of becoming an ethnographer, Goldblum surprisingly does a good job interacting with an audience he typically would never engage with. He never misses a beat as he proceeds to ask serious questions and of course, make humor out of certain situations when appropriate. Never once does he provocatively attempt to embarrass a group of people for mindless entertainment or make fools out of them like other docuseries on specific cultures have.
In fact, Goldblum goes the extra mile to participate in sneaker conventions, recreational basketball games, and even professional science laboratory visits- taking on the tasks that a legitimate ethnographer would have to engage in. All of his crazy yet conventional doings ultimately pays off into what ends up building a captivating show that may even attract audiences who do not care about anything that is being discussed. Goldblum's personality will miraculously keep you hooked on his wild journeys through everyday life as he attempts to explain his stance on common objects while plunging into a perspective of life he has never once stepped into.
Science, Psychology, and Style
This is a National Geographic production though, after all. It is no surprise that this series would be injected with a relentless amount of historical knowledge that is slowly seeping into the core of the show. In the pilot episode, Goldblum combines science, psychology, and of course eccentric style to form a captivating presentation that is quite unlike any other docuseries. For example, in the pilot episode alone Goldblum covers how shoes work, why the category of clothing is so popular among shoe collectors, and the different art styles of footwear found throughout shoe brands.
That being said, for a series revolving around such a simple concept, there is a substantial amount of content to actually talk about and the production value here is unnecessarily high- hitting that Disney expected production value to the point where its astonishingly remarkable how much passion was actually put into this series. From the editing to the cinematography, this is certainly something that was not made without passion. On-screen graphics are always welcomely flashy, lighting is constantly up to pristine quality, and the focus always remains on the title actor.
Goldblum's consistent upbeat pazazz and high energy makes this series not only entertaining and relaxing to watch for his comedic appearance, but for an enjoyable source of overall education- something that most other docuseries tend to struggle with when multitasking multiple genres.
The Pursuit of Happiness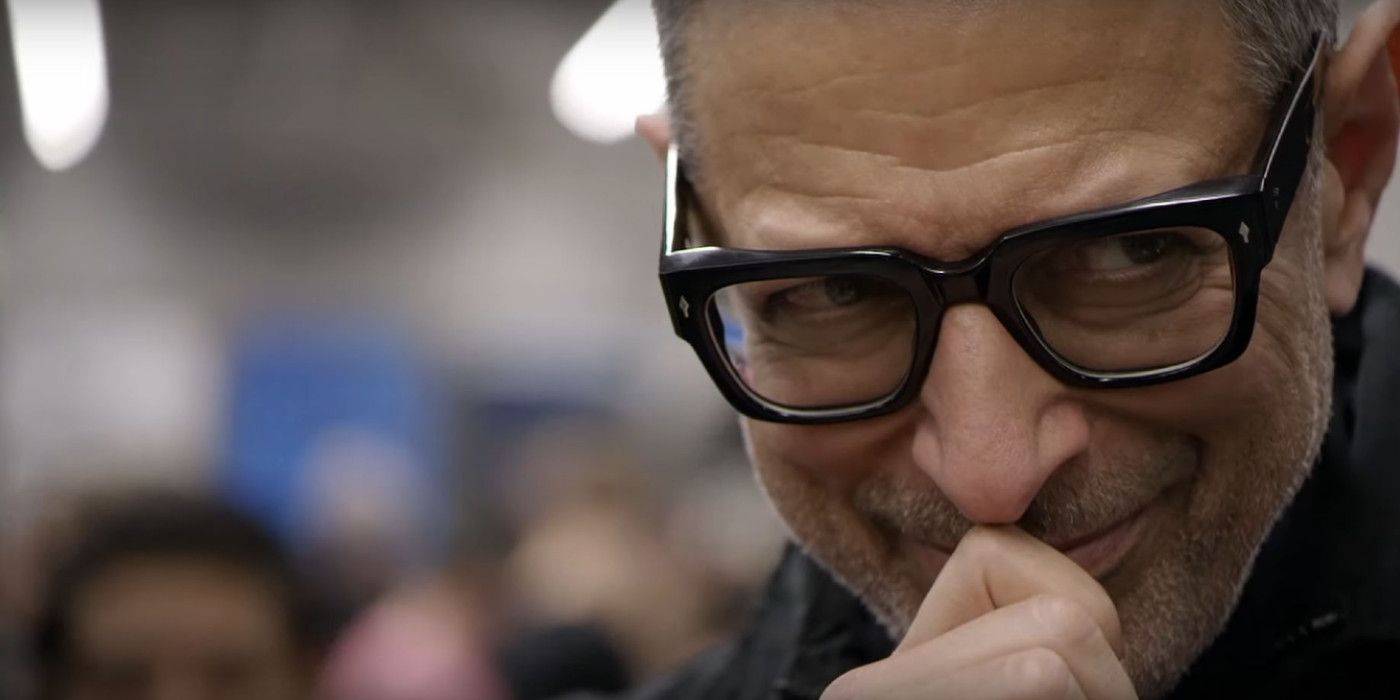 Is The World According to Jeff Goldblum worthy of being called a reason to purchase Disney Plus? Absolutely not. Is it worth watching on an empty afternoon though? Unsurprisingly yes. This is a fun family series that is not only educational regarding subject-matter but educational to learn more about Jeff Goldblum himself. Without the big-name actor though it would be hard to imagine why anyone would ever want to watch this series.
Goldblum's presence allows this series to become a notable piece of content available on the streaming service, however, without him, it would be nothing but another typical documentary series with no real focus. It is entertaining until the very end and is keen on ending off on a positive punchline to keep you coming back next time. Simply put, it is another great addition to Disney Plus's colossal lineup that will seemingly never stop producing high-quality content.